Buffalo Chicken Cobb Salad
Cobb Salad is one of my favorite salads. It has been since the first time I had it back during my freshman year of college. I recently had a few friends over for a cheese night and had a bit of leftover Blue Cheese. So I decided I was going to make something like that with the leftovers, but I had a craving for Buffalo Wings too. I love the combo of Blue Cheese and Buffalo Chicken
I thought a Buffalo Chicken Cobb Salad would be a fun twist on the traditional cobb salad. It has some of the traditional ingredients of a cobb salad – hard boiled egg (try these tips for Easy to Peel Hard Boiled Eggs), blue cheese, lettuce, avocado – but I wanted to play off some of the traditional Buffalo Wing Flavors too.
I made a marinade of Red Hot Sauce, lime juice, and olive oil for the chicken. Not only did I grill the chicken, but I smoked the chicken breast for about an hour first on my friend's Traeger Grill before grilling the chicken to give it a little bit of that smoky wing flavor to pair with the hot of the hot sauce.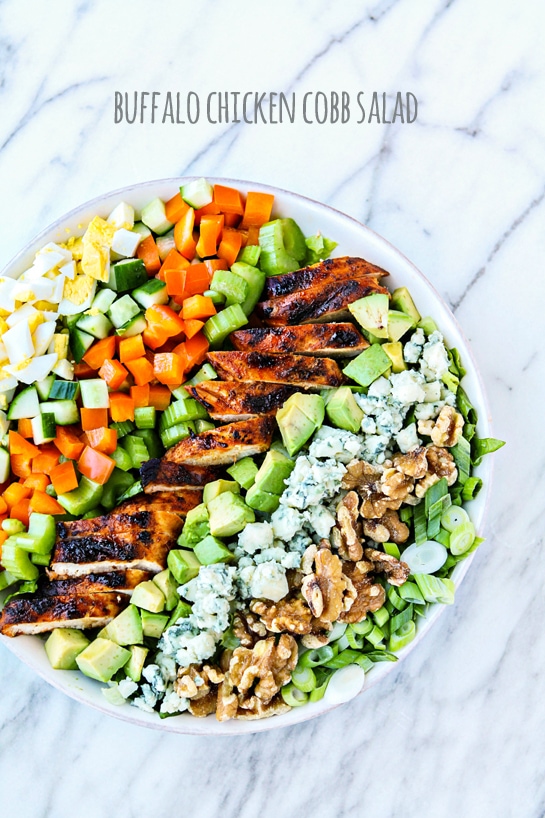 The smoky, spicy Buffalo Grilled Chicken paired with the blue cheese, green onion, and celery really gave the salad a classic Buffalo and Blue Cheese Flavor. To round things out in the salad and give some nice crush I added bell pepper, diced cucumber, Fisher Nuts Walnut Halves and Pieces.
Nuts might not be a traditional Cobb Salad ingredient, but I loved the addition of Fisher Nuts Walnut Halves and Pieces in this Buffalo Chicken Cobb Salad. The tender, yet crunchy, walnuts really paired well with the Blue Cheese and added some interesting dimension to the whole salad.
This Buffalo Chicken Cobb Salad was so filling and really hit the spot for a big summer lunch! I hope you like it as much as I did.
More Summer Salads
Looking for some more Summer Salads? Here are a few more great salads to try this summer.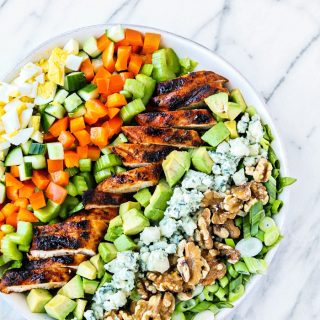 Ingredients:
Buffalo Chicken Marinade
1/2 cup Frank's Red Hot Sauce
1 large Lime, juiced
2 tablespoons Olive Oil
1/2 teaspoon Black Pepper
1/2 teaspoon Salt
1.5 lb. Boneless, Skinless Chicken Breast
For the Salad
1 head Romaine Lettuce, chopped
1 large Avocado, diced
2 Hard Boiled Eggs, chopped
1 Orange, Red, or Yellow Pepper, diced
2 ribs Celery, sliced
1/2 cups Walnuts
1/2 of an English Cucumber, diced
2 Green Onions, sliced
heaping 2/3 cup Blue Cheese Crumbles
Your choice Blue Cheese Dressing for serving
Directions:
Buffalo Chicken
Combine Frank's Red Hot Sauce, Lime juice, Olive Oil, Black Pepper, and Salt. Add the chicken and the marinade to a large zip top bag. Refrigerate for at least 3 hours or up to 24 hours.
To cook: Preheat the grill to medium. Remove chicken from marinade. Set marinade aside for basting, if desired. Place the chicken on clean grill grates and cook. Grill the chicken uncovered 10-20 minutes (this depends on the thickness of your chicken breasts), turning twice.
Use a meat thermometer to test the thickest part of the chicken for doneness. When the internal temperature reaches 150 degrees you can baste the chicken if desired. Discard remaining marinade. Chicken is done when the internal temperature reaches 160 degrees F. Remove from grill and allow to rest 5 minutes before cutting and serving. Slice the chicken diagonally and set aside for the salad.
For the Salad
On a large plate or shallow serving bowl, fill with the lettuce. Layer the remaining ingredients on top of the lettuce. Serve with Blue Cheese Dressing.
Notes:
To smoke and grill the chicken:
Smoke the chicken for 1 hour first, then follow the remaining instructions for grilling. Grilling time may vary based on the doneness level of the chicken after smoking and the temperature of your smoker.
This post is sponsored   by Fisher Nuts. All opinions and ideas are my own.