Deep Dish Apple Cranberry Pie with Oatmeal Pecan Crumb Topping
Confession: I have a weakness for eating pie for breakfast. Any time there is leftover pie in the fridge, I convince myself that there's fruit in it so it's not so bad for me. A completely acceptable start to the day. That, really, it's probably not a whole ton worse than eating a plate full of waffles smothered in butter and Apple Cider Syrup.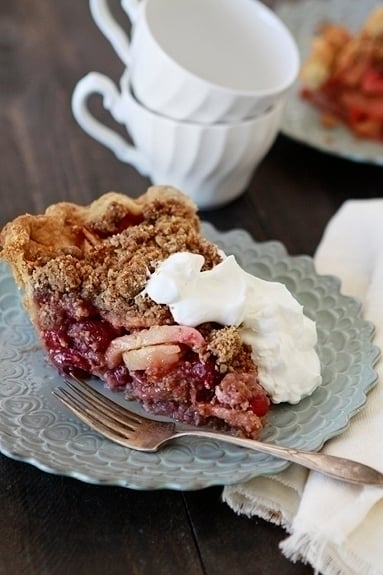 For this Deep Dish Apple Cranberry Pie I experimented with an Oatmeal Pecan Crumb Topping. Oatmeal is healthy too, right? I used freshly ground flour for added whole grains and old-fashioned rolled oats in the topping. Bonus points again. And we'll just pretend that the pile of whipped cream is yogurt.
Regardless of whether or not it is "healthy" or "acceptable" to eat pie for breakfast, this Deep Dish Apple Cranberry Pie with Oatmeal Pecan Crumb Topping gets two thumbs up all around.
It baked up twice within less than a week. Smelled up our house with gorgeous fall spices and the sweet aroma of baking apples. Found itself on more breakfast plates than I could count. And it was shared with friends.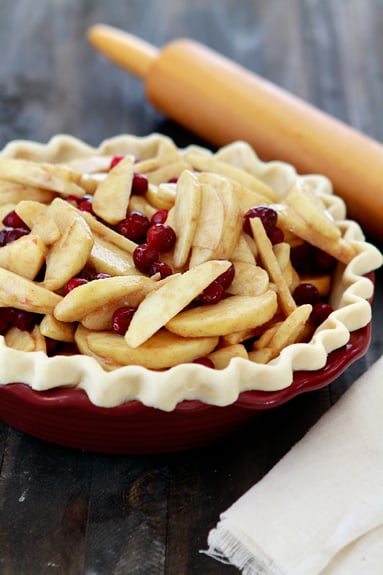 I love the cranberries added to this apple pie for a hint of tartness and a burst of color in an otherwise quite monotone pie recipe. It's the perfect end to a crisp fall day and will make an excellent addition to any holiday celebration you have coming in the next couple of months.
If preparing your own pie crust seems a daunting task. Check out my Tips for a Perfect Pie Crust.
Do you have a favorite fall pie that you bake up each year?
More Fall Pie Recipes
Deep Dish Apple Cranberry Pie with Oatmeal Pecan Crumb Topping
Yield: 1 pie: 8 - 10 servings
Total Time: approx. 4 - 5 hours (including cooling)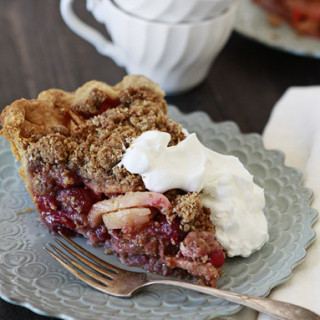 Ingredients:
Apple Cranberry Filling
8 Gala or Honeycrisp Apples
10 ounces fresh or frozen (not thawed) cranberries
1/2 cup packed brown sugar
2 tablespoons maple syrup
1/4 cup all-purpose flour
1 teaspoon cinnamon
1/8 teaspoon cardamom
1/8 teaspoon nutmeg
1/4 teaspoon salt
1 1/2 tablespoons fresh lemon juice
4 tablespoons (1/2 of a stick) of butter, sliced
Oatmeal Pecan Crumb Topping
2/3 cup freshly ground whole white wheat flour
1/2 cup old-fashioned (not instant) rolled oats
1/3 cup packed brown sugar
1/2 teaspoon cinnamon
1/8 teaspoon nutmeg
1/8 teaspoon cardamom
6 tablespoons of cold butter, sliced
1/3 cup coarsely chopped pecans
For the Crust
1 recipe All Butter Pie Crust: Perfect Pie Crust Recipe
Directions:
For the Crust
Crust may be prepared in advance and refrigerated until ready to use.
Prepare the All Butter Pie Crust: Perfect Pie Crust according to recipe instructions. Because this pie is a deep dish, not a regular pie, you are going to need 2/3 to 3/4 of the dough for the crust for this recipe. Press the dough into the deep dish pie plate and shape the edging as desired.
You can freeze the extra for another use, such as making individual pot pies or something else small that doesn't need an entire pie crust.
For the Filling
Preheat oven to 425 degrees F with the rack in the lower third.
Peel, core and slice the apples. In a large bowl, combine the apples, cranberries, brown sugar, maple syrup, flour, cinnamon, cardamom, nutmeg, salt, and lemon juice. Place the filling inside the prepared pie shell.
For the Oatmeal Pecan Crumb Topping
Measure the flour and oatmeal into a food processor. Pulse to combine and blend the oatmeal. Add in the remaining ingredients: brown sugar, cinnamon, nutmeg, cardamom, butter, and pecans. Pulse until a crumbly, mixture is achieved. Dot the top with the sliced butter. Set aside until after the first bake cycle.
Bake the Pie
Cover the edges of the pie loosely using foil. Bake at 425 degrees F for about 35 minutes. Then, reduce the temperature to 375 degrees F. Remove the pie from the oven. Discard the foil. Sprinkle with the crumb topping.
Bake for an additional 45 - 60 minutes, or until the apples are tender, crumbs are browned and the filling is bubbly. Let cool at room tempearture for 2-3 hours before serving.