How to Make Orange Curd
I showed you before how easy it is to make lemon, lime, or grapefruit curd. I found myself with several pounds of oranges in the produce drawer last week and felt the urge to do something with them.
Despite not having egg yolks that needed using up, I decided to go ahead and experiment with my lemon curd recipe to create an adaptation using delicious, winter oranges. Now, what should I do with all those egg whites??? Perhaps experiment with French Macarons or bake an Angel Food Cake.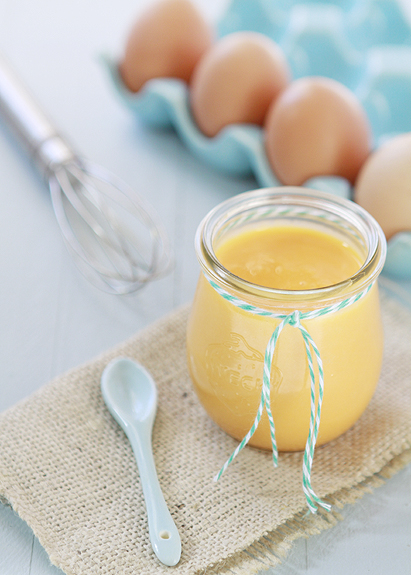 The tricky thing with oranges is they are already so sweet, so you really don't need nearly as much sugar in orange curd as you'd need with lemons or limes. I used a little lemon juice and zest to balance things out.
Citrus curd is a great basic condiment to have on hand for sweet cravings or the need for a last minute, simple dessert. Or just to add a little brightness to the winter doldrums.
15 Ways to Enjoy Citrus Curd
This, like so many other Pantry and Fridge Staple favorites, is so simple to make at home yourself, there is no need to experiment with store bought counterparts.
There are so many fun ways to enjoy citrus curd that I'm sure you'll find yourself making it often. Here are a few of my favorite ways to enjoy it, plus some links for recipe inspiration. You can allow the citrusy goodness to take center stage, or be a background flavor for just a hint of flavor.

With Your Breakfast
With Dessert
What is your favorite way to eat citrus curd?
Orange Curd
Yield: about 1 pint
Prep Time: 5 minutes
Cook Time: 10 minutes
Total Time: 15 minutes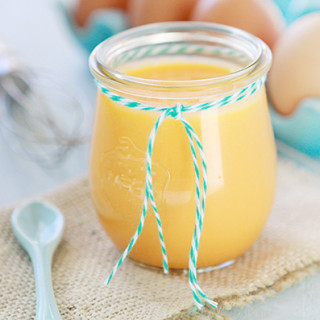 Ingredients:
1/3 cup + 1 tablespoon orange juice
1 - 2 drops of 100% Pure Orange Essential Oil
2 tablespoons lemon juice
2 teaspoons lemon zest
2 teaspoons orange zest
1/4 - 1/3 cup sugar, depending on your sweetness preferences
8 egg yolks
10 tablespoons butter, sliced into tablespoons
Directions:
In a medium saucepan, combine the juices, zest, and sugar. Heat over medium heat until simmering. Turn heat to low.
Meanwhile, whisk the egg yolks in a medium sized bowl until smooth. Slowly pour half of the orange mixture into the yolks while vigorously whisking. Return the amount in the bowl to the saucepan.
Continue to cook over low heat while whisking until mixture thickens and coats the back of a spoon. About 5-10 minutes. Remove from heat and stir in the butter 1 tablespoon at a time.
Cool to room temperature, then store refrigerated in an airtight container for about a week.