Mocha Roasted Almonds
Mocha Roasted Almonds are an incredibly easy snack to make that will help you satisfy your sweet tooth without ransacking your healthy snacking goals. This recipe was created in partnership with Fisher Nuts.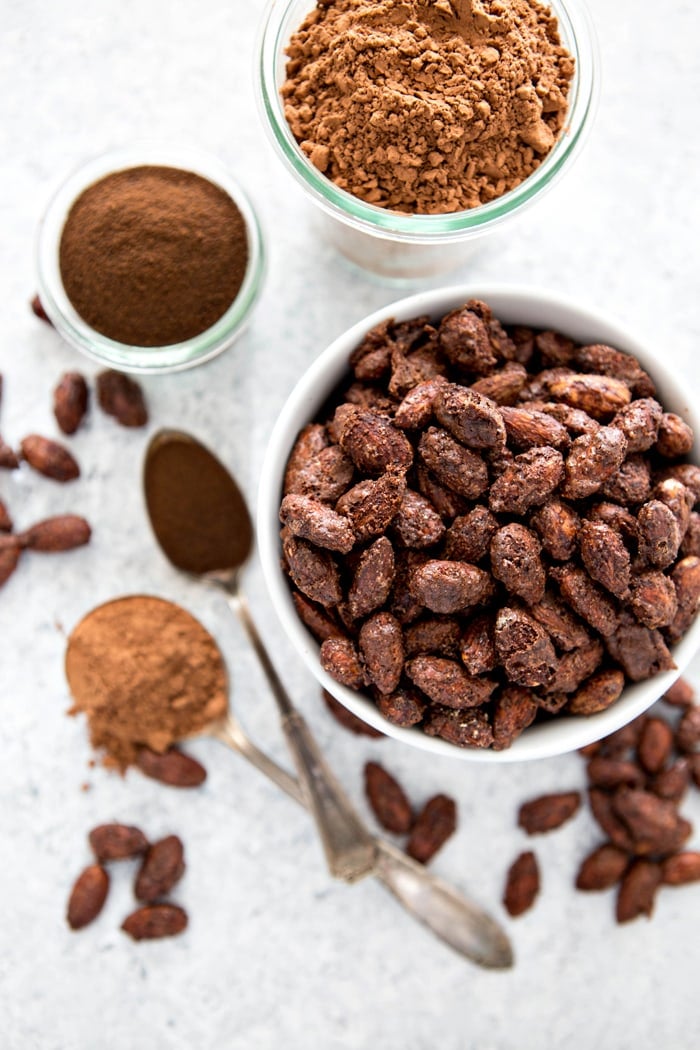 I always try to start January off with some healthier-for-you recipes that still offer a lot of flavor. The past couple of years I have focused on healthy savory recipes like Winter Spinach Chicken Salad Quinoa Bowl with Creamy Almond White Balsamic Dressing and Roasted Asparagus with Lemon Walnut Dressing.
This year, my sweet tooth and cravings for chocolate are still in full swing from the holidays, so I was looking for a way to satisfy that without continuing to eat Christmas candy or cookies. Something that tastes somewhat sweet but has some healthy elements to it, too.
I thought that a roasted nut snack with some chocolate-y elements would be a good compromise. I've seen those cocoa dusted almonds around in the grocery store, but I thought something along those lines would be pretty easy to make at home.
Nuts, like Fisher's entirely preservative-free and non-GMO Project Verified varieties, are something I'm always trying to incorporate more of into my diet. I love the flavor and nutritional value that nuts add to a recipe. And now they're available in their handy resealable bag (it helps keep the nuts fresh for longer) on  Amazon, which makes it super easy to always have on hand what you need. Honestly, I don't know where I would be without Amazon!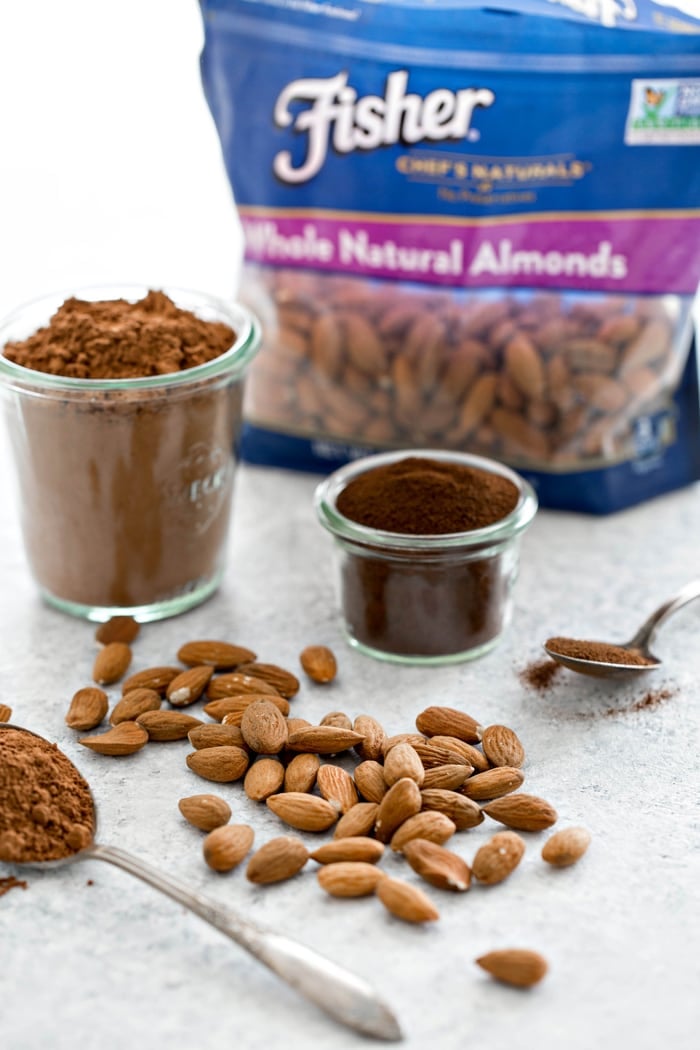 I ended up with a little different version than those dusted cocoa roasted nuts you see around. I decided to combine some espresso powder with the cocoa powder to offer a richer taste and create a Mocha Roasted Almond.
Instead of dusting the my Fisher Nuts Whole Almonds in the espresso powder and cocoa mixture, I used the method of coating the almonds in a beaten egg white (with some vanilla added for extra flavor), then tossing the egg white coated almonds with a cocoa. This method gives a crunchier coating on the roasted almonds
Just a few of these in the afternoon or after dinner in the evening have completely helped me balance out my cravings for sweetness without loading up on a ton of sugar.
These Mocha Roasted Almonds aren't completely sugar-free roasted almonds, but the amount of sugar in just a couple of almonds has got to be much less than any cookie, chocolate truffle, or brownie dessert habit I may or may not have developed over the holidays. I think they're perfect to keep on hand for when your sweet tooth strikes.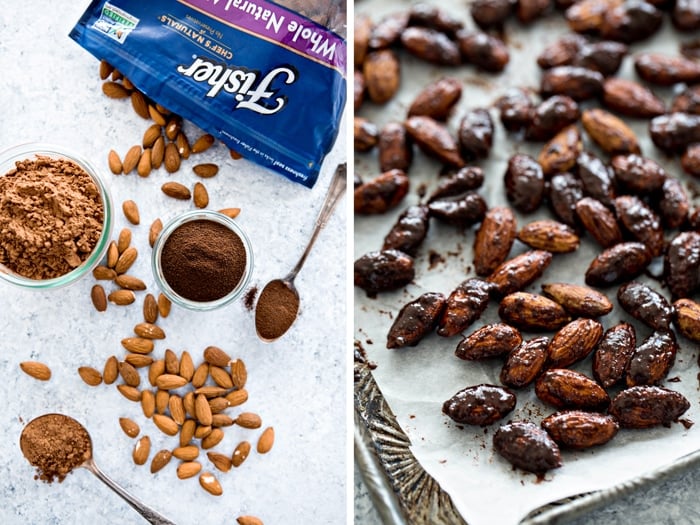 Roasted nuts offer a lot of different options when it comes to snacking depending on your taste preferences or how simple or complex you want the recipe to be.
Change it up for Different Flavors
You can easily change of the flavors of this recipe for Mocha Roasted Almonds by using different nuts or a combination of a few, adding some spices, using different sweeteners, etc. Try some of these ideas:
Add fall spices like cinnamon and omit the espresso powder for a fall spiced cocoa roasted almond.
Use a mix of different nuts for Mocha Roasted Mixed Nuts.
Omit the espresso powder and add spicy chili elements like chili powder, chipotle, and/or cayenne for a Mexican Hot Chocolate Roasted Almond.
Change up the sugar by swapping out the granulated sugar for brown sugar, or use a mixture of the two, or use less sugar for a Bittersweet Mocha Roasted Almond.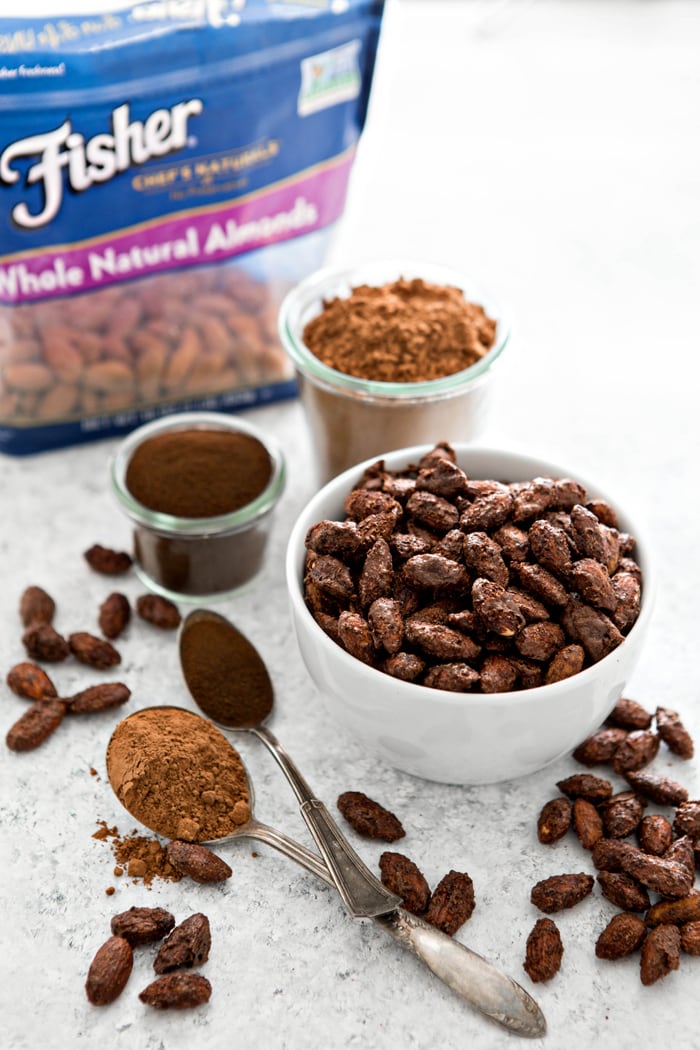 Maybe you want something a little more than simple Mocha Roasted Almonds in your snack. You can completely customize it with whatever extra ingredients suit your mood and taste buds.
Mixed Nuts Mix in Ideas
Turn these Mocha Roasted Almonds into a snack mix, trail mix, or breakfast granola by adding some extra mix in ingredients. You'll want to add any extra ingredients after you've roasted the nuts in the cocoa powder/espresso powder mixture.
Pretzels – salted, yogurt covered, or chocolate covered
Dried Fruits – cranberries, cherries, blueberries, strawberries
Dried Shaved Coconut
Popcorn
Dark Chocolate
Pumpkin Seeds
Granola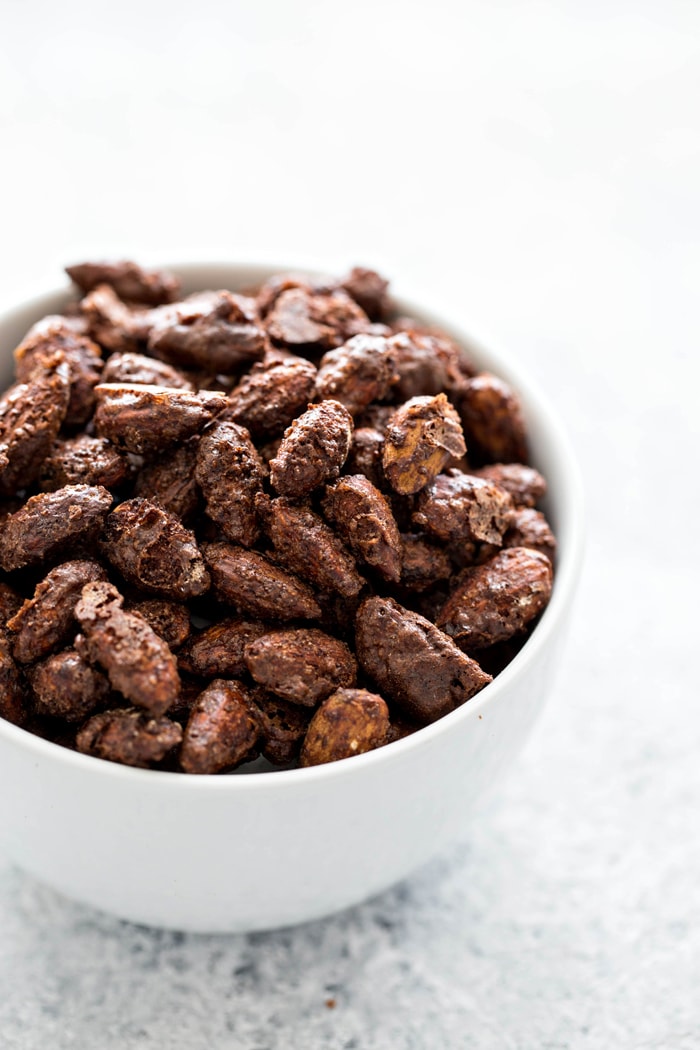 MORE HEALTHY SNACKING:
If you're looking for inspiration in addition to these Mocha Roasted Almonds for your healthy snacking goals, here are a few other favorite snack recipes that use Fisher Nuts. Be sure to check out the recipe index for more snack ideas.
Red, White, and Blue Berry Almond Frozen Yogurt Bites  are a simple and healthy after school treat that you can keep in your freezer. Kids love these, too!
Sweet and Spicy Rosemary Bar Nuts are quick and easy to make, and a really satisfying savory snack when you're in the mood for something crunchy and salty.
Pina Colada Energy Balls feature a mix of protein, healthy fats, and naturally sweet pineapple, dates and coconut. Pop these bite sized treats in your mouth for a quick snack and energy fix.
Salted Vanilla Maple Nut and Seed Clusters are a yummy sweet and salty snack that is packed with good for you ingredients.
What are your favorite ways to snack on nuts?
Mocha Roasted Almonds
Yield: 3 1/4 cups
Prep Time: 5 minutes
Cook Time: 25 - 30 minutes
Total Time: 30 - 35 minutes
Mocha Roasted Almonds are an incredibly easy snack to make that will help you satisfy your sweet tooth without ransacking your healthy snacking goals.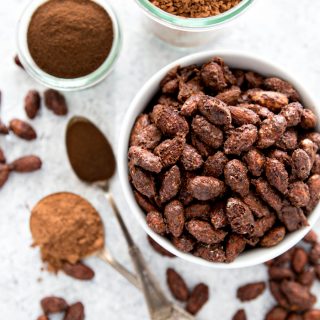 Ingredients:
1/3 cup Granulated Sugar
2 tablespoons Cocoa Powder
1 tablespoon Espresso Powder
3/8 teaspoon Salt
1 Egg White
1 teaspoon Vanilla Extract
3 1/4 cups Fisher Nuts Whole Almonds
Directions:
Preheat the oven to 275 degrees F with the rack in the middle position.Line a rimmed baking sheet with parchment paper and set aside.
In a medium mixing bowl (about a 4-5 cup capacity), combine the granulated sugar, cocoa powder, espresso powder, and salt. Whisk using a wire whisk until the ingredients are all incorporated evenly. Set aside.
In a medium mixing bowl (about a 4-5 cup capacity), combine the egg white and the vanilla extract, whisking with a wire whisk until it is frothy.
Add the almonds to the bowl with the egg white mixture and stir until the almonds are evenly coated.
Transfer the egg white coated almonds to the bowl with the cocoa powder mixture, tossing until the almonds are completely coated.
Spread the almonds onto the parchment paper lined baking sheet, spreading them evenly so they are not clumped together. Transfer the baking sheet to the preheated oven and roast for 25 - 30 minutes, stirring every 10 minutes so that they roast evenly.
Remove the roasted almonds from the oven and allow them to cool on the baking sheet before eating or handling. The prepared almonds are best stored in an airtight container.
I have been partnering with Fisher Nuts since 2013 because it is one of the only brands of recipe nuts entirely without preservatives.  I have been compensated for my time creating this recipe for Mocha Roasted Almonds, but all opinions are my own.