This month's Eat Well, Spend Less topic is emergency preparedness.
Part of emergency preparedness is having a well-stocked pantry.
Whether through natural disasters, job loss, or unplanned expenses, many of us at one point in our lives may have to rely on the food we've put away in our pantries.
And the real problem is, we'll never know when that may be.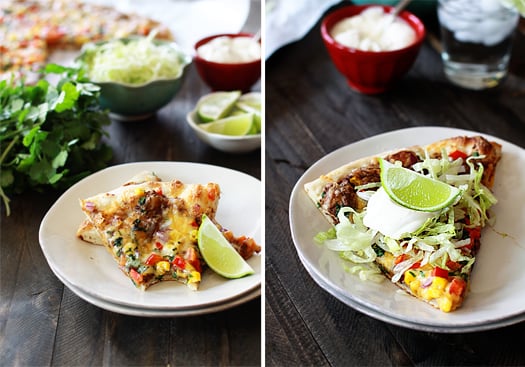 pictured: Black Bean Mexican Pizza
But emergency preparedness doesn't have to be all doom and gloom.
Sometimes every day emergencies can take a huge toll on the dinner preparations.
It's important to think about emergency preparedness even if you don't worry about hurricanes, tornadoes or tsunamis.
Every day emergencies happen all the time: forgotten lunch boxes that mean extra trips to school, a neighbor or friend needing babysitting help, car keys locked in the door while out running errands.
All of these things have happened to me and at the time feel very "emergency" like and can keep me from staying with the plan for the rest of the day – including the meal plan.
I keep my pantry well stocked with lots of canned beans because they're one of my favorite pantry staples for quick, inexpensive meals.
They help get meals on the table during big and small emergencies.
I realize that dried beans are often more economical and probably have a longer shelf life, but for now canned beans are convenient for me so that's what I'll be discussing..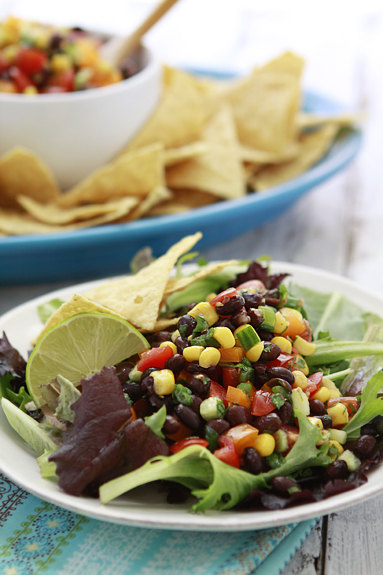 WHY ARE BEANS SO GREAT?
One might wonder why I've chosen the bean as my favorite go-to for these quick, easy pantry meals as well as a great emergency preparedness item, but there's really no mystery behind it.
A Great Base for Filling Vegetarian Meals
We aren't vegetarians but we eat that way at least twice a week.
It's easy to turn many of your favorite family meals into vegetarian fare. (How to Vegetarian-ize a Meat Based Main Dish).
Beans are a quick non-perishable substitute for meat in many recipes.
Since we're talking emergency preparedness, if you're power is out fresh (or frozen) meat won't do you much good, but you can use beans in a dish instead without worrying about spoilage.
An Inexpensive Protein Source
On the other hand, if you're out of work or tight for money due to unplanned expenses, going vegetarian for a while can cut down on your grocery bill.
A can or two added to a main dish often cost a fraction of even some of the least expensive cuts of meats.
Beans are great to have in your emergency preparedness back pocket.
They add bulk to your recipes during financially lean times when meat may be more of a treat than a mainstay.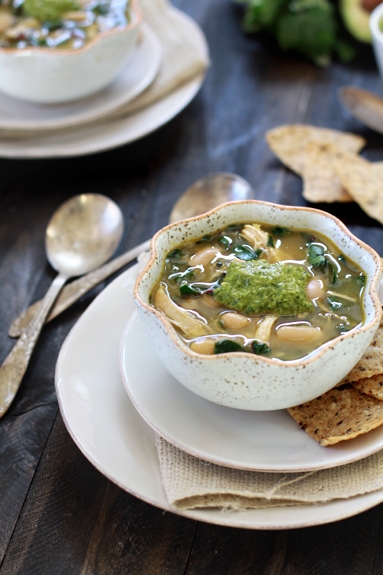 pictured: White Bean Chicken Chili Verde
Beans are Very Versatile
Beans are versatile and can be cooked so many ways.
From soups and stews to pizza, salads, and dips there's a lot of options there, not to mention vast variety of beans that can be used.
Our favorite beans happen to be black beans, but there's kidney, canellini, garbanzo, and so many more.
Get Dinner on the Table Fast
I like beans on busy nights because they're fast and get dinner on the table.
There is no thawing of meat or marinading that needs to take place in order for the beans to be ready for preparation.
Canned beans are easy and quick and they get the job done.
Dried beans take longer, but with an investment in a pressure cooker or a little planning ahead (when you're not experiencing a natural disaster or other chaotic emergency) those too can cook up quickly once you start the actual cooking process.
See How to Cook with Dry Beans for tips and instructions for prepping dried beans for recipes.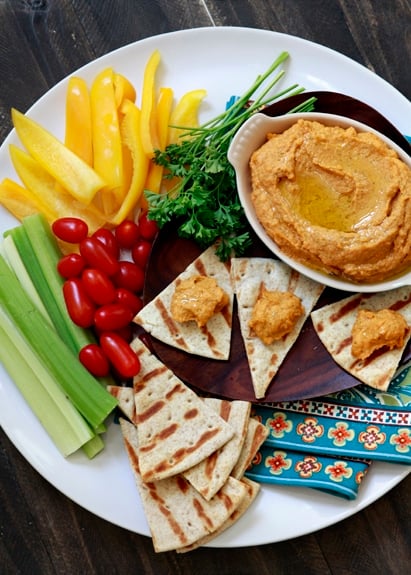 pictured: Roasted Red Pepper Hummus
FIVE WAYS WITH BEANS
Do you cook a lot with beans? What are your favorite ways to use them?