Enjoying the Library With an Under Two-Year Old
On the Fourth of July, I overheard a conversation between two fellow moms, both of whom had kids just over two years old. As the town library float went by, they remarked that they were just starting to use the library for their boys. One mom remarked how she was afraid that her son would rip up the books before now, while another seemed amused that her son was excited to see the float.
Needless to say, this absolutely floored me. My daughter E is 18 months old and we've been going to the library since she's been born. I am a former librarian, so I'm a bit biased, but I believe that the library is one of the best places you can take kids as young as E.
Here are some ways we use our local library: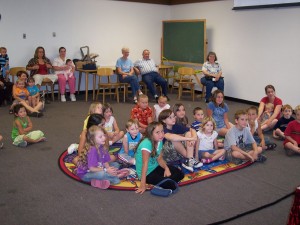 Storytime
This seems like a no-brainer, but lots of people don't know that libraries have storytimes for kids this young. Many even have baby storytimes, which focus mostly on songs, knee bounces, fingerplays, and action rhymes. Usually there are very few stories, and the ones featured are short with bright pictures, perfect for the young age group.
E's toddler storytime still only features just two stories, with most of the activities concentrating on rhymes, movement, and songs. She's up and moving around the room most of the time, too–it's a great way to get her excess energy out. And the expression on her face when the librarian breaks out the shaker eggs and then the bubbles is priceless!
Many libraries have a storytime hiatus during the summer to focus on summer reading, but we're lucky enough to have a year-round schedule.
Concerts
Especially in the summer, many libraries hold outdoor (or indoor) concerts, with special kid-friendly musicians. Sometimes these are advertised for older kids only, but you're generally welcome to bring a younger child. Music and dancing are always a good time!
Summer Reading 
Unfortunately, some libraries do have age limits for summer reading. In our old town, kids had to be in preschool. But in our new town, parents are even encouraged to sign up newborns. After all, the whole point of summer reading is to encourage reading, whether kids are reading to themselves or being read to. It's fun to fill in the chart with E to note how many hours we've read together this summer, and to see the total zoom upwards week by week. I hope this will become a summer event for her when she's older, too.
Just Playing
We go to library at least once per week not to take out books, not to go to an event, but just to play. Sometimes the toys in our house get a bit old, and the library is full of new and exciting ones. A kitchen set! Huge stuffed animals! A train table! A cool little kid-sized table to climb up on! Different colored bottle caps for sorting! The possibilities are endless.
And when all else fails, who can dispute the fun involved in walking up and down aisles, pulling books out of the shelves while Mommy frantically runs after you and shelves them again?
What fun activities are offered at your library?