Experience Essential Oils
What are Essential Oils
Essential oils are natural aromatic compounds found in the seeds, bark, stems, roots, flowers, and other parts of plants.
Essential oils are non water-based phytochemicals made up of volatile organic compounds. Although they are fat soluble, they do not include fatty lipids or acids found in vegetable and animal oils.
Certified Pure Therapeutic Grade Essential Oils represent the safest, purest, and most beneficial essential oils available. All that is in a bottle of Lemon Essential Oil, for example, is pure lemon oil from Italy. No additives, perfumes, pesticides, fillers, or chemicals. Because the oils are so pure, they are safe for internal, topical and aromatic use on adults, children, and babies.
How I Use Essential Oils
Essential Oils for Health Remedies
When I was first introduced to doTERRA I didn't know much about Essential Oils, but I knew that I was suffering from frequent migraines and headaches and that traditional pain killers weren't doing their job. Not only that, but I didn't like that I was popping pills on a daily basis to try to get rid of the symptoms. I wanted the headaches GONE.
I began drinking 100% Certified Pure Therapeutic Grade peppermint essential oil in my water. Just 1-2 drops per 25 ounce bottle of water. I noticed an increased energy and fewer headaches within days. Within a month my headaches were virtually gone.
On the rare occasion that I do get a mild headache, the pain is quickly and naturally relieved through use of Peppermint or AromaTouch Essential oil swiped across my forehead and temples.
In addition to helping me with my headache problem, essential oils have helped our family battle colds during cold and flu season, settle upset stomachs, calm stress and tantrums, increase energy, and more.
Essential oils have been used throughout history in many cultures for their medicinal and therapeutic benefits. Modern scientific study and trends towards more holistic approaches to wellness are driving a revival and new discovery of essential oil health applications.
This 3 minute news clips shows how the Wellness Committee of Vanderbilt Hospital uses Certified Pure Therapeutic Grade Essential Oils in their Emergency Room.
Essential Oils in Cooking
As a food blogger, I love that doTERRA's essential oils are safe for internal use. I add drops to my water for a sugar-free, calorie-free, all-natural flavor. See: Tips for Drinking More Water.
I also use their oils to cook in various recipes. In some recipes I even prefer to use essential oils over conventional cooking or baking ingredients. For example, I like using pure lemon oil instead of lemon extract because it is 100% natural and doesn't contain alcohol.
Recipe Suggestions:
My favorite oils for cooking: lemon, orange, rosemary, fennel, ginger, oregano, lime, and lemongrass.
Interested in Learning More?
I'm doing a free teleseminar on February 16th at 12:00 pm EST on Simple ways that you can incorporate essential oils into your family's health routine.
FREE 15 ml Lemon Essential Oil for the first 10 people who register AND are present on the call. FREE product with purchase opportunities for those who participate in this call!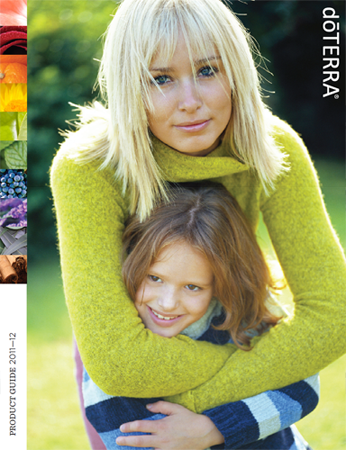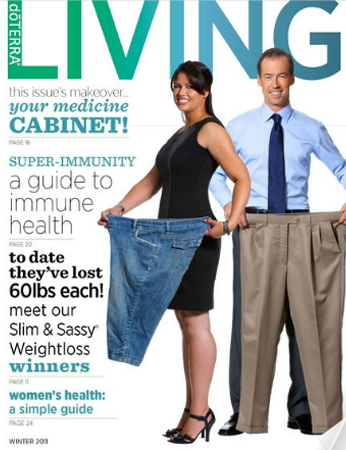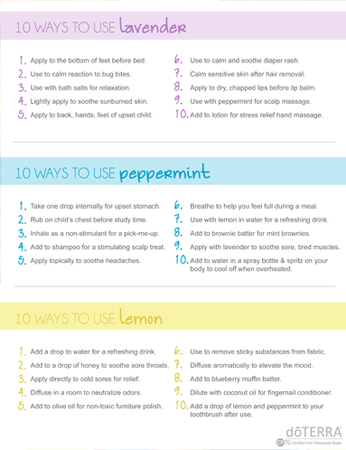 Click images above to view a PDF copy of the Product Guide, doTERRA Living Magazine, or 10 Easy Ways to Use Lavender, Peppermint & Lemon.

This is personally sponsored by me and is NOT a paid advertisement.