Girl Hunter Interview and GIVEAWAY
You're in for a real treat today! Author Georgia Pellegrini is here to tell us about the inspiration behind her fabulous new book, Girl Hunter, giveaway 4 copies, and dish on some of the details of her life.
If you're a fan of cooking, food memoirs, hunting or just reading and learning more about where your food comes from, you'll definitely want to pick up a copy of Girl Hunter ASAP.
Welcome, Georgia!
---
The Inspiration Behind Girl Hunter
We have a bit of a food dilemma today in America. Our industrial food system is so contaminated with corn, and hormones, and sick animals, that we humans are faced with the dilemma of what to eat so as not to get sick. My personal solution is hunting and gathering.
I've come to believe that when done ethically, this is the last natural and instinctive interplay between humans, the land, and animals. Hunting is an act involving all of the senses and I believe one of the most natural ways of being human on this planet.
It is part of the natural cycle of life, humans eat animals and plants, animals eat animals and plants, plants feed from the dirt, and we turn to dirt. I think that is the part some people have a hard time with—where there is the flow of life there is also the flow of death, and they have to acknowledge their own mortality.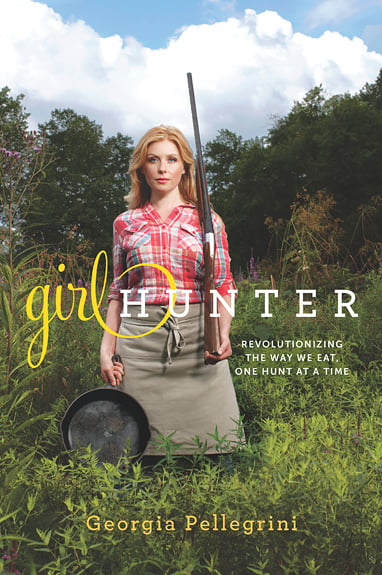 Because I think once we have that honest conversation about our food system and refuse to have an anonymous relationship with our ingredients, the quality of food we expect as omnivores will forever change.
For me, hunting is paying the full karmic price of the meal, a chance to participate in every part of the process and use every part of the animal which is an invigorating experience as a chef.
But there are other ways people can participate more closely in the cycle of life. One would be to join in with friends to buy a share in a whole animal from a farmer that raises their animals humanely. Another would be to purchase only grass fed, or free range or heritage meat.
Even vegetarians can participate by stepping off the grid in small ways, even just once in a while–stepping outside their front door and gathering purslane for a salad or dandelions for wine.
The idea is to get back in touch with our natural human instincts… as hunter gatherers, as people that used their hands and were more connected to the world that we live in.
I don't expect everyone to hunt and that isn't what Girl Hunter suggests. But I do hope that my book will prompt people to have a conversation about the role they play in the food they bring to the table."
What was your life like before you became a "Girl Hunter"?
I grew up on the same land my great-grandfather lived on in upstate New York. He named it 'Tulipwood' and I've always felt a deep connection to the place.
My grandmother lived there in the same house she grew up in. My great-aunt, her sister, used to walk around with me and tell me the name of every plant on the land, and I would label them for her.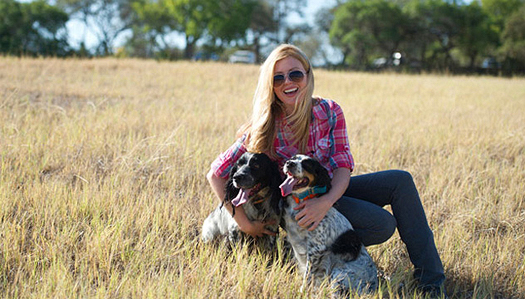 Living there and fishing, foraging, and gardening inspired my love of simple food and my love of tradition. It's what ultimately inspired me to go to culinary school and cook professionally. And then that philosophy is what inspired me to eventually become more hands on about rolling up my sleeves and getting to the heart of where my food comes from.
What prompted you to give up your previous career?
I was working in finance after college because it was the easiest path to take, but I was very unhappy.
After a bit of soul searching I realized I was always at my happiest when cooking, so I took a leap of faith and enrolled in culinary school. I went on to work in farm to table restaurants in New York and France and discovered I was much more interested in the people who were coming in with their goods than I was in peeling grapes in the kitchen.
And so, on my days off I would spend time with these people, go foraging in the woods with them, or visit them on their farms.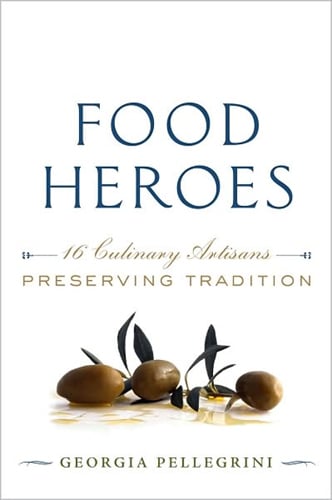 Many of them had made a choice to change their priorities and do the work they felt most passionate about – not because it made them the most money, but because it was what made them happy. I ended up writing my first book based on these people — Food Heroes.
The great poetic irony of giving up my previous career was that, while I was in France doing all of this cooking and writing, Lehman Brothers, the company I had worked for, collapsed.
I lost the little stock I had, and I thought to myself, what if I had stayed to make more money even though I was miserable? I would have lost it all. It was a sign to me that I had made the right choice.
When did you get involved in hunting? Has it always been an interest of yours?
I didn't grow up hunting, though I did grow up fishing my trout for breakfast and foraging in the woods. I've always been keen on getting dirt under my fingernails.
I was working in farm-to-table restaurants in New York and in France after culinary school and one of the restaurants I worked at made us kill turkeys for the kitchen.
That was my watershed moment. It was emotional and intense and there was a window through which I momentarily peered and contemplated life as a vegan, but ultimately something shifted in me, I realized that if I was going to eat meat and handle meat as a chef, then I wanted to pay the full karmic price of the meal and no longer have an anonymous relationship with my ingredients.
And so we killed the turkeys and brought them back to the kitchen and used every single part of the animal — treated it with integrity from the field to the plate. That experience awakened a dormant part of me that I think we all have as humans and omnivores, no matter how strapped to city life we are. Our ancestors were all hunter-gatherers.
Have you ever felt that your life was in danger while on the hunt?
Yes, just once luckily. I wrote about it in Girl Hunter and it entails bears, an angry horse, an angry man, and a journey 10,000 feet high in the mountains of Wyoming.
I won't give the story away but I often have people email me or write me notes on Twitter saying that they're staying up reading my book in order to make sure I get out of Wyoming okay.
I definitely am a little too "fearless" at times, but luckily I've learned from those experiences.
What are your hobbies when you're not hunting?
Well, cooking… and pretty much anything else that involves manual labor. I grew an enormous, overly ambitious garden with my brother this year on the land where my family lives in upstate New York. We also keep chickens and honeybees there so I help out with that.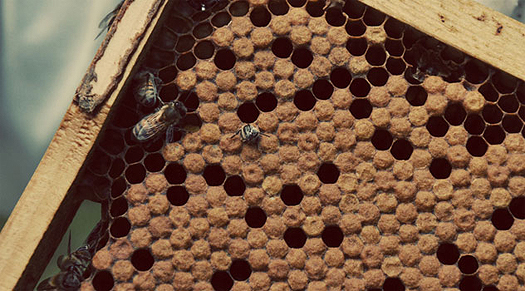 I recently moved into a new home in Austin, Texas so this past few months I've become sort of obsessed with home improvement stores and so far have built a large wooden planter box for bamboo and a concrete fountain!
The guys at Home Depot looked at me like I was a crazy lady when I strolled in with a puffy skirt and flip flops and announced I was going to pour a cement fountain. But I did it!
Tell us about a typical day in the life of Georgia Pellegrini?
I sometimes crave a typical day… I travel so much for my writing and for various projects that I am lately protective about carving out a few weeks at a time where I get to sleep in my own bed and watch my own TV!
But usually, no matter where I am, my day begins with scrambled eggs and avocado and lots of hot sauce (I'm obsessed with hot sauce) and then checking a million emails. I'm trying to find a way to create more balance lately, I check email too often in order not to drown in it.
Sometimes I have fantasies of stepping off the grid and being a hermit in the woods. Maybe that's why I like being outdoors and the act of hunting… it is a chance to be totally present and get back in touch with our original human instincts, a time before the fast pace of life existed.
I cook a lot when I'm at home too… using my hands in the kitchen is a great outlet.
What are your top 3 favorite recipes from your blog?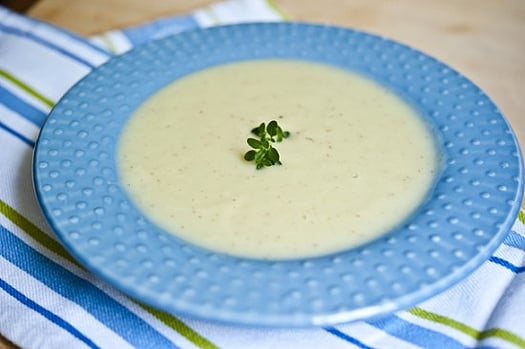 Get the recipe for: Wild Garlic Soup
A favorite simply because wild garlic is so abundant in the front yard in spring and summer and the soup tastes divine.
I feel very pioneering when I step outside the door, pull some up and make a batch. I imagine that's what my great grandmother used to do when she lived at Tulipwood.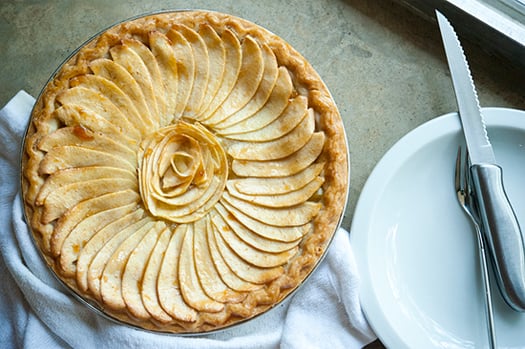 Get the recipe for: French Apple Tart
In true French dessert fashion, it doesn't add a lot of sugar to the already sweet apples, so it is delicately sweet — you could serve it with ice cream or a chunk of cheddar cheese equally.
And the best part is that while it is very easy to make, it is so visually appealing that it seems like you have toiled over it for hours.
I love recipes that make you look good with minimal effort!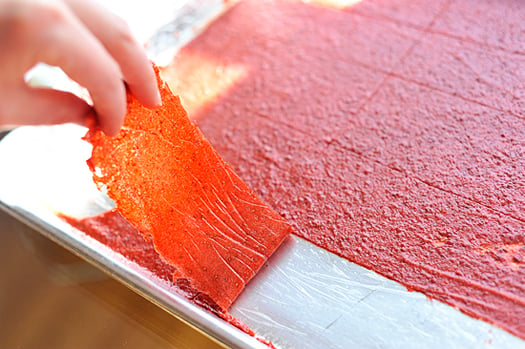 Get the recipe for: Homemade Fruit Leather
It's so versatile and such an economical way to use excess fruit you have on hand. I used to love fruit leather as a kid and this version is tasty and healthy.
What are your top 3 favorite cookbooks?
I love food writing with recipes mixed in… that's probably why my last two books have been food narratives with recipes!
When I read about a journey and how the food was intermingled with the experiences the recipes really come alive for me and that's when I'm eager to make them. My favorites right now are:
The Art of Eating, by M.F.K. Fischer: A compilation of her culinary musings. She remains the best food writer still, in my opinion.
Cooking for Mr. Latte, by Amanda Hesser: This was one of her first books and takes you through the courtship with her now-husband, all of the food they ate and the recipes to try yourself. It's delightful.
Mastering the Art of French Cooking, by Julia Child: It will always and forever be a classic and I love her spirit. Plus French technique is a great foundation for any kind of cuisine, even the simple food I tend to cook now.
How about top 3 fiction books?
The Agony and the Ecstasy, by Irving Stone: It's about Michelangelo's life but I think he took some artistic liberties so it reads like fiction.
The Fountainhead, by Ayn Rand: She's an epic storyteller
Plainsong, by Kent Haruf: He writes with such simplicity and elegance that it's heartbreaking… in a good way.
Thanks so much for being here today, Georgia!
Watch the trailer for Girl Hunter
Giveaway Prize (4 winners):
Each winner will receive one copy of Girl Hunter: Revolutionizing the Way We Eat, One Hunt at a Time, by Georgia Pellegrini
Giveaway Requirements:
What are you inspired to do to get more involved in knowing where your food comes from?

Contest ends January 30, 2012 at 11:59 p.m. PST.
Contest open to US States and CANADA only.
Winners will be chosen via random.org and will have 3 days to respond before disqualified and a new winner chosen.
Optional Extra Entries:
Additional entries can be earned by doing any of the following, giving you a total of 2 extra entries. Leave a separate comment for each of your entries.
1. Follow GoodLifeEats and Georgia Pellegrini on Twitter and ReTweet the following message: I just entered to win a copy of @GPellegrini's new book, Girl Hunter, from @goodlifeeats  http://is.gd/JWOsNi #giveaway #books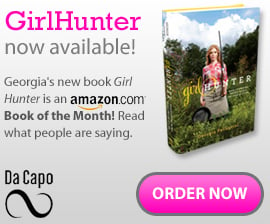 Images in this post copyright GeorgiaPellegrini.com