Feed both cake and cookie cravings with these amazing Gluten Free Oatmeal Cookie Cupcakes. Top with brown sugar frosting for a real treat!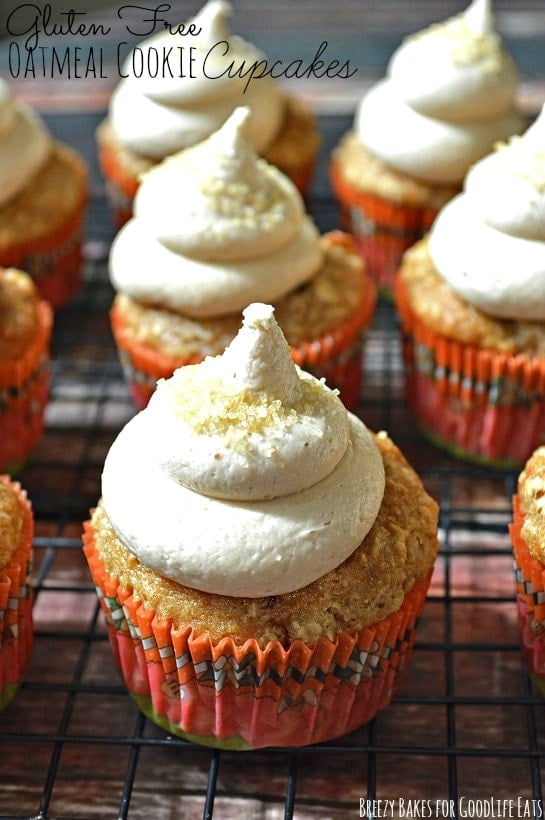 Written by: Brielle Gundersen of Breezy Bakes
So I discovered a gluten free all-purpose flour a while ago that has been such a life saver!
Now, I'm one for making my own individual blends of flour for each recipe that I make. I think it makes a world of difference in texture and taste to be able to mix your very own flour blends. No one dessert is exactly the same, so it makes sense that all your blends should be different depending on what you're baking.
HOWEVER…this can get time consuming and frustrating when you are in a time crunch. And let me tell you, I'm pretty much ALWAYS in a time crunch.
So on those extra busy days where I really do want to pull my hair out and run around the house screaming, "WHY ME?! WHY MEEEEE?!?!?!", I figure it is in everybody's best interest to have a decent gluten free flour blend on hand to easily whip up a much needed sugar fix.
Cup 4 Cup, you are it! You are my go to gal when I need a helping hand in the kitchen, whether it's pancakes, muffins, cookies, or these rockstar Gluten Free Oatmeal Cookie Cupcakes, you're the one I choose!
I've been so impressed with the taste and texture of this flour. It's not gritty whatsoever, and it doesn't seem to yield a gummy product like so many other gluten free all-purpose flours do. Plus, there is no weird aftertaste. It's definitely helpful to have this flour on hand when you're in the mood to scoop ONE flour, not FIVE!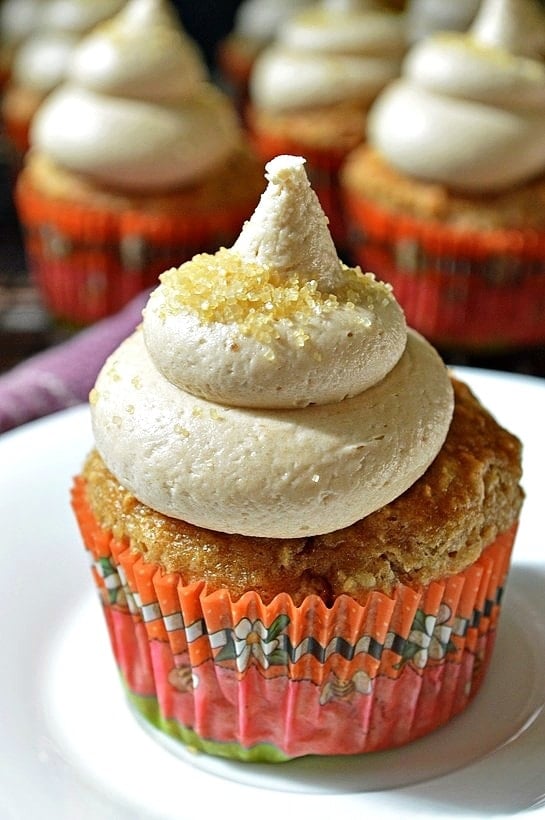 These Oatmeal Cookie Cupcakes are so light and tender, moist and flavorful, and basically taste just like a freshly baked oatmeal cookie. I even added in old fashioned rolled oats to give it a little of that oatmeal cookie chew. Plus, these cupcakes just smell like a cookie right out of the oven.
All that CINNAMON-y goodness bursting through the soft cupcake. MMM-mmm!
Really you could just eat these cupcakes plain and call them "muffins" because c"mon, isn't that what we all do? Frosting = cupcake. No frosting = muffin. Okay, maybe there are a few other deciding factors between the two…like if you're eating it for breakfast then it's automatically a muffin, right…RIGHT?!
But seriously, these can be eaten naked (not you, the cupcake…geez!) and your tummy and taste buds will absolutely love you. BUUUUUT…
…if you really want a TREAT for a treat, then you won't skimp on this brown sugar frosting.
Brown sugar is heaven in my book. It adds such a depth of sweet flavor to cookies and muffins. Whether it's dark or light, brown sugar just makes any treat perfect.
This brown sugar frosting is light and fluffy and surprisingly smooth with all the brown sugar mixed in. The key is to cream the butter and brown sugar together until the sugar is mostly dissolved. That way you get all the flavor without all the crunch…although a little crunch is pretty yummy too.
In fact, my love of crunch is exactly why I topped these babies with some raw sugar granules. Pretty much the world's best "sprinkle".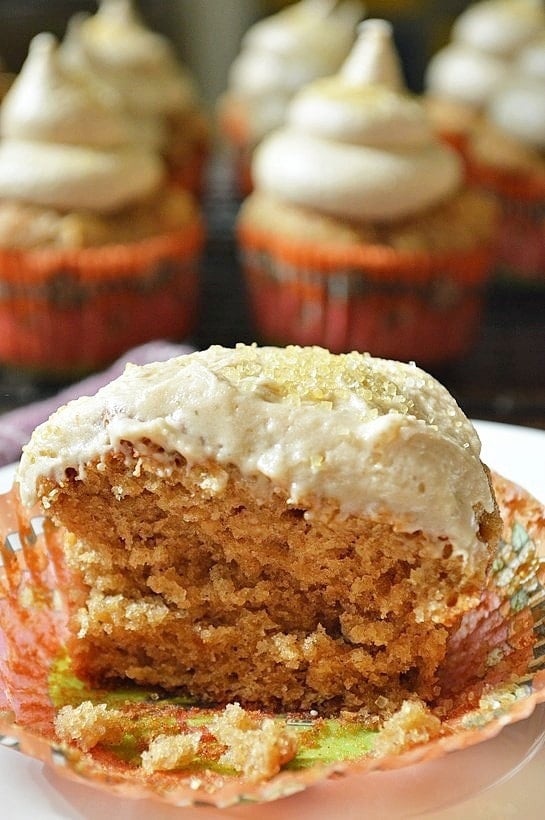 So when you're craving a cookie…or a cupcake…or a cookie…or…well, just feed BOTH cravings and make yourself these Oatmeal Cookie Cupcakes. Two cravings = one delicious dessert!
For more yummy gluten free recipes, check out my blog at Breezy Bakes.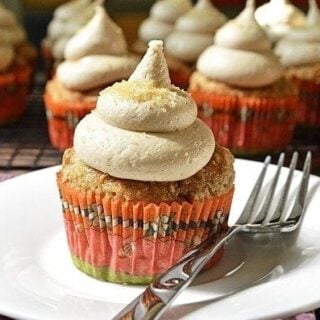 Gluten Free Oatmeal Cookie Cupcakes
Feed both cake and cookie cravings with these amazing Gluten Free Oatmeal Cookie Cupcakes. Top with brown sugar frosting for a real treat!
Ingredients
For the Cupcakes:
1 1/2 sticks butter, melted
1/2 cup plus 2 tablespoons packed brown sugar
1/2 cup pure maple syrup
2 eggs
1 1/2 teaspoons vanilla
1 cup applesauce
1 teaspoon salt
1 teaspoon cinnamon
2 teaspoons baking powder
1/2 teaspoon baking soda
1 1/2 cups Cup 4 Cup gluten-free flour*
1 1/2 cup old fashioned rolled oats
For the Frosting:
1 stick butter, room temperature
1/2 cup brown sugar
4 cups powdered sugar
1 teaspoon vanilla extract
2 tablespoons milk
pinch of salt
raw sugar granules for sprinkling (optional)
Instructions
Preheat oven to 350 degrees and line muffin tins with paper liners. Set aside.
Melt butter in microwave and allow to cool. In a large mixing bowl, combine melted butter, brown sugar, maple syrup, and eggs. Beat until combined. Mix in vanilla on low speed.
In a separate mixing bowl, sift together baking powder, baking soda, salt, cinnamon, and Cup 4 Cup flour. Add half the dry mixture to wet and mix together on low speed. Add applesauce and mix until combined. Add remaining dry ingredients and mix until combined. Using a spatula, fold in old fashioned oats.
Fill cupcake liners 2/3 way full and bake for 18-22 minutes or until tops spring back at the touch of a finger and toothpick inserted into center of cupcakes comes out clean. Immediately remove from tins and cool on cooling rack.
While cupcakes are cooling, begin making frosting. Cream together butter and brown sugar until brown sugar is dissolved and no longer gritty (this will take 3-5 minutes). Add 2 1/2 cups of powdered sugar and mix until combined. Add vanilla, salt, and milk and mix until smooth. Add remaining 1 1/2 cups of powdered sugar and mix until smooth. Add more milk (thinner) or powdered sugar (thicker) to achieve desired consistency.
Once cupcakes are completely cooled, frost and top with raw sugar granules.
Notes
*If using another flour blend, check to make sure it contains xanthan gum. If not, add 1/2 teaspoon to the recipe.
Recommended Products
As an Amazon Associate and member of other affiliate programs, I earn from qualifying purchases.
Nutrition Information
Yield

18
Serving Size

1
Amount Per Serving
Calories

403
Total Fat

14g
Saturated Fat

8g
Trans Fat

1g
Unsaturated Fat

5g
Cholesterol

55mg
Sodium

328mg
Carbohydrates

65g
Fiber

2g
Sugar

38g
Protein

5g
GoodLifeEats.com offers recipe nutritional information as a courtesy and is an estimate only. This information comes from online calculators. Although GoodLifeEats.com makes every effort to provide accurate information, these figures are only estimates.