Goal Tracker Pocket Notebook [Giveaway]
We're just about through another month of 2012 and I'm still working on my goals. I think this might be the longest I've successfully made a conscious effort on New Year's Resolutions.
Many of my goals, like exercise, have become solid habits now. I really enjoy and look forward to my 2 miles three times a week. Some times I feel really great and I run for at least half of the distance.
Other days I might be a little more tired so I fast walk the entire distance, but either way I am getting 30 minutes of active time 3 times a week like I committed to back in January. Being outside and spending time being active has made me feel happier and have more energy.
I think I've done pretty well with my New Year's Food Resolutions, too. I've found some more lunch ideas for myself so that I eat a good, healthy midday meal. I'm drinking water. I've experimented more with baking with whole grains. All around things are looking pretty good with my food goals.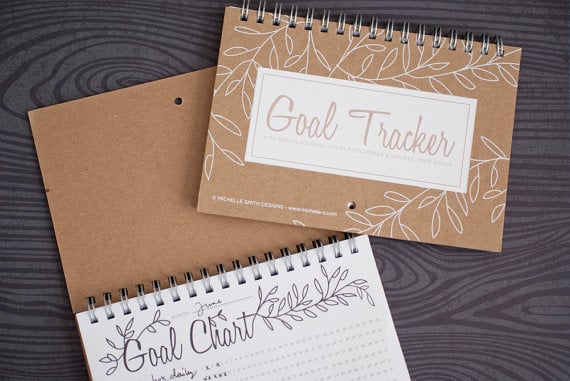 I'm still going in and out of phases where I'm good with the goals I've made for around the house: staying on top of laundry and keeping the house picked up. Most of the time I do really well, but some weeks there is a wrench tossed in the plan that throws me off course.
There are other, more personal goals, that I need a daily reminder to work on. I recently purchased this fabulous Goal Tracker Pocket Notebook from Etsy to help me with this. I know that one of the principles of goal-setting is to write your goals down in a visible place.
This notebook offers a 36 month calendar where you can record your goals for the month. Then, you can mark the days you successfully worked on those goals to keep track of your progress, and be accountable for the things you want to accomplish.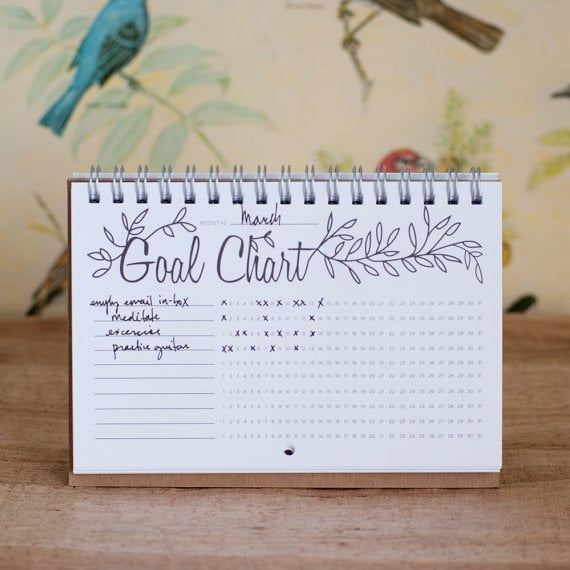 Michelle crafts her 4×6 inch spiral bound goal trackers from 100% recycled kraft paper cover stock. Small holes allow the tracker to be easily hung on the wall like a calendar, but it can also be propped on a desk.
The notebook is a nice size and easily folds up to fit in a purse or other bag. Plus, it is totally adorable and stylish.
I loved the goal tracker that I purchased so much that I wrote the owner of the Etsy shop, Michelle Smith, to see if she'd be interested in doing a giveaway here on GoodLife Style. Lucky for you guys, Michelle is going to give away 5 goal trackers.
Giveaway Prize (5 winners):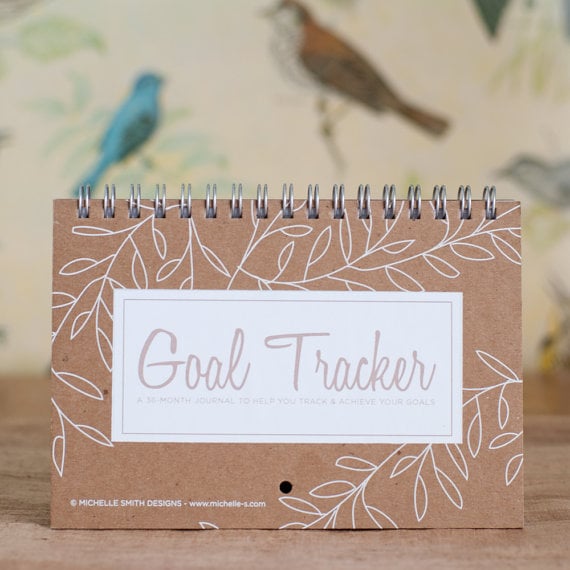 5 winners will receive one Goal Log / Resolution Chart Pocket Notebook, 36 Months
Giveaway Requirements:
What methods help you stay on top of your goals and to-do lists? How are you doing with your 2012 goals?

Contest ends March 8, 2012 at 11:59 p.m. PST.
Contest open to US States only.
Winners will be chosen via random.org and will have 3 days to respond before disqualified and a new winner chosen.
Optional Extra Entries:
Additional entries can be earned by doing any of the following, giving you a total of 3 extra entries. Leave a separate comment for each of your entries.
1. Follow goodlifeeats and femininemodern on Twitter and ReTweet the following message: I just entered to win a Resolution Chart Notebook from of @femininemodern on @goodlifeeats http://bit.ly/zdtXQv #giveaway
2. Like GoodLife Eats and Michelle Smith Designs on Facebook.
3. Pin any of the following posts on Pinterest:
Images via Michelle Smith on Etsy.