Guest Post Guidelines: How To Format Your Post
Hello! First of all, thanks so much for expressing interest in guest posting on Good Life Eats, I am thrilled to have you on board!
I have to warn you, I am a little OCD in my posting style, so I decided to provide you with a few guidelines in order to streamline the process and keep things consistent here on Good Life Eats. Don't hesitate to let me know if you have any questions. I so appreciate you helping me out, please let me know if I can ever return the favor.
Topics
Topics can range from How-To's to Kitchen Tips and Recipes. If you have other ideas, just let me know – I would love to hear them!
Adapted recipes are fine as long as the original source is properly credited and you've rewritten the directions in your own wording.
Remember to:
Focus on positive solutions rather than the negative.
Write like you would talk to a good friend, not like you're teaching a room full of students.
Encourage reader involvement, inviting them to participate in a discussion in the comments.
Paragraphs
Paragraphs should be 2-3 sentences in length. Blogs are often skimmed, so it is important to present the text in manageable portions rather than large, and somewhat overwhelming, chunks.
Text should be around 300 words in length, though I realize some topics may require more words.
Use boldface on a poignant sentence every couple paragraphs. It adds visual interest, and it keeps the readers engaged in the same manner as short paragraphs.  But don't go crazy, either.
Bullet Points and Lists
Where applicable, breaking the text up through use of bullet points and lists will help create visual interest to the post. Use bullets for unordered lists and ordered for lists for items with numbered points (i.e. 5 Ways to Cook Chicken).
Items in a numbered list that have sub-points can be bullet-ed.
Headings and Subheadings
If portions of your post have headings wrap that text in one of the following codes to help pull that topic out from the rest of the text.
Photography
Horizontal photos should be 525 pixels wide. Vertical photos should be 525-575 pixels tall. Please include at minimum 1 photo, at maximum 3, except in the event that your post is a "How-To". How-To style posts may include as many photos as necessary to demonstrate the skill being presented.
If the photo is from a source other than yourself, please credit below the photo as follows:
<em>Photo Credit: <a href="PHOTO SOURCE LINK" target="blank">PHOTOGRAPHER NAME</a></em>
Question to the Readers
Please end your post with a quick question to the readers to help generate discussion and encourage commenting. Questions should be formatted as follows:
<blockquote>Insert your question HERE.</blockquote>
Author Bio
Please submit 3-4 sentence author bio and a 150×150 pixel profile photo.
Example Author Bio: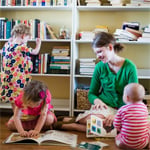 Allison Ruth, mama to three hungry girls, blogs at Some the Wiser where she takes life as it comes and tries to learn a little something as she goes.
Whether she's baking bread, sewing, or contemplating the fate of socks gone missing in the laundry, she looks for the peace and creativity life offers to everyone who is paying attention. Living life deliberately isn't easy, she admits, but it helps when you have good things to eat.
Follow Allison on Twitter, Facebook, and at Allison Ruth Photography
Submitting Your Post
Please submit your post by 1 week before publish date.
The following information should be emailed to Katie at: goodlife.eats@yahoo.com
Your Name
Your Blog Name
Your Blog URL
Your Post Title
Your Post Text/HTML
Author Bio
Twitter Handle*
Facebook Page*
*if applicable
Note: I suggest writing the post text as a draft in your blog's dashboard, then copy and past the full html from the post into a word doc. You can attach the word doc and any photos to the email. The remaining info can be sent in the body of the email or included in the word doc.
Regarding Photo Submission Sites
If you wish to submit your post and photo to popular food photo submission sites, feel free to do so. If you are unable to submit, just drop me an email letting me know and I'll try to take care of it when I'm home.
Popular sites include: