Holiday Recipe Exchange Rules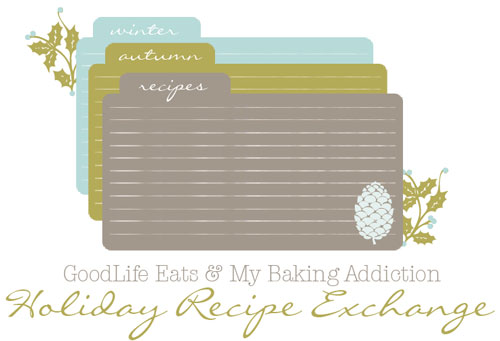 1.) Create a recipe using the ingredient specified for that week.You may enter a total of TWO recipes. While new posts are preferred, older posts are fine as long as they fit the requirements.
Theme examples:
October 3rd features Scharffen Berger Chocolate, so your recipe must highlight chocolate.
October 10th features Le Creuset and the theme is Fall One Pot Meals
2.) Share your recipe with everyone: bloggers and non-bloggers can both participate this year! See detailed recipe sharing instructions below for both bloggers and non-bloggers.
3.) If you want, help spread the word about the recipe exchange through your social media outlets such as Facebook and Twitter.
Sample Message: Join @GoodLifeEats and @BakingAddiction for a Holiday Recipe Exchange. See how you can participate (and WIN) here: http://wp.me/P14Uvo-26u Pls RT
4.) The contest period will run for 7 days. For example, October 3rd launches the Scharffen Berger Chocolate contest. The contest will close 7 days later, on October 10th at 11:59 pm CST.
Anyone can participate in the recipe sharing.
The prize will ship to US addresses only. If you are not a US resident, you are eligible if you have a valid US shipping address (i.e. a family member's address)
5.) Once the contest period closes, we will use a random integer program to select two winners. Winners will be notified and have 3 days to claim their prize before it is forfeited.

1.) Create a recipe using the week's theme/ingredient specified in the schedule and post it to your blog.
Your post needs to mention the GoodLife Eats and My Baking Addiction Holiday Recipe Exchange Series and include the following links:
Link the that week's sponsoring brand
Sample Link: Come join the fun at the My Baking Addiction and GoodLife Eats Holiday Recipe Exchange sponsored by Scharffen Berger."
Copy and Paste the Code:
Feel free to copy and past this code for your post, just switch out the brand name and URL info depending on what week you're participating.

Come join the fun at the <a href="http://www.mybakingaddiction.com/tag/holiday-recipe-exchange/" target="_blank"> My Baking Addiction</a> and <a href="https://www.goodlifeeats.com/category/recipe-exchange" target="_blank">GoodLife Eats</a> Holiday Recipe Exchange sponsored by <a href="http://www.scharffenberger.com/" target="_blank">Scharffen Berger</a>.
2.) Link your post to the widget that will be displayed within the featured posts on GoodLife Eats or My Baking Addiction.
We are using the identical widget coding so you will only need to link your recipe post to one of our blogs, the widget will sync them between GLE and MBA.

Create a recipe using the week's theme/ingredient specified in the schedule. Leave a comment in the comments section on either GoodLife Eats or My Baking Addiction with your recipe and, if desired, a link to your photo (photo can be uploaded through Flickr or Photobucket).
It is important to leave a comment with your recipe on only one of the blogs. Duplicate comments are unnecessary as all of the comments will be complied for the giveaway entries.

Each week will feature a fabulous prize for two winners valued at minimum $150.