Homemade Chocolate Dipped Candy Cane Marshmallows
Homemade Chocolate Dipped Candy Cane Marshmallows are a fun holiday treat to make.
They are delicious in a mug of hot cocoa and are great for holiday gifting.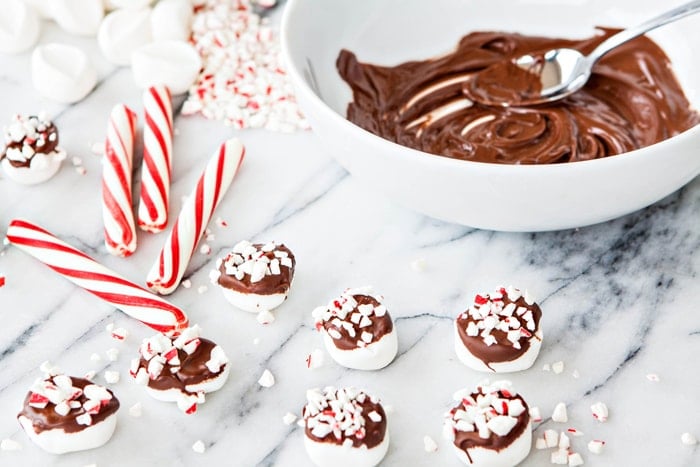 Did you know you can make homemade marshmallows?
It's pretty easy, and like most things homemade they taste so much better!
You can even dip them in melted chocolate and sprinkle with crushed candy cane.
These Homemade Chocolate Dipped Candy Cane Marshmallows are so good!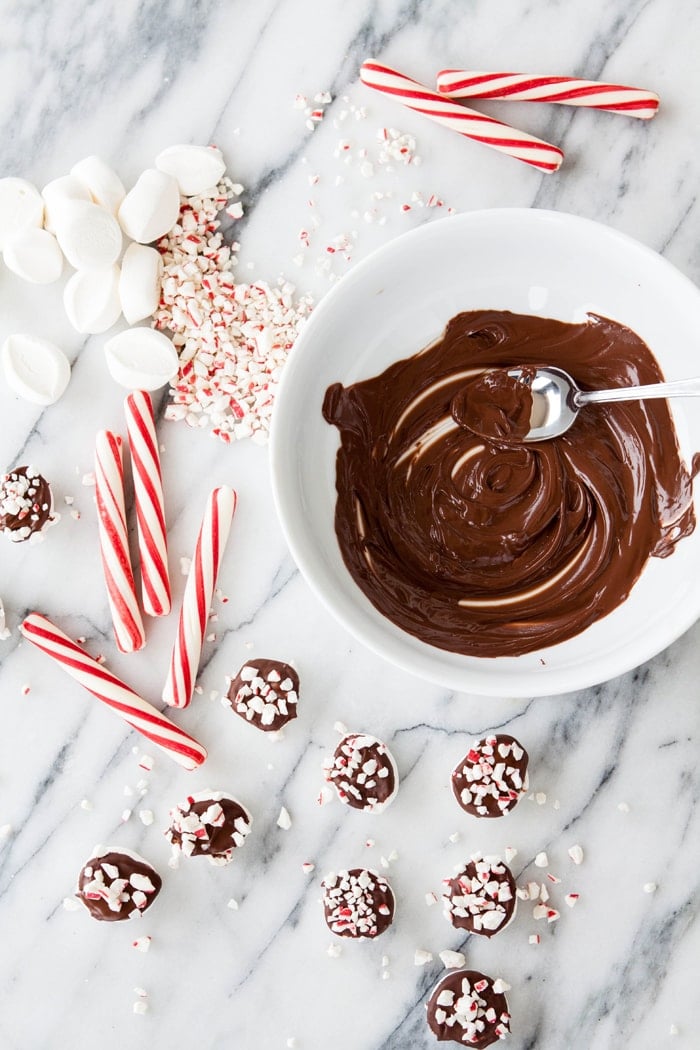 The kids love to help me dip and sprinkle the marshmallows.
The first time I ever made them, Madeline was really little and didn't like that I wouldn't let her help.
What a mess that would have been.
Plus,
I think she would have just eaten all of the Homemade Chocolate Dipped Candy Cane Marshmallows as I was making them!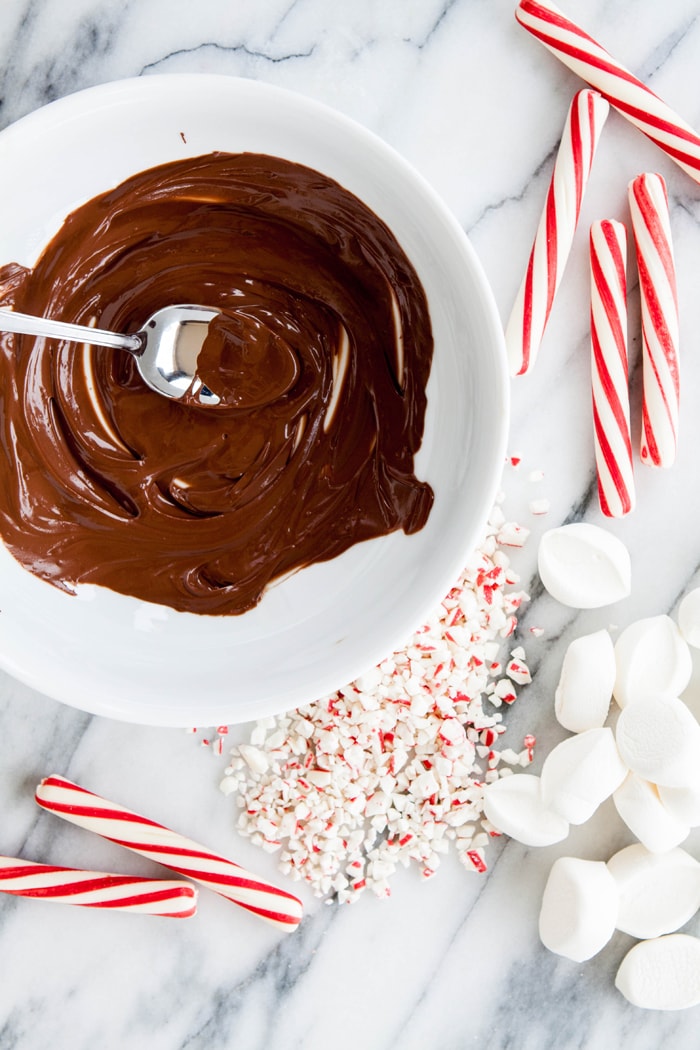 Along with these marshmallows, this year I am trying candied orange peel and salted caramels.
Yummy!
If you've never make chocolate dipped candies before, make sure you check out these instructions for How to Temper Chocolate.
Learning how to temper chocolate properly is essential when you want to make homemade candies.
Tempered chocolate will cool into a hardened state with a shiny appearance.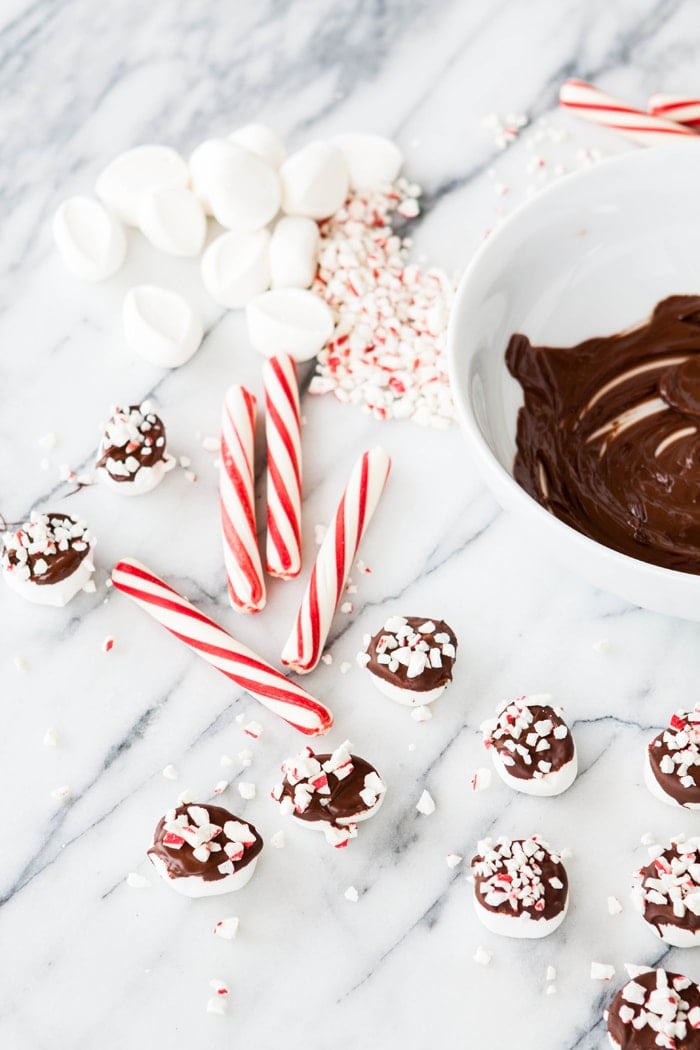 When broken or bitten into will break with a snap.
Think about the outer shell on a ganache truffle – you wouldn't want the outer texture of a truffle to be dull, sticky and tacky, would you?
Nope.
You want it to be a smooth and shiny shell.
Pair a bag of these Homemade Chocolate Dipped Candy Cane Marshmallows with a mug or hot cocoa mix for an inexpensive (and yummy) holiday gift.
What are your favorite holiday candies to make?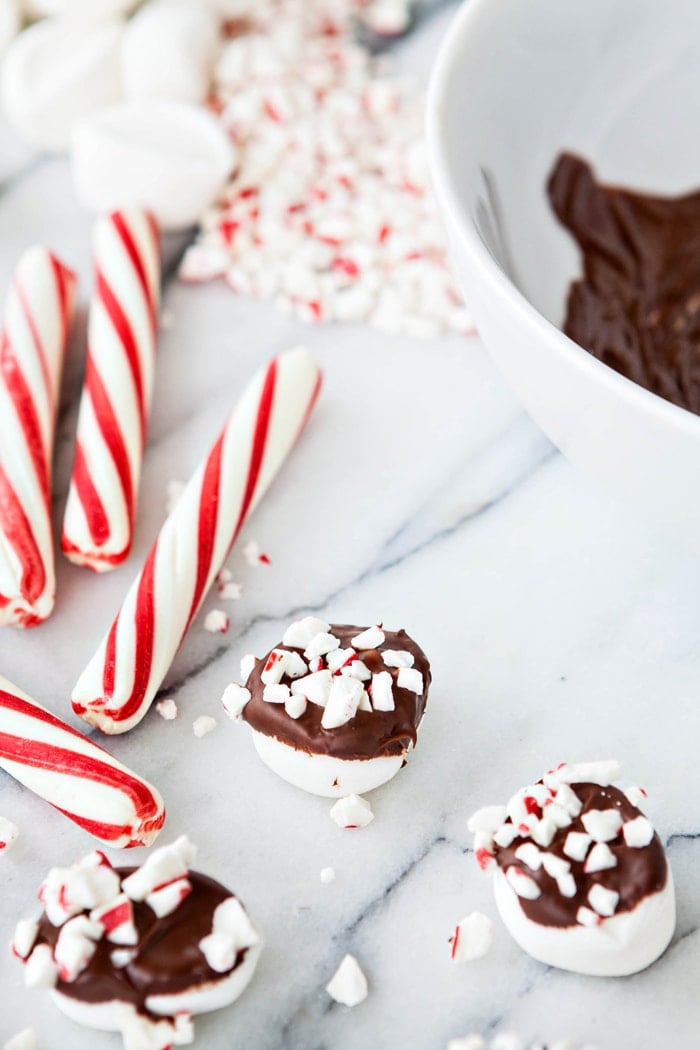 MORE HOMEMADE CANDY RECIPES TO TRY
Homemade gifts from the kitchen, like these Homemade Chocolate Dipped Candy Cane Marshmallows, make great holiday gifts for friends, teachers, and neighbors.
Here are some more ideas for your inspiration:
Dark Chocolate Turtle Pretzel Bark is a fun treat for kids to help make for a teacher gift.
Classic Pecan Christmas Turtles meet Dark Chocolate Bark with the crunchy, salty addition of mini pretzels for a delicious sweet and salty Christmas candy treat.
Do you like making candied nuts? Cinnamon Vanilla Glazed Walnuts or Sweet and Spicy Rosemary Bar Nuts are both simple to make and nice additions to a candy and nut gift box.
Do you know someone who loves chocolate paired with peppermint?
This Triple Chocolate Candy Cane Hot Cocoa Bark would be a hit with them!
Dark chocolate pairs white chocolate, milk chocolate chips, marshmallows, and mini candy canes in this Candy Cane Hot Cocoa Bark for a fun holiday treat.
Bittersweet Chocolate Swirl Fruit and Nut Bark pairs bittersweet chocolate, white chocolate, almonds, raspberries, strawberries, pumpkin and chia seeds for a delectable holiday treat.
Gingerbread Caramels are a fun twist on a classic caramel recipe. Caramel pairs awesomely with hints of molasses and ginger.
Other Homemade Holiday Gift Ideas
Homemade Pancake Mix Jars are a fun way to gift a delicious and healthy breakfast recipe. Pair it with a cute mixing bowl and a wooden spoon or a nice spatula.
Homemade BBQ Chicken Rub features a mix of brown sugar, salt, pepper, garlic powder, cumin, chili powder, and smoked paprika for a flavorful homemade spice rub.
I love that this BBQ Chicken Rub stores well in a jar so that you can make a large batch ahead of time and use it throughout the year.
It makes a great homemade gift for the BBQ lover in your life.
If you're looking for a fun family Christmas craft that can also serve as a homemade gift, Salt Dough Ornaments are the sweetest!
You can make them with hardly any effort and the kids will have a blast. your limitations are only set by the cookie cutters you own.
If you want to take it one step further, You can even personalize the ornaments for the recipient!
Personalization is super easy – just take some mini ABC cookie cutters and stamp the middle with the recipient's last name initial.
Still want more ideas?
Check out these 35 Homemade Christmas Gift Ideas if you're looking for homemade gift ideas this holiday season.
Love this recipe for Homemade Chocolate Dipped Candy Cane Marshmallows?
Sign up for Good Life Eats email updates and never miss another recipe!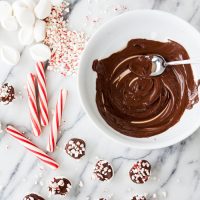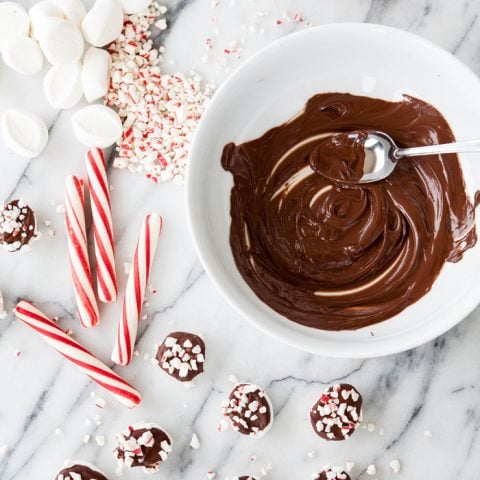 Homemade Chocolate Dipped Candy Cane Marshmallows
Yield: 9x13 pan, varies based on cutting size

Prep Time: 10 minutes

Cook Time: 30 minutes

Additional Time: 3 hours

Total Time: 3 hours 40 minutes

Homemade Chocolate Dipped Candy Cane Marshmallows are a fun holiday treat to make. They are delicious in a mug of hot cocoa and are great for holiday gifting.
Ingredients
2 tablespoons plus 2 1/2 teaspoons unflavored gelatin
1/2 cup cold water
2 cups granulated sugar
1/2 cup cold water
1/2 cup light corn syrup
1/2 teaspoon salt
2 large egg whites
1/2 of a scraped vanilla bean
2/3 cup powdered sugar
6-8 ounces dark baking chocolate
2/3 cup crushed candy canes
Instructions
Grease the bottom and sides of a 9x13 rectangular metal baking.
In a large bowl, sprinkle the gelatin over 1/2 cup cold water. Allow to stand and soften while you complete the next step.
Combine the sugar, cold water, corn syrup, and salt in a heavy 3-quart saucepan.
Cook mixture over low heat, stirring constantly, until the sugar has dissolved.
Bring mixture to a boil over medium heat without stirring.
Cook until mixture registers 240 degrees F on a candy thermometer. This should take about 8-12 minutes.
Turn heat off. Pour sugar mixture over the gelatin mixture Cut the vanilla bean in half, then cut a slit down the middle in the half you are using.
Use a knife or spoon to scrape out the beans.
Add to the sugar and gelatin mixture.
Beat on high speed (using either a hand mixer or a stand mixer) until it is tripled in volume, thick, and white – approximately 10 minutes if you're using a hand mixer and 5 for a stand mixer.
Using a clean bowl and beaters beat the egg whites until they begin to hold stiff peaks. Add the whites to the sugar mixture and beat until combined.
Pour the mixture into the prepared 9x13 – note: you will not be able to get all of the mixture out. Don't worry! Smooth batter across the top using a greased spatula.
Place the uncovered marshmallows in the fridge and chill for 3 hours, or until firm.
Loosen the marshmallows and invert over a large cutting board. Cut into one inch cubes using a large knife, or cut with cookie cutters into your desired shape.
Place the cut marshmallows back in the baking pan, sift with powdered sugar, and toss until fully coated.
Remove the marshmallows from the pan, discard any excess powdered sugar and store in an airtight container or Ziploc back. Marshmallows keep for one week.
Melt 6-8 ounces baking chocolate per instructions on the packaging. Cover a work area with parchment paper.
Arrange the marshmallows, melted chocolate, and crushed candy cane in separate containers on the parchment paper.
Set a rimmed baking sheet, such as a jelly roll pan, to the side.
Dip marshmallows in melted chocolate, place on the baking sheet, and sprinkle with crushed candy cane, sprinkles, coconut, or whatever you like.
You will have to reheat the chocolate throughout this process as it cools and thickens.
Lay dipped marshmallows out across a rimmed baking sheet (such as a jelly roll pan) and place in the refrigerator until the chocolate has hardened.
Recommended Products
As an Amazon Associate and member of other affiliate programs, I earn from qualifying purchases.

Be sure to follow Good Life Eats on Instagram. Tag @goodlifeeats and include the hashtag #goodlifeeatsrecipes so I can see what you're cooking up in YOUR kitchen!
Let me know if you try this recipe for Homemade Chocolate Dipped Candy Cane Marshmallowsand what you think of it by leaving a comment below.