My 2013 To-Read List and NEW Weekly Reading Book Club
Mandi from Life Your Way and I will be partnering this year for a fun weekly reading book club where can discuss about what we're reading and share recommendations with each other every Monday and we hope you'll join us too.
We want to hear what you're reading and loving (or even books that just didn't click with you). Some of my favorite books that I otherwise never would have read were discovered through recommendations by friends and reader comments!

Mandi and I like a lot of the same books and genres (especially when it comes to YA fiction), so I added a few books to my list that I discovered from her post.
Do you have a long list of to-read books? I know I do! I like to keep a running list over on Goodreads – where I keep track of what I've read, what I want to read, and how many books I read each year. You can find me here: KatieG.
Here is a sampling of the books that I definitely want to find a place on my nightstand this year.
My 2013 To-Read List
Fiction:
Clockwork Princess, by Cassandra Clare
Reached, by Ally Condie
Shades of Earth, by Beth Revis
Dark Triumph, by Robin LaFevers
Sever, by Lauren DeStefano
Saving CeeCee Honeycutt, by Beth Hoffman
Code Name Verity, by Elizabeth Wein
Requiem, by Lauren Oliver
Under the Never Sky, by Veronica Rossi
Scarlett, by Marissa Meyers
Messenger and Son by Lois Lowry
Waterfall, by Lisa Tawn Bergren
Ruins, by Orson Scott Card
The Mark of Athena, by Rick Riordan
The Alchemyst (The Secrets of the Immortal Nicholas Flamel #1), by Michael Scott
The Magician (The Secrets of the Immortal Nicholas Flamel #1), by Michael Scott
I am the Messenger, by Markus Zusak
The Lost Prince, by Julie Kagawa
Touch of Power, Scent of Magic, and Taste of Death, by Maria V. Snyder
The Healing, by Jonathan Odell
Dreams of Joy, by Lisa See
Non-Fiction:
Make the Bread, Buy the Butter: What You Should and Shouldn't Cook from Scratch — Over 120 Recipes for the Best Homemade Foods, by Jennifer Reese
A Family of Readers: The Book Lover's Guide to Children's and Young Adult Literature, by Roger Sutton and Martha V. Parravano
Bringing Up Bébé: One American Mother Discovers the Wisdom of French Parenting, by Pamela Druckerman
Happier at Home, by Gretchen Rubin
My Life in France, by Julia Child
Need more suggestions? Here are my  favorite reads from 2012.
What I'm Reading Now
I started Ruins (book #2 in the Pathfinder series) over the weekend and had to peel myself away from it to eat dinner and then write this post.
In book #1 we learn that Rigg is well trained at keeping secrets. Only his father knows the truth about Rigg's strange talent for seeing the paths of people's pasts.
When his father dies, Rigg is stunned to learn just how many secrets Father had kept from him–secrets about Rigg's own past, his identity, and his destiny.
And when Rigg discovers that he has the power not only to see the past, but also to change it, his future suddenly becomes anything but certain.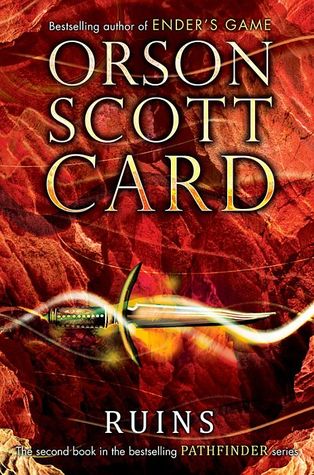 Rigg's birthright sets him on a path that leaves him caught between two factions, one that wants him crowned and one that wants him dead.
He will be forced to question everything he thinks he knows, choose who to trust, and push the limits of his talent…or forfeit control of his destiny.
Rigg's adventures continue in the second book, Ruins. But I don't want to spoil anything if you haven't already read the first book.
What are you reading this week?
Head over to see what Mandi and her family are reading this week.
Share Your Reading List