New Balance Shoe and Headphone Giveaway
GIVEAWAY NOW CLOSED
I, like everyone else, have made fitness goals for 2012. What are New Year's resolutions without a goal to exercise or more eat healthier? I definitely dropped the ball on exercising for 2011. Not to mention that with all the recipe testing, traveling, and sitting at the computer I do it is far too easy to spend most of my day in a sedentary fashion.
Why did I drop the ball in 2011? I think because I wasn't specific in my goal. Just saying "exercise more" doesn't really define what you're going to do. Also, I never really voiced my goals to anyone. I kind of need to be accountable for the goals that I'm making otherwise they get lost and forgotten. And lastly, I wasn't consistent. If it isn't a consistent routine, it is so easy to push it aside when my "to-do" list is already feeling very full.
In 2012, I definitely want to be a lot more exercise minded. I'd like to exercise for 30 minutes at least 3 times a week. And even that isn't really specific enough. I want my legs and rear end to be more toned. I'd like to work on having stronger abs. And be able to run for 20 minutes without feeling exhausted. There. I said it.
Exercising regularly makes me feel better: physically and emotionally. Even if it is something as simple as going for a fast, 30 minute walk.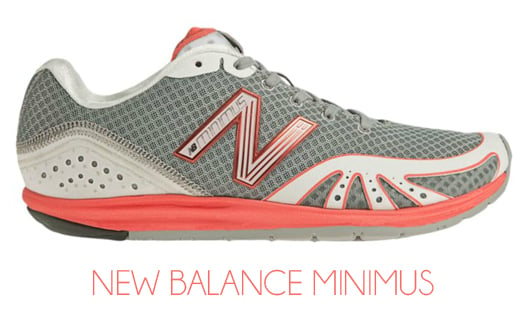 That being said, I was badly in need of a new pair of athletic shoes. Can you believe that I haven't bought a new pair in over NINE YEARS? A new pair of shoes is just what I needed to get excited about exercise again. Check out these beauties. Not only are they attractive, but they are incredibly comfortable too.
New Balance Minimus Shoe Features
With the New Balance Minimus Running Shoe LESS is MORE.
Super cute! (since that is always a plus!)
Designed to be worn with or without socks.
Carefully engineered to deliver high performance in a lightweight, flexible package.
Inspired by Good Form Running; the Minimus collection holds a world of discovery for neutral runners as well as those with gait issues or chronic injury to conquer by learning better form.
Positions your foot into a more neutral stance to encourage mid-foot strike.
Odor Resistant
I don't know about you, but I can't possibly motivate myself to exercise without some good, upbeat tunes in the background. The music helps distract me and keep me moving. I love these new headphones from iHome and New Balance.
Not only are they comfortable to wear while exercising, but they have incorporated several devices into one until to help keep clutter away while you're working out.
iHome NB639 Fitness Evolve Headphone Features
With the Fitness Evolve Headphones, you only need one gadget for your workout needs.
 Chronograph Workout Timer
Pedometer Functions:  Tracks total number of steps and distance travelled
Heart Rate Monitor:  Measures heart rate beats per minute and calories burned
One-Touch Heart Rate Monitor/Pedometer Charges & Syncs via USB
Gives you real-time voice-over feedback:  announces heart rate, caloric burn, steps taken and distance stats without pausing your music or your workout.
No Batteries Required
Need some music ideas? Between She Wears Many Hats and Recipe Girl, I think you'll be covered. Check out their suggestions here:
Do you need a little motivation with your fitness goals?
Go ahead and enter this fabulous giveaway from New Balance and iHome Audio. I'm off for my 30 minutes of exercise now. It's a gorgeous day, so I'm thinking a run/walk outside!
Giveaway Prize (1 winner):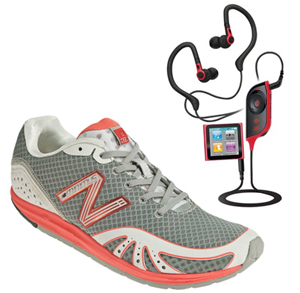 1 winner will receive a pair of New Balance 10 Minimus Shoes and one iHome NB639 Fitness Evolved Headset. (Approximate retail value $204.98)
Note: iPod pictured is not included in the giveaway.
Thank you, New Balance and iHome Audio for providing this giveaway!
Giveaway Requirements:
What are your 2012 fitness goals? Be specific, don't just say " to exercise."
Contest ends January 24, 2012 at 11:59 p.m. PST.
Contest open to US States only.
Winners will be chosen via random.org and will have 3 days to respond before disqualified and a new winner chosen.
Optional Extra Entries:
Additional entries can be earned by doing any of the following, giving you a total of 5 extra entries. Leave a separate comment for each of your entries.
1. Follow goodlifeeats, New Balance, and iHome on Twitter and ReTweet the following message: I just entered to win a pair of @NewBalance Minimus and an @iHome Fitness Evolved Headset from @goodlifeeats  http://bit.ly/zdtXQv #giveaway

2. Like GoodLife Eats on Facebook.
3. Share the link to the giveaway and your fitness goals for 2012 on your Facebook wall. Winner will need to verify.
4. Give any of the following posts a Stumble using Stumble Upon, then leave a comment here telling me which post you stumbled.
Note: For another chance, head over to My Baking Addiction's New Balance Giveaway.