Tag4Cancer.com – iPad 2 Giveaway
This post brought to you by BeeWell for Life. All opinions are 100% mine.
If you read about my Less Stress Challenge a few weeks ago, you know that I've committed to renew my effort to taking care of myself: mind, body and spirit. I'm excited to learn about a new website BeeWell for Life, by Bumblee Bee. At BeeWell for Life they're also dedicated to a healthy, active lifestyle.
I look forward to exploring the Bee Delicious portion of BeWell for Life more. It looks like it will be a great resource for new nutritious and tasty lunch ideas, which is something that I am working on right now.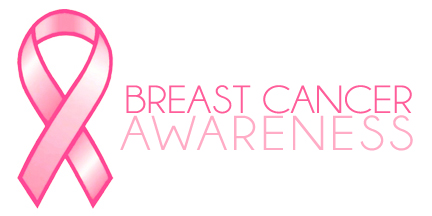 Bumble Bee is taking initiative to lead the way with its charitable contributions increase breast cancer awareness with their Y-ME National Breast Cancer Organization™ partnership. Walk and Bee the Difference: For every mile you walk, run or cycle and log on www.beewellforlife.com, and Bee Well for Life will donate $0.10/mile to the Y-ME National Breast Cancer organization. That's something that will motivate me to exercise more!
I don't have some amazing personal story about breast cancer and how it's affected my life and the life of a close family member, but I encourage you to read this post from a few months ago on my friend Jamie's blog My Baking Addiction where she shared her experience with a breast cancer scare. Please remember to take care of yourself.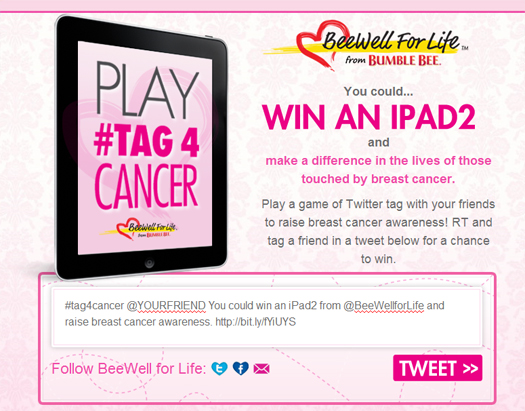 BeWell for Life is giving away two iPad2's on Twitter to encourage people to learn more about Bee Well for Life and promote women's breast health this month. The more you tweet about raising breast cancer awareness, the greater your chances of winning are!
Play Twitter tag with your friends via Tag4Cancer.com and tweet the following message:
#tag4cancer @YOURFRIEND You could win an iPad2 from @BeeWellforLife and raise breast cancer awareness. http://bit.ly/fYiUYS

In addition to the Twitter breast cancer awareness giveaway, Tag4Cancer.com is giving away another iPad2 for those who comment on the posts of the participating blogs. So follow the rules below to leave your comment here for an extra chance at winning.
If you'd like to follow along BeWell for Life and receive health tips you can check out Bee Well for Life on Facebook and Twitter.
Giveaway Prize (1 winner out of all the participating blogs):
iPad2, value $500
Giveaway Requirements:
Comment on this post  – Mention a friend and share how your friend inspires you to be fit or make a difference for others.
Must be US resident and at least 18 yrs of age.
Contest ends 11:59 p.m. EST on May 31, 2011
For names of winner, send a self-addressed stamped envelope to: 150 N. Orange Avenue, Suite 412, Orlando, Florida 32801.
For more information about the giveaway and contest winner, see: contest rules