Three years ago I pinned this Thankful Tree from Simply Vintage Girl. I had saved it for the purpose of doing something like this with my kids. It is an attractive, simple decoration for the month of November, but also a great reminder that even though our life is challenging at times our family has a lot to be thankful for.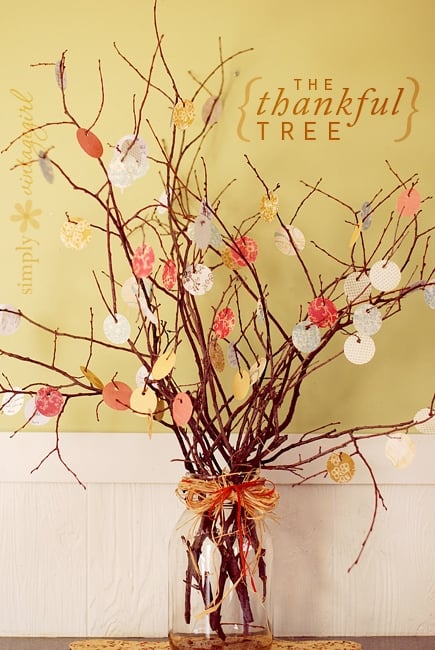 Thankful Tree from Simply Vintage Girl
I think we often get so used to the things that we enjoy in our life and expect them to be there that it is good to really sit down and take stock of all that we have that really blesses our life and our family.
My kids have always been pretty good about saying "thank you." They say thank you to each other, to me, to their friends, and in their prayer. Especially Logan, he has been so much more focused on being thankful for the simple blessings in life.)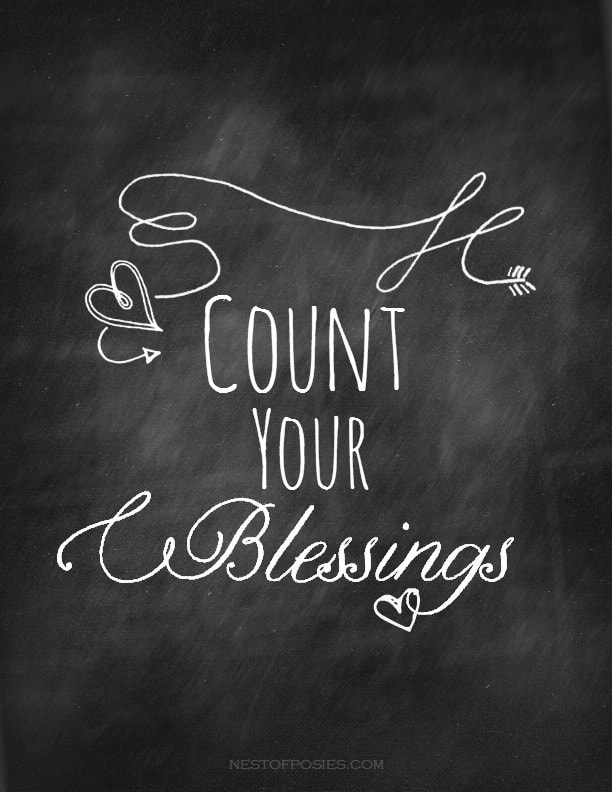 Thanksgiving Chalkboard Printables by Nest of Posies
And I try to set the example back to them by thanking them when they do something I ask with no argument or when I see them being kind to each other or for just working hard. Thank you is a regular part of our vocabulary.
Sometimes, though, I think it becomes a little too much routine to say thank you. It is an automatic response. Like a knee jerk reaction. We say it but are we really thinking about what we mean when we say it?
I think there is something pretty profound about sitting down and writing out our thanks. To each other. To God. To our friends. And then seeing them all displayed visually. To have a physical reminder of HOW MUCH we really are blessed.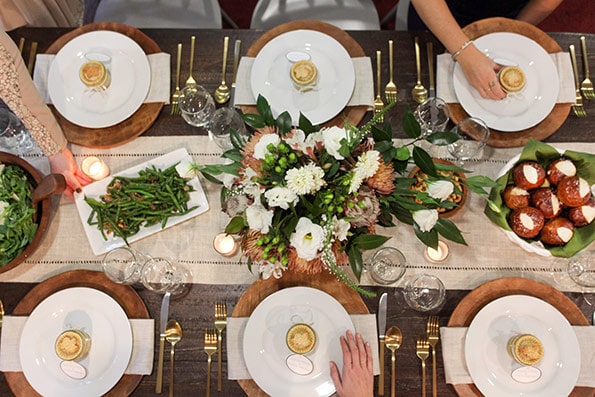 I love the idea of hosting a gratitude dinner with friends and family before Thanksgiving. There are so many fun traditions leading up to Christmas, like making Christmas cookies and candies, caroling, decorating the tree, sipping hot cider, making gingerbread houses, playing Christmas book bingo.
Why should we not spend a whole month celebrating and giving thanks for our many blessings just like we spend a whole month celebrating Christmas? I think it would be fun to start some new traditions geared more towards Thanksgiving for November.
Evite has some great ideas for how to host a gratitude dinner and how to keep it relatively simple. They suggest:
Invite friends over for a potluck. Ask guests to bring a dish in the host message of your Evite invitation and to share what they are bringing in their comments when they RSVP. If you're the host, supply the main dish or a couple of easy, crowd-pleasing make-ahead dishes such as these mini apple pies (made with store-bought pie dough) or dinner rolls (these are Sister Schubert's pretzel rolls, pulled straight from the freezer, sprinkled with kosher salt, and put in the oven).
Evite recommends something seasonal, yet simple, like Butternut Squash Lasagna for the main dish if you choose a traditional dinner themed menu. For appetizers and sides they suggest things like rosemary cashews, and a green salad with spinach, arugula, and parmesan.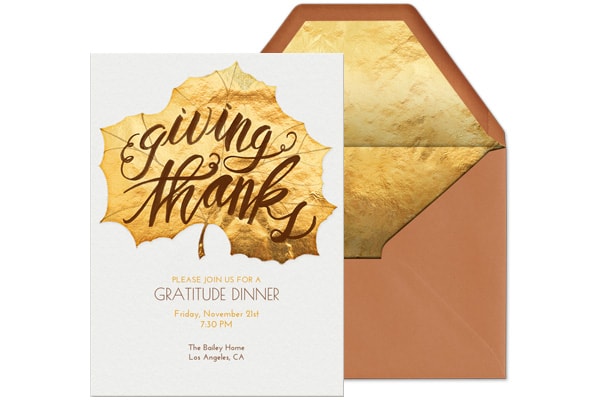 I am planning to invite my kids to a little "gratitude dinner" with me this week in honor of all that we are thankful for and also to extra our appreciate to each other. I won't make a big deal of the menu like I would for Thanksgiving or a dinner party. But I will serve some of our favorite fall recipes that I know we are all thankful for, like Spiced Pomegranate Apple Cider, Easy Honey Mustard Baked Chicken, Biscuits, Roasted Broccoli, and these Easy Pumpkin Custards for dessert.
After our dinner for a family activity we will work on our own Thankful Tree. We can write notes of what we are thankful for and tie them onto our "tree" branches and I'll keep extra notes and strings handy for the rest of the month so we can continue to add to it when we think of something we are thankful for or when we want to leave someone in the family a note of thanks.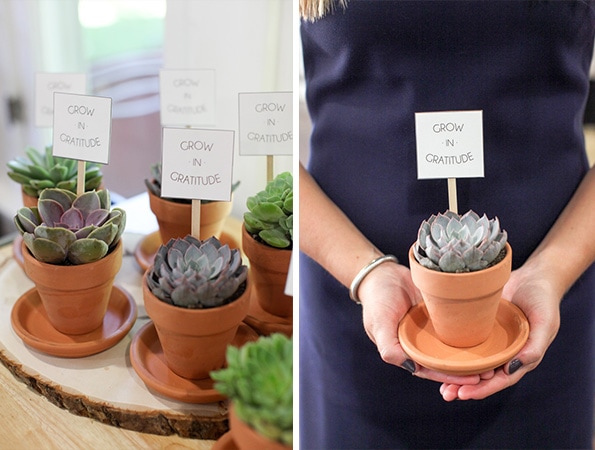 I love these "Grow in Gratitude" succulent party favors. What a cute, and simple reminder of the evening for guests to take home. For more tips and ideas if you would like to host your own gratitude dinner visit Evite.com. Be sure to check out their printable DIY gratitude notes and envelopes and premium Evite invitation.
This post was created in partnership with Evite. All opinions are my own.