The Week in Review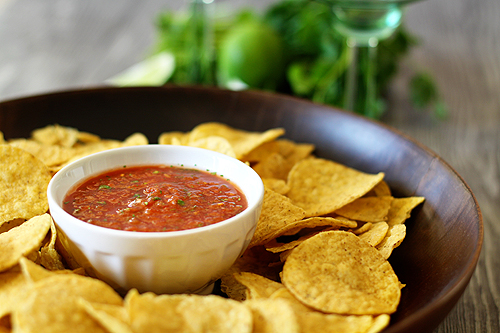 I've been eating this salsa all week. I can't wait to share the recipe with you! It is addicting!
I thought I'd share with you some of the things I've bookmarked this week. Good recipes. Cute things. Stuff that's made me think. Just a glimpse of what's been happening on my side of the computer this week.
I want to try these Zucchini Carrot Muffins soon! We have two huge zucchini, a big bag of carrots, and one willing food processor. I thought they might be a nice change from our usual Zucchini Apple Spice Muffins.
How is it that I love Pumpkin Ice Cream, but I've never thought to make it at home? I can't wait to try this recipe. We are just about out of the Peach Frozen Yogurt I made (recipe coming soon) and will have room in the freezer for a new flavor.
I love this post from Jyl on What is Your Definition of Friendship. Not food related, but definitely worth a read this weekend.
This Cauliflower recipe from Amy makes me want to give the vegetable another chance in our house. And how cute is the recipe name? Trees in your Ears Pasta. Cauliflower = trees and Orecchiette = ears.
Jane shared an awesome tip about adding xantham gum to ice cream and frozen yogurt so it doesn't get icy in the freezer.
This week I found out that my recipe for Cranberry Crumb Bars recipe was a winner in the Foodista Best of the Food Blogs Cookbook! Book available on Amazon.
I saw this adorable Forest Friends Print on My Favorite Things and immediately ordered it for Madeline's room. It's her 3rd birthday in just over a week. The colors match her room perfectly and it's full of all the cute things she loves.
Madeline's 3rd birthday is in just over a week and I still haven't made party plans! We want to have a small friends party, but I can't decide on what kind of party. I think I out did myself with Logan's Solar System Birthday Party. It wasn't fancy, but it turned out great and I want Madeline's to be just as special. And that's stressing me out just a teeny bit! She doesn't have just one thing she loves, her interests are all over the place and that makes it hard to decide. All animals, especially dogs and cats. Playing kitchen. Dancing. Bugs, especially butterflies and ladybugs. Coloring. Playing blocks and cars. Music. Ice Cream. Stuffed Animals. Books. What am I going to do???
And I guess that's the end of avoiding the mountain of laundry upstairs!