Weekly Reads and Thoughts on Reading Homework for Kids
What We are Reading this Week
Madeline still prefers picture books and usually ends up wandering if we try to read chapter books aloud with her and Logan together.
Some of the picture books she has been enjoying this week include: The Very Noisy Night, by Diana Hendry; If You Give A Pig a Party, by Laura Numeroff; and Good-Night, Owl, by Pat Hutchins.
Good-Night, Owl is a cute book that we received a couple years ago from Eric's parents.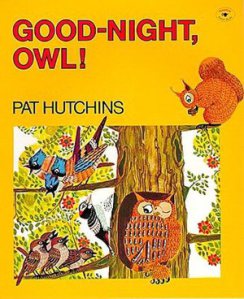 Owl couldn't sleep — not while the bees were buzzing, the crows croaking, the starlings chittering, and the jays creaming.
Every time there seemed to be some peace and quite, someone else landed in the hollow tree and woke Owl up again. Would Owl ever get any rest? (I can completely relate to owl!)
Logan is still working his way through Harry Potter and the Goblet of Fire, but he has also checked out books from the school and public library on paper airplanes – Paper Airplanes, Co-Pilot Level: 2 and Paper Airplanes, Pilot: Level 3.
This interest has been a lesson in patience  as some of these planes are quite difficult to make .
He has also spent time measuring and recording the distance each plane flies and the amount of seconds it stays in the air. Hello, math!
Our family room is usually littered with paper airplanes because he likes to thrown them from the upstairs hallway that opens to the downstairs family room.
I am getting used to being hit in the head by flying paper objects!
One of the best homework assignments Logan could have received this year from his second grade teacher is to read 20 minutes every day.
Why? Oh there are so many reasons…here are a few of them.
Benefits of Structured Reading Time for Kids
Regular Reading Practice
Obvious, right? Practice makes perfect and all the better when it is regular practice.
Vocabulary
It gives us the opportunity to discuss what a new to him word means (and new knowledge for him).
He has also become better at independently searching for an answer – he will go to dictionary.com to look up the meaning of the word.
Transition
Logan has always been someone who has difficulty with transition and change.
Spending some time reading after school before distractions take hold, gives him quiet downtime to adjust to being back home after a busy and socially stimulating day at school.
Study of a Specific Subject
While this was meant to be a "reading" homework assignment, it has also been time each day where he is studying and learning about other subjects. (HaHa!)
For a long time Logan wasn't really interested in "pretend" stories because he would rather read stories about real things.
He has spent hours learning about Sharks, Dinosaurs, Explorers, Geography and Cultures, Rocks and Minerals, Reptiles, and more.
Reading Time for Mom
I am usually doing laundry, starting dinner, tending to Madeline's needs (often at the same time) or some other "Mom job" during the time Logan is reading.
This year I'm going to take advantage of those 20 minutes as frequently as I can to allow for my own reading time.
I am just pages from finishing Ruins (by the time you read this I will probably already be done). I have enjoyed it so much and highly recommend the Pathfinder books by Orson Scott Card. If you think you don't like Sci-Fi, you might be surprised. It is worth giving this series a try.

BONUS: Requiem (pre-order), by Lauren Oliver; Reached, by Ally Condie; Prodigy (pre-order), by Marie Lu; and Shades of Earth, by Beth Revis are on their way to me thanks to a gift card that I received last week. Which should I read first?
This week I am planning to start Promised, by Caragh M. O'Brien.
Promised is the third installment of the Birthmarked series – another addition to the great YA dystopian novels that have been landing on the market in the last few years.
After climate change, on the north shore of Unlake Superior, a dystopian world is divided between those who live inside the wall, and those, like sixteen-year-old midwife Gaia Stone, who live outside.
It's Gaia's job to "advance" a quota of infants from poverty into the walled Enclave, until the night one agonized mother objects, and Gaia's parents disappear.
As Gaia's efforts to save her parents take her within the wall, she faces the brutal injustice of the Enclave and discovers she alone holds the key to a secret code, a code of "birthmarked" babies and genetic merit.
Fraught with difficult moral choices and rich with intricate layers of codes, Birthmarked explores a colorful, cruel, eerily familiar world where a criminal is defined by her genes, and one girl can make all the difference.
Eric is reading The Mark of Athena, by Rick Riordan. It is the third book in Riordan's spin off series to The Percy Jackson stories. I'll be reading that one eventually, too.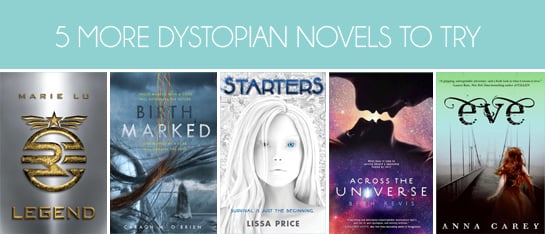 If, like me, you're a fan of YA dystopian novels, you should check out these two posts for some more recommendations: If You Liked the Hunger Games… and 5 More Dystopian Books to Try. There are a goldmine of recommendations in the comments as well.
Head over to Life Your Way see what Mandi and her family are reading this week.
Share Your Reading List
What are you reading this week?