Weekly Reads Online Book Club 3/19/13

Please welcome Allison for today's Weekly Reads Online Book Club!
For the last three years I have challenged myself to read 100 books in a year.  Each year I came close, but I never made it to 100 books.  This year, 2013, is the year!  I am committed to scheduling time to read each night and listening to audio books when I carpool each week.  So far, I am off to a great start with 24 books behind me already.  I think the key is finding really good books that grab your attention – life is too short to waste time on mediocre books.
What I'm Reading This Week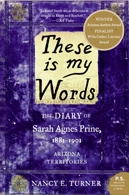 These is My Words, by Nancy E. Turner
This book has been around for more than ten years, but I just discovered it recently and I am totally captivated.  I'm about 3/4 of the way through this piece of historical fiction, but I can already tell that this book will be one of my all time favorite love stories.  Inspired by the author's own family memoirs, this book is the romantic and dramatic life story of Sarah Prine and her courageous spirit that endures a life in the Arizona Territory of the 1800's.
The story is told from the perspective of Sarah's journals, which lends a personal and authentic feel to the book.  What really keeps me turning the pages though is the beautiful love story between Sarah Prine and the dashing cavalry officer Captain Jack Elliot.  This is a love story to rival Gone with the Wind.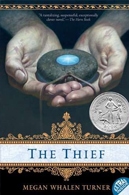 The Thief (The Queen's Thief #1), by Megan Whalen Turner
I recently happened upon this YA Fantasy series at the library and have been pleasantly surprised by how much I am enjoying it.  I just finished the first book in the series, The Thief, and I can't wait to keep reading on in the series this week because I've heard that the second book, Queen of Attolia, is even better than the first.
In The Thief, Turner introduces the reader to her Greek inspired landscape in which the king's scholar believes an ancient treasure is hidden.  The king's scholar needs a skilled thief to obtain the treasure for the king and he plucks Gen, a notorious thief, out of prison to do the job.  Gen is witty and mysterious and quickly becomes a beloved character.  The book is full of twists and turns and the plot is fast paced, which makes for a really exciting read.
What The Kids Are Reading
This week was spring break in our neck of the woods, so we had a lot of time for trips to the library and leisurely reading throughout the day.   I am excited now that my precocious oldest daughter is moving into the world of chapter books.  It is so much fun to watch her fall in love with books and characters that I remember so well from my own childhood days.  As for my youngest daughters, well, I never get tired of a good cuddle/reading session on the couch!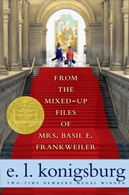 From the Mixed Up Files of Mrs. Basil E. Frankweiler, by E.L. Konisberg
I still remember the day my third grade teacher gifted this chapter book to me.  It quickly became my favorite book and I still remember the excitement that the book inspired in my young mind.  My daughter Esme is currently reading it and she can't help but call to me every few minutes and tell me what is happening as she uncovers each exciting plot twist.  This book was published in 1968, but the story never gets old.
When Claudia Kincaid decides to runaway she makes two important decisions: 1. She will bring along her brother Jaime because he has money and she needs cash. 2. She will move into the Metropolitan Museum of Art in New York City.  Once the two siblings are settled, quite secretly of course, into the museum, they get caught up in the mystery surrounding a curious statue, which eventually leads them to Mrs. Basil E. Frankweiler and some important discoveries that change their lives.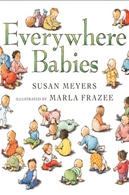 Everywhere Babies, by Susan Meyers
This picture book has been a favorite of all three of my girls for a long time. This week it has been the bedtime read of choice almost every night.  With its beautifully illustrated pictures and sweetly rhyming text, this book is a perfect celebration of all the things we love most about babies.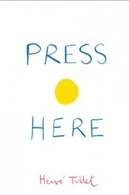 Press Here, by Herve Tullet
A friend brought this book to us today and we instantly fell in love.  In today's world of fast paced technology, this book is an ingenious reminder of just how magical a simple book can still be.  The book opens with just a single yellow dot and the instructions to "Push Here."   Once you embark on the adventure, the book will take you on a journey of the imagination.  All three of my kids anticipated the turn of each page with great excitement and when the book ended I was met with a loud chorus of "Read it Again!".
Share Your Reading List
Head over to Life Your Way to see what Mandi and her family are reading this week.
What are you reading this week?