Weekly Reads Online Book Club 3/25/13

Soccer started this past week, along with a few other family things that have left a lot less time for me to spend reading in the evening. I have to say that I'm really looking forward to spring break next week and a few lazy afternoon trips to the library with the kids.
I put a lot of thought into the books that I check out for them – based on their current interests or just something that tells me this is a book Madeline would enjoy. Or Logan would find this fascinating. But it is always fun to see the books that THEY choose when they come to the library with me.
Often things catch their eye just based on the cover image of the book and we find something new to read that we otherwise wouldn't have picked up. And then we really end up liking it.
For that reason I really look forward to the times I can take them to the library with me. Logan is old enough now that I've been able to teach him how to use the library computer to look up books based on his interests and how to use the cataloging system to find what he's looking for on the shelves. Sometimes looking up one book leads him to something else that he sees near by.
Another plus of library time with the kids is that we make time to read. We always read after school and at bedtime, but in the library we are surrounded by books. We read while we're there and when the kids are looking for their own books or quietly playing with the puzzles and other toys that are in the children's section I get a few moments to sit near by and relax with a little reading of my own.
On My Reading List
A couple summers ago I discovered the series called The Mortal Instruments.  I downloaded all of the books to my NOOK and read them in the evenings after the kids were in bed and during our travels that summer. This summer the first movie in the Mortal Instruments series is coming out. (Unfortunately the actor who plays Jace is not nearly as attractive as my mind envisioned him!)
Shortly after that Cassandra Clare released the first book in a prequel series. That series, Infernal Devices, just had a new book release. I can't wait to get my hands on it. I think the cover of this book is gorgeous!
These are some of my favorite types of books. They are fun, easy reads. I always love a book that is set in a world so completely different than our own. Magical characters, super powers, demons, angels, vampires, werewolves. Exciting story lines with cliff hangers and a little teen romance. I'm completely predictable because I'm always hooked by these books.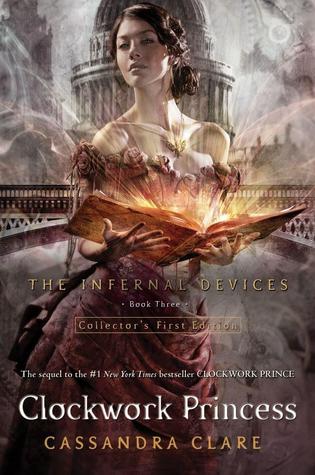 Clockwork Princess, by Cassandra Clare
Tessa Gray should be happy – aren't all brides happy?
Yet as she prepares for her wedding, a net of shadows begins to tighten around the Shadowhunters of the London Institute.
A new demon appears, one linked by blood and secrecy to Mortmain, the man who plans to use his army of pitiless automatons, the Infernal Devices, to destroy the Shadowhunters. Mortmain needs only one last item to complete his plan. He needs Tessa.
Jem and Will, the boys who lay equal claim to Tessa's heart, will do anything to save her.
What the Kids are Reading
Madeline loved Me…Jane so much that I found another children's book at the library about Jane Goodall's life. She really liked The Watcher. During that same trip a book called The Queen of France caught Madeline's eye. It wasn't a book that I would have picked out simply because I've never heard of it or the author before but I think it was super cute and didn't mind reading it multiple times at Madeline's request at all!
Logan just loves The Diary of a Wimpy Kid books. They are pretty short so he reads them in just a couple of days, but he keeps going back and rereading his favorite parts for days and laughing all over again.
They aren't my favorite books. Not really something I would read along with him for my own personal enjoyment, but he likes them and sometimes he needs some little boy humor in his life.
Logan is also just about done with The Order of the Phoneix. It has been a long process to read this book, but I am so proud of Logan for sticking with it. I've read most of the Harry Potter books more than twice (except 1, 2, and 5), but I have to say that my second time through #5 was much more enjoyable than the first. It helps that I know how it will all end, but I think a large part of that enjoyment has been because I've been able to read the book with Logan.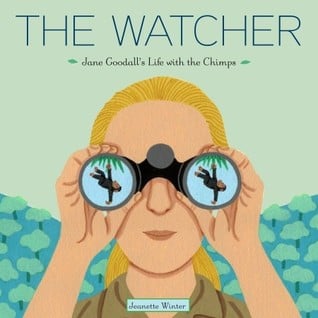 The Watcher, by Jeanette Winter
Follow Jane from her childhood in London watching a robin on her windowsill, to her years in the African forests of Gombe, Tanzania, invited by brilliant scientist Louis Leakey to observe chimps, to her worldwide crusade to save these primates who are now in danger of extinction, and their habitat.
Young animal lovers and Winter's many fans will welcome this fascinating and moving portrait of an extraordinary person and the animals to whom she has dedicated her life.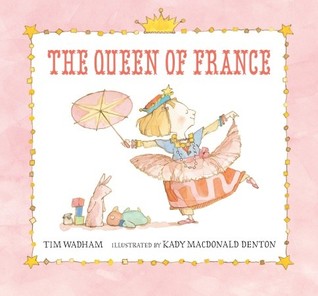 The Queen of France, by Tim Wadham
When Rose wakes up one morning feeling royal, she dons her necklaces, bracelets, and crown. Soon the Queen of France emerges to survey her domain, disapproving of Rose's mother's thorny gardening choices and asking Rose's father where the Royal Physician may be found. The odd thing is, when Rose returns to look for the Queen of France, she's nowhere to be seen. And when the imperious queen comes back, she's curious to know what Rose's parents would think if she traded places with their little girl?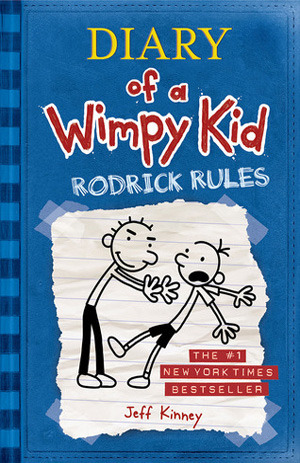 The Diary of a Wimpy Kid: Rodrick Rules (#2), by Jeff Kinney
Whatever you do, don't ask Greg Heffley how he spent his summer vacation, because he definitely doesn't want to talk about it.
As Greg enters the new school year, he's eager to put the past three months behind him . . . and one event in particular.
Unfortunately for Greg, his older brother, Rodrick, knows all about the incident Greg wants to keep under wraps. But secrets have a way of getting out . . . especially when a diary is involved.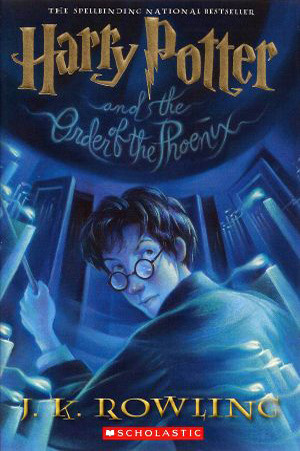 Harry Potter and the Order of the Phoenix, by J.K. Rowling
Harry and his friends have just flown to the Department of Mysteries on the backs of a group of thestrals! What is going to happen next???
I remember when I read this the first time that most of what happened in the last few chapters of the book were events that even in my wildest dreams I wouldn't have come up with.
It will be really interesting to see what Logan makes of the contents of the Department of Mysteries…and how he reacts to the death of a certain character.
Share Your Reading List
Head over to Life Your Way to see what Mandi and her family are reading this week.
What are you reading this week?