Admittedly, I have never been a huge fan of cooked vegetable side dishes.  I would normally choose a fresh salad or crudités over cooked veggies. This Sweet Braised Kale, however, has stolen my heart.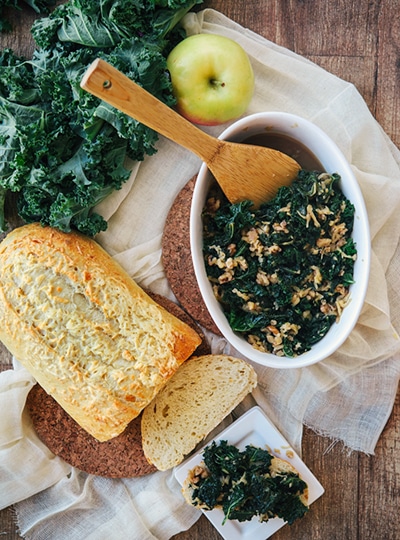 Braising is the most delightful way to cook greens like Kale. Without over-cooking and creating mushy greens, braising tenderizes the leaves and adds flavor.
In this recipe, the kale is paired with the sweet flavors of apples and apple cider. The toasted nuts add a bit of crunch and texture, keeping every bite sweet and delicious.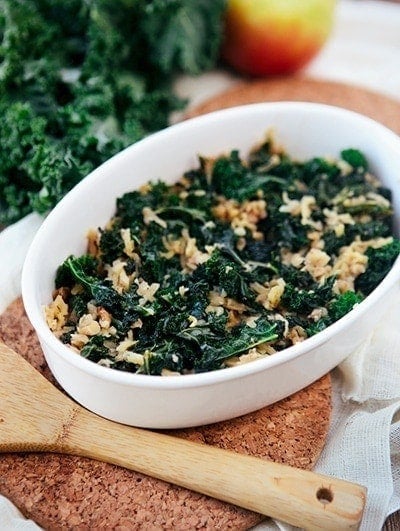 These sweet, flavor filled greens are easy to eat on their own. It makes an excellent side dish, easily paired with a simple meat dish or pasta.  Because it has been such a big hit at my house, even with the kids, I'm adding it to our Thanksgiving Menu too!  These greens are also delicious paired with a thick slice of crusty bread for an easy, healthy appetizer.
Cooked vegetables like this always look, well, pretty green, if you know that I mean. The first bite will convert you though, I promise. This Sweet Braised Kale is unexpectedly good and I don't doubt it will steal your heart too.  Enjoy!
Sweet Braised Kale with Apples and Nuts

Yield: 4 to 6 servings

Prep Time: 10 minutes

Cook Time: 10 minutes

Total Time: 20 minutes

Ingredients:

1 large bunch of curly kale, washed and destemmed
3 tablespoons butter
1 medium honey crisp apple, grated (unpeeled is fine)
1/2 cup walnuts, coarsely chopped
1 tablespoon brown sugar
3 tablespoons apple cider
1 tablespoon tamari, or soy sauce
1 teaspoon unfiltered apple cider vinegar

Directions:

Tear the washed, de-stemmed kale leaves into bite size pieces.
In a large skillet, melt butter over medium-low heat. Add the walnuts and sauté for 2 or 3 minutes. Add the grated apple and sauté for another 3 minutes or until the apple begins to soften. Sprinkle sugar over the apple and walnuts, stirring to coat. Add the kale leaves and sauté over medium heat until the leaves begin to turn bright green.

In a small bowl, combine cider and tamari. Pour into skillet and cover tightly. Cook for 5 minutes, or until greens are tender. Leaves should be green and tasty, not bitter when done. Toss with teaspoon of cider vinegar and serve.

Adapted from Feeding the Whole Family by Cynthia Lair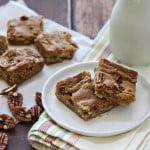 I am so ready to get going on holiday baking and spend some more time in the kitchen with the kids testing out some fun new treats. One of our new favorites is this recipe for Cinnamon Apple Pecan Squares. This recipe for Cinnamon Apple Pecan Squares is so easy to prepare. It only takes [...]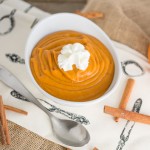 Written by: Caroline Edwards of Chocolate & Carrots I often forget how easy pudding is to make, especially when you use some store bought short cuts. With very minimal ingredients, you'll have a decadent and delicious pumpkin pudding in minutes! All four of these ingredients always seem to stay stocked in my pantry anyway, therefore [...]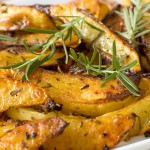 Roasted potatoes are my absolute favorite way to prepare potatoes. They're so versatile in the ways you can season them and they're just plain delicious. As another plus, these roasted potatoes are so much healthier than French fries. I used to love French fries but after trying these at a friend's place, fries just aren't [...]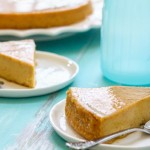 It's that time of year…time for all things pumpkin. I always look forward to fall and the smells of cinnamon and pumpkin baking in the oven. Breakfast this time of year is most definitely one of my favorites because of all the delicious fall goodies to bake…and eat. I tested this recipe for Pumpkin Creme [...]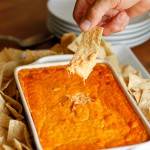 Although we've felt it coming for several weeks now, Sunday marked the first official day of fall. The leaves are changing, apples are ripe for picking, and most importantly (around here anyhow), football season is in full swing! We love to entertain friends while cheering on our favorite teams, but busy work weeks and a [...]