My friend Cheryl Sternman Rule, of the award winning blog 5 Second Rule, is here today to tell us all about her new cookbook: Ripe: A Fresh, Colorful Approach to Fruits and Vegetables.
Cheryl's beautiful book, photography by Paulette Phlipot, is not your typical cookbook. It has recipes, stories, helpful information and pictures of food, all the while presenting itself as a coffee table book.
You'll find it bright and colorful as the recipes are arranged not according to whether they are soups, appetizers, or entrees, nor by seasonal ingredients, but instead by color. And it is bound to get you excited about what fresh produce has to offer.
Welcome, Cheryl!
---
You recently won an award from IACP for your noteworthy blog just after your cookbook was released. Very exciting! How did you get involved in food writing?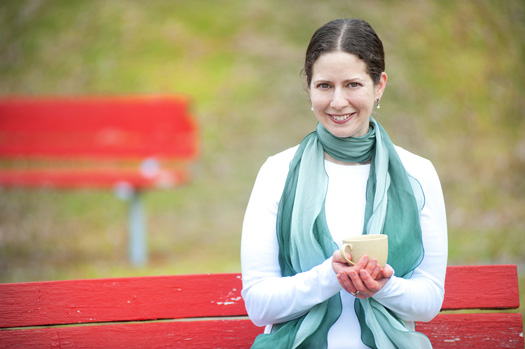 Thanks so much, Katie. I got involved in food writing after I graduated from culinary school and worked for two different cookbook authors.
In 2004, I started freelancing for newspapers and magazines, and then for websites. I finally started my blog 5 Second Rule in 2008.
That's when I began collaborating with Paulette Phlipot on the early stages of our joint cookbook, Ripe: A Fresh, Colorful Approach to Fruits and Vegetables. The recent IACP award for 5 Second Rule was the cherry on the top of an ice cream cone I've been licking for quite a while.
One of the very first posts I ever read on 5 Second Rule was the one about your children returning to their childhood home with their children in tow and finding a time capsule of the best ever chocolate chip cookies that you use to make them. I've always loved that post! (Read that post here: Capsule) Do you have a favorite post you've written on your blog? Why is it your favorite?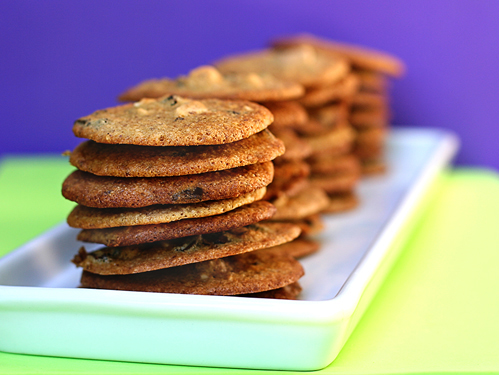 Photo by Cheryl Sternman Rule / 5 Second Rule / Used with Permission
Actually, the one you just referenced is one of my favorites, too. It's one of the first ones where I just went completely stream of consciousness and spilled the thoughts in my head onto the page in a fast, frenetic heap.
My brain works that way, and in my writing, I try to convey the rush of emotions as authentically as possible.
One of my other favorites is I Want My Children to Eat Za'atar. It's about my fascination with other cultures, and my desire to share this part of my life with my kids.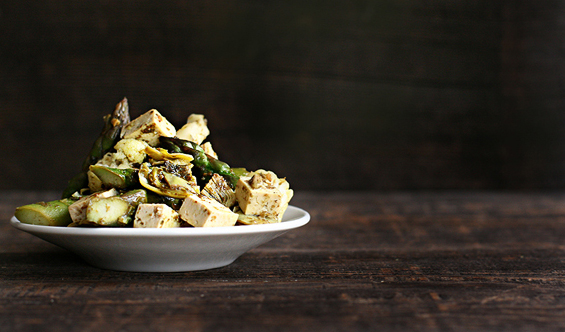 Photo by Cheryl Sternman Rule / 5 Second Rule / Used with Permission
I believe we should all be citizens of the world, or at least aspire to be even if our current circumstances (young kids at home, a mortgage, etc.) keep us temporarily rooted in one place.
I love all the gorgeous colors in Ripe and the way the book is organized. Besides being filled to the brim with delicious recipes and helpful hints (love the "simple uses" you share for featured ingredients) it is so pleasant to look at! Can you tell us a little bit about the inspiration behind your book?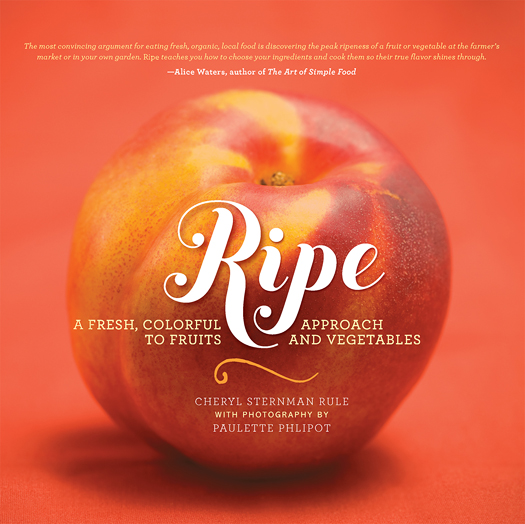 Thanks! Paulette came up with the idea to feature fruits and vegetables in such a visually arresting way. And the inspired decision to organize the book by color was completely hers.
Paulette had dreamed of producing a photo-driven fruit and vegetable book before we'd met. Then when we got together and started brainstorming more of a joint vision, we realized the best way to collaborate and showcase each of our talents was to create a photo-heavy a cookbook instead.
The result is really three books for the price of one: a photography / coffee-table book, a cookbook, and a book of quick essays, all revolving around the natural beauty and versatility of produce.
I think many people fantasize about how cool and fun it would be to write a cookbook, but I can certainly see that it must truly be a labor of love. What was your favorite part about writing Ripe? Least favorite?
My favorite part was writing all the essays. That's where the blog training came in super-handy. I loved letting loose and just seeing what came out when I looked at a head of bok choy or a giant pomelo.
My least favorite part was waiting a year from the time we finished the book until the time it hit the shelves.
What are your top 3 favorite recipes from your blog?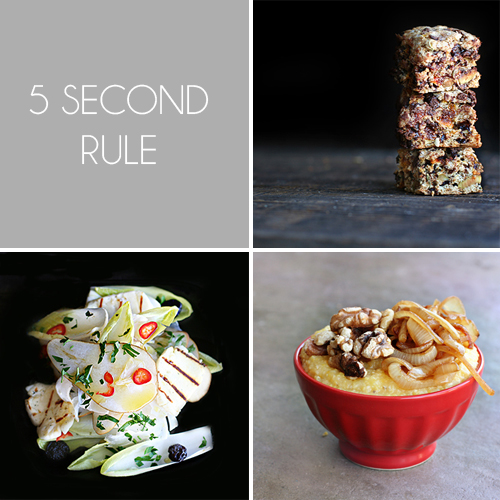 Photos by Cheryl Sternman Rule / 5 Second Rule / Used with Permission
Ah. If I had to pick, I'd say: whole wheat biscotti with fennel seeds and chocolate; pear-halloumi salad with sherry-vinaigrette; and polenta with caramelized onions and walnuts.
What are your top 3 favorite cookbooks?
Too hard to choose. Too hard! Right now I'm cooking a lot from Good Food to Share. I also love Big Night In, Almost Meatless, and Plenty. And about 5 billion more.
How about top 3 fiction books?
Of all time??? Lordy. A few books that spring to mind are: A Heartbreaking Work of Staggering Genius by Dave Eggers (which is definitely more memoir than fiction, but I still find his writing incredible); Extremely Loud and Incredibly Close by Jonathan Safran Foer; and anything by Jhumpa Lahiri.
Watch the Trailer for Ripe:
Giveaway Prize (2 winners):
Each winner will receive one copy of Ripe: A Fresh, Colorful Approach to Fruits and Vegetables, by Cheryl Sternman Rule
Giveaway Requirements:
How do fresh fruits and vegetables inspire you in the kitchen?

Contest ends May 18, 2012 at 11:59 p.m. PST.
Contest open to US States only.
Winners will be chosen via random.org and will have 3 days to respond before disqualified and a new winner chosen.
Optional Extra Entries:
Additional entries can be earned by doing any of the following, giving you the opportunity for a total of 3 extra entries. Leave a separate comment for each of your entries.
1. Follow GoodLifeEats and Cheryl Sternman Rule on Twitter and ReTweet the following message: I just entered to win a copy of @sternmanrule's new book, Ripe, from @goodlifeeats http://su.pr/22mhFT #giveaway #books
2. Share this post on Facebook. Come back here and leave a comment letting me know that you did.
3. Like GoodLife Eats and 5 Second Rule on Facebook. Come back Here and leave a comment letting me know that you did.