One thing I learned early on from my mom was that the day is best brought to a close with a bowl of ice cream in hand. For as long as I can remember, the freezer of my childhood home was stocked full with our family's favorite ice cream flavors.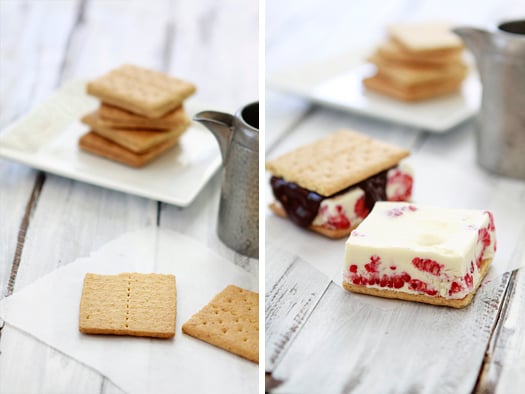 Often, just a simple bowl of vanilla ice cream was needed. A little something sweet to treat ourselves to at the end of the day. It was even sweeter after a hard day. Other times dessert was made a little more special with the addition of a batch of warm, fudgy brownies.
Somewhere along the way someone made an ice cream sandwich out of the simplest of ingredients – creamy, vanilla ice cream pressed between two graham crackers.
And though I can't remember which family member it was that first discovered this simple, way to eat ice cream, I do remember clearly its existence in my childhood.
I still enjoy the pleasure of a graham cracker and vanilla ice cream sandwich now as a 30 year old woman with a family of my own. And it isn't a tradition that I ever intend to grow out of. Nor is the the tradition of treating ones self to something sweet at the end of the day a tradition I ever plan to rid myself of.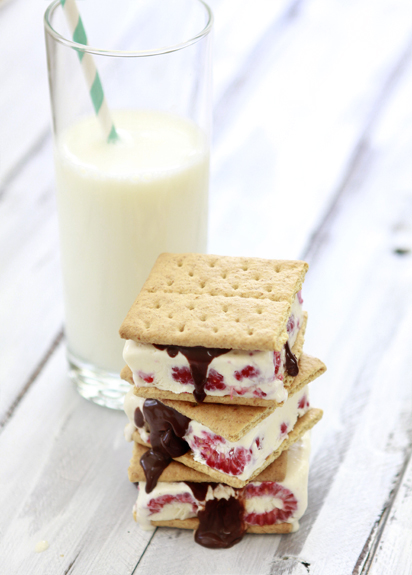 As I'm sure you all have noticed by now, our life is full of packing tape and moving boxes right now. I won't lie. It isn't fun at all.
I am excited about our new adventure and new home, but I hate this process called moving. I feel a heavy weight (literally) on my shoulders. I am tense, tired, and stressed.
As we embark on this crazy busy journey I am finding that bowl of ice cream at the end of the day all the more necessary. And I am of course reminded of those simple treats at the end of the day during my childhood.
Taken up a notch to satisfy my sophisticated adult taste buds, these Raspberry Ice Cream Sandwiches are just the treat I need to settle my nerves after a long, exhausting day. Creamy, vanilla ice cream, fresh raspberries, and chocolate pair so well together sandwiched between a simple graham cracker.
How do you indulge in life's little luxuries?
Raspberry Ice Cream Sandwiches

Yield: 6 sandwiches

Ingredients:

10 ounces Häagen-Dazs® Vanilla Ice Cream, slightly softened
5 ounces Fresh Raspberries
Your favorite hot fudge sauce, optional
6 whole graham crackers, broken in half

Directions:

In a bowl, combine the softened vanilla ice cream and the fresh raspberries. Stir until well mixed.

If eating immediately following preparation: Divide the mixture evenly between the graham crackers and assemble 6 sandwiches by placing ice cream on top of a graham cracker half, followed by warm hot fudge sauce (about 2-3 teaspoons, if desired) and then another graham cracker half on top. Repeat with remaining ingredients. Serve immediately.

If preparing ahead of time: Press the ice cream mixture into a parchment paper lined rectangular plastic storage container (about 7 1/2 x 5 inches in size). Cover and freeze the ice cream until ready to serve.

Remove the ice cream from the plastic storage container and cut into 6 equally sized pieces, about the size of half a graham cracker. Place 1 ice cream square on top of a graham cracker half. Top with warm hot fudge sauce (about 2-3 teaspoons, if desired) and then add another graham cracker half on top. Repeat with remaining ingredients. Serve immediately.
This post is sponsored by Häagen-Dazs® ice cream, encouraging life's little luxuries.


RESPONSES - LEAVE A COMMENT BELOW