Easy 7 Ingredient Homemade Lemon Basil Ice Cream
With only 2 weeks till we pull out of Albuquerque and head out to Colorado to settle in Boulder, I've got quite a lot on my plate. Please welcome the lovely Georgia Pellegrini, author of "Girl Hunter", here for today's guest post: Lemon Basil Ice Cream. Doesn't this recipe sound perfect for the warmer months ahead?
Want to know more about Georgia? Check our the GoodLife Books Georgia Pellegrini Interview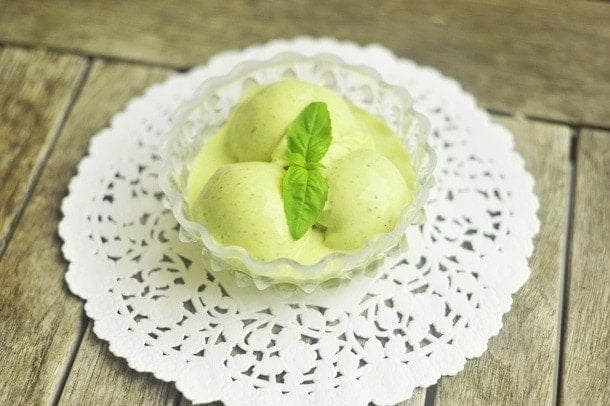 Hi Everyone! I am thrilled to be paying a visit to Katie at Good Life Eats today.
I'm here to share one of my favorite ice cream recipes with you that highlights all of the herbs that are so abundant during the Spring months.
I have cooked a lot with my grandmother through the years and one of the beliefs that I've inherited from her is that there is nothing better than fresh herbs. Fresh herbs are an inexpensive and healthy way to introduce so much extra flavor and intrigue into any dish.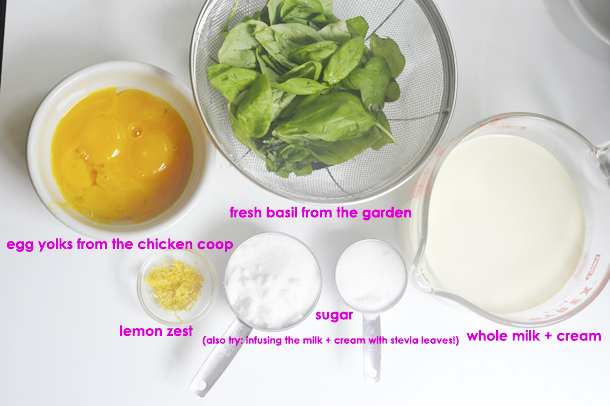 I even use fresh herbs in sweet dishes. One of my Grandmother's favorite herbs to grow is stevia leaves, a natural sweetener. She and I don't have much of a sweet tooth… in fact, she taught me that in most recipes, you can often cut the sugar down to about 1/3 of what it calls for and taste the rest of the ingredients much better that way.
This recipe turns the idea of a sweet treat on its head a bit by adding something savory to the mix–it's Lemon Basil Ice Cream! It may sound strange, but it is truly intoxicating.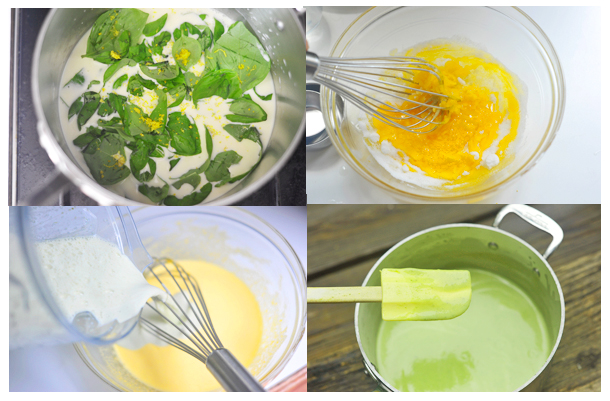 There is something about this ice cream recipe… it's the potent smell of the basil and the tang of the lemon. You can play with the balance, adding more or less lemon and more or less basil. And of course any other herb would also be a nice experiment. Thyme is another favorite of mine.
One of the things I like about making my own ice cream is knowing how simple the ingredient profile truly is. Just 7 ingredients here and all wholesome ones.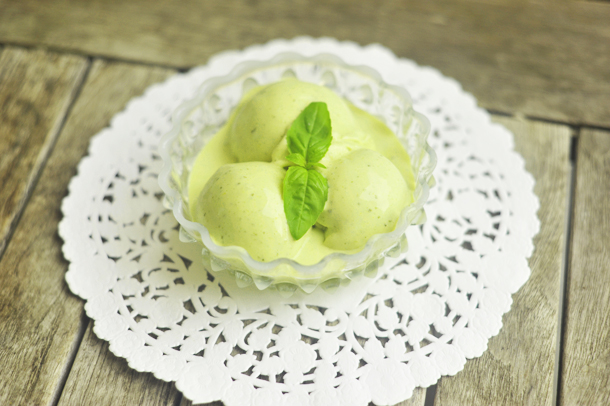 Spring time is such a great time to experiment with fresh herbs, and this recipe is a great way to start. I think Lemon Basil Ice Cream truly is my favorite ice cream flavor.
What's your favorite way to use fresh herbs?
Homemade Lemon Basil Ice Cream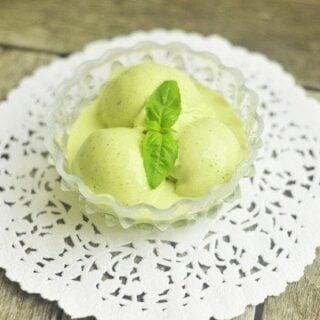 Ingredients:
2 cups milk
1 cup heavy cream
1 1/2 cup packed basil leaves
1 teaspoon lemon zest
1 pinch of salt
5 egg yolks
3/4 cup sugar
Directions:
Put the ice cream container from your ice cream maker in the freezer. Heat the milk and cream with the zest and basil along with a pinch of salt. Bring it up to a gentle boil, then shut of the heat and let it infuse. Make sure to stir so the bottom doesn't scorch. Let sit and infuse until no longer hot, but still warm.
Separately, whisk together the egg yolks and the sugar until they are light in color from the air that you've incorporated. Set it aside.
Mix the basil milk in a blender until uniform.
Temper the yolks by adding a bit of the warm liquid to them gradually. Keep stirring constantly, scraping down the sides to avoid scrambled eggs.
Return it all to the sauce pan and stir it constantly over low heat until it thickens to the point where you can leave a track with your finger on the spatula.
Let it cool for 10-15 minutes, then pour the liquid into the frozen ice cream container and run it through the ice cream maker for 50-60 minutes.
About the Author: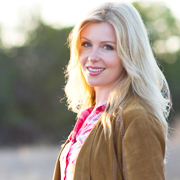 Georgia Pellegrini is a chef, author, and blogger who roams the world hunting and gathering, tasting good food, and meeting the good people who make it.
She chronicles her adventures on her website and in her books. Her new book is called "Girl Hunter," and her first book is called "Food Heroes."