Lemon Ice Cream
Please forgive me for sharing this recipe for Lemon Ice Cream. I know lots of you are trying to be good. To eat healthy. To ignore the cravings for sweets. How do I know that? Because that is exactly what I am doing too. And I know you and I have a lot in common. I have been craving homemade ice cream for the past several weeks. It was easily put off because I didn't have any cream in the house. And that's not to say I didn't try to remedy the lack of cream.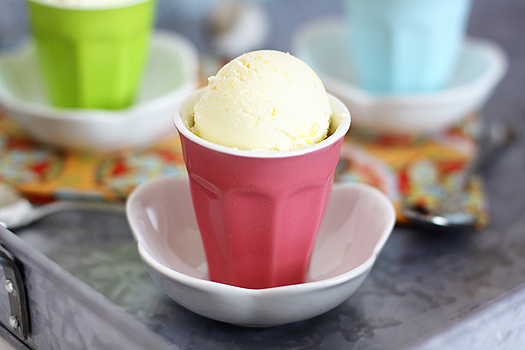 You could say that I "forgot" about said cream by the time I was at the store – I hear that's what happens when you try to take 2 children under the age of 6 to the grocery store at 4:30 in the afternoon. It's just not a very good idea. You forget at least a quarter of the items on your list and then you have to skip another quarter because you've just got to get the heck out of there before you, along with everyone else in the store, go completely berserk. Not that I would know anything about that. But other moms will definitely tell you that it's probably best to just go grocery shopping alone.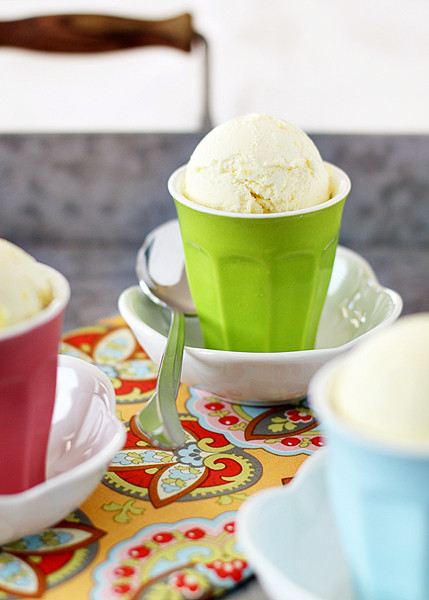 But sometimes the cravings are just too strong. And the ice cream won out in the end. After several failed trips to the grocery store. I've been wanting to try this recipe for Lemon Ice Cream out for quite some time and it finally worked out. I had a big bag of lemons in my refrigerator drawer and I finally had the cream.
I learned the tip about xantham gum from Jane and it definitely helped the ice cream not come out so icy and hard after storing it in the freezer.
p.s. The site survey is still open for a couple more days. I would love your feedback if you haven't left it already. And by filling out the survey, you'll be entered into a giveaway.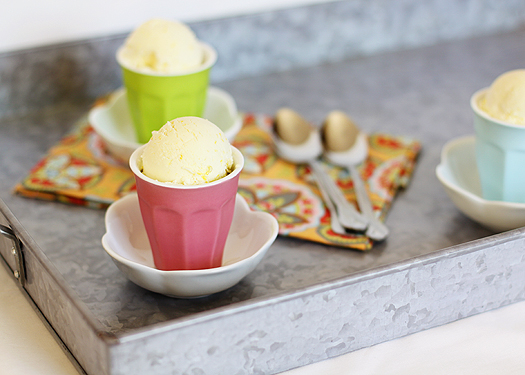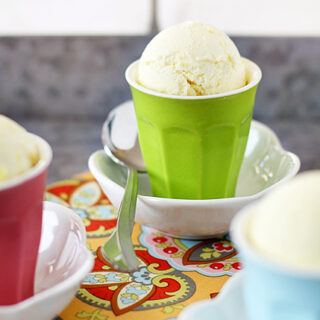 Ingredients:
Finely grated zest of 3 lemons
1/2 cup fresh lemon juice
3/4 cup sugar or 2/3 cup agave nectar
4 egg yolks
pinch of salt
1/4 teaspoon xantham gum
1 cup milk
1/2 cup half and half
1 1/2 cups heavy cream
Directions:
Combine the lemon zest, juice, and sugar in a non-reactive bowl. Refrigerate for an hour to blend flavors.
Slightly beat the egg yolks in a large bowl. Pour milk into a heavy saucepan and heat to a bare boil. Pour the milk into the bowl with the eggs, whisking while you pour. Return the milk and egg mixture to the saucepan. Heat gently, don't boil, until the mixture thickens and coats the back of a spoon. Remove from heat and whisk the the xantham gum. Stir in the half and half and heavy cream. Cool, at least to room temperature, but it's definitely best if you chill in the fridge for at least a few hours.
Combine the milk, egg, cream mixture with the lemon mixture. Mix well. Proceed with your ice cream maker and churn according to manufacturer instructions.
Related Recipes:
Blueberry Coconut Milk Ice Cream from Roost
Cheesecake Ice Cream with Blackberry Lemon Swirl from Technicolor Kitchen
Strawberry Lemon Ice Cream from Baked Bree
Toasted Coconut Ice Cream from Three Many Cooks