Pumpkin Cinnamon Rolls
Pumpkin Cinnamon Rolls are the perfect fall treat – pumpkin spice dough is rolled with plenty of cinnamon and sugar, and then slathered in cream cheese frosting.
It's fall now, I'm all about the pumpkin recipes, and these Pumpkin Cinnamon Rolls are absolutely sinful.
Forget just eating one.
Say goodbye to your diet and hello to indulgence.
This is my new favorite breakfast treat.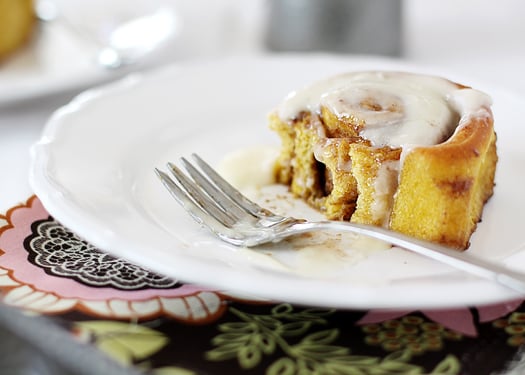 Save this recipe for Pumpkin Cinnamon Rolls to Pinterest!
And I can't wait to make these delicious Pumpkin Cinnamon Rolls again, but I knew I better share the recipe with you first.
Pumpkin Cinnamon Rolls are like a fall version of the Meyer Lemon Sticky Rolls with Cream Cheese Frosting.
But what actually inspired the creation of this recipe was my recipe for Pumpkin Pie Oatmeal.
That recipe has been hands down over time THE most popular recipe on the blog.
I knew there had to be other fun ways to make recipes that tasted like pumpkin pie that were a little bit different from usual.
And I'm pretty confident that is what I've achieved here with these Pumpkin Cinnamon Rolls.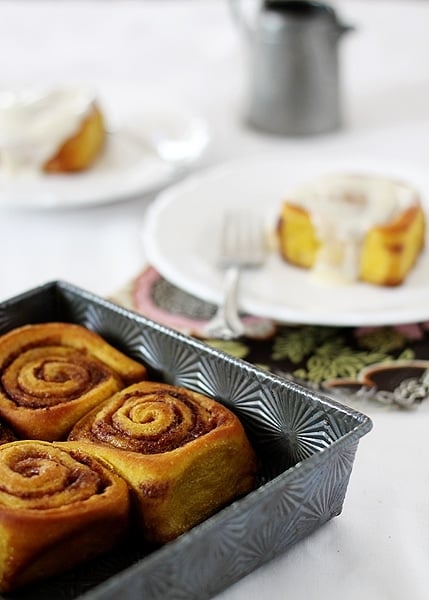 Save this recipe for Pumpkin Cinnamon Rolls to Pinterest!
Some of you have requested some "kitchen basics" instruction.
If you have a specific technique or skill in mind that you'd like to know more about, I'd love to hear from you.
Baking with yeast is definitely something that many people struggle with.
(What is your biggest kitchen/cooking/baking FEAR?)
So I thought I'd share my top 5 tips for yeast bread baking because they definitely come in handy when making this recipe for Pumpkin Cinnamon Rolls:
MY TOP 5 TIPS FOR MAKING PUMPKIN CINNAMON ROLLS
Doubled in Bulk
I don't stick to the rising times as listed in the recipe.
Instead, I consider them to be guidelines.
My main concern: has the pumpkin cinnamon roll dough doubled in bulk.
That is how you know the rise is complete when making the dough for these Pumpkin Cinnamon Rolls.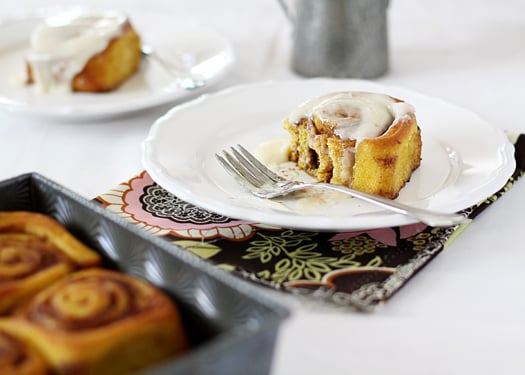 Save this recipe for Pumpkin Cinnamon Rolls to Pinterest!
Finger Test
Now you're probably wondering:
How do I know that my dough had doubled in bulk?
The simplest method that I have learned over the years is to dust my fingers in flour and plunge them into the dough as the "guideline" recipe rising time nears.
The hole that you make in the Pumpkin Cinnamon Rolls dough will quickly collapse if it is not ready.
Give it another 10 minutes and try again.
If the dough is ready the indentations will remain.
Fresh Yeast
I always make sure to check the expiration date on my yeast.
If I don't remember purchasing it then it could have been in the pantry for months (or longer).
Old yeast doesn't yield reliable rising results.
If you don't think you'll be baking regularly, buy packets rather than jars of yeast to eliminate waste.
Additionally, you can lengthen the life of yeast by storing it in the refrigerator.
Just make sure you let it come to room temperature before starting this recipe for Pumpkin Cinnamon Rolls.
Equipment
You don't need fancy equipment to bake these Pumpkin Cinnamon Rolls.
Yes, a bread machine, a stand mixer, and a food processor are all nice to have.
And they do make the process easier, but your own two hands work just as well.
If you have a stand mixer, by all means: USE IT.
But don't let the lack fancy equipment keep you from making bread.
With a little elbow grease, you'll find that kneading bread is actually quite satisfying.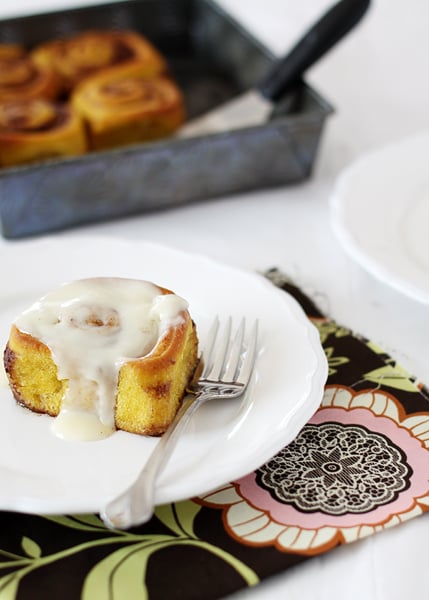 Save this recipe for Pumpkin Cinnamon Rolls to Pinterest!
Try, try again
We all have our flops.
Rolls that don't rise enough and taste like yeasty rocks. Dry bread.
But I've learned that you can't let failure keep you from giving it another go.
Practice makes perfect!
And there is no better way to practice than with this recipe for Pumpkin Cinnamon Rolls.
MORE TASTY PUMPKIN RECIPES TO TRY
Looking for some more tasty ways to enjoy your pumpkin spice this fall?
Check out some of these favorite pumpkin recipes, or browse the recipe index archives for even more great recipe ideas:
Pumpkin Chocolate Chip Cookie S'mores combine two of our family's fall favorites treats – pumpkin cookies and roasted marshmallows for a tasty Halloween treat!
Pumpkin Sugar Cookie Bars are a kid favorite. Kids love the classic sugar cookie made into bars. They're perfect for fall with hints of pumpkin spice flavors.
This Easy Pumpkin Pudding is the perfect way to celebrate fall with your kids! It is easy to prepare, super creamy and full of all your favorite fall spices.
Easy Pumpkin Spice Chai Latte, featuring real pumpkin, can be whipped up in just a few minutes for you to enjoy and warm up with this fall.
A toasted cinnamon swirl bagel is delicious slathered in this Whipped Pumpkin Cream Cheese. This is a great way to use up leftover pumpkin puree that you might have in the refrigerator.
Pumpkin Spice Salted Caramel Sauce with Real Pumpkin is so easy to make at home. It is over the top good thanks to the addition of real pumpkin puree and plenty of pumpkin pie spices.
This recipe for Orange Spice Pumpkin Muffins with Pecan Streusel is a great addition to any breakfast or brunch. They freeze well, so make a double batch and keep some on hand for busy mornings. They will make your house smell amazing while they bake.
For a chocolatey after dinner treat, try these homemade Pumpkin Pie Truffles. They are also perfect for holiday gifting!
This Pumpkin Oatmeal Breakfast Smoothie is easy to prepare, super healthy, and full of all your favorite fall spices. What isn't to love about a smoothie recipe that tastes like pumpkin pie?
Love this recipe for Pumpkin Cinnamon Rolls?
Sign up for Good Life Eats email updates and never miss another recipe!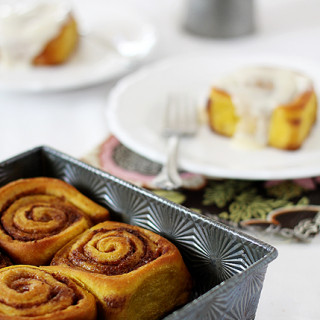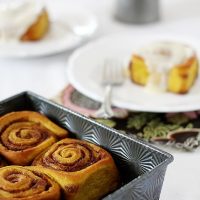 Pumpkin Cinnamon Rolls
Yield: 15 rolls

Prep Time: 30 minutes

Rising Time: 4 hours

Cook Time: 30 minutes

Total Time: 5 hours

Pumpkin Cinnamon Rolls are the perfect fall treat – pumpkin spice dough is rolled with plenty of cinnamon and sugar, and then slathered in cream cheese frosting.
Ingredients
For the Pumpkin Dough
1/4 cup warm water (not hot, about 110 degrees)
1 package (2 1/4 teaspoons) active dry yeast
1/3 cup warm milk
1 large egg, beaten
3/4 cup pumpkin puree, either fresh or canned
1 tablespoon melted butter
2 cups (approximately) All-Purpose Flour
1 1 /4 cup Whole Wheat Pastry Flour
1/2 cup brown sugar
1 teaspoon salt
3/4 teaspoon cinnamon
1/4 teaspoon ground ginger
1/4 teaspoon ground cardamom
For the Filling
1 stick butter
2/3 cup white sugar
1/4 cup brown sugar
2 teaspoons cinnamon
1/2 teaspoon each of allspice and ginger
1/4 teaspoon nutmeg
1/8 teaspoon cloves
For the Cream Cheese Frosting
4 ounces cream cheese
1 stick (4 ounces) butter, softened
1 teaspoon vanilla extract
3/4 teaspoon lemon juice
2-3 cups powdered sugar
Instructions
For the Pumpkin Dough
Stir yeast into water to soften in a large bowl.
Allow to rest for 5 minutes before stirring to combine. Stir in the milk, eggs, pumpkin, butter, 1 1/4 cups whole wheat flour, brown sugar, salt, cinnamon, ginger and cardamom to yeast mixture.
Beat vigorously for 2 minutes.
Slowly add the rest of the flour (all purpose), a bit at a time, until the dough is stiff enough to knead. Begin with 1 1/2 cups of flour and increase if necessary.
Turn dough out onto a floured surface. Knead, adding flour as necessary, until you have a smooth, elastic dough. 
Place the dough into a greased bowl.
Turn the dough in the bowl to coat the entire ball of dough with oil.
Cover with plastic wrap and rise until doubled, approximately 1 hour.
For the Filling
Combine the white sugar, brown sugar, cinnamon, allspice, ginger, nutmeg and cloves in a another bowl, set aside. 
Pumpkin Cinnamon Roll Assembly
Transfer the risen dough to a lightly greased work surface, and pat or roll it into a 16" x 12" rectangle.
Spread softened butter over dough and then sprinkle with the sugar mixture. 
Roll the dough into a log the long way; it'll stretch to about 20" long as you roll.
Using a very sharp knife, slice the log into 15 slices. In order to cut down on drag, it helps to rinse the blade in hot water, and wipe it off, between slices.
Place slices in a greased 9x13 inch baking pan (or in two 8 or 9 inch round cake or pie pans).
Cover with a towel and let rise until almost doubled, about 45 minutes.
Bake in a preheated 375°F oven.
Bake the rolls till they're brown around the edges and beginning to turn golden brown across the center, about 20-30 minutes.
For the Cream Cheese Frosting
While rolls bake, prepare the cream cheese frosting.
Add the cream cheese, butter, vanilla, and lemon juice to a small food processor.
Blend until smooth and combined.
Add the powdered sugar 1/2 cup at a time, blending in between, until well mixed and desired consistency is reached. (I used 2 cups powdered sugar)
Frost warm rolls with the cream cheese frosting and serve immediately.
Notes
For night before prep: Prepare the rolls up to the point where you roll and place in the pan. Then, cover in plastic wrap and refrigerate overnight. In the morning, remove the pan from the fridge and proceed with the instructions where you left off. Rising time may be slightly longer than noted in the recipe due to the dough being cold vs room temp.
Recommended Products
As an Amazon Associate and member of other affiliate programs, I earn from qualifying purchases.

Did you try this recipe? Let me know what you thought by leaving me a comment below. I'd love to hear from you.
Be sure to follow Good Life Eats on Instagram. Tag @goodlifeeats and include the hashtag #goodlifeeatsrecipes so I can see what you're cooking up in YOUR kitchen!