Recipe Exchange: Pumpkin Sugar Cookie Bars
I have something really fun and exciting to share with you! Jamie from My Baking Addiction and I have teamed up to bring you a Holiday Recipe Exchange Series. Each week starting next week through the end of the year we'll be hosting the Recipe Exchange on our blogs.
VIRTUAL HOLIDAY RECIPE SWAP
Hosted by Katie Goodman and Jamie Lothridge
Sponsored by Beanilla, Scharffen Berger, Kerrygold Butter, & more!
Additional Info Available Here: Holiday Recipe Exchange Posting & Prize Details

We all love sharing food and trying out new recipes from our friends and families. Through blogs, twitter, and facebook many of us have nurtured new found friendships and become part of a wonderful food blogging family.
We don't often have the opportunity to eat, cook, and share with one another in real life. Instead, let us all come together in our virtual kitchens while we share some of our very best and favorite Holiday recipes.
How can YOU participate?
This is a BLOG CARNIVAL. We need YOU to participate for the event to be successful. We encourage you to participate in the swap itself. Each week, starting November 17th we will host a virtual recipe swap on our blogs. Each week, a new theme, a new sponsor, and a new set of fabulous PRIZES.
That's right! I said PRIZES! With the Blog Carnival Link Up System we are using you'll be able to vote for your favorite recipe that has been submitted to the exchange. At the end of the voting period, the winner will be the participant with the most votes. Keep in mind that you will ONLY be eligible for the prize IF YOU POST IN THE LINK UP. This is not a traditional blog giveaway.
To help us promote the event you can Tweet or Facebook one of the following messages:
Sample Tweet: Join @GoodLifeEats and @BakingAddiction for a Holiday Recipe Swap. See how you can participate (and WIN) here: http://bit.ly/9YCFgA Pls RT
Or any other message you'd like to spread!
Check out the schedule below:
November 17 – Beanilla Vanilla Beans: and recipe featuring VANILLA
November 24 – Kerrygold Butter: any recipe featuring BUTTER
November 22 – Swanson's Broth: STUFFING recipes
December 1 – Scharffen Berger Chocolate: any recipe featuring CHOCOLATE
December 8 – Scharffen Berger Chocolate: any recipe featuring CHOCOLATE
December 13 – Le Creuset: Family Favorite COMFORT FOODS
December 15 – Kerrygold Butter: any recipe featuring BUTTER
December 22 – TBA
December 29 – TBA
We hope you'll participate! To kick things off, Jamie and I have each made a recipe from one another's blog to share with you. I've taken Jamie's post on Sugar Cookie Bars and given them a few seasonal tweaks. I bring you: Pumpkin Spice Sugar Cookie Bars!
These were such a fun cookie bar to make and eat. The whole family loved them and are already asking when we can make them again. So much easier than rolling out sugar cookie cut out dough!
Looking for more Pumpkin Recipes?
Be sure to check out these 25 Pumpkin Recipes to Try this Fall – So, if like me, you have a pumpkin hoarding problem you now have a very good excuse. I've just shared my favorite Pumpkin Recipes for you to try this fall.
Pumpkin Spice Sugar Cookie Bars with
Cinnamon Buttercream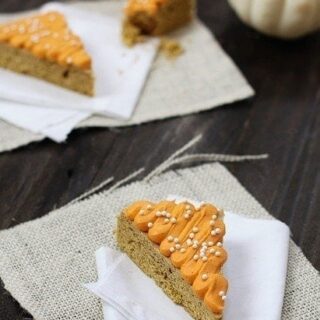 Ingredients:
For the bars:
1 cup butter; room temperature
1/2 cup brown sugar
1 1/2 cup granulated sugar
4 eggs
2 tsp vanilla
1 cup pumpkin
6 cups flour
1 tsp salt
1/2 tsp baking soda
4 teaspoons pumpkin pie spice
1/4 teaspoon cardamom
1/4 teaspoon ground cloves
For the Buttercream:
1/2 cup butter; room temperature
1/2 cup shortening
1 tsp vanilla
pinch of salt
1/4 - 1/2 teaspoon ground cinnamon
4 cups powdered sugar
5 Tbsp milk
food coloring (if desired)
Directions:
For the bars:
Cream butter and sugar until fluffy. Add the eggs, one at a time, mixing after each egg. Add vanilla and mix well. In a separate bowl combine flour, salt, baking soda, pumpkin pie spice, cardamom, and cloves. Stir the flour mixture with a whisk to combine. Add half of the flour mixture to the wet mixture and mix just until combined. Then add the pumpkin puree, followed by the remaining flour mixture. Stir until just combined. Spread on a greased 13x18 inch baking pan.
Bake at 375 degrees for 10-20 min, until light golden brown or until a toothpick comes out clean. Cool completely and frost.
For the frosting:
Combine butter and shortening until smooth and creamy. Add vanilla and salt. Add powdered sugar in 1-2 cup increments until combined, then add milk & mix until smooth and spreading consistency. Spread over cooled cookie.
Note: A half recipe fits well in a 9x13 inch pan, though when I tested this the baking time was slightly longer.
Tip: To make your own Pumpkin Pie Spice, combine 1 teaspoon cinnamon, 1/2 teaspoon ginger, 1/4 teaspoon allspice, and 1/8 teaspoon nutmeg. Makes 2 teaspoons.