Chicken Marsala is one of my favorite special occasion chicken recipes. Thin chicken cutlets are dredged in seasoned flour, cooked until golden, and served topped with a delicious creamy mushroom marsala sauce. This recipe for Marsala Chicken is sure to be a hit!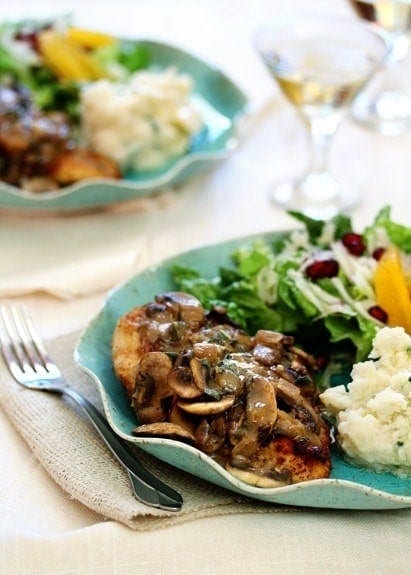 Read on to learn everything you need to know about how to make this recipe, what to serve with it, and the best chicken marsala wine pairings.
Making this Chicken Marsala Recipe
One of the first "fancy" meals I remember making for my husband was Chicken Marsala. It really isn't that hard to make, but at the time I felt fancy.
Chicken Marsala was something I'd never eaten growing up, except for maybe once in a restaurant, and I'm pretty sure it was my first experience using wine for cooking. It seemed like a grown-up recipe.
It's still one of my favorites today, though we hadn't enjoyed it for a while. One of the downsides to what I do is that I'm always trying new recipes and we don't often have a lot of repeats in comparison to the number of new recipes I regularly try.
I couldn't find the original recipe I had used when I first cooked this dish, but a quick search provided me with one from Gourmet Magazine in 2005. I don't remember using heavy cream as this recipe does, however I do love the creaminess that it adds to the sauce.
Tools Needed to Make this Recipe for Chicken Marsala
The following kitchen tools will be helpful to have on hand when preparing this delicious chicken dish:
Sharp Knives and Cutting Board – to trim the chicken and cut the mushrooms and shallot
Meat Mallet – to pound the chicken cutlets into thin, even pieces
Measuring Cups and Measuring Spoons – to measure the ingredients
Shallow Dish – for dipping the chicken in the flour mixture.
Large Skillet – to cook the chicken marsala.
Tongs or Spatula – for flipping the chicken as it cooks.
Flat Whisk – for whisking the rich marsala wine sauce
Ingredients for Chicken Marsala
This recipe has two parts to it: the marsala mushroom sauce and the golden brown tender chicken breasts. Here's what you'll need for this recipe for chicken marsala:
For the Mushroom Marsala Sauce
Butter
Shallots
Mushrooms
Garlic
Sage
Thyme
Salt
Pepper
Marsala Wine
Chicken Stock
Heavy Cream
Lemon Juice
For the Tender Chicken Breasts
All Purpose Flour
Sea Salt
Black Pepper
Garlic Powder
Boneless Skinless Chicken Breasts
Olive Oil
Butter
For the complete ingredient list and detailed instructions to make this chicken with marsala sauce, scroll to the bottom of this post for the FREE printable recipe card.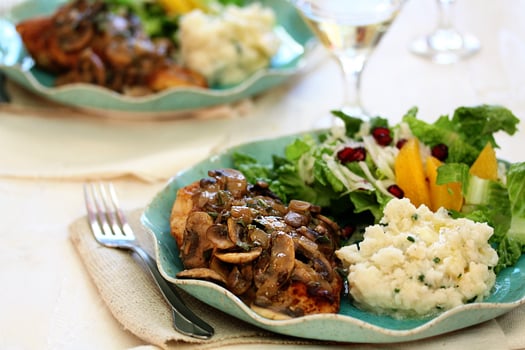 How to Make Marsala Chicken
Here's a quick overview of how to make this recipe for chicken marsala:
Preparing the Sautéed Mushrooms
Sauté the shallot in butter. Then, add mushrooms, some of the fresh herbs, salt, and pepper. After mushrooms being to brown, remove the mushrooms from the pan and set aside in a medium bowl.
Cooking the Chicken
Heat butter and oil in a large heavy bottom skillet over medium-high heat. Pound the chicken until very thing. Mix flour and seasonings in a shallow bowl.
Then, dredge the chicken in the seasoned flour. Shake excess flour off. Cook chicken for 2-3 minutes on each side.
Transfer cooked pieces to an oven safe platter and transfer to the oven to keep warm. Repeat until all the chicken has been cooked.
Making the Creamy Marsala Sauce
Add wine to the skillet. Then, add part of the broth and all of the cream. Stir to combine, then add the mushrooms to the marsala sauce for chicken.
Simmer until thicken. Then, add lemon juice, remaining herbs, and reserved chicken broth. Serve chicken topped with mushroom marsala sauce.
For the complete ingredient list and detailed instructions to make the best chicken marsala, scroll to the bottom of this post for the FREE printable recipe card.
Tips for Making The Best Chicken Marsala
Want to know how to make amazing Chicken Marsala with the best flavor? Here are my tips
Use Good Quality Marsala Wine
The marsala mushrooms are the star in this recipe, so don't skimp on the marsala wine – it's the key ingredient! If your grocery store doesn't sell alcohol, head to your local liquor store and ask for a good quality marsala wine for a rich flavor!
For best results, make sure you are purchasing a dry marsala not sweet marsala wine. Sweet marsala would not taste right in this recipe.
Pound the Chicken Breasts Thin
In this recipe for chicken marsala, you want the chicken to me thin and tender. Using a meat mallet to pound chicken achieves both of these goals – it tenderizes the meat, and it flattens it into thinner pieces.
Thick, large chicken breasts should be cut in half thickness-wise and then pounded because it can be hard to pound them thin enough without tearing the meat.
Cook the Chicken Properly
Overcooked chicken can result in dry meat. Likewise, undercooked chicken taste good either. Use a meat thermometer to test the internal temperature of the chicken breasts. Chicken is cooked through at 165 degrees F.
Flavorful Sauce
Cook the sauce in the same pan you cook the chicken in for extra flavor! Scrape the brown bits from cooking the chicken that are in the bottom of the pan when adding the wine. A wooden spoon works well for this. Then, incorporate them into the marsala chicken sauce.
What to Serve with Chicken Marsala
Need suggestions for chicken marsala sides? Here's what we like to serve with this delicious mushroom chicken recipe:
I also like to serve it with a side of mashed potatoes. It feels so rich and comforting, yet sophisticated at the same time. And it's perfect for a winter evening. Another great side dish is to serve pasta with chicken marsala. We like wide egg noodles best.
For vegetable side dishes, I think a big crisp, green salad balances the boldness of the Chicken Marsala. Roasted Broccoli, Roasted Brussels sprouts with Bacon, or Lemon Roasted Broccolini would also taste great if you prefer a cooked vegetable.
Wine that Goes with Chicken Marsala
I like a lighter red wine with chicken marsala; something like a Pinot Noir tastes great. For those that prefer medium-bodied red wines, Malbec is another good chicken marsala wine pairing. If you favor white wines, you'll want to look for a full-bodied white wine such as a Chardonnay.
That said, drink what you like! Try different wines and experiment until you find your preferred wine pairing.
What to Do with Leftover Chicken Marsala
Refrigerate Leftovers: Store leftover chicken marsala in an airtight container in the refrigerator for 3-4 days. Make sure to transfer any leftover mushrooms in marsala sauce to the container, too!
Freeze Leftovers: I like to freeze leftovers in individual serving portions so I can have them for lunch during the work week. Let the chicken marsala cool to room temperature, then transfer to a freezer safe airtight container. Use within 2-3 months.
How to Reheat Leftover Chicken Marsala
Reheat leftover chicken at partial power in the microwave, 30-60 seconds at a time, or stovetop in a lidded skillet. If you have frozen the leftovers, thaw it in the refrigerator before reheating for best results.
Try this Delicious Chicken Marsala Recipe!
Next time you're looking for a dinner party worthy chicken recipe, give this Chicken Marsala a try! Did you love the creamy marsala wine sauce? Leave a comment below and give it a review for others to see what you thought of this classic recipe.
On Instagram? Share your photo and tag me with @goodlifeeats and #goodlifeeatsrecipes. I'd love to see your photo of this great recipe for creamy chicken marsala!
More Ideas for Easy Chicken Dinners
Chicken Pot Pie with Buttermilk Biscuit Crust is comfort food and it's finest! Creamy chicken filling is topped with tender buttermilk biscuits.
Italian Chicken, Mushroom, and Zucchini Skillet is a super easy dinner recipe for busy school nights. It features pan seared chicken tenderloins, zucchini and sliced mushrooms in garlicky herbed tomato sauce.
Indian Butter Chicken is a delicious, easy Indian recipe. It features tender chicken in an Indian spiced creamy, tomato based sauce featuring the flavors of garam masala.
In this Creamy Orange Almond Chicken and Rice, golden brown chicken breasts are smothered in a creamy orange almond sauce. It's served alongside an almond rice pilaf for a simple and comforting recipe.
This Baked Honey Mustard Chicken is one of our favorite recipes. Chicken tenderloins are baked in a sweet and savory honey mustard sauce with sprigs of fresh rosemary.
Don't see what you're looking for here? You can always head over to check out the recipe index to look for more recipes.
Get More Recipes via Email
Did you love this recipe for chicken marsala? Sign up to receive Good Life Eats Email Updates and never miss another recipe!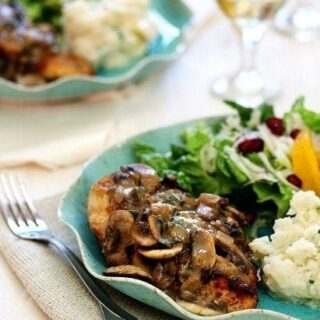 Chicken Marsala with Sage and Thyme
Chicken Marsala is one of my favorite special occasion chicken recipes. Thin chicken cutlets are dredged in seasoned flour, cooked until golden, and served topped with a delicious creamy mushroom marsala sauce. This recipe for Marsala Chicken is sure to be a hit!
Ingredients
1 cup chicken broth
3 tablespoons finely chopped shallot
5 tablespoons unsalted butter
12 oz mushrooms, trimmed and thinly sliced
1-2 teaspoons finely chopped fresh sage
1 teaspoon fresh thyme leaves
3/4 teaspoon salt, or according to your taste
1/4 teaspoon black pepper, or according to your taste
1/4 teaspoon garlic powder
1 cup all-purpose flour
4 skinless boneless chicken breast halves (2 lb total)
2 tablespoons extra-virgin olive oil
3/4 cup Holland House Marsala wine
1/2 cup heavy cream
1 teaspoon fresh lemon juice
Instructions
Put oven rack in middle position and preheat oven to 200°F.
Cook shallot in 3 tablespoons butter in an 8- to 10-inch heavy skillet over moderate heat, stirring, until shallot begins to turn golden, about 1 minute. Add mushrooms, 1 teaspoon sage, salt, and pepper and cook, stirring occasionally, until liquid mushrooms give off is evaporated and mushrooms begin to brown, 6 to 8 minutes. Remove from heat.
Put flour in a wide shallow bowl, add salt, pepper, garlic powder, and mix. Gently pound chicken to 1/4 inch thick between 2 sheets of plastic wrap using the flat side of a meat mallet or a rolling pin.
Pat chicken dry, then dredge in flour, 1 piece at a time, shaking off excess. Transfer to a plate or tray.
Heat 1 tablespoon each of oil and butter in a 10-inch heavy skillet over moderately high heat until foam subsides, then sauté half of chicken, turning over once, until golden and just cooked through, about 4 minutes total. Transfer cooked chicken to a large heatproof platter, arranging in 1 layer, then put platter in oven to keep warm. Wipe out skillet with paper towels and cook remaining chicken in same manner, then transfer to oven, arranging in 1 layer.
Add 3/4 cup wine to skillet and boil over high heat, stirring and scraping up brown bits, about 30 seconds. Add 3/4 cup broth (reserving extra 1/4 cup to thin the sauce later to reach desired consistency, if necessary), cream, and mushrooms, then simmer, stirring occasionally, until sauce is slightly thickened, 6 to 8 minutes. Add lemon juice and remaining 1 teaspoon sage and thyme leaves. If desired, thin sauce with chicken broth to reach desired consistency.
Serve chicken with sauce.
Recommended Products
As an Amazon Associate and member of other affiliate programs, I earn from qualifying purchases.
Nutrition Information
Yield

4
Serving Size

1
Amount Per Serving
Calories

656
Total Fat

37g
Saturated Fat

18g
Trans Fat

0g
Unsaturated Fat

16g
Cholesterol

175mg
Sodium

1003mg
Carbohydrates

34g
Fiber

3g
Sugar

5g
Protein

44g
GoodLifeEats.com offers recipe nutritional information as a courtesy and is an estimate only. This information comes from online calculators. Although GoodLifeEats.com makes every effort to provide accurate information, these figures are only estimates.
This recipe for Chicken Marsala was originally part of a holiday recipe theme week with giveaways. The giveaway has been removed as it is now expired, however the original comments remain.