Recipe Exchange: Chicken Marsala
One of the first "fancy" meals I remember making for Eric was Chicken Marsala. It really isn't that hard to make, but at the time I felt fancy. Chicken Marsala was something I'd never eaten growing up, except for maybe once in a restaurant, and I'm pretty sure it was my first experience using wine for cooking. It seemed like a grown-up recipe.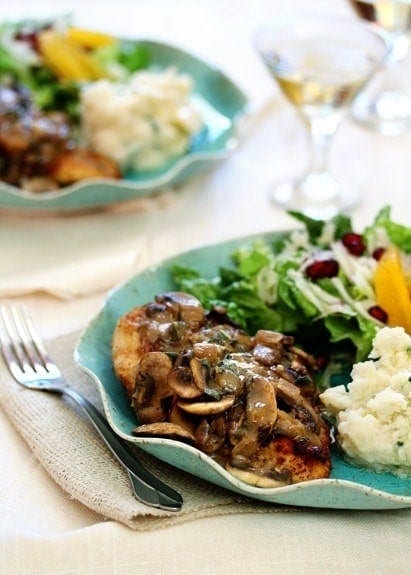 It's still one of my favorites today, though we hadn't enjoyed it for a while. One of the downsides to what I do is that I'm always trying new recipes and we don't often have a lot of repeats in comparison to the number of new recipes I regularly try. I was excited for this opportunity to make and share a dish in this recipe exchange that used Holland House wines for cooking because I've been craving chicken marsala lately.
I couldn't find the original recipe I had used when I first cooked this dish, but a quick search provided me with one from Gourmet Magazine in 2005. I don't remember using heavy cream as this recipe does, however I do love the creaminess that it adds to the sauce. I believe I used thyme instead of sage and I do like both so I'd probably use whatever I had on hand at the time.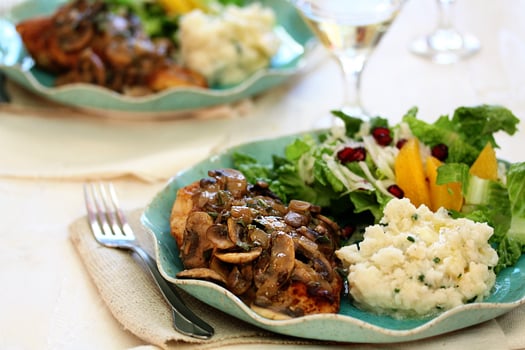 I think a big crisp, green salad balances the boldness of the Chicken Marsala. I also like to serve it with a side of mashed potatoes. It feels so rich and comforting, yet sophisticated at the same time. And it's perfect for a winter evening.
What is your favorite dish to cook with wine? I hope you will share it here and link up for a chance to win a great prize, valued at $100, from Holland House. Check out the Beef Stroganoff Jamie shared for the recipe exchange. Doesn't that look good?
Chicken Marsala with Sage and Thyme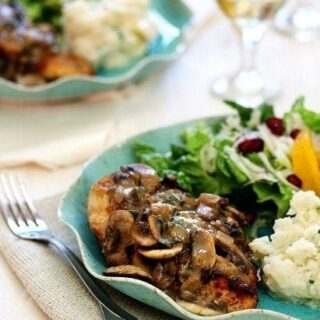 Ingredients:
1 cup chicken broth
3 tablespoons finely chopped shallot
5 tablespoons unsalted butter
12 oz mushrooms, trimmed and thinly sliced
1-2 teaspoons finely chopped fresh sage
1 teaspoon fresh thyme leaves
3/4 teaspoon salt, or according to your taste
1/4 teaspoon black pepper, or according to your taste
1/4 teaspoon garlic powder
1 cup all-purpose flour
4 skinless boneless chicken breast halves (2 lb total)
2 tablespoons extra-virgin olive oil
3/4 cup Holland House Marsala wine
1/2 cup heavy cream
1 teaspoon fresh lemon juice
Directions:
Put oven rack in middle position and preheat oven to 200°F.
Cook shallot in 3 tablespoons butter in an 8- to 10-inch heavy skillet over moderate heat, stirring, until shallot begins to turn golden, about 1 minute. Add mushrooms, 1 teaspoon sage, salt, and pepper and cook, stirring occasionally, until liquid mushrooms give off is evaporated and mushrooms begin to brown, 6 to 8 minutes. Remove from heat.
Put flour in a wide shallow bowl, add salt, pepper, garlic powder and mix. Gently pound chicken to 1/4 inch thick between 2 sheets of plastic wrap using the flat side of a meat mallet or a rolling pin.
Pat chicken dry, then dredge in flour, 1 piece at a time, shaking off excess. Transfer to a plate or tray.
Heat 1 tablespoon each of oil and butter in a 10-inch heavy skillet over moderately high heat until foam subsides, then sauté half of chicken, turning over once, until golden and just cooked through, about 4 minutes total. Transfer cooked chicken to a large heatproof platter, arranging in 1 layer, then put platter in oven to keep warm. Wipe out skillet with paper towels and cook remaining chicken in same manner, then transfer to oven, arranging in 1 layer.
Add 3/4 cup wine to skillet and boil over high heat, stirring and scraping up brown bits, about 30 seconds. Add 3/4 cup broth (reserving extra 1/4 cup to thin the sauce later to reach desired consistency, if necessary), cream, and mushrooms, then simmer, stirring occasionally, until sauce is slightly thickened, 6 to 8 minutes. Add lemon juice and remaining 1 teaspoon sage and thyme leaves. If desired, thin sauce with chicken broth to reach desired consistency.
Serve chicken with sauce.
How To Participate
For a chance to win a Holland House Gift Basket and $75 cash card:
Write and post a recipe on your blog about COOKING WITH WINE.
Include "Come join the fun at the My Baking Addiction and GoodLife Eats Holiday Recipe Swap sponsored by Holland House." in your blog post.
Add your link to the widget on either GoodLife Eats or My Baking Addiction (we have the same widget code, so only add it on one site).
Submit your post before Dec. 30, 11:59 AM. On Dec. 31, 12:00 AM the widget will switch to voting mode. Be sure to encourage your readers to vote for you and/or vote for your favorites.
Anyone can participate in the link up, but the prize will ship to US residents only.
More detailed info, including buttons for your posts are available here.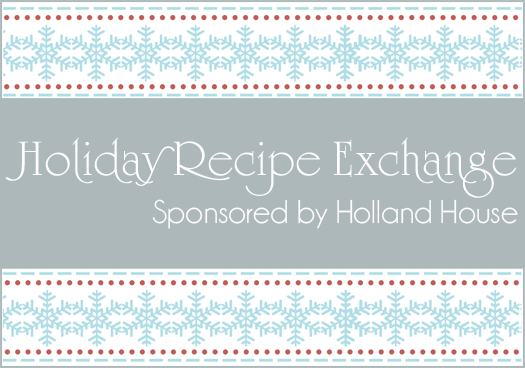 Link Up Your Recipes:
This Week's Prize:
Holland House Gift Basket and a $75  cash card (2 winners), Total Value $100.
Prize provided by Holland House.
Recipe Theme Schedule: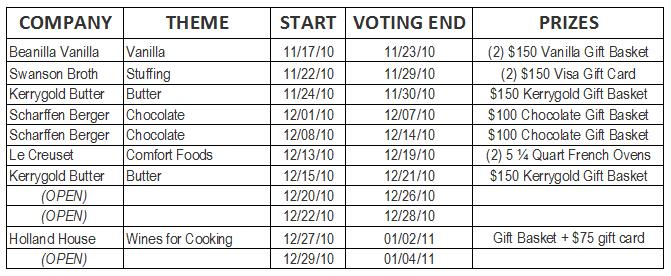 click image to enlarge
How To Promote Your Recipe:
Help us spread the word by letting your friends, family, and followers know about the contest to help you win. Email, Facebook, Tweet, Stumble…anything you want to do to promote this post is welcome.
Sample Tweet 1: Join @GoodLifeEats and @BakingAddiction for a Recipe Exchange. See how you can participate (and WIN) here: http://su.pr/1P3znu Pls RT
Sample Tweet 2: Enter cooking with wine recipes in @GoodLifeEats & @BakingAddiction Recipe Exchg 4 chance @ $100 gift http://su.pr/1P3znu
Sample Tweet 3: Have a winning recipe featuring wine? Share in @GoodLifeEats & @BakingAddiction Recipe Exchg 4 chance @ $100 GIFT http://su.pr/1P3znu
Sample Tweet 4: Vote 4 my WINE recipe in @GoodLifeEats & @BakingAddiction Recipe Exch so I can win $100 Holland House gift http://su.pr/1P3znu