Indian Butter Chicken with Basmati Rice is a delicious, easy Indian recipe. This family favorite makes it simple to cook popular Indian recipes at home.
It features tender chicken in an Indian spiced creamy, tomato based sauce featuring the flavors of garam masala.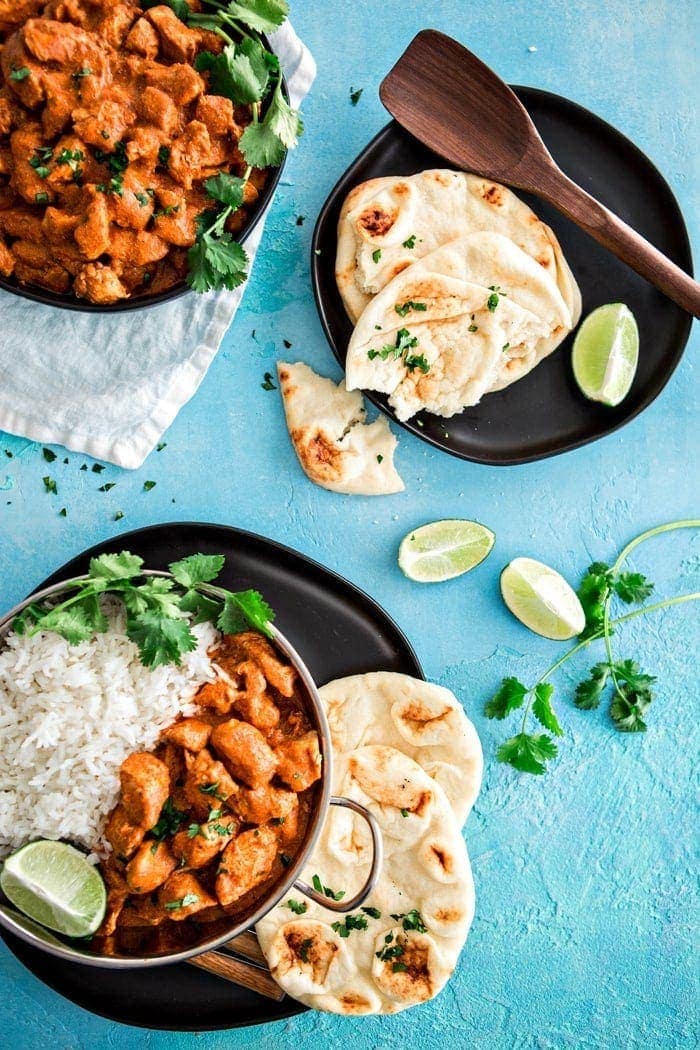 Save this recipe for Indian Butter Chicken with Homemade Naan to Pinterest!
It's hard to believe that I first posted this recipe 9 years ago.
The other thing that is pretty hard to believe is that Logan turned 14 this month and Kayden turned 12!
There are some recipes here on Good Life Eats that have been more popular with our family over time, and this Indian Butter Chicken is definitely one of them.
We have cooked this easy Indian recipe at home twice this month.
Logan and Kayden both celebrated birthdays in March and they each requested that I make their favorite Butter Chicken Recipe.
Kayden requested it for his birthday last year, too!
It is definitely popular with our crowd – we almost never have leftovers.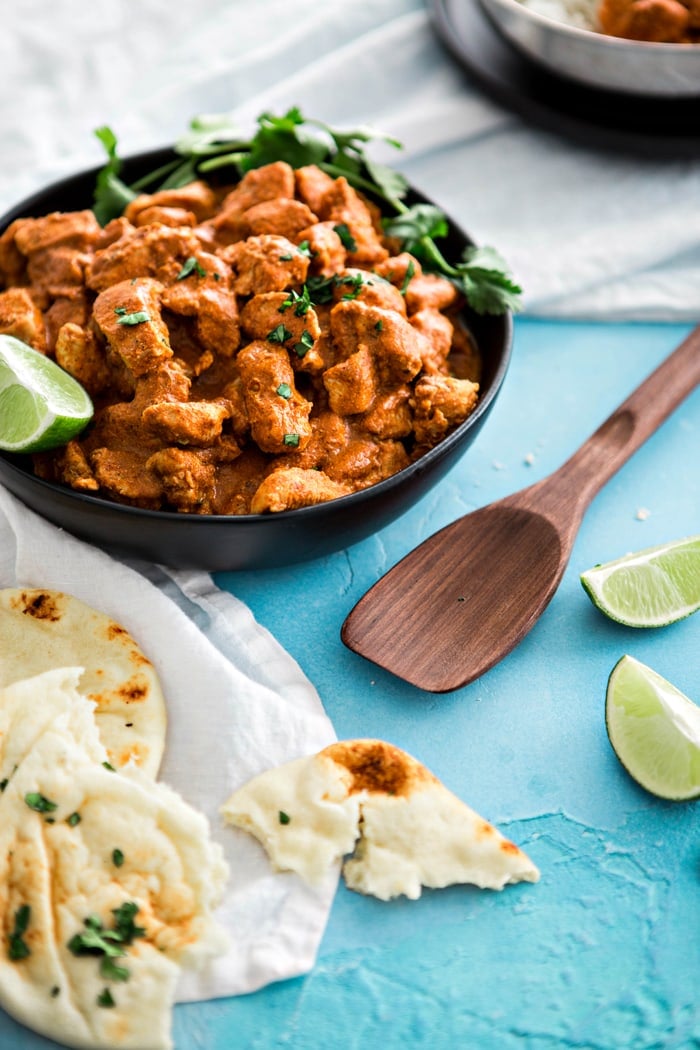 Save this recipe for Indian Butter Chicken with Homemade Naan to Pinterest!
I got smart the second time around and made a big double batch of this recipe so I could stash away a few individual serving containers for lunch for myself.
And I was able to sneak away to my office for a few hours and photograph the leftovers for some pretty, new photos!
Indian Butter Chicken Ingredients
A visit to my regular grocery store easily supplies me with all the necessary ingredients.
So, don't worry – you shouldn't have to make a special visit to an ethnic market to make this recipe for Indian Butter Chicken.
Spices in Indian Butter Chicken
My recipe calls for:
Garam Masala
Chili Powder
Cardamom
Coriander
Salt
Pepper
Bay Leaves
For the complete ingredient list and detailed instructions, scroll to the bottom of this post for the FREE printable recipe card.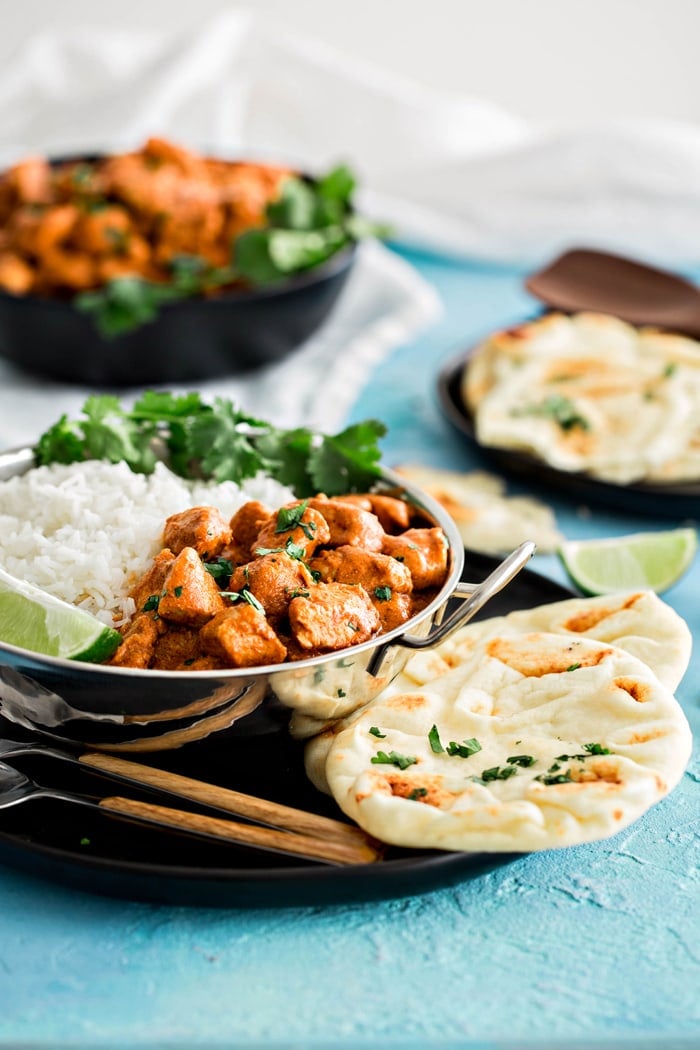 Save this recipe for Indian Butter Chicken with Homemade Naan to Pinterest!
What is Garam Masala?
You might be wondering what Garam Masala is if you haven't prepared this Indian Chicken recipe at home before.
Garam Masala is a spice blend that is used in Indian cooking.
You can definitely make your own blend, but I find it just as easy (and usually less expensive) to purchase the blend at my grocery store.
Garam masala usually includes: Cumin, Coriander, Cardamom, Cloves, Black Pepper, Cinnamon, and Nutmeg.
But, there are often variations depending on region or family recipes.

Indian Butter Chicken Sauce Ingredients
For the sauce you'll need:
Fresh Onion
Fresh Garlic
Fresh Ginger
Jalapeño
Tomato Paste
Chicken Broth or Stock (you can use Homemade Stock, too)
Half and Half or Heavy Cream
Butter
Besides those two lists, you'll need olive oil and chicken breasts.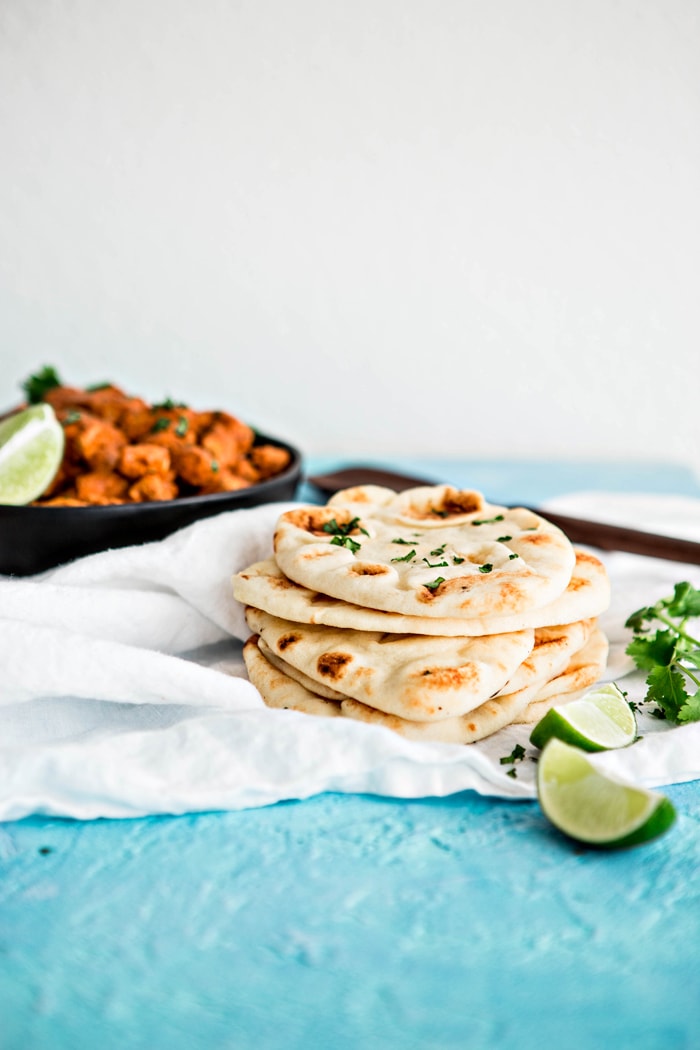 Save this recipe for Indian Butter Chicken with Homemade Naan to Pinterest!
What Goes With Indian Butter Chicken?
The kids' absolute favorite thing to serve as a side dish when we cook Indian at home is this recipe for Whole Wheat Indian Naan. Naan is an Indian Flatbread. We like to cook ours on either a very hot griddle over the stove or on the gas grill outside, when weather permits.
Rice is also a great side dish to serve with Indian Butter Chicken because the rice soaks up all of the delicious Butter Chicken Sauce. When I don't have time to make homemade naan, rice is a great substitute.
If you're looking for side suggestions to go with this recipe, I recommend a big green salad.
It doesn't have to be fancy at all. We often use mixed greens, lettuce, cucumber, shredded carrot, and tomato for a basic side salad. Check out these 3 Simple Salad Dressing Recipes to go along with your salad.
If salad isn't your thing, try this easy recipe for Roasted Broccoli for a vegetable side dish.
Tips for the Best Homemade Naan
Outdoors works great when the weather is nice, but we opt for inside when it is cold or windy. Cold temperatures and wind both prevent the grill from getting and staying hot enough to cook this Naan well.
If you haven't ever made a yeast based dough before, you'll want to check out my 5 Tips for Baking with Yeast.
These tips will help you feel more confident in the kitchen and yield more successful results when you make Naan.
What is the Best Rice for Butter Chicken?
The best rice to serve with Indian Butter Chicken is Basmati Rice. Basmati Rice is grown in Indian, making it the traditional rice to serve with Butter Chicken.
Basmati Rice is fragrant – nutty and floral at the same time, perfect to pair with the rich, sauce in this recipe.
I love that its long grains stay individual and don't get sticky. It makes it so the sauce from Indian Butter Chicken perfectly coats each grain for the absolute best flavor.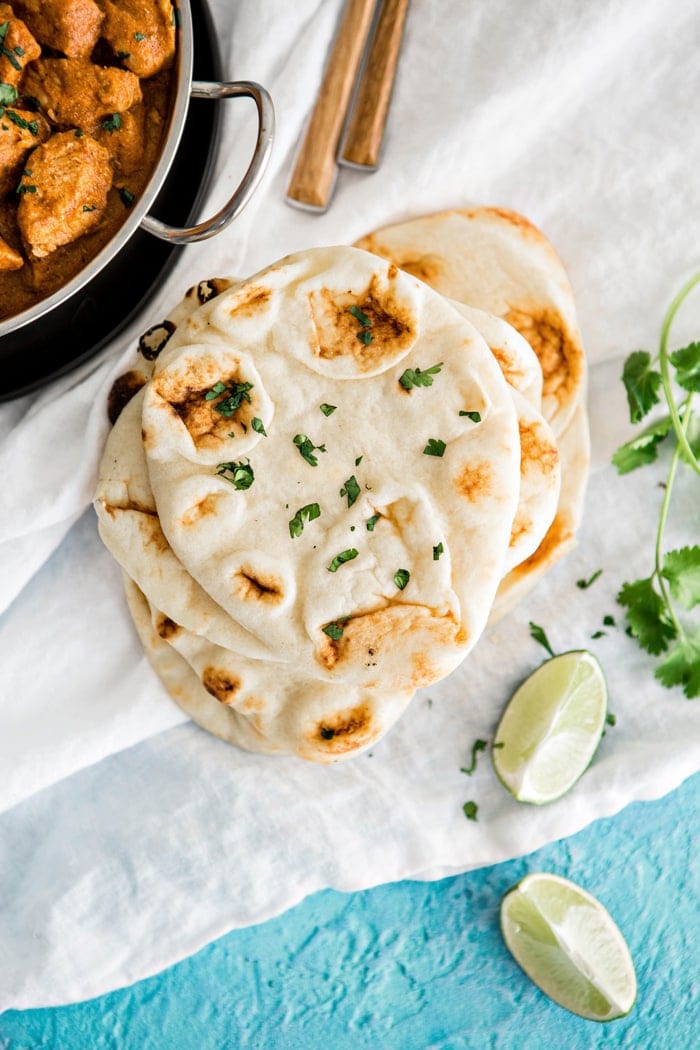 If I don't have time to make the Homemade Naan, I can get away with serving some Basmati Rice.
Personally I like it best when we have rice AND Naan. I love the way the chicken can be scooped up with pieces of naan and the way the rice soaks up any extra sauce from the chicken.
Indian Butter Chicken Garnishes
For garnishes, I like to use fresh cilantro and lime wedges.
The cilantro and lime give a nice pop of flavor to the butter chicken sauce, and add a pretty contrast to your plate!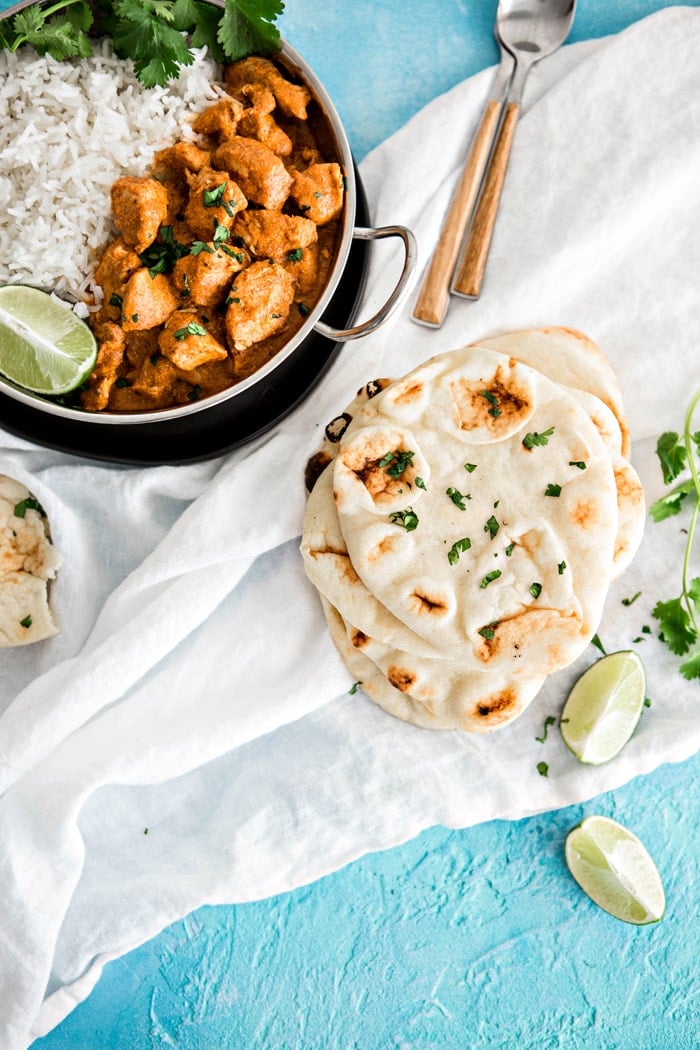 Save this recipe for Indian Butter Chicken with Homemade Naan to Pinterest!
Reader Reviews for Indian Butter Chicken
"You may not read this since this is an older post but I've now made this at least 4 or 5 times and we LOVE it! It's become a total staple in our house. Thanks for this recipe!"
"ABSOLUTELY wonderful. I saw this and thought hey, this might help get us out of a rut. OMG did it ever. I am so glad I doubled this. Thank you for sharing."
"I just made this for dinner and we loved it! My husband could not stop "mmmm"ing throughout the entire meal! Neither of us have had it before but we will definitely be having it regularly now. Thanks for the recipe! I'm excited to see what other amazing recipes you share on the blog."
"I made this today. I am Indian and I must say this is THE best butter chicken recipe out there. It was DELICIOUS! I made very small modifications but generally stuck to the instructions. It's as good as the restaurants. I have been looking for a good BC recipe for some time and I finally found it. My picky daughter just LOVED IT and thanked me a couple of times for making a "really tasty" dinner. Its ironic how I found the best BC recipe from a non-Indian website! LOL! Thank You!!"
"Thanks so much for the great recipe! I have never had this before, so I decided to make it last night for dinner. I was a little hesitant as my husband is not terribly adventurous and I do have 1 picky child. But everybody was happy and ate it! Next time I will have to try making the bread to go with it!"
Have you ever made Indian Butter Chicken?
Love this recipe for Indian Butter Chicken?
Sign up for Good Life Eats email updates and never miss another recipe!
Be sure to follow Good Life Eats on Instagram. Tag @goodlifeeats and include the hashtag #goodlifeeatsrecipes so I can see what you're cooking up in YOUR kitchen!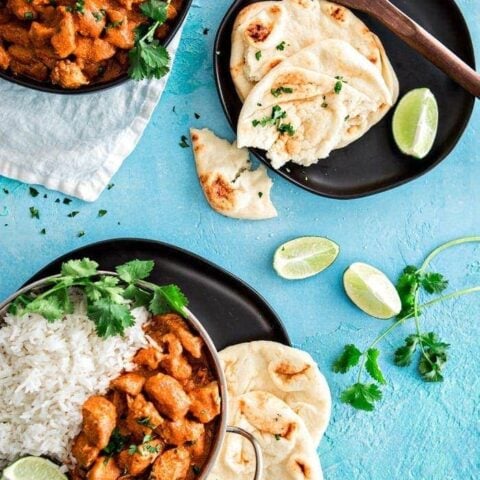 Indian Butter Chicken with Basmati Rice
Indian Butter Chicken with Basmati Rice is a delicious, Indian recipe featuring tender chicken in an Indian spiced creamy, tomato based sauce featuring the flavors of garam masala.
Ingredients
1 tablespoon olive or canola oil
1 onion (1/2 lb.), peeled and chopped
2 cloves garlic, minced
2 tablespoons fresh ginger, finely chopped
1 fresh jalapeño, seeded, and chopped
1 teaspoon chili powder
1 teaspoon cardamom
1/2 teaspoon coriander
1 can (6 oz.) tomato paste
2 1/2 cups chicken broth
1/2 cup half and half or heavy cream
2 bay leaves
2 1/2 pounds boneless, skinless chicken breasts, cut into 3/4-inch chunks
1/2 teaspoon coarse-ground black pepper
1 teaspoon salt
1/4 cup (1/8 lb.) butter
Serve With
Basmati Rice
Fresh Cilantro
Lime Wedges
Instructions
Cook rice according to package instructions.
In a large cast iron pan, add 1 tablespoon of oil and eat over medium heat.
Add the onion and sauce for 5 minutes. Then, add the garlic, ginger, and fresh jalapeño and sauce for another 5 minutes.
Stir in the garam masala, chili powder, cardamom, and coriander. Saute for an additional 2 minutes.
Scrape mixture into a blender or food processor; add tomato paste and chicken broth. Blend until very smooth. Set aside.
Pat the chicken dry. Mix chicken with salt and pepper. Set pan over high heat (I usually use the same pan; add 1 tablespoon butter and the chicken.
Stir until chicken is no longer pink on the surface, about 3 minutes. Depending on the size of your pan, it may be best to cook the chicken in batches so that it does not over crowd. If using this method, transfer the cooked chicken to a plate or bowl before working on the next batch.
Add the sauce from the blender to the pan with all of the cooked chicken, the bay leaves, and the half and half or heavy cream.
Simmer over medium low heat, stirring often, until chicken is tender and no longer pink in the center (cut to test), about 15 minutes minutes. Cut remaining 3 tablespoons butter into chunks and stir into sauce until melted.
Spoon chicken and sauce onto rice. Squeeze lime juice over portions and garnish with cilantro. Serve with naan alongside.
Notes
Serve Indian Butter Chicken alongside basmati rice, or, if you have time, I highly recommend making a batch of this Whole Wheat Indian Naan - an Indian flatbread - to serve with the chicken.
Recommended Products
As an Amazon Associate and member of other affiliate programs, I earn from qualifying purchases.
Nutrition Information
Yield

8
Serving Size

1
Amount Per Serving
Calories

368
Total Fat

16g
Saturated Fat

7g
Trans Fat

0g
Unsaturated Fat

7g
Carbohydrates

8g
Fiber

2g
Sugar

4g
Protein

46g
This post has been updated from the archives. The original text follows.
A few years ago I had not even heard of Indian Butter Chicken. Was I living on some other planet?
It kind of seems that must have been the case.
I had this dish for the very first time, our last night living in college town.
My aunt and uncle made it for us and after a week of packing and cleaning with a 2 month old baby.
I thought that it was the best thing I had ever eaten.
The next morning we headed out to our new home in Albuquerque.
My husband was done with his Master's degree and we were ready to move on to a job and a real life.
I am so grateful we are employed, and have been consistently since leaving college town.
I remember that last night and this meal so well because there were so many emotions going on.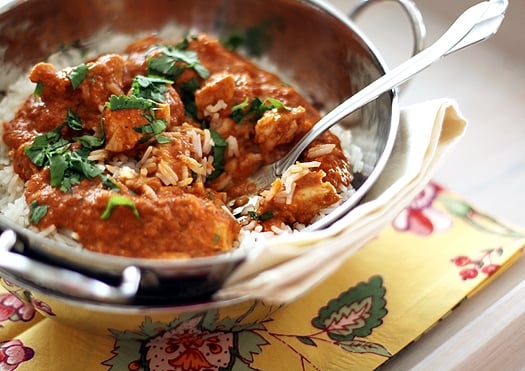 I was sad to leave my comfort zone and sad to leave family members I love behind.
Add to that a mix of post-pregnancy hormones and you've really got something going on.
I have often made Indian Butter Chicken since that night.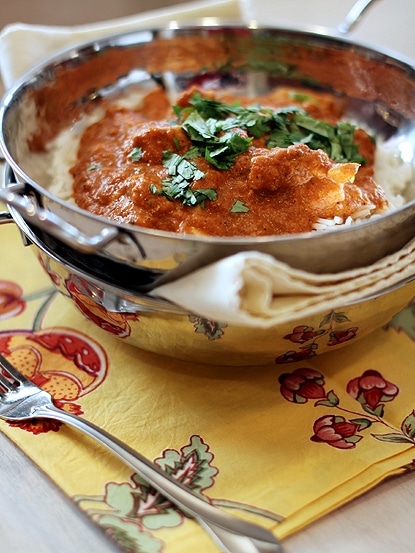 Save this recipe for Indian Butter Chicken with Homemade Naan to Pinterest!
It's still a favorite of ours, proving that it wasn't my sleep-deprived-stressed-out-post-pregnancy perception about this dish being one of the best things I'd eaten.
I've never had authentic Indian restaurant Butter Chicken so I can't compare it to that.
I do know I love this recipe.
Save this recipe for Indian Butter Chicken with Homemade Naan to Pinterest!