Curried Chicken, Chickpea, and Rice Soup
I love making a bit steaming pot of hearty soup or stew that will last for a few days during a busy week where I find that I don't have as much time to spend in the kitchen as I'd like.
I took a traditional a more traditional recipe for Chicken, Chickpea and Rice Soup and tweaked a few things to create a rich Indian flavored chicken and rice soup.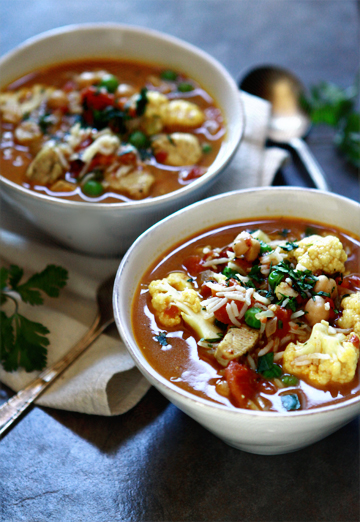 This Curried Chicken, Chickpea, and Rice Soup is a wonderful hearty soup recipe and a great way to use up any leftover chicken thighs, baked chicken breast, or meat from a leftover whole roasted chicken that you may have in your refrigerator.
As an alternative, you could easily shape this into a vegetarian curried chicken and rice soup, leave out the chicken, substitute vegetable broth, and increase the vegetables (or use browned, firm tofu cut into small cubes).
In this easy chicken curry and rice soup you may use whatever vegetables you have on hand. I like cauliflower and frozen peas and think they pair well with coconut milk and curry, but I already had them in my kitchen.
Other vegetable ideas that would work well in this soup include items such as carrots, potatoes, bell peppers, sweet potatoes, green beans, or diced butternut squash.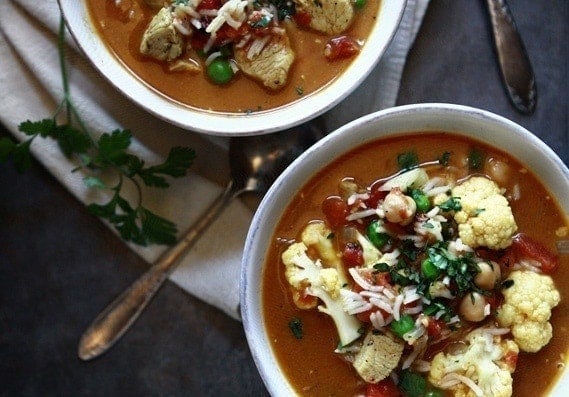 I found that this chicken curry soup was full of flavor, but not too spicy. However, if you like a hotter curry, you can add extra poblano pepper, increase the spices, and/or add diced jalapeños to the soup.
Whatever ingredient combination you end up using, I think you'll find this is a tasty soup that is very forgiving of what vegetables you have on hand.
Have you made a new soup recipe lately? What was it?
More Hearty Soup Recipes to Try:
Curried Chicken, Chickpea, and Rice Soup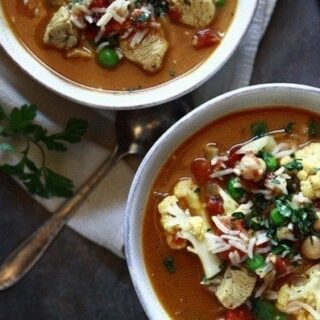 Ingredients:
1 tablespoon coconut oil
1 yellow onion, diced
3 cloves minced garlic
1 poblano pepper, deseeded and diced
1 tablespoon fresh ginger
3 - 4 teaspoons Indian curry powder
1 - 2 teaspoons garam masala
1 tablespoon tomato paste
2 - 14.5 oz. cans diced fire roasted tomatoes
4 cups chicken or vegetable broth
1 - 14 oz. can unsweetened coconut milk
1 - 15 oz. can Bush's brand chickpeas (garbanzo beans), drained
1 1/2 lbs. cooked cubed or shredded chicken breast
1 small to medium head of cauliflower, cut into florets
1 1/4 cup frozen peas
2 - 3 cups cooked rice
chopped fresh cilantro for garnish
Directions:
In a large french oven or soup pot, melt the coconut oil. Sauté the onion over medium heat for 5 minutes. Add the garlic and poblano and sauté for 1 more minute. Add the curry and garam masala, stir to combine, and cook for another minute. Stir in the tomato paste.
Add both cans of tomatoes and their juices, the broth, coconut milk, chickpeas and chicken. Bring mixture to a boil and cook until chicken is heated through and tender. Stir in the cauliflower and cook just until it reaches your desired tenderness. Stir in the peas right before serving and cook only until heated through.
Spoon a small amount of rice into an individually sized serving bowl. Top with desired amount of soup and garnish with chopped cilantro.
Notes:
If you will be consuming all of the soup in one meal, you can stir your desired amount of rice directly into the pot before serving. If you will have leftovers, spoon the rice directly into the bowl to avoid mushy rice in your leftover soup.