Warm Chickpea Salad with Tomatoes
I've written so many times about kids' lunches, but what I often struggle with is making my own lunch. It isn't that I don't eat during the day. It is just that more often than not, I don't eat as good as I should.
With both kids in school full time, I'm only making lunch for myself at home on the week days. Gone are the days that I have a toddler or a preschooler to share lunch with.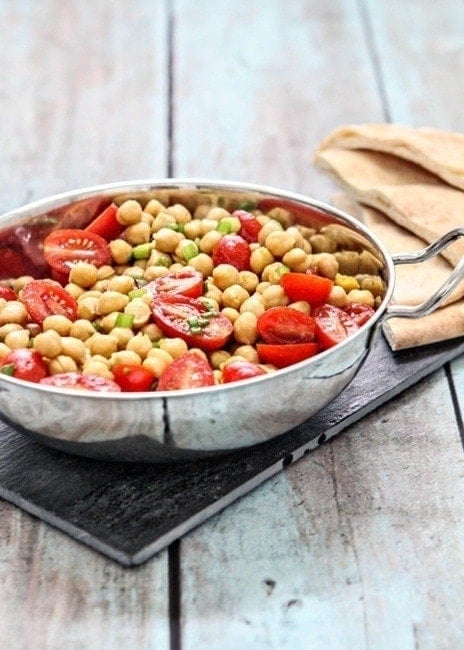 I know this is what contributes to my midday eating issues, because I don't have the same problem at all in the summer when the kids are home. We usually spend our summer afternoons at the pool with a cooler packed full of lunch and healthy snacks to enjoy while we swim and hang out with our friends. I am definitely a social eater.
Even though I'm not caring for babies or toddlers during the day, I still should take the time to sit down, take a break, and eat a balanced meal. Because of this, I'm always on the look out for lunch ideas that aren't boring but are easy.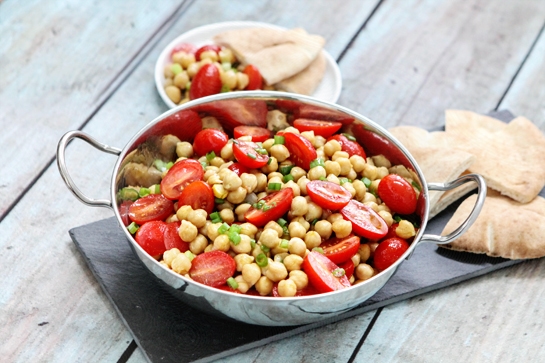 Salads are an obvious simple solution that is often forgotten in my home. I like big, loaded salads and they often seem time consuming to prepare and with our small family, keeping so much produce on hand is risky in terms of spoilage.
Trying to think outside the box of green salads, I recently made this super quick Warm Chickpea Salad with Tomatoes. It was perfect for a quick lunch paired with some toasted pita bread.
You can cut the pita bread in wedges and toast them, eating this like chips and dip. Or, you can toast pita pockets and stuff this tasty salad inside.
Warm Chickpea Salad with Tomatoes
Yield: serves 4 - 6
Prep Time:5 minutes
Cook Time:5-10 minutes
Total Time:10-15 minutes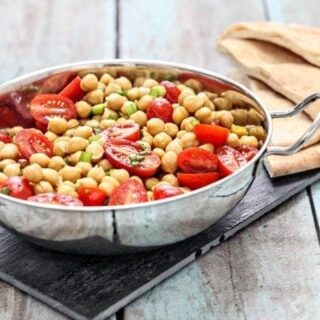 Ingredients:
2 1/2 tablespoons olive oil
2 1/2 tablespoons orange juice
1/2 tablespoon white vinegar
1 1/2 teaspoons cumin
1/4 teaspoon salt, or to taste
1/8 teaspoon pepper, or to tate
1 can Bush's Beans reduced sodium Garbanzo Beans (Chickpeas)
1/2 pint grape tomatoes, sliced
1 - 2 green onions, sliced thin
Directions:
Combine oil, orange juice, vinegar, cumin, salt, and pepper in medium saucepan. Cook over medium heat until boiling. Then, stir in the chickpeas, tomatoes, and onion. Continue to cook, stirring occasionally, until heated through. If desired, serve with toasted pita bread.
I have an ongoing relationship with Bush's Beans where I am compensated for my time, however this is a brand that I have always used in my own kitchen and any opinions expressed regarding the product are my own.