Macaroni Salad is a classic summertime recipe that you'll find at almost every picnic! This recipe has a basic macaroni salad base recipe along with lots of ideas for salad mix-ins. Keep it traditional, or get creative!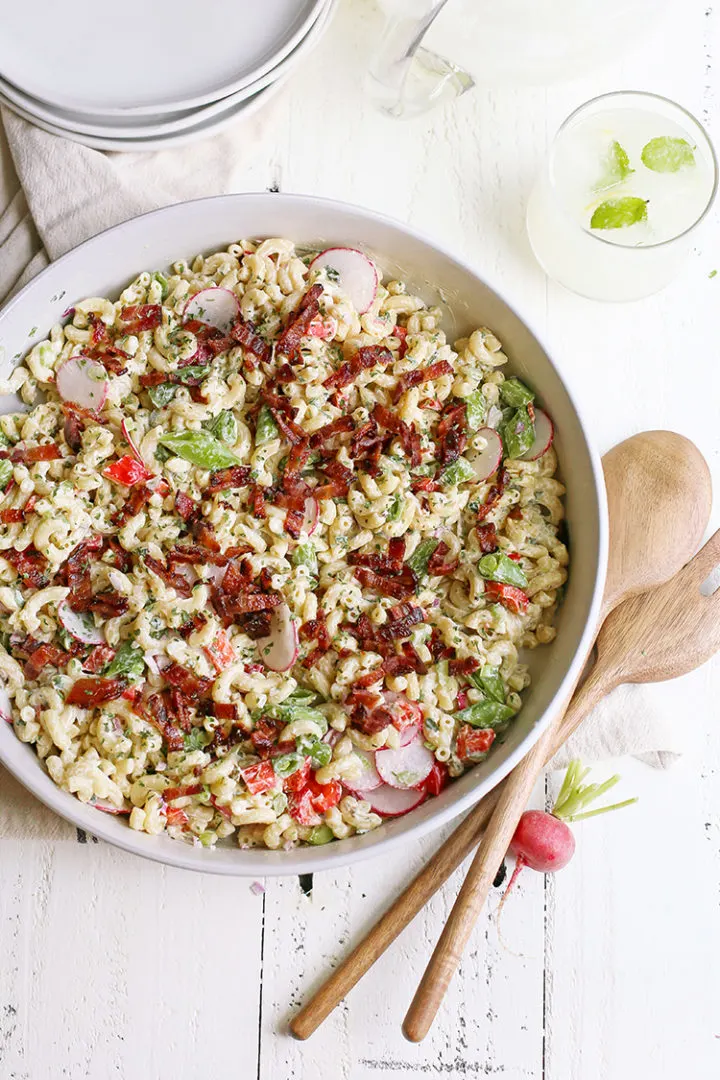 Learn everything you need to know about making the best macaroni salad recipe. Plus, I'm including my favorite picnic recipes to serve with this macaroni salad so you'll have no trouble at all putting together an entire picnic menu.
Macaroni Salad for Picnics
A Macaroni Salad Recipe is the perfect addition to any picnic or BBQ celebration during warmer months. Luckily for us, Labor Day BBQs and Picnics are just around the corner.
We last shared this recipe for Macaroni Salad on the 4th of July and I sure wouldn't mind a dish of this recipe one more time before summer is on it's way out.
Labor Day kind of feels like summer's last hurrah before we can start preparing for the change of seasons. I'm certainly looking forward to fall, but I don't mind celebrating such a fun summer one last time. It certainly was one worth remembering for us. Pasta salad recipes are some of my favorite dishes to serve at picnics.
Making this Recipe for Macaroni Salad
This Macaroni Salad Recipe is easy to make, but a little different than traditional. It's colorful with additions like sliced black olives, diced red bell pepper, and bright green sugar snap peas.
I also like to add a small bunch of thinly sliced radishes for a little extra crunch, but feel free to customize the vegetable additions to the recipe as you see fit.
If you like a more traditional approach to Macaroni Salad for your Labor Day Picnic this year, start with the base recipe as listed in the printable recipe area. Then, choose any additions that you see fit or just keep it simple if you prefer.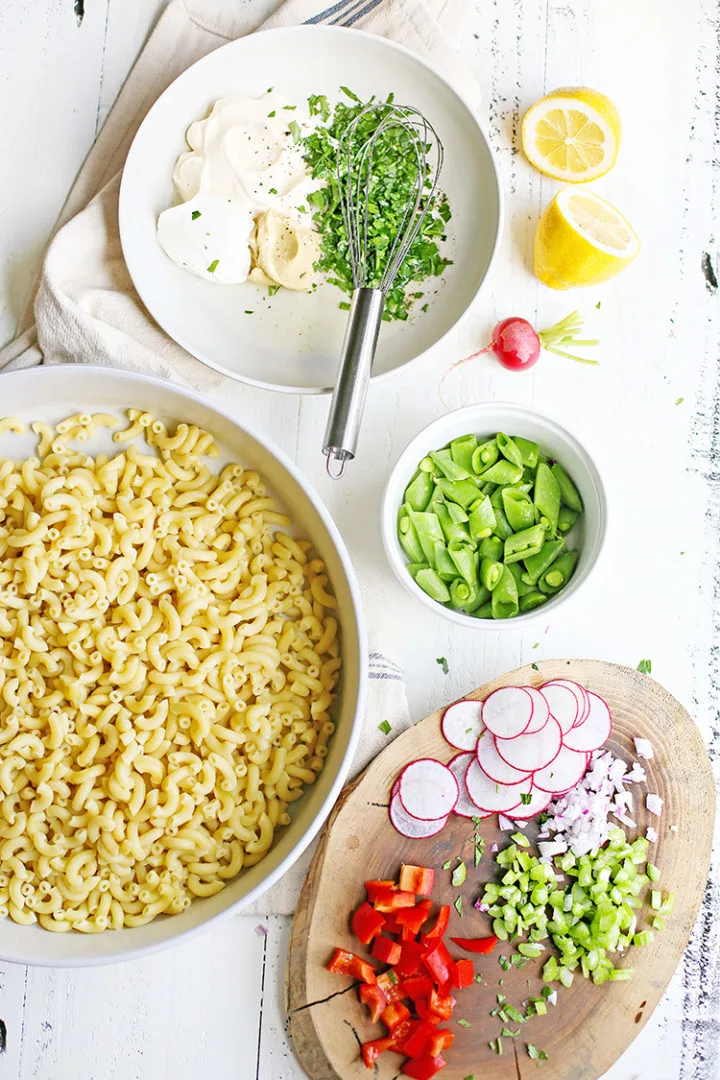 Ingredients in Macaroni Salad
Here's what you'll need to make this classic side dish. Then, after you prepare the salad base you can add all of your favorite mix-ins to the pasta mixture.
Ingredients for the Creamy Dressing
Here's what you'll need to make the tangy dressing for this pasta salad recipe:
Olive Oil Mayonnaise
Sour Cream
Dijon Mustard
Lemon Juice
Fresh Parsley
Salt
Black Pepper
Basic Macaroni Salad Ingredients
After you make the macaroni salad's dressing, you'll stir in these ingredients:
Elbow Macaroni
Celery
Red Onion
Sweet Relish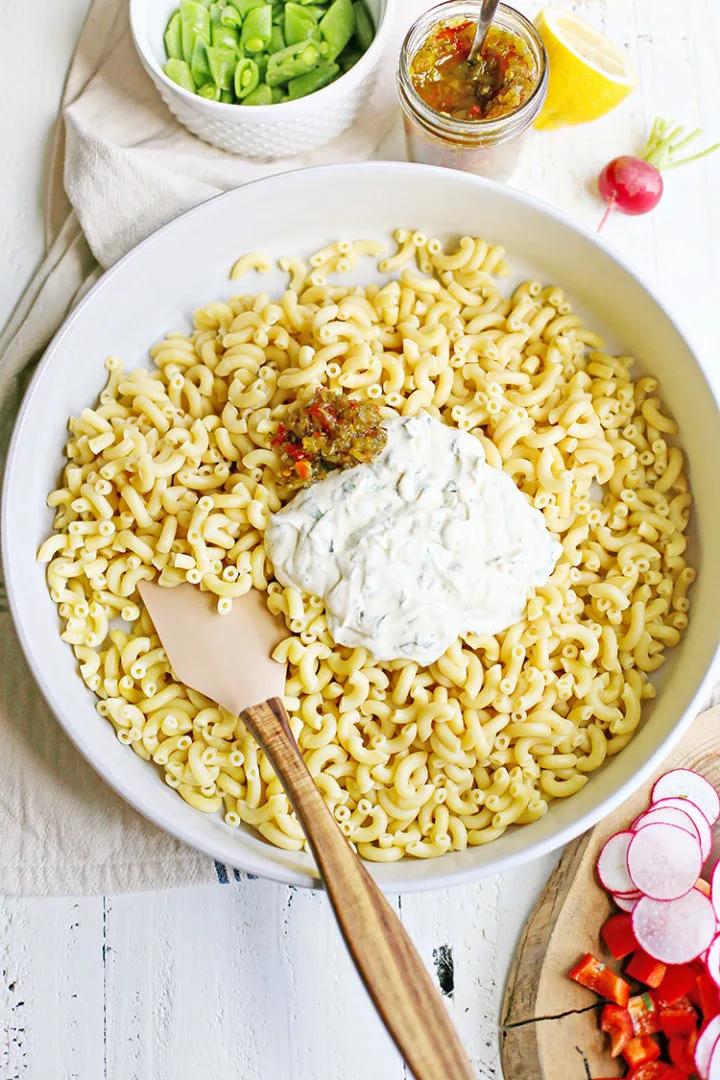 What Veggies are Good in Macaroni Salad
My recipe is a little different than your classic macaroni salad recipe. Here's what I like to mix in to my macaroni salad recipe, but don't be afraid to chance things up and add some of your favorite macaroni salad ingredients!
Macaroni Salad Mix-Ins
Sugar Snap Peas
Black Olives
Red Bell Peppers
Radishes
Bacon
Looking for some other ideas to mix in to your macaroni salad? These ingredients are also popular to use in this classic picnic staple: green onions, peas, shredded or finely chopped carrot, other colors of bell pepper, and hard-boiled eggs.
For the complete ingredient list and detailed instructions to make this simple macaroni salad recipe, scroll to the bottom of this post for the FREE printable recipe card.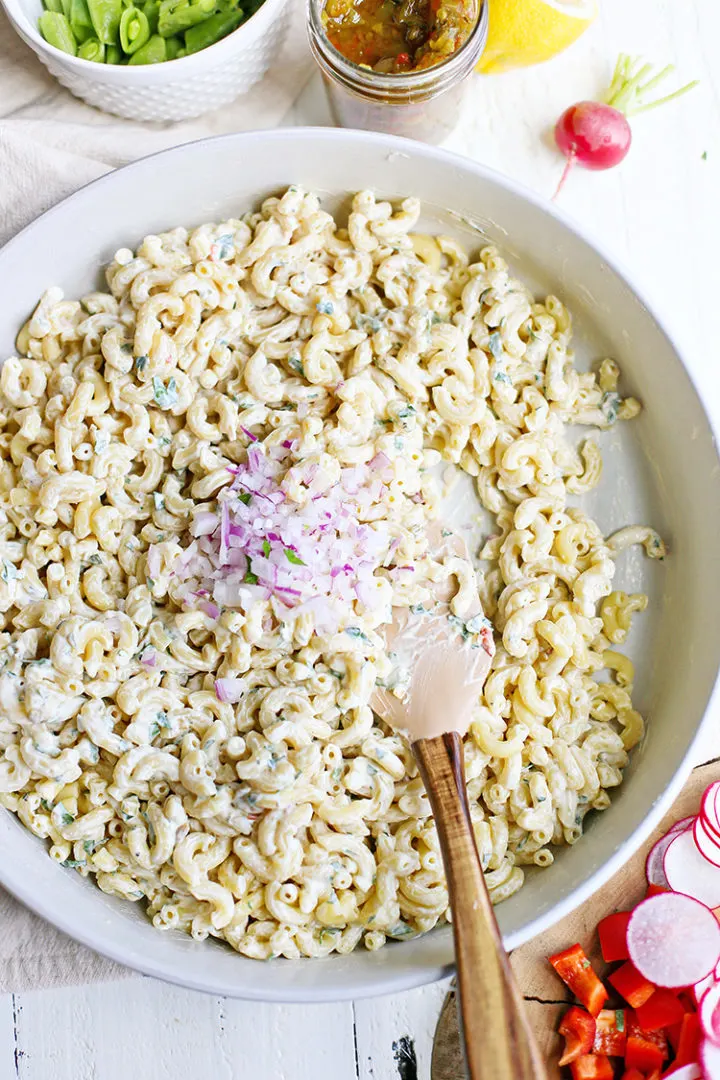 How to Make this Easy Macaroni Salad Recipe
This recipe for macaroni salad is so easy to prepare and the perfect side dish for Labor Day backyard barbecues! Here's a quick overview of the process:
First, cook the macaroni noodles to al dente according to package directions. Then drain and rinse the macaroni in cool water.
While the pasta cools, combine the sauce ingredients and seasonings in a large bowl. Whisk until well mixed. After that, stir in the pasta, relish, onion, and the remaining vegetables.
Chill the macaroni salad until cold. Just before serving, sprinkle the top with the crumbled bacon.
The above is simply a quick summary of this recipe for creamy macaroni salad. Check out the full recipe in the free printable recipe card at the bottom of this post for all the detailed instructions.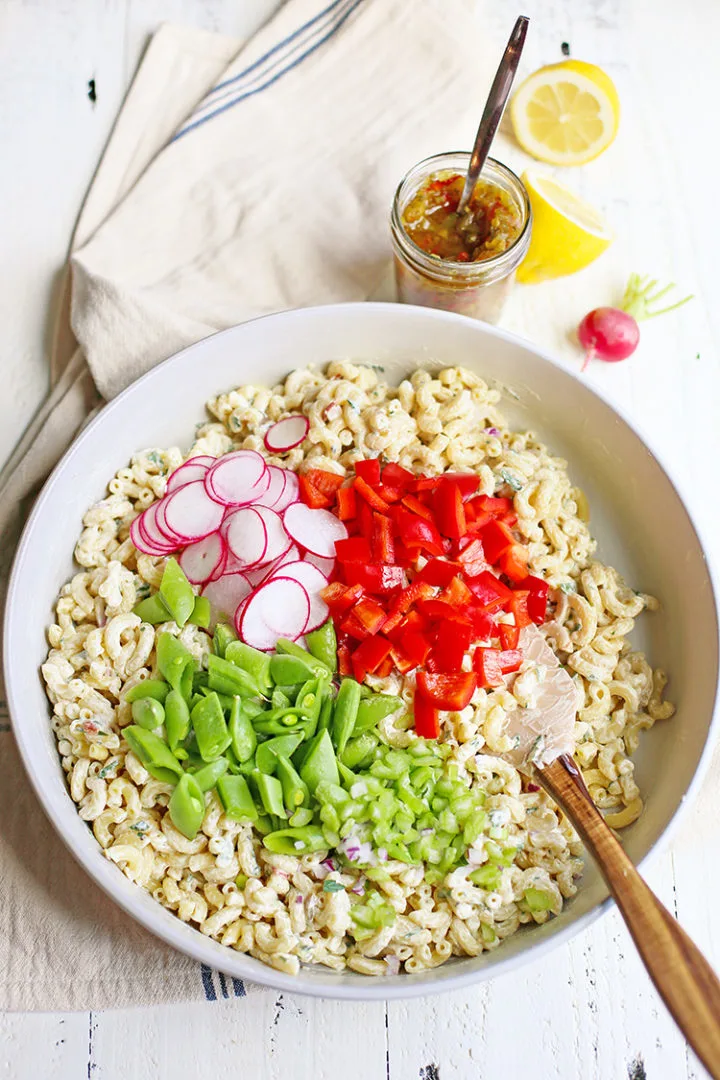 Tips for Making the Best Macaroni Salad
Pasta needs to be at least room temperature cool before adding the dressing. Rinse the macaroni noodles with cold water after cooking to cool it off before adding the remaining ingredients.
For the best bacon crumbles to add to this salad recipe, try my Homemade Bacon Bits.
If you're using fresh lemons, check out these tips for how to squeeze the most juice from your lemons.
Do you like diced Hard Boiled Eggs in your salad? Be sure to check out my Easy Peel Hard Boiled Eggs method.
Allow enough time for the macaroni salad to chill because this easy picnic side dish is best served cold.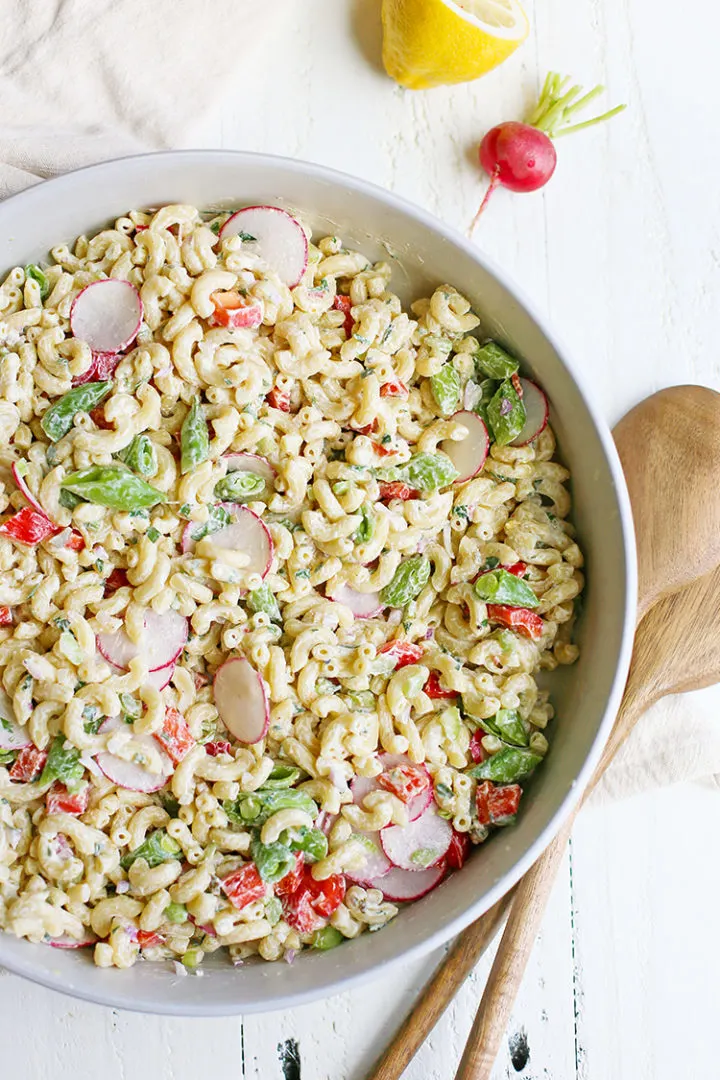 Macaroni Salad Recipe FAQs:
Got questions about making this macaroni salad recipe? Check out these questions to see if I've answered. If not, feel free to leave a comment with your question at the bottom of this post.
Do I Have to Use Elbow Pasta?
No, you don't! While elbow macaroni noodles are the classic pasta shape to use when making macaroni salad, you can definitely use any small pasta shape that you like.
Try: Ditalini, Cavatappi, Wagon Wheels, Mini Bow Tie, Mini Penne, or Small Shells.
How Long is Macaroni Salad Good For?
When stored properly, this recipe for macaroni salad will stay fresh in the refrigerator for up to 5 days. Here's how to maximize the life:
Don't double dip silverware, serving utensils, or stick hands or fingers in the macaroni salad. Contamination can transfer germs that will breed bacteria.
How To Store Leftovers?
Refrigerate macaroni salad as soon as the meal is over, preferably within an hour of serving. Macaroni Salad that sits out for hours at room temp or in the summer sun can be unsafe and spoil quickly.
Store any leftover macaroni salad in an airtight container.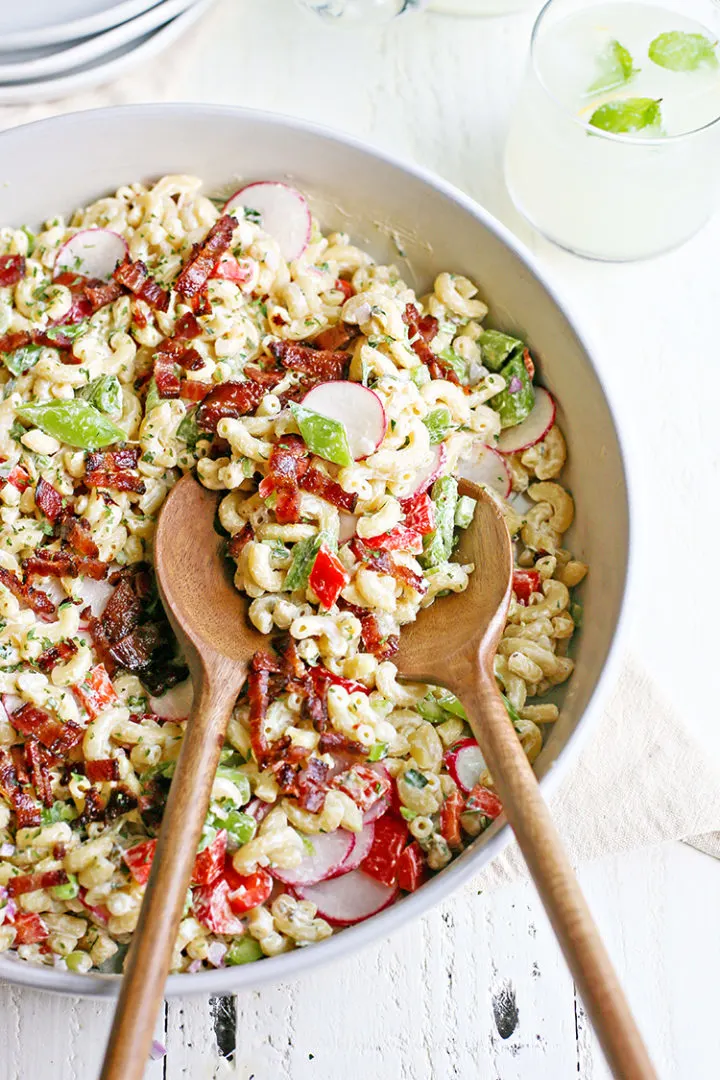 Try this Easy Recipe for Macaroni Salad!
Next time you're looking for Labor Day menu ideas, give this Homemade Macaroni Salad a try! Did you think it was the perfect picnic side dish? Leave a comment below and give it a review and star rating for others to see what you thought of this macaroni salad recipe recipe.
On Instagram? Share your photo and tag me with @goodlifeeats and #goodlifeeatsrecipes. I'd love to see your photo of this easy macaroni salad!
What to Serve with Macaroni Salad
Looking for some suggestions of what goes well with this homemade macaroni salad recipe? Here are our favorite summer drinks, BBQ meats, and picnic side dishes:
The Best Picnic Drinks
If you like strawberry cocktails, you'll love this Strawberry Aperol Spritz! So refreshing on a hot day!
This Tangerine Raspberry Iced Tea Recipe is the perfect way to toast to summer. Iced tea is simple to make, not too unlike making regular tea.
Nothing says summertime like a cold glass of Fresh Strawberry Lemonade! This refreshing drink is easy to make, and makes a pretty pink lemonade.
Watermelon Mint Lemonade is a fun take on the traditional lemonade recipe – and it couldn't be more summery!
The Best BBQ Menu Ideas
BBQ Chicken Rub features a mix of brown sugar, salt, pepper, garlic powder, cumin, chili powder, and smoked paprika for a flavorful homemade spice rub.
Smoked Chicken is a great summer meal. The chicken turns out incredibly flavorful, tender and juicy. Perfect for BBQs!
Learn how easy it is to make smoked pork ribs with fall off the bone tender meat! Mango Habanero Pork Ribs flavor packed and perfect for your next summer BBQ.
Smoked Pork Shoulder is a classic summertime BBQ recipe. Come check out my tried and true method for making Smoked Pulled Pork - great for sandwiches!
The Best Salads for Picnics
Potlucks and BBQs don't seem complete without a bowl of Classic Potato Salad. Creamy mayo, celery, onion, hard-boiled eggs, and plenty of potatoes make this recipe.
Spicy jalapeño coleslaw recipe is the perfect potluck side dish recipe for a Labor Day Picnic.
This easy black bean salad is packed with corn, tomatoes, cucumber, and more! It's tossed with a lime-cumin dressing that's full of flavor!
Zucchini Tomato Basil Salad with Lemon Basil Vinaigrette is a light and refreshing summertime salad
This recipe for Watermelon Salad has a great combination of flavors - sweet and salty with a syrupy balsamic glaze and a touch of mint. It is so refreshing!
Don't see what you're looking for here? You can always head over to check out the recipe index to look for more recipes.
Get New Recipes Via Email
Was this Macaroni Pasta Salad a crowd pleaser at your end of summer BBQ? Sign up for Good Life Eats Email Updates and never miss another update!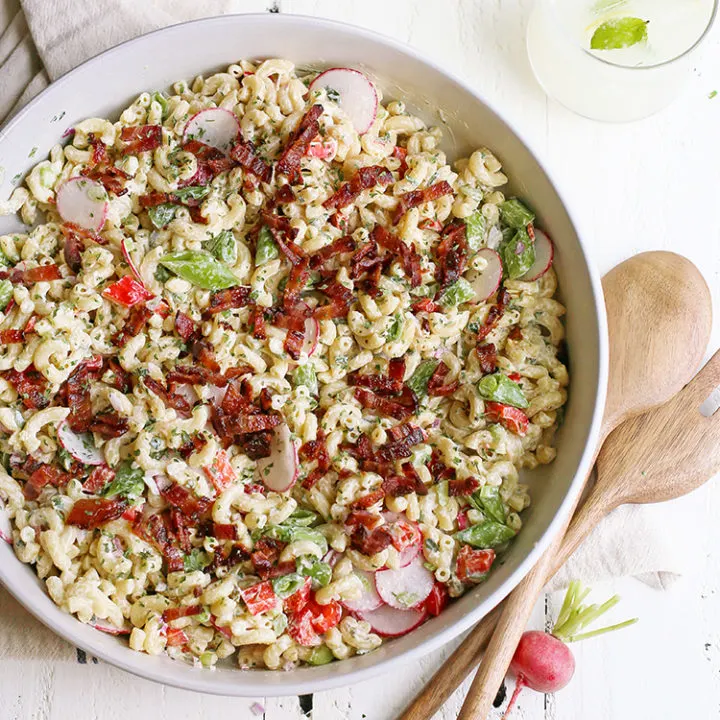 Macaroni Salad
Cooling Time:
1 hour
30 minutes
Total Time:
2 hours
5 minutes
A Macaroni Salad Recipe is the perfect addition to any picnic or BBQ celebration during warmer months.
Ingredients
Macaroni Salad Base:
1 pound elbow macaroni
juice of 1 lemon
3/4 cup olive oil mayonnaise
1/4 cup sour cream
2 teaspoons Dijion mustard
1/2 teaspoon salt, or to taste
1/4 teaspoon pepper, or to taste
2 tablespoons minced parsley
1 celery rib, minced
2 tablespoons red onion or shallots, minced
2 tablespoons sweet relish
Mix Ins:
3/4 cup sugar snap peas, cut into thirds
1 - 3 ounce can sliced black olives
1/2 of a red bell pepper, diced
1 small bunch radishes, thinly sliced
6 slices center cut bacon cooked and crumbled bacon
Instructions
Cook the pasta according to package instructions for "al dente pasta."
After cooking, drain and rinse with very cold water to speed cooling and prevent continued cooking. Spread the macaroni out on a layer of paper towels. Pat dry.
In a large bowl, combine the lemon juice, mayonnaise, sour cream, dijion mustard, salt, pepper, and parsley. Whisk until combined.
Stir in cooled and dry pasta until evenly coated. Add the relish and onion, stirring to combine.
Prepare all of the vegetables, then add them and any remaining ingredients except bacon to the large bowl with the pasta.
Stir until the ingredients are evenly distributed.
Chill for 90 minutes, or up to 24 hours before serving.
Prior to serving, sprinkle the top of the salad with the crumbled bacon.
Recommended Products
As an Amazon Associate and member of other affiliate programs, I earn from qualifying purchases.
Nutrition Information
Yield

8
Serving Size

1
Amount Per Serving
Calories

277
Total Fat

16g
Saturated Fat

4g
Trans Fat

0g
Unsaturated Fat

12g
Cholesterol

24mg
Sodium

656mg
Carbohydrates

24g
Fiber

2g
Sugar

3g
Protein

9g
GoodLifeEats.com offers recipe nutritional information as a courtesy and is an estimate only. This information comes from online calculators. Although GoodLifeEats.com makes every effort to provide accurate information, these figures are only estimates.