This easy recipe for Zucchini Frittata is great to use up your garden's summer zucchini! This delicious frittata recipe has tons of flavor featuring zucchini, red potatoes, Canadian bacon, and cheddar cheese. Mix it up with different vegetables or proteins and serve it as an easy meal for breakfast, lunch, or dinner!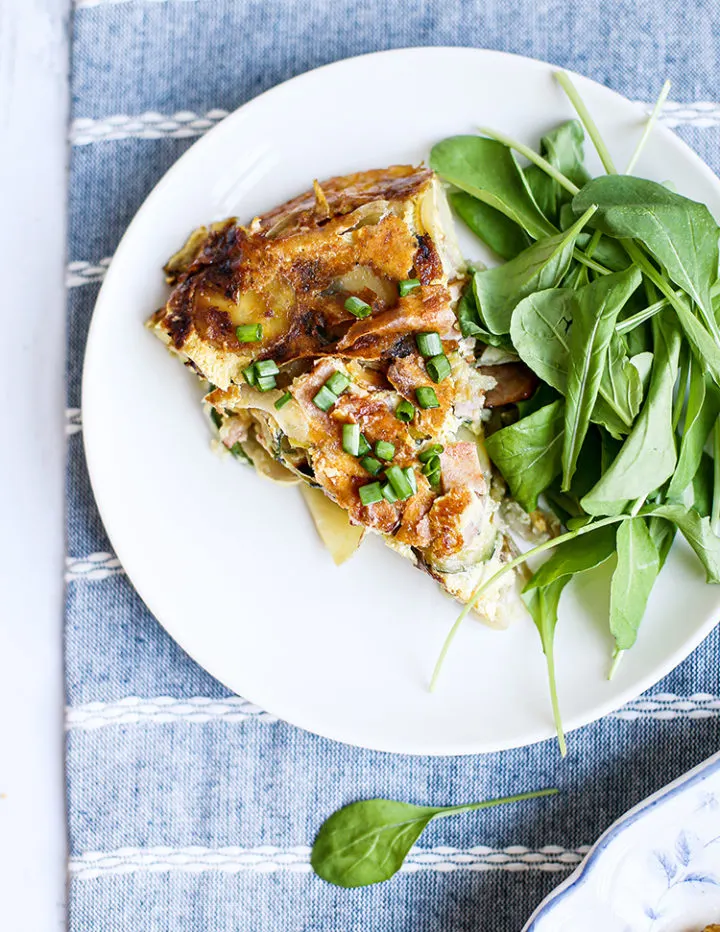 This post may include affiliate links. As an Amazon Associate and member of other affiliate programs, I earn a small commission from qualifying purchases.
Making this
Zucchini

Frittata Recipe

My first experience with a frittata didn't go so well. At the time I though that I just didn't like frittatas, but after making this recipe I realized that the first just lacked flavor.

This Zucchini Frittata is packed with so many flavors. I definitely won't be going another five years without making one. Great for any meal. We had ours for dinner, but it would be a lovely breakfast or brunch recipe too.

Frittata is an egg-based Italian dish similar to an omelette or crustless quiche or scrambled eggs, enriched with additional ingredients such as meats, cheeses, or vegetables. The word frittata is Italian and roughly translates to "fried".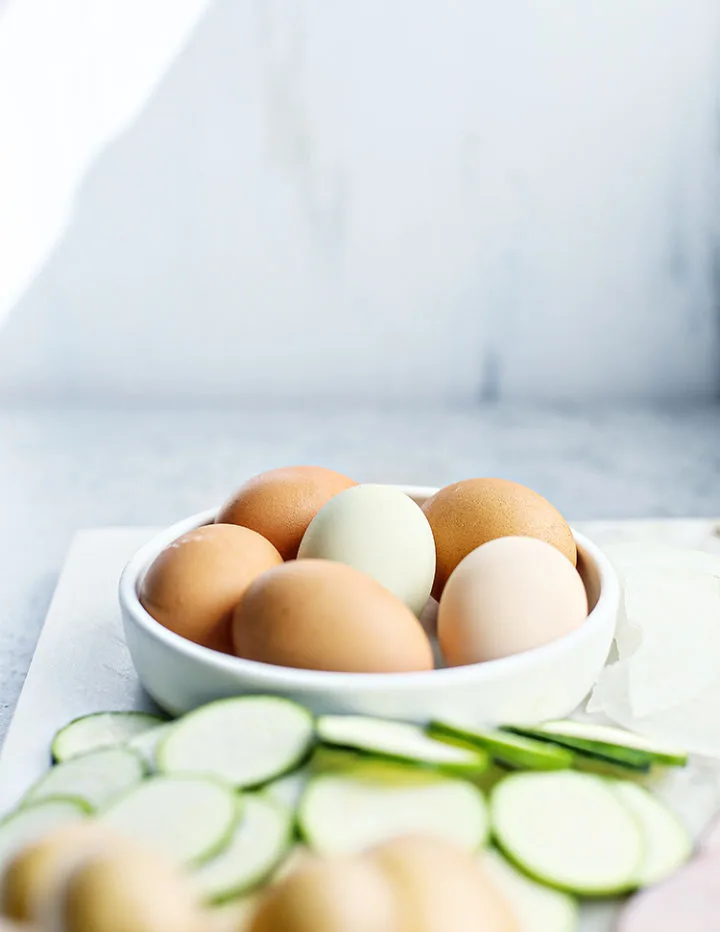 What is a Frittata
Frittatas are an egg-based Italian dish not too unlike a quiche or an omelet. They often contains extra ingredients like vegetables, meats, and/or cheeses and are popular for brunch. In Italian, the word frittata translates roughly to "fried."
What is the Difference Between a Frittata and an Omelet?
In a frittata the extra ingredients are combined with the egg mixture prior to cooking, while when preparing an omelet, you typically add the extra ingredients during the cooking process.
This Zucchini Frittata is cooked low and slow over the stove before finishing in the oven. Omelets are cooked quickly over higher heat on the stove; flipping is also required.
Frittatas can be eaten hot or cold. Omelets are served hot.
What is the Difference Between a Frittata and a Quiche?
Frittatas and quiches are really similar dishes both in taste and appearance! The main difference is that a quiche has a crust and a frittata does not. Other differences include the cooking methods and the egg to dairy ratios.
Useful Tools to Make this Recipe
Here are some of my recommended kitchen tools that make preparing this Zucchini Frittata a breeze!
Food Processor – for slicing the zucchini and potatoes
Cutting Board and Chef's Knife – for cutting the onion and the Canadian bacon
Whisk – for whisking the eggs
Colander – for draining the zucchini after salting
Cast Iron Pan – for cooking the frittata.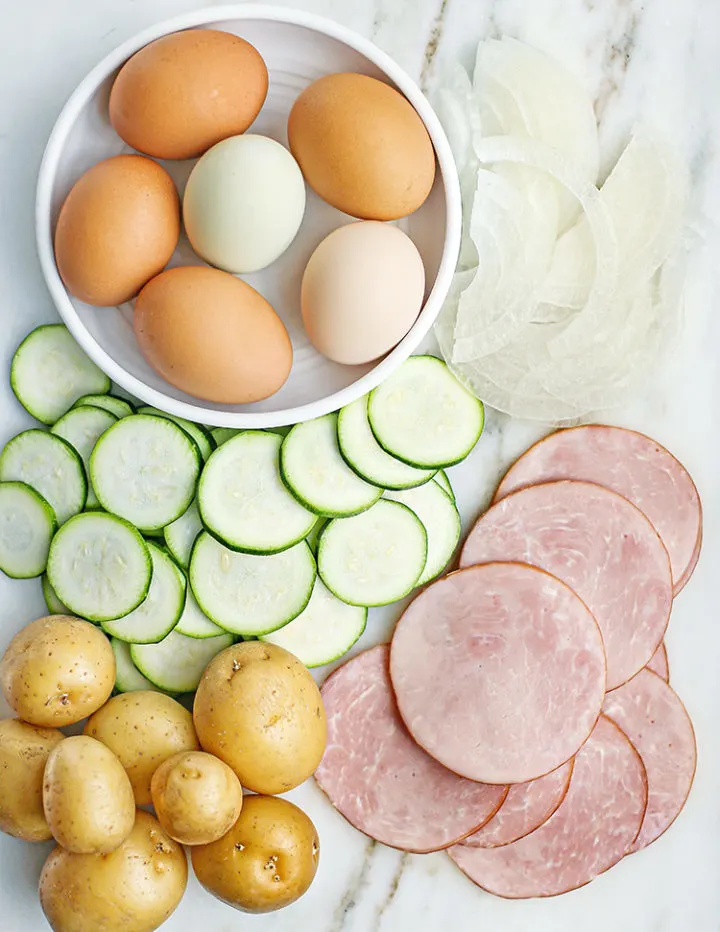 Ingredients in this Easy Zucchini Frittata
The ingredients in this delicious frittata recipe are so simple, but pack plenty of flavor! Here's what you'll need to make it:
Zucchini
Red Potatoes
Onion
Canadian Bacon or Ham
Large Eggs
Cheddar Cheese
Olive Oil
Salt
Black Pepper
For the complete ingredient list and detailed instructions, scroll to the bottom of this post for the FREE printable recipe card.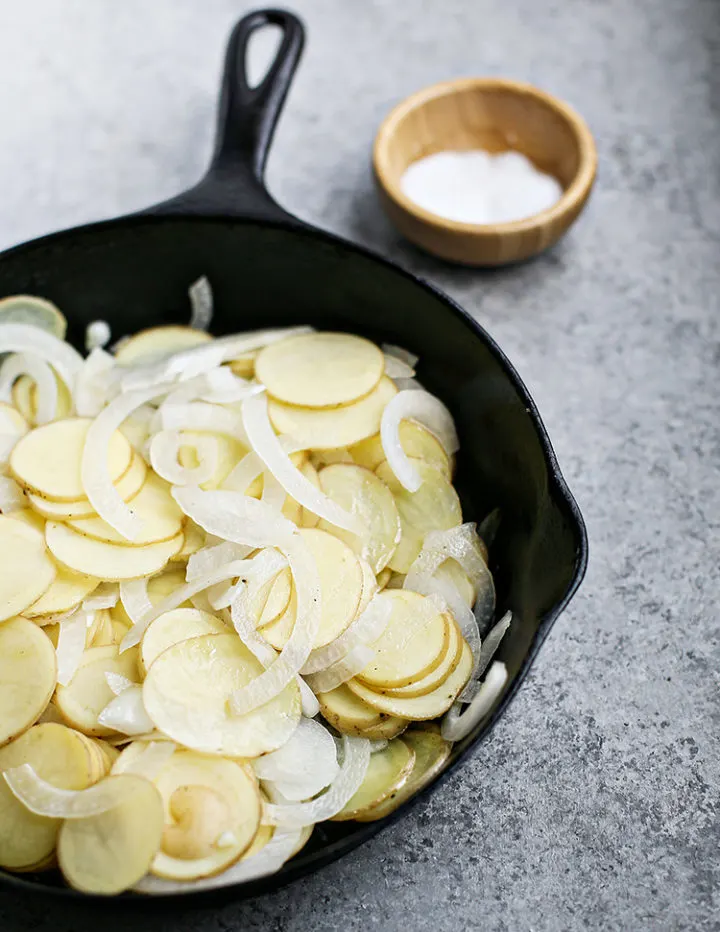 Ingredient Substitutions
For potatoes, the following varieties work best: Red Potatoes, Yukon Gold Potatoes, New Potatoes, French Fingerling, Red Bliss, Baby Potatoes. Use whichever of those you have on hand or like best. I don't recommend Russet Potatoes for this recipe. They don't hold their shape well enough.
Feel free to experiment with different types of cheese when you make this frittata. We like a sharp cheddar best, but you could also use mild cheddar if you prefer. You might also like to try parmesan cheese or a mix of cheddar and parmesan.
You can use yellow, white, or red onions. Alternatively, sliced green onion would probably also work well and you won't have to sauté it
I have also used center cut bacon to make this frittata recipe depending on what I have on hand. I like to buy thick center cut when I do use bacon. Check out my recipe for making homemade bacon bits!
Don't have zucchini (or don't like it)? Some other vegetables you could try are: bell peppers, spinach, yellow summer squash, or a combination. Just use equal amounts that you're substituting in place of the zucchini. Bell peppers and spinach are best sautéed for a few minutes first.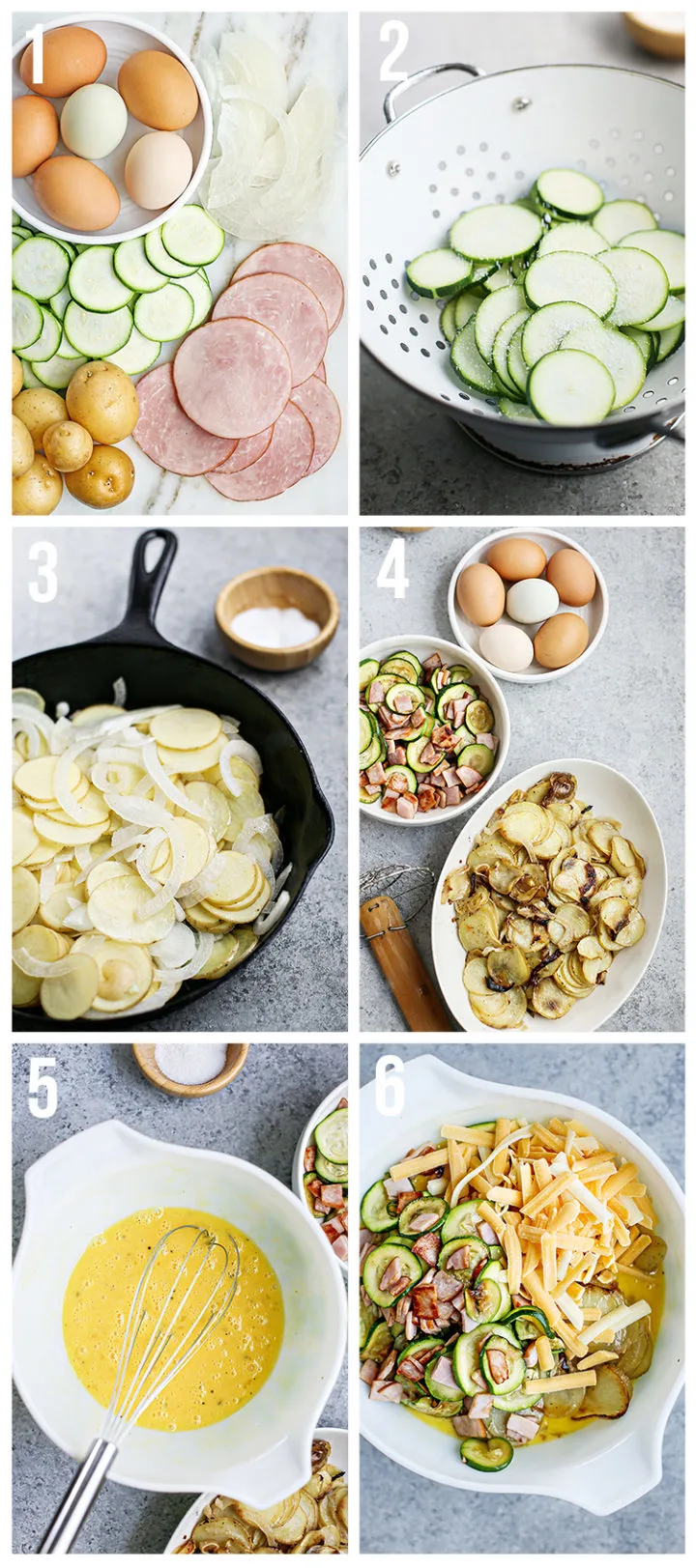 Tips for Making this Frittata with Zucchini
Small zucchini are better than giant zucchini in this recipe. The giant sized garden zucchini often have large seeds and can be fibrous,
Make sure you cut the potatoes in thin slices or they won't cook through. Using a mandoline slicer or a food processor is a great way to cut thin, even slices of the potatoes and zucchini.
Salting the zucchini helps release excess water so the

frittata

doesn't become watery.
Make sure you use a well seasoned cast iron pan so the frittata doesn't stick. New to cast iron? Here are my tips for Caring for Cast Iron Cookware.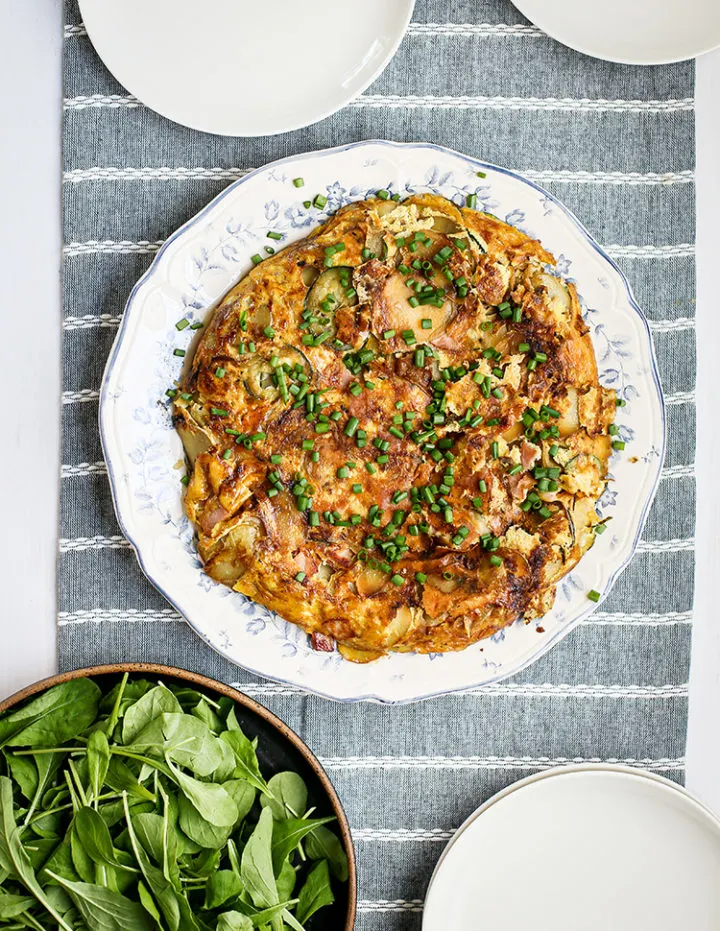 What to Serve with a Frittata
If you're looking for side suggestions to go with this recipe, I recommend a big green salad.
It doesn't have to be fancy at all. We often use mixed greens, lettuce, cucumber, shredded carrot, and tomato for a basic side salad. Check out these 3 Simple Salad Dressing Recipes to go along with your salad.
If salad isn't your thing, try this easy recipe for Roasted Broccoli for a vegetable side dish.
Fresh fruit also goes well. I love this Tropical Fruit Salad and this Citrus Salad with Poppy Seed Dressing.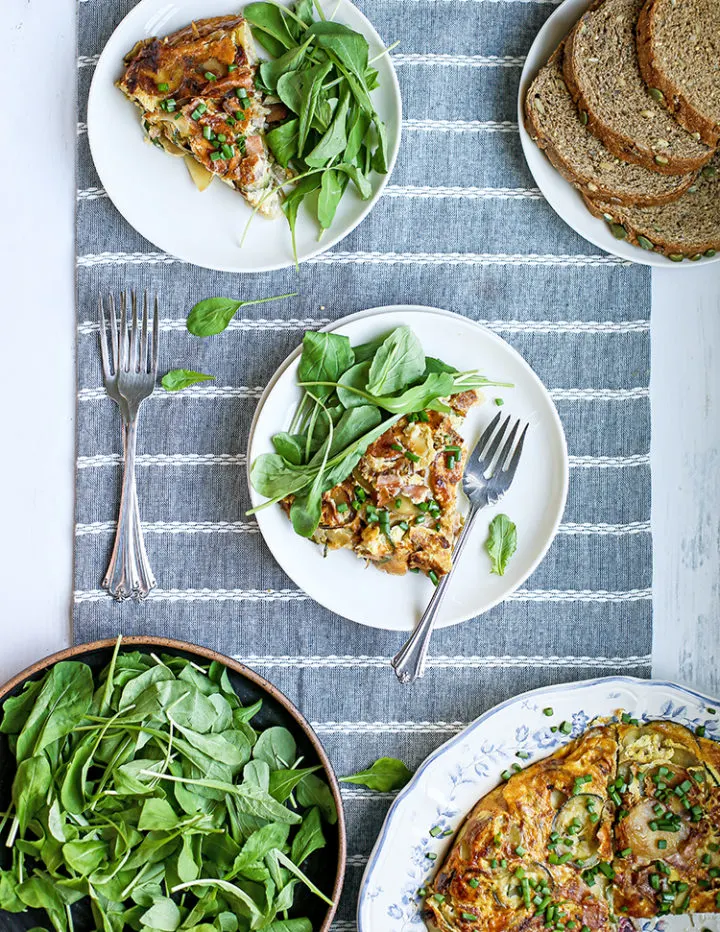 Can You Freeze this Zucchini Frittata?
Yes! This frittata recipe is great for freezing! Here's how to freeze it:
To freeze, let the frittata cool completely before sealing inside a freezer bag (or multiple layers of plastic wrap).
I recommend reheating the frozen frittata in the oven without thawing it first. Thawing the frittata before reheating it can make the eggs rubbery.
Try this Zucchini Frittata Recipe!
Next time you're looking for an easy frittata, give this Zucchini Frittata a try! Did the entire family love it? Leave a comment below and give it a review for others to see what you thought of this delicious frittata recipe.
On Instagram? Share your photo and tag me with @goodlifeeats and #goodlifeeatsrecipes. I'd love to see your photo of this easy zucchini frittata!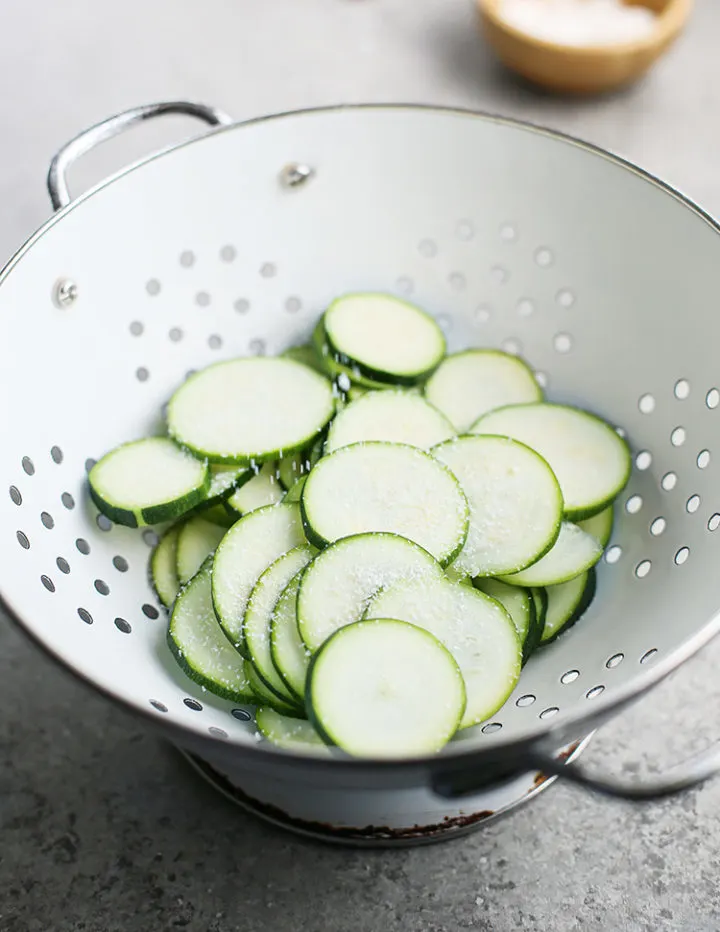 More Zucchini Recipes
Looking for more delicious recipes to use up all that summer zucchini? Here are a few of our favorite recipes!
The shredded zucchini disappears when mixed with small cut pasta means! Your kids will gobble this Creamy Zucchini Orzo up and gain all the nutrients.
Zucchini Apple Spice Muffins are perfect for the transition between summer and fall. You can use up the loads of summer zucchini while savoring the fall spice flavors and a hint of apple.
Ricotta is mixed with a combination of primavera-style vegetables, parmesan and fresh herbs to create a tasty Veggie and Cheese Manicotti recipe.
Italian Chicken, Mushroom, and Zucchini Skillet is a super easy dinner recipe for busy nights. It features pan seared chicken tenderloins, zucchini and sliced mushrooms in garlicky herbed tomato sauce.
This Zucchini Tomato Basil Salad with Lemon Basil Vinaigrette is a light and refreshing summertime salad and perfect when your garden is exploding with tomatoes, basil, and zucchini in the later summer months.
In these Foil Packet Pesto Pork Chops, fresh, summertime vegetables are tossed in pesto and balsamic and cooked with boneless pork chops. You'll love this makeover version of the classic foil dinners from childhood.
This easy recipe for Zucchini Salsa is the perfect way to use up all of that extra zucchini growing in your summer garden. Fresh Zucchini Corn Salsa makes a great appetizer or snack!
Don't see what you're looking for here? You can always head over to check out the recipe index to look for more recipes.
Get New Delicious Recipes Via Email
Did you love this Simple Zucchini Frittata? Sign up for Good Life Eats Email Updates and never miss another update!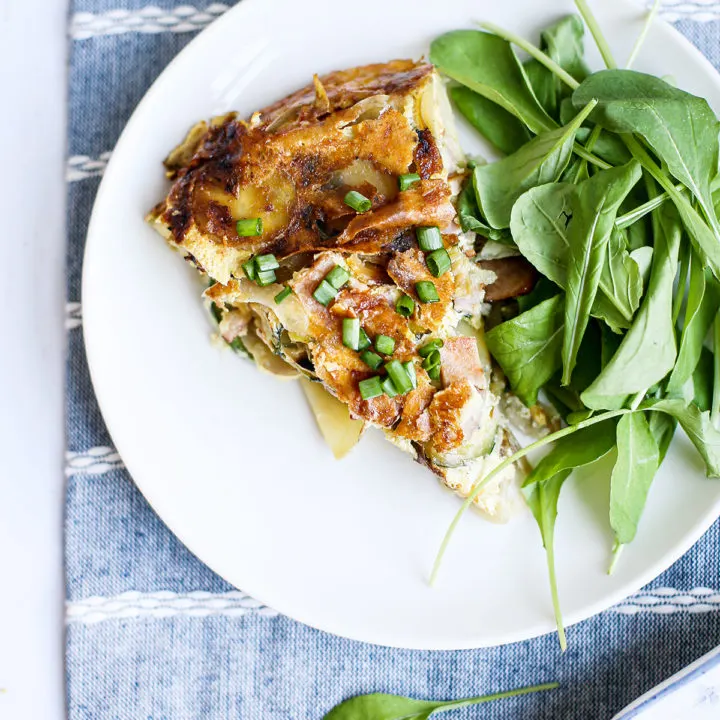 Zucchini Potato Frittata
This frittata is packed with so many flavors. I definitely won't be going another five years without making one. Great for any meal.
Ingredients
1 medium zucchini, sliced
Salt
4-5 Tbs extra-virgin olive oil, or more as needed
1 1/2 lbs. waxy potatoes, thinly sliced
1 large onion, halved and thinly sliced
1/4 lb. smoked Canadian bacon or ham, diced
6 eggs
Freshly ground black pepper
1 c grated Cheddar
Instructions
Combine the zucchini and 1 teaspoon salt in a colander and toss well. Set aside to drain for 30 minutes.
Heat 3 tablespoons of the oil over medium-high heat in a large, well-seasoned cast-iron skillet or ovenproof nonstick skillet.
Add the potatoes and onion, reduce the heat to medium-low, and cook, flipping and stirring occasionally, until the potatoes are soft, about 20 minutes.
Increase the heat to medium-high and continue cooking, tossing occasionally, until the potatoes are brown, about 5 minutes. Remove the potatoes with a slotted spoon but keep the skillet on the burner.
Transfer the zucchini to a clean kitchen towel and pat dry.
Add the zucchini and Canadian bacon to the skillet and sauté over medium-high heat, until the zucchini is just tender, about 4 minutes. Remove the zucchini and Canadian bacon with a slotted spoon.
Keep the skillet over the heat. Beat the eggs and pepper to taste in a medium bowl until well blended.
Fold in the potatoes, zucchini and Canadian bacon, and cheese.
Preheat the oven to 350°F. Add 1 to 2 tablespoons of the remaining oil to the skillet as needed to lightly coat the bottom.
Pour in the egg mixture, reduce the heat to medium-low, and cook without stirring until the bottom is set, about 10 minutes.
Transfer the skillet to the oven and bake until the top is set, 5 to 15 minutes, checking every 5 minutes.
Place a serving plate on top of the skillet and carefully invert. The frittata should fall out of the pan.
Cut into wedges and serve.
Notes
Recommended Products
As an Amazon Associate and member of other affiliate programs, I earn from qualifying purchases.
Nutrition Information
Yield

8
Serving Size

1
Amount Per Serving
Calories

544
Total Fat

44g
Saturated Fat

9g
Trans Fat

0g
Unsaturated Fat

33g
Cholesterol

174mg
Sodium

533mg
Carbohydrates

22g
Fiber

2g
Sugar

3g
Protein

18g
GoodLifeEats.com offers recipe nutritional information as a courtesy and is an estimate only. This information comes from online calculators. Although GoodLifeEats.com makes every effort to provide accurate information, these figures are only estimates.