Roasted Potato and Spinach Frittata with Feta
Today I'm participating in the Ultimate Blog Swap. You'll find me posting over at Unsophisticook about Lemony Spring Vegetable Pasta Primavera, and I'm excited to welcome Shaina from Food for My Family to GoodLife Eats. She's sharing a recipe for Roasted Potato and Spinach Frittata with Feta.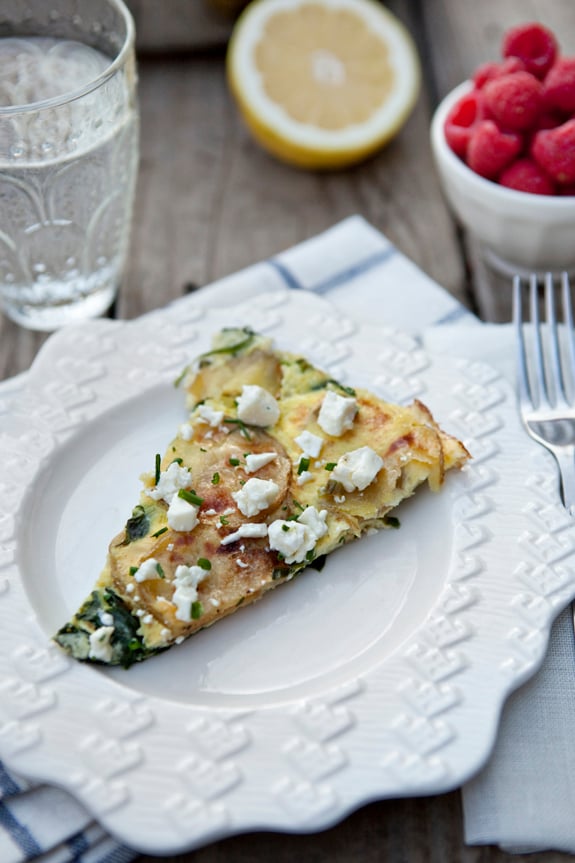 Summer is nearly here.
I'm counting down the last few days of school with my kids and soon the days of juggling four of them while balancing work atop my head and carting them around to summer camps, days at the zoo and sports in the evening will begin.
It's those days where 5 p.m. comes too quickly, and before you know it, there's nothing on the table for dinner. With stomachs growling, there isn't much time before the troops will be restless and one of them will need to be carted off to a baseball game or soccer practice.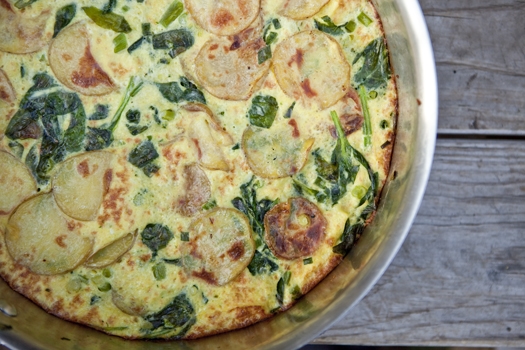 It's in those moments, where normalcy and dinnertime seem impossible that I try to step back and rally. I attempt to handle it all with grace, but really, I'm melting from stress on the inside.
I hand my eldest a bowl. I look my six-year-old in the eyes and tell him he "gets to break" eggs for me. (Somehow, it's the "getting to" and the "breaking" that are appealing to six-year-old boys.)
I push the eggs over and run out to the garden to pull up a few early season vegetables and herbs to throw into a frittata.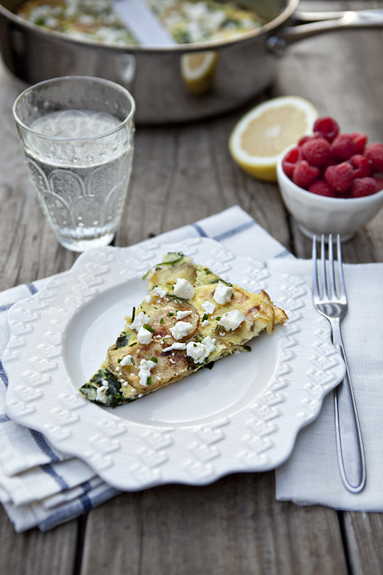 I believe that it's in those moments of utter chaos that we can choose to push through with grace or fall into absurdity, and while I have fallen hard and fast plenty of times, each day I start over and work towards grace.
Besides, grace tastes better than the drive-thru. Next time you find yourself scrambling for dinner, give this Roasted Potato and Spinach Frittata with Feta a try.
What do you make for your family for dinner on days of utter chaos?
More Frittata Recipes:
Roasted Potato and Spinach Frittata with Feta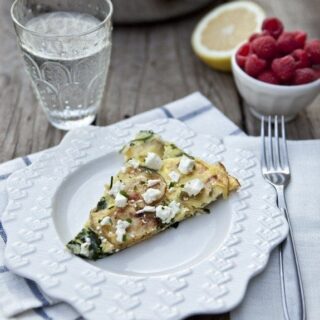 Ingredients:
1 pound Yukon gold potatoes
4 tablespoons olive oil
1/4 cup spring onions or ramps, chopped
3 cloves garlic, minced
6 ounces fresh spinach
1 tablespoon olive oil
1/2 cup ricotta
7 large eggs
3/4 teaspoon kosher salt
Pepper to taste
1/4 cup feta cheese, crumbled
2 tablespoons fresh chives, chopped finely
Directions:
Preheat oven to 425º F. Slice the potatoes into ¼" slices and lay flat on a parchment-lined baking sheet. Brush lightly with olive oil on both sides. Bake for 10 minutes, just until they begin to brown and are cooked through.
While the potatoes are roasting, beat together ricotta, eggs and kosher salt and pepper, if desired, in a separate bowl. Set aside. In a large skillet, heat one tablespoon of olive oil over medium-high heat. Add in chopped spring onions and sauté for 2-3 minutes until tender.
Stir in minced garlic and baby spinach and continue to cook until spinach wilts, 1-2 minutes more. Lay the roasted potato slices over the spinach.
Pour egg and ricotta mixture over the potatoes and spinach. Cover and cook 8 minutes until eggs are nearly set. Remove lid and place under broiler, about 5 inches from the heat source, for 5-6 minutes or until top begins to brown evenly.
Remove from oven and immediately top with crumbled feta and chives. Slice into wedges and serve.
---
About the Author: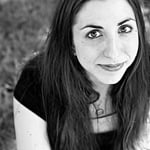 Shaina Olmanson is the home cook and photographer behind Food for My Family and Olmanson Photography, and a daily contributor to Babble.com's Family Kitchen Blog.
She strives to teach her four children to cook and prepare real food in a day and age where many people have turned to convenience foods because they are so readily available and hopes to encourage others to do the same. Shaina can usually be found in one of three places: cooking, at the computer or behind the camera.
Shaina is also on Facebookand Twitter.
---
Visit Life…Your Way to see all of the Ultimate Blog Swap participants!