I love to eat eggs for dinner. Probably more so than I do for breakfast, but that's probably just because I don't typically have much time for preparing breakfast in the morning during the week.
Frittata is definitely an easy dinner favorite of mine and I often use them as a means to clean out the vegetable drawer in the fridge. You don't really need a recipe to make one because you can put almost anything in one: meat, vegetables, cheeses, pasta. Add a salad and you've got a great meal.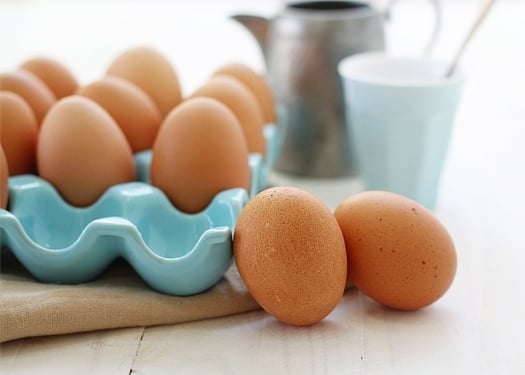 I've made this Artichoke, Leek and Potato Frittata a couple of times already this spring. Slicing the potatoes can be a bit of a pain, but my awesome brother got me a OXO Good Grips V-Blade Mandoline Slicer for Christmas and now slicing thin, uniform potatoes is a breeze.
A little tangent here, but I used the madoline the other day for this Sweet Potato Fry Recipe (one of Madeline's favorites) and it made cutting the perfect shaped strips of sweet potato so easy. I normally dread any kind of cutting that involves the need for perfect pieces.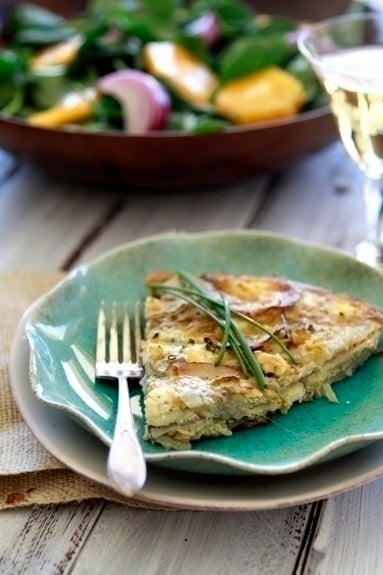 So, back to this recipe. If you haven't made a frittata yet, get on that. They are perfect for busy nights when you don't really want to think about dinner and especially great when you have a bunch of random vegetables that need to be used up. We could all use a simple dinner recipe up our sleeves, right?
Here's where it gets even easier. Like I've mentioned before, I like to use formulas rather than recipes whenever I can. Frittatas are just another to add to the list. I am almost never without eggs in the fridge and we've always got at least two types of cheese on hand and a few vegetables.
[print_link]

Basic Frittata Formula

The ingredients are so flexible. Get creative with your filling ideas. Switch up the herbs and cheese for different flavors. Possibilities are endless and the end result is up to you!

Base Ingredients

6 – 8 large eggs
1/2 – 1 teaspoon salt, depending on your preference
1/4 teaspoon pepper
2 tablespoons milk

Personalized Ingredients

This is where things get fun! Use some of your favorite flavor combinations, experiment with new ingredients, or simply empty out your refrigerator!


Vegetables
Meat
Cheese
Pasta
Dry or Fresh Herbs
Need some more ideas? Just check out these fantastic recipes from a few of my friends.
More Frittata Recipes:
For this particular recipe I choose artichoke hearts, potatoes, and leeks because I was craving a taste of spring. For some extra flavor I grabbed a bit of garlic and herb flavored goat cheese, some lemon juice and chives.
What do you like to put in a frittata?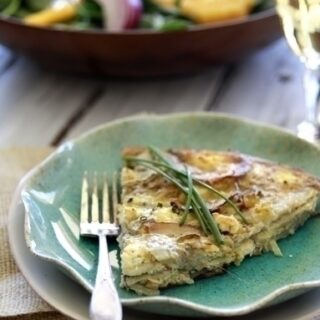 Artichoke Potato Frittata
Artichoke Potato Frittata is a great dish for a spring menu.
Ingredients
2 red potatoes, about 1 pound
12 ounces frozen artichoke hearts, thawed
2 leeks
juice of 1 lemon
2 cloves garlic, minced
7 large eggs
2 tablespoons milk
1/2 - 1 teaspoon salt
1/4 teaspoon pepper
1 tablespoon fresh parsley, minced
1 tablespoon fresh chives, thinly sliced
6 ounces goat cheese (I opted for garlic and herb flavored goat cheese), crumbled
Instructions
Preheat oven to 350 degrees F.
Wash and dry the potatoes. Slice, preferably using a mandoline, into 1/8 inch thick rounds. Add 2 tablespoons of olive oil to a well-seasoned cast-iron skillet (related: Kitchen Tip: Caring for Cast Iron Cookware) over medium heat.
Add the potatoes, reduce the heat to medium-low, and cook, stirring occasionally, until the potatoes are soft, about 10-15 minutes.
Meanwhile, clean and chop the leeks (related: Kitchen Tip: How To Clean Leeks).
Combine the eggs, lemon juice, milk, salt, and pepper in a large bowl. Beat until well mixed. Stir in the chives and parsley. Set aside.
Remove the potatoes from the pan and set aside. Add the artichokes, leeks and garlic to the skillet, stirring until sauteed.
Combine the contents of the skillet, plus the potatoes with the egg mixture. Stir until evenly distributed.
Add additional oil to the pan, if necessary. Pour half into the pan, then top with half the cheese, then the remaining half and the rest of the cheese.
Cook over medium low for approximately 10 minutes, until the bottom is set.
Transfer to the oven and bake at 350 degrees F until the top is set, 5 - 15 minutes.
Place a serving plate on top of the skillet and carefully invert. The frittata should fall out of the pan.
Cut into wedges and serve. Garnish with chives and lemon wedges, if desired.
Recommended Products
As an Amazon Associate and member of other affiliate programs, I earn from qualifying purchases.
Nutrition Information
Yield

8
Serving Size

1
Amount Per Serving
Calories

223
Total Fat

9g
Saturated Fat

5g
Trans Fat

0g
Unsaturated Fat

4g
Cholesterol

173mg
Carbohydrates

24g
Fiber

4g
Sugar

2g
Protein

13g