I was first introduced to Naan by my Aunt and Uncle who taught me how to make one of my favorite Indian Recipes: Indian Butter Chicken, but I didn't actually know what Naan tasted like. Back then we ate Butter Chicken with Pita Bread because it was more readily available at typical grocery stores.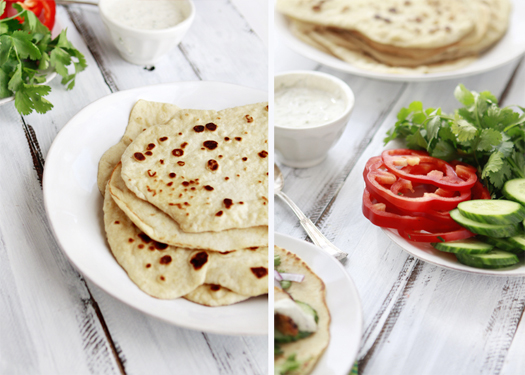 But then one day, my friend Jamie posted a recipe for Naan Bread and I knew the time had come where I had to try it for myself.
My kids absolutely love helping me make this delicious Indian Flatbread – what they like to call "circle bread." Rolling the dough into little balls and then flattening with a rolling pin provides so much entertainment for their little hands.
It's a shame that I am only just now getting around to sharing the recipe, because we've been making Naan at home for months now. Each time gobbling it up before I could take any photos because it is just too darn good!
This time I wanted to do a little experimenting test a whole wheat version of the Indian Naan so it would be a touch healthier. We loved it! I use a Nutrimill Grain Mill to freshly grind my own whole wheat flour (related: Baking with Whole Grains – Nutrimill Review).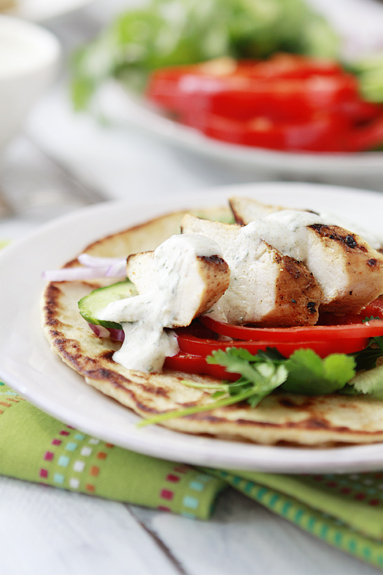 Don't let any fear of baking with yeast discourage you from cooking up your own Naan at home. Here are some of my top tips for using yeast. Naan is a great recipe to start practicing with!
3 TIPS FOR BAKING WITH YEAST
Doubled in Bulk
Just because the recipe lists rising times, does not make them accurate. There are many things that affect yeast rising time such as yeast freshness and kitchen temperature.
Instead, consider rising times to be guidelines and pay more attention to: has the dough doubled in bulk. That is how you know the rise is complete.
Finger Test

Want to know how to test if the dough has doubled in bulk? Simply dust two fingers with flour and plunge them into the dough as you near the "guideline" recipe rising time nears. If doubled in bulk, the hole will not collapse.
On the other hand, the hole from your fingers will quickly close if the dough is not ready. Give it another 10-15 minutes and try again until the indentations remain.
Fresh Yeast
Fresh yeast is important. Take a look at the experation date before you get started, or if you don't even remember when you bought the yeast, buy some fresh yeast. Old yeast doesn't yield reliable rising results.
If baking with yeast is a rare occasion in your home, buy packets rather than jars of yeast to eliminate waste. Additionally, you can lengthen the life of yeast by storing it in the refrigerator, but make sure you let it come to room temperature before using.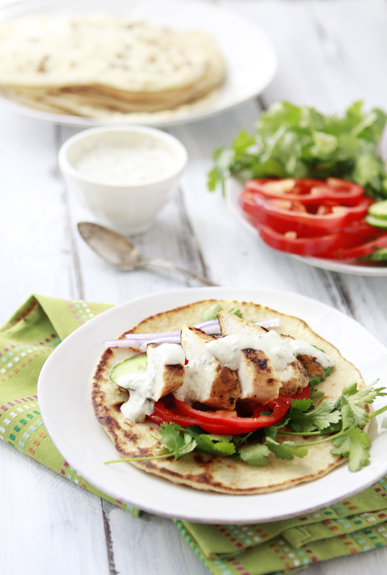 The weather has been quite warm here lately. The first recipe I cooked up on our grill this season was some Tandoori Chicken to serve inside the Indian Naan Bread for wraps.
If you're already cooking chicken or something else on the grill, go ahead and cook the Naan there too (instructions in the recipe). I've gotten into the habit of cooking the Naan on the stove, however, because the kids love to help and watch and it's easier for me to keep a watchful eye on them at the stove than near the grill.

P.S. I've got a guest post over on My Baking Addiction this week about Peanut Allergies and Peanut Butter Alternatives. Come say "Hi."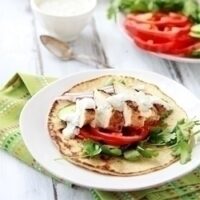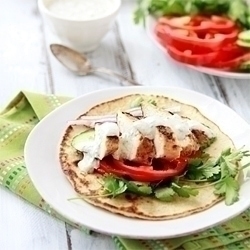 Whole Wheat Indian Naan and Grilled Tandoori Chicken Wraps
Additional Time:
1 hour
30 minutes
Total Time:
2 hours
10 minutes
My kids absolutely love helping me make this delicious Indian Flatbread – what they like to call "circle bread." Rolling the dough into little balls and then flattening with a rolling pin provides so much entertainment for their little hands.
Ingredients
For the Naan:
1 (.25 ounce) package active dry yeast
1 cup warm water
2 tablespoons white sugar
1/4 cup plain yogurt
1 egg, lightly beaten
2 teaspoons salt
2 - 2 1/2 cups bread flour
1 3/4 - 2 cups fresh whole hard white wheat flour
1/4 cup butter, melted
For the Wraps:
Tandoori Chicken
thinly sliced cucumber, red onion, and red bell pepper
cilantro leaves
yogurt sauce, recipe follows
For the yogurt sauce:
1 cup plain Greek yogurt
2 tablespoons fresh mint leaves, chopped
2 tablespoons fresh cilantro leaves, chopped
1/2 teaspoon cumin
1 tablespoon lemon juice, freshly squeezed
1/4 teaspoon each salt and pepper
Instructions
For the Naan:
Add the warm water and yeast to the bowl of a stand mixer. Let rest for 10 minutes, until the yeast has bloomed. Add the sugar, yogurt, egg, and salt to the water. Whisk until combined.
Add 1 cup of bread flour and 1 cup of whole wheat flour to the liquid mixture, stir with the paddle attachment of the mixer. Slowly add remaining flours until a soft, elastic dough is formed. Knead for 3-5 minutes with the electric mixer.
You will need to switch to the dough hook attachment at some point, when the dough becomes too thick for the paddle. Alternatively, you can knead by hand on a lightly floured surface.
Remove dough from the bowl, oil bowl, replace dough and cover with plastic wrap. Set aside to rise for approximately 1 hours, or until doubled in bulk.
Punch the dough down and pull off small handfuls of dough (about the size of a golf ball). Roll the dough into balls and place on a greased baking tray. Cover with plastic wrap and allow to rise again until doubled, about 30-45 minutes.
To cook the Naan, you can either cook it on a greased grill preheated to high or as I most often do, on a lightly greased large pancake griddle on the stove over medium-high heat. Roll the dough balls into a thin circle or oval. Cook on the grill or griddle over the stove for 2-3 minutes per side, or until puffy and browned.
Brush the cooked side with melted butter, then turn over and cook on the remaining side for 2-3 more minutes. Remove, and cook remaining until the process is complete.
Note: I keep a baking tray in an oven preheated to 150 degrees F to transfer the cooked naan to stay warm while I continue cooking.
For the Wraps:
Marinate the Tandoori Chicken according to recipe instructions. Cook chicken breast over high heat on a grill until done. Remove and let rest, loosely covered, for 5 minutes before cutting into.
Combine all the ingredients for the yogurt sauce. Inside a piece of Indian Naan place a few slices of grilled chicken, cilantro, red onion, cucumber and red pepper. Drizzle with yogurt sauce.
Recommended Products
As an Amazon Associate and member of other affiliate programs, I earn from qualifying purchases.
Nutrition Information
Yield

12
Serving Size

1
Amount Per Serving
Calories

436
Total Fat

7g
Saturated Fat

3g
Trans Fat

0g
Unsaturated Fat

3g
Cholesterol

38mg
Sodium

444mg
Carbohydrates

75g
Fiber

3g
Sugar

5g
Protein

16g
GoodLifeEats.com offers recipe nutritional information as a courtesy and is an estimate only. This information comes from online calculators. Although GoodLifeEats.com makes every effort to provide accurate information, these figures are only estimates.