At 15 months we learned that Logan had a severe peanut allergy, and we learned it the hard way: allergic reaction. Almost immediately we saw his predispositions toward being a picky eater turn into something much more.
Imagine your child being on guard all the time. And over time that fear of unknown foods turning into a habit.
Suddenly, your child doesn't like eating at all and emotionally loses it when around new foods – but he doesn't even know WHY he is feeling that way. As parents, suddenly we found that despite our best efforts, Logan began to eliminate more and more foods from his diet.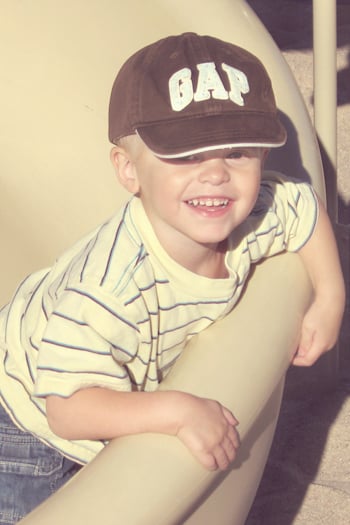 For the complete ingredient list and detailed instructions, scroll to the bottom of this post for the FREE printable recipe card.
Food became a power-struggle. I was in a constant state of worry about Logan's nutritional intake. And already on the smaller side, food strikes were not an option.
One of the most helpful parts of our picky eater experience was the time we spent in feeding therapy with Logan. Essentially that meant that we had bi-weekly appointments with an occupational therapist who specialized in feeding. We learned that Logan wasn't really a picky eater, but a "Problem Feeder."
The OT helped us learn techniques to encourage Logan to try new foods and expand his diet and to understand why this was happening. She also helped us break down the wall Logan had built against new foods.
In the beginning of therapy (and at home) Logan couldn't even handle having a new food on his plate without a debilitating meltdown. We also worked closely with a registered dietitian so we could closely monitor his nutrient intake.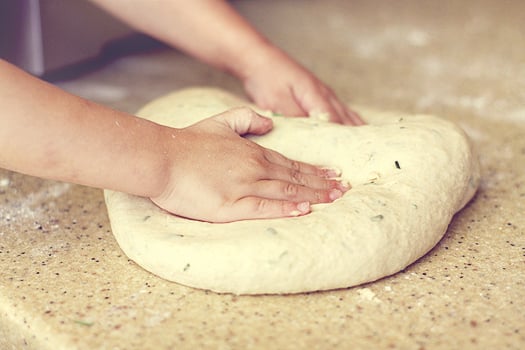 Through therapy, our therapist worked with Logan to get him comfortable around new foods without the pressure of having to try something. Basically: we played with our food. A lot. We made jokes about it. Cut everything out with cookie cutters. Made our meals more appealing. Logan had to re-learn that he could be safe around food. And he's still learning.
What I first saw as something rather silly is now something that I am very passionate about. Yes, sometimes elbows are on the table, napkins on the floor rather than laps, and even I have been guilty of eating with my fingers.
I won't even tell you the things my husband has done. But I will tell you: He is very much in touch with his inner child.
Play with Your Food
I know we're trying to teach our kids table manners, but playing with food means you're touching it and that's one of the first steps to trying something new.
Make fun shapes our of sandwiches. You can go all artistic and fancy like these at Funky Lunch. Or just cut sandwiches out with a simple cookie cutter.
Make sail boats with cheese triangles and crackers.
Paint with chocolate pudding and pieces of fruit.
Remember to keep it pressure-free.
Involve Kids in Grocery Shopping
If you're a mom with small children, you're probably sighing at the thought of this. Trust me. I'm right there with you. BUT, the grocery store is a great place to teach your children about food without the pressure of eating anything.
Talk about the different colored produce.
Allow them to choose 1-2 new things per shopping trip as something new they'd like to try.
Let Kids help with Meal Prep and Menu Planning
Encourage kids to help out with meal selection. Just because they are kids doesn't mean they won't have great ideas. Plus, children who are involved in the meal preparation are more likely to eat what they've helped create. When appropriate, let them help as much as possible!
Logan isn't to the point where he can realistically help plan the dinner menus, but he is great at helping choose ideas for breakfast.
Give a choice between a few options and let them select.
Set aside small tasks from a recipe that are age appropriate: tearing lettuce leaves, peeling an orange, stirring muffin batter, etc.
And so I'm really excited to tell you about the Clorox Cook up a Mess contest with you. Clorox thinks it's awesome to get messy in the kitchen too and they're offering a trip for 4 to New York for the person with the best getting messy story.
Clorox Clean-Up Cleaner removes tough stains, grease, and dirt, and most importantly, germs you might find after working with raw eggs or meat in kitchen activities.
If you're interested in entering, head over to the Clorox Facebook Page for more contest information. Need some mess making ideas? Check out the cool resources here.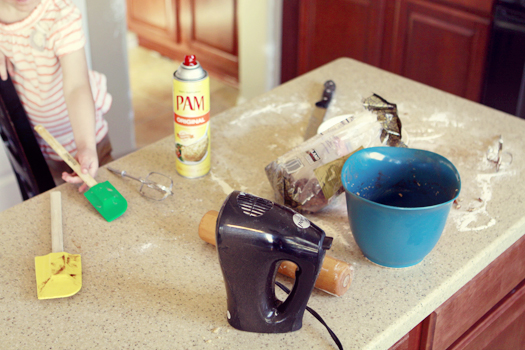 We're not in feeding therapy anymore and Logan is no longer considered "at risk." I'm happy to report he is doing quite well compared to the day we started therapy.
He eats a wide variety of fruits, a couple vegetables, loves cheese and yogurt, and enjoys almost anything I make for breakfast.
He's learned to put up with our monthly challenges where we focus on one new food for the entire month, but that doesn't mean we've stopped getting messy in the kitchen.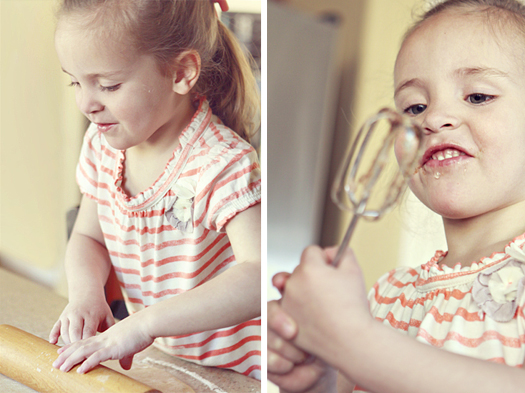 Logan's in school every day now, but I let him help me as often as possible. The great thing is that I've been able to use the skills we learned in therapy continually in home and apply them to Madeline as well.
My kids are both very much a part of what I do as a food blogger. From taste testers, to grocery store companions to helping hands, we're in the kitchen together (making a mess) all the time. They like taste testing best.
Kitchen messes are definitely not all bad. In fact, yesterday's mess was so very worth it.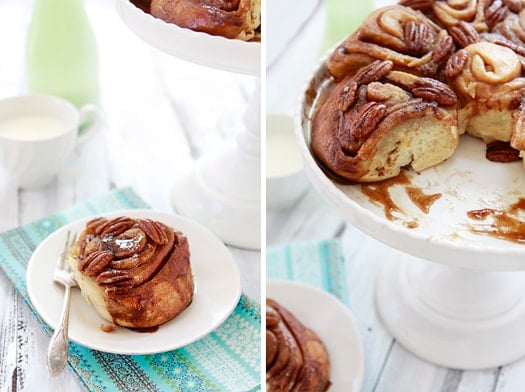 More Picky Eater Posts:
Did you love this post?
Sign up for Good Life Eats email updates and never miss another update!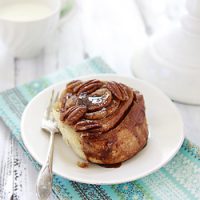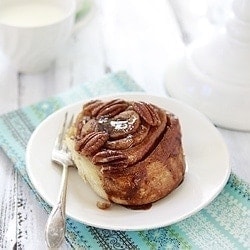 Caramel Pecan Brioche Rolls
Additional Time:
40 minutes
Total Time:
1 hour
30 minutes
Let your kids get messy in the kitchen and help you make these amazing caramel pecan brioche rolls. They are the perfect weekend or holiday treat.
Ingredients
For the Dough:
1 1/2 cups warm water
2 packets granulated yeast
1 1/2 tablespoons kosher salt
8 eggs, lightly beaten
1/2 cup honey
1 1/2 cups melted butter
5 cups all-purpose flour
2 1/2 cups freshly ground whole hard white wheat flour
For the Caramel Topping:
8 tablespoons unsalted butter, soft
1/2 teaspoon salt
2/3 cup brown sugar
30 pecan halves
For the Filling:
4 tablespoons salted butter, soft
1/4 cup granulated sugar
1 1/4 teaspoon ground cinnamon
1/4 teaspoon nutmeg
Instructions
To Prepare the Dough:
Dough is best prepared the day before.
Add the yeast, salt, eggs, honey, melted butter and water to a 5-quart bowl. Whisk to combine. Add the all-purpose and whole wheat flour to the liquid mixture. Stir with a wooden spoon to combine, or use a stand mixer with a dough attachment.
Cover the dough and let rest for 2 hours, at room temperature, until doubled in bulk. Transfer to the refrigerator and chill. After chilled, remove a 1 1/2 lb. portion of the dough. Store the remaining dough covered in the refrigerator for up to 5 days, otherwise you can freeze it in 1 lb. increments for up to 4 weeks.
To Prepare the Topping:
Combine the butter, salt and brown sugar in a bowl and beat until well creamed. Spread in a 9-inch cake or pie pan. Evenly arrange the pecans on top. Set aside.
To Prepare the Rolls:
Combine the ingredients for the filling: butter, sugar, cinnamon, and nutmeg in a bowl and beat until well creamed. Set aside.
Roll the dough out into a rectangle 1/8 of an inch thick. Spread with the filling and roll starting on the long end until it is in a log shape. Then, using a serrated knife, slice into 8 portions. Place on top of the prepared pan. Cover and let rise for 40 minutes.
Meanwhile, preheat oven to 350 degrees F. After rising, bake for 30-40 minutes. Dough should be set in the middle and golden brown.
Immediately after baking, run a knife around the edge of the pan. Turn out upside down onto a serving dish. Serve.
Recommended Products
As an Amazon Associate and member of other affiliate programs, I earn from qualifying purchases.
Nutrition Information
Yield

8
Serving Size

1
Amount Per Serving
Calories

1063
Total Fat

62g
Saturated Fat

35g
Trans Fat

2g
Unsaturated Fat

23g
Cholesterol

323mg
Sodium

1723mg
Carbohydrates

113g
Fiber

4g
Sugar

39g
Protein

18g
GoodLifeEats.com offers recipe nutritional information as a courtesy and is an estimate only. This information comes from online calculators. Although GoodLifeEats.com makes every effort to provide accurate information, these figures are only estimates.
Disclosure: The Motherhood asked me to participate in the Clorox Cook up a Mess Campaign and I was compensated for my time. However, everything in this post is real and sharing Logan's story with you was long overdue.