Water is a pretty integral part of food preparation. I'm always looking for ways to make my kitchen more efficient and to use a little less water. Here are some great tips for water efficient food preparation.
Tips for Using Less Water When Cooking
Steam instead of boil, when possible. Steaming will retain more nutrients in your food and it will use a lot less water. Even better, if you're already using your oven for another dish give roasting a try. Your oven is already in use and you won't use any water.
Don't run the tap. When rinsing a large amount of produce, fill the sink half way or fill a large bowl or basin with water instead of rinsing under a running tap. Use a vegetable scrub brush when needed to assist in cleaning the food instead of using the kitchen faucet like a power washer.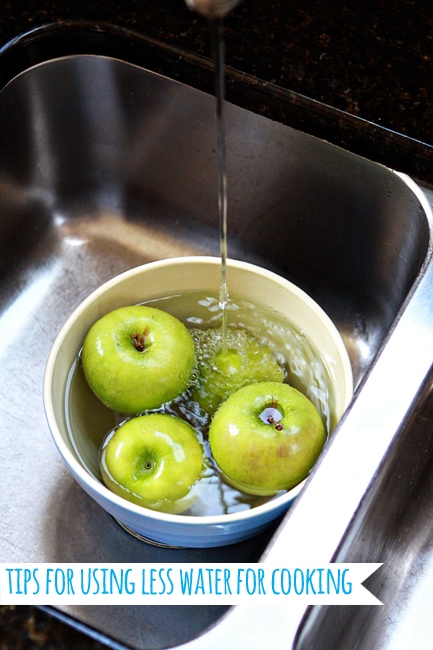 Install a faucet aerator. This will increase water efficiency in the event that you do need to clean food under a running faucet.
Reuse cooking water. Save and cool leftover boiling water from pasta or steaming vegetables. This water can be reused for watering plants once it has cooled.
Defrost frozen food in the refrigerator. Rather than filling a bowl or sink with warm water to defrost frozen meat, plan ahead and allow it to thaw overnight in the refrigerator.
Don't run water waiting for it to get hot or cold. Keep a pitcher of cold water in the fridge, or use ice, for cold drinking water. For hot water, be patient and wait the few extra minutes that room temperature water takes to boil or look into instant hot water for your kitchen sink.
What are your best tips for a water efficient kitchen?
While SC Johnson is the sponsor of the 30 Green Days Challenge, all opinions and comments within this post are my own.