Learn how much water you should drink in a day based on your body's recommended water intake and get my tips for easy ways to drink more water, including how to drink water if you don't like it!
When I shared my 2012 Fitness Goals last week I asked all of you what you had resolved to do to take care of your health in 2012. Besides exercise, one of the most common responses was to drink more water.
I've totally been there! For a long time I struggled with keeping my body hydrated. I would wait until I was thirsty before taking a drink. I learned that by that time, your body is already feeling the affects of dehydration.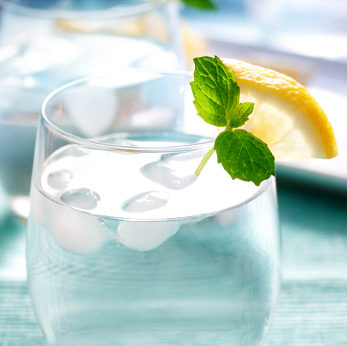 Last summer I really made an effort to drink the proper amount of fluids for my body because I noticed that I suffered from some of the ill affects of not consuming enough water: my skin was dry, my urine was yellow, and I was low on energy. I thought I'd share with you a few tips to stay hydrated.
How Much Water Should I Drink in a Day?
The old recommendation of drinking 8 – 8 ounce glasses of water a day is just an average and more of a general guideline.
If you're wondering how much water to drink in a day, there is a much more accurate (and easy) way to calculate the recommended water intake that is specific to YOU. Try this simple formula:
Amount of water in ounces to drink = Your Body Weight in pounds ÷ 2
Example: A person weighing 120 lbs would drink 60 ounces of H2O a day
Those who are heavy exercisers will feel the need to drink more water than this throughout the day due to the liquids lost in sweat.
Additionally, it is very important to keep your body properly hydrated when visiting high altitudes – even drink more water than normally necessary – to avoid feeling ill.
How to Drink More Water
Drink a Glass of Water as Soon as You Wake in the Morning
Don't wait until you feel thirsty to have a glass of water. You've already been without water for several hours while sleeping and your body needs to rehydrate when you wake.
I find it easier to drink the proper amount of water when I get started right away in the morning.
On the flip side, don't consume large quantities of water close to bed – unless you like waking up for frequent, late night trips to the bathroom. I aim to drink most of my water before dinner time and to drink sips here and there up until 1-2 hours before bedtime.
Drink Water Throughout the Day
After you've set yourself up with hydration success by drinking a glass of water first thing in the morning, keep it up by making sure you drink water before, during, and between your meals.
When you're eating out, always drink a glass of water before you begin your meal. This will help curb your hunger so that you consume fewer calories and enjoy your meal without overindulging.
Plus, water is the free beverage choice when eating out. Continue to sip water throughout the meal to compensate for higher sodium that is often present in restaurant meals.
Fruits and vegetables contain lots of water that will benefit our bodies and have less calories than heavy ingredients. When ordering out, consider choosing a side salad and sharing an entree with a friend or spouse or a meal with lots of produce in it.
Sip a glass of water with meals and continue to hydrate your body between meals. Often times when we feel hungry, our bodies are really just in need of water rather than calories.
After going to the restroom, rehydrate with more water.
Making Drinking More Water Easy
It is so much harder to drink water throughout the day when you're away from home, out and about and don't have water with you.
I try to always make sure that I bring water with me when I leave the house, even if it is only going to be for an hour. You'd be surprised how many times I'm gone for a short period of time and end up feeling so thirsty because I did't bring my water bottle with me.
We love these 32 ounce HydroFlask Water Bottles because the water stays cold even in the summer when the water bottle is left in the hot car for a few minutes. We got one for each of the kids for Christmas when they went on sale for Black Friday shopping.
I've seen some people who really like these Daily Water Intake Water Bottles that have reminders on them for when to drink and when to refill, but I've never personally used one of these.
Getting in the habit of always carrying a water bottle with you is a great way to make it easier to drink more water. Plus, you I won't ever find yourself thirsty without a water source.
Use a Drink More Water App to Remind Yourself
If you have a hard time remembering to drink water, set a reminder alarm on your phone to go off every 45-60 minutes to suggest to yourself that you stop, take a break, and rehydrate. At first you might feel like you're constantly drinking water, but it will become second nature in no time.
Here are a couple of water tracking apps to check out:
Drink Water Reminder and Tracker: This app calculates your daily water intake based on sex, weight, and where you live (Hot/Cold). It tells you how much to drink daily, tracks the water you drink, and allows you the ability to set reminders to drink water throughout the day.
My Water & Drink Reminder: has similar functions to the Drink Water Reminder and Tracker, but also tracks other liquids (coffee, tea, soda, juice, wine, etc.). It adjusts percentages based on what beverage you consume, for example 1 cup of coffee does not equal 1 cup of water due to the caffeine content. Consuming alcohol takes %s away from how much water you've consumed thus far in your day.
How Can I Hydrate Myself if I Don't Like Water?
Many people complain that they don't like the way water tastes. Flavored water is a great solution if you are wondering how to drink water when you don't like it. You still feel as if you're indulging in a delicious drink, but with far less calories.
When you cut out the calories of cocktails, soda, or other sugary drinks that are often present on restaurant menus (and even in our homes) you can afford to indulge more on your meal. If you still feel compelled to order a drink, ask for a glass of water in addition to your beverage of choice.
Make Your Water Taste Better
Making your water taste better is a helpful tip if you'd like to drink more water but hate the way water tastes. Try a few of these tips for flavoring your water: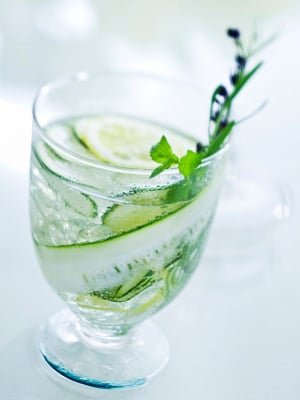 Flavor Your Water with 100% Pure Essential Oils
Essential oils are a great calorie-free and sugar-free flavor option for flavoring water if you're getting bored with plain water. This is my favorite trick because it hardly takes any time at all and I can take care of it on the go.
2. When drinking juice, water it down by 25% to reduce calorie and sugar intake and increase water consumption.
3. Add various produce to your water. Ideas include: muddled herbs and berries, cucumber, and citrus slices.
Make Infused Water
It is so easy to make deliciously flavored infused waters if you'd like to add a little bit of taste to your plain water as motivation to stay hydrated. Here are some of my favorite combos:
cucumber slices + fresh mint leaves
strawberry slices + fresh basil leaves
any sliced citrus, or a combination
fresh pineapple
Because fresh produce is perishable, you'll want to enjoy your fruit and herb infused water pretty soon after making it.
If you make a larger batch ahead of time, store it in the refrigerator and don't drink out of the storage container. Rather, transfer your infused water to another glass so you don't contaminate the leftovers (even if you're the only one drinking it! bacteria from your mouth that transfer to the fruit infused water can cause it to spoil faster).
Get a Water Purifier
If you don't like the taste of your water because the water in your area isn't good, you might want to consider getting a water purifier, such as the highly rated Berkley Filter – these sit counter top and come in different sizes ranging from 1.5 gallons to 6 gallons.
Want to know what's in your tap water? You can check your water report by zip code here.
What are your favorite ways to drink more water?