Vegetable Beef and Noodle Soup is a comforting soup recipe for cold winter evenings! This soup recipe is loaded with veggies, tender bites of beef, and egg noodles for a delicious winter soup!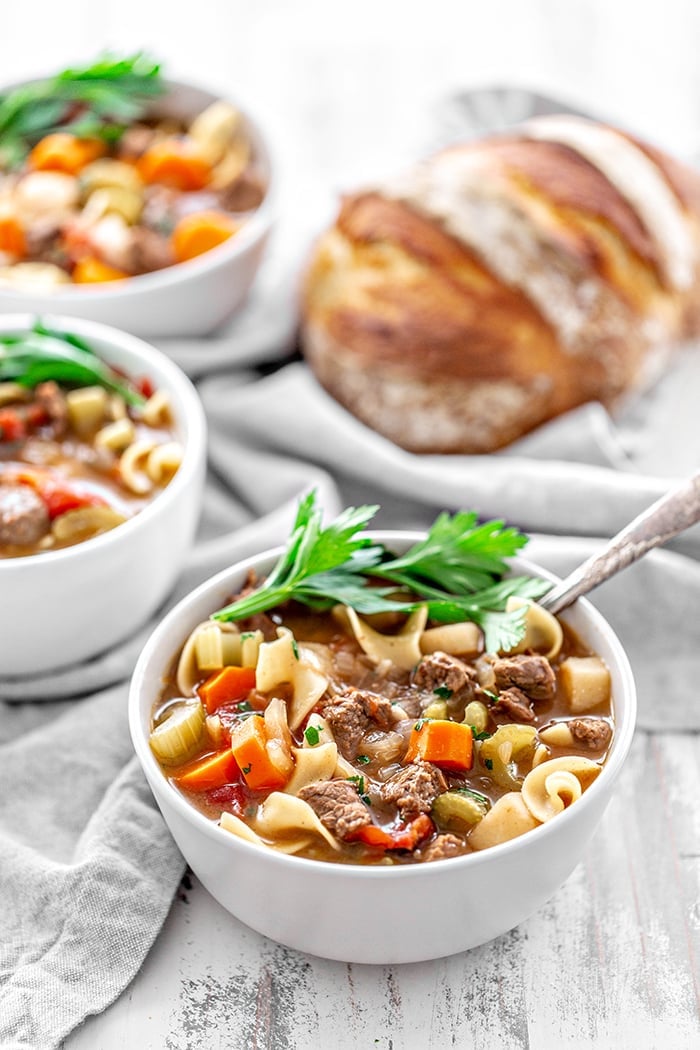 Click HERE to save this recipe for Vegetable Beef and Noodle Soup to Pinterest!
This Vegetable Beef and Noodle Soup Recipe is one of my favorite soups to make on cold winter days.
This is one of those recipes that I often make on snow days because it is perfect for those cozy days when everyone is home from school and work.
The last time I made this there was a snow, a day of early release from school due to weather, and then a snow day with no school. Kevin even had off work that day due to the weather.
We haven't really had any of those this year with everyone being home from school anyway. I wonder if snow days will be a thing of the past now that it is so easy to do school via the internet.
It's pretty cold today and dreary today and the snowy weather definitely has me craving bowls of warm soup. Specifically this recipe for Vegetable Beef and Noodle Soup!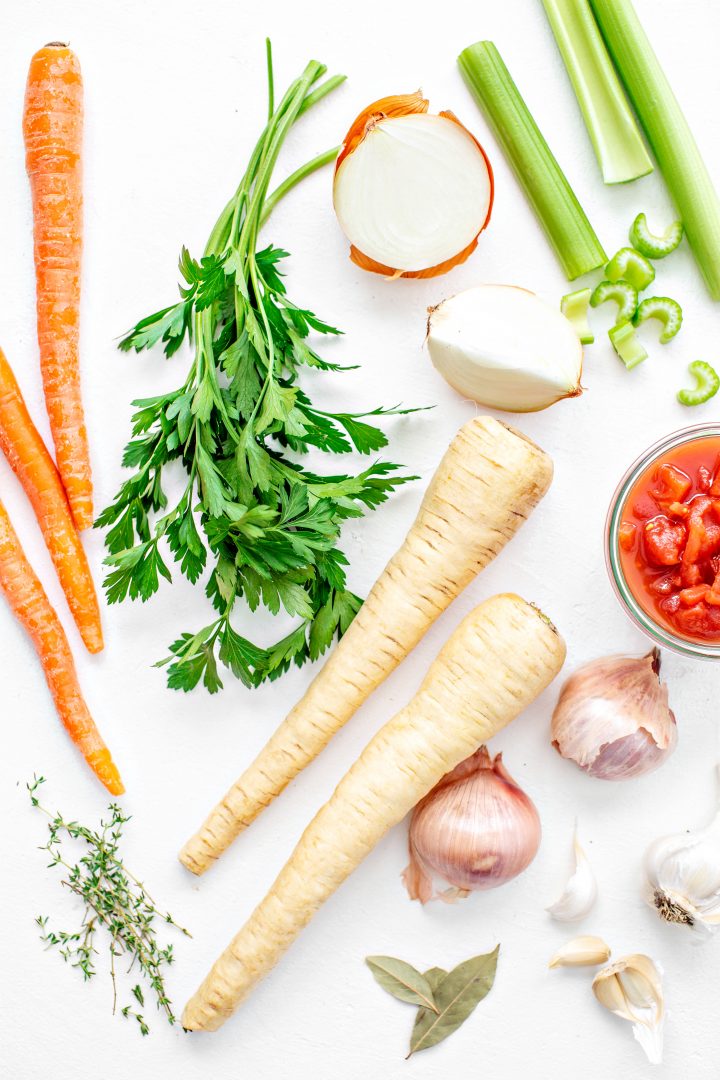 Click HERE to save this recipe for Vegetable Beef and Noodle Soup to Pinterest!
Vegetable Beef and Noodle Soup Ingredients
The ingredients in this Beef Soup recipe are really simple, but the combination of them is what makes this recipe taste so good! To make a pot of this soup, you'll need:
Beef
Beef Broth
Dry Red Wine
Carrots
Parsnips
Celery
Onion
Shallots
Garlic
Diced Tomatoes
Parsley
Thyme
Egg Noodles
For the complete ingredient list and detailed instructions, scroll to the bottom of this post for the FREE printable recipe card.
Broth for Making Vegetable Beef and Noodle Soup
If I am using a beef soup base rather than a homemade stock, I prefer Better Than Bouillon beef base. The first ingredient listed is beef, so I know it has great flavor and isn't just a salty broth. For purchased broth, I prefer Pacific Natural Foods.
You can make your own homemade stock, too. Head over to the post about How to Make Turkey Stock because you'll use essentially the same method. Substitute beef bones in place of the turkey carcass. You can throw the bones in uncooked when making the homemade stock, or for extra richness you can roast them first.
If you can't find beef bones at your local grocery store, you can usually find them for sale pretty inexpensively from your local cow ranch. In Colorado, we like to get local beef from Bootheel 7 Ranch (they also ship outside of Colorado!).
What is the Best Cut of Meat for Vegetable Soup
The secret to tender beef in this soup recipe is using the right cut of beef will make all the difference in this Vegetable Beef Soup! For tender, melt in your mouth chunks of beef, use chuck meat.
The fat marbling in the chuck roast melts down as the soup cooks yielding tender bites of meat. You can look for chuck roast, chuck shoulder, chuck-eye roast, or top chuck when shopping for the meat for this recipe.
Why is my Beef Stew Meat Tough
Unfortunately, what is labeled as "stew beef," often leaves you with tough, or chewy beef in your soup. Stew beef is usually a combination of different cuts of meat, often leaner and lower quality cuts than chuck roast. Without the fat marbling, the meat doesn't melt into tender bites.
If you purchased the correct cut of meat and still struggle with tough beef, there could be a few other culprits:
You skipped the step of searing the beef. Not only does searing the beef create extra flavor, it helps keep the beef tender as opposed to adding uncooked beef to the hot soup and simply boiling it until done.
You cooked the soup too hot – beef will tenderize much better in soup when the temperature is kept at a steady simmer, rather than a rolling boil. Long, slow cooking is required to tenderize beef. Remember – slow and steady wins the race!
You overcooked the soup. Did you know that it is possible to dry your beef out by cooking it too long? Simmer times of 2 – 3 hours are best to avoid tough beef that is overcooked.
What is the Best way To Tenderize Stew Meat
Ok, so you bought stew beef by mistake, or you already had it. If you want the best chance of tenderizing stew meat, make sure you follow these steps:
Sear the beef first, then braise it in a small amount of beef broth before adding it to the soup. You can do this by cooking the beef in a single layer in a covered roasting pan with ½ cup of beef broth. Cook at 300 degrees F and check every 30 minutes to add more broth if it has all evaporated and to check on the tenderness of the beef.
Once the beef has begun to break down, it is safe to add it to the vegetable beef soup and proceed with the rest of the recipe.
Another option is to use a meat mallet and physically tenderize the beef before browning it and proceeding with the recipe according to instructions.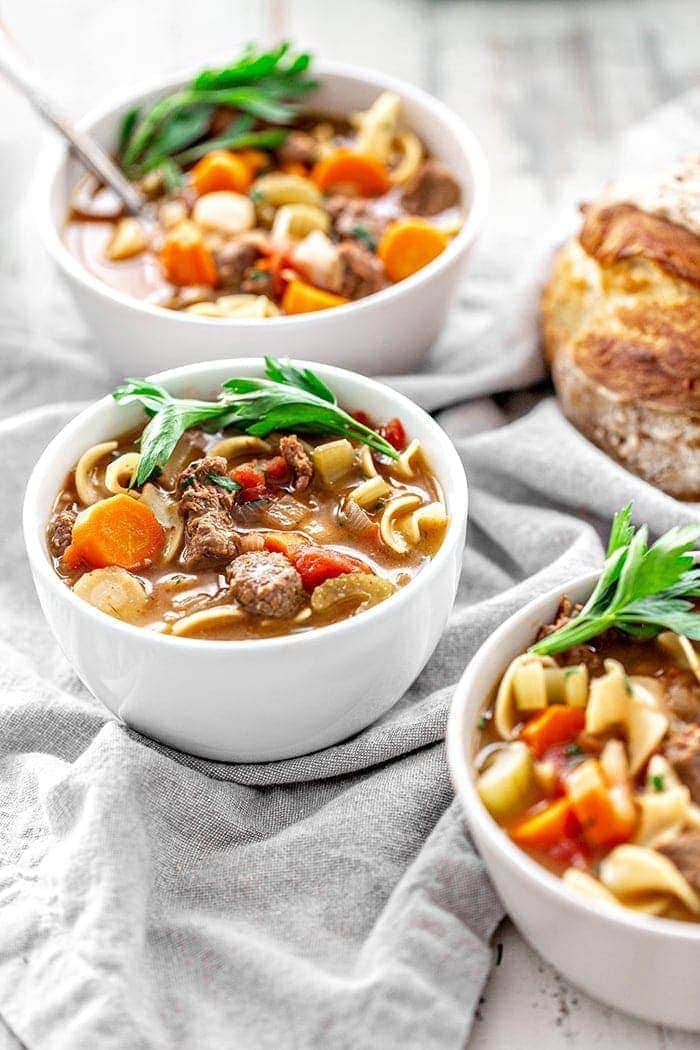 Click HERE to save this recipe for Vegetable Beef and Noodle Soup to Pinterest!
Why Are My Noodles Soggy in Soup?
Pasta will continue to soak up liquid even after it has cooked and cooled. This is why you may have encountered soggy, mushy noodles, or found that your leftovers has become a pile of meat, vegetables, and noodles with little to no broth.
The good news is it is so easy to avoid mushy noodles! Follow these tips:
Tips to Prevent Noodles from Getting Soggy in Soup
Cook the noodles separately from the soup. This is the best way to prevent soggy pasta in noodle soups. Then, you can serve them separately, ladling a bit of noodles and the the soup on top of it into your bowl. Tip: for extra flavorful noodles, cook the noodles in their own broth rather than in water.
Cook the pasta in the soup only under these circumstances: You have extra liquid in your soup so it doesn't matter if the pasta absorbs some of the broth AND you plan to eat all the soup during that meal with no leftovers. When you do this, cook it for about a minute less than the shortest time that the pasta packaging instructs. The pasta will continue to cook with the residual heat in your bowl.
Leftover soup and pasta? Store them separately in your preferred food storage containers in the fridge. To prevent leftover pasta from getting stuck together in the fridge, toss it with a small amount of oil before refrigerating. When reheating, heat a bowl (or pot) of the soup until very hot, and then stir in the noodles. The hot soup will warm the noodles through.
Do NOT freeze the soup with the noodles. If you're planning to batch cook and freeze soup, or maybe you just want to freeze some leftovers, do not freeze the pasta with the soup. It is best to cook the pasta at a later date when you plan to eat the soup. Here is more information on How to Freeze Soup.
How to Get Flavorful Noodles for Vegetable Noodle Soup
The benefit of cooking the noodles in the soup is that the noodles are seasoned so well because they absorbed the flavor of the broth.
If you plan to cook your pasta separate from the soup to avoid mushy noodles, I recommend boiling your pasta in broth rather than in water so that you can avoid bland pasta in this Vegetable Beef and Noodle Soup Recipe.
If your recipe calls for chicken stock, cook the noodles in chicken broth. In this recipe, the soup is a beef base, so I recommend cooking the noodles in beef broth.
You can either use additional broth and then discard it after use (or add it to the soup). Or, you can remove some of the broth from your soup, cook the noodles, and then add the leftover broth back in. Whichever way you prefer will work fine.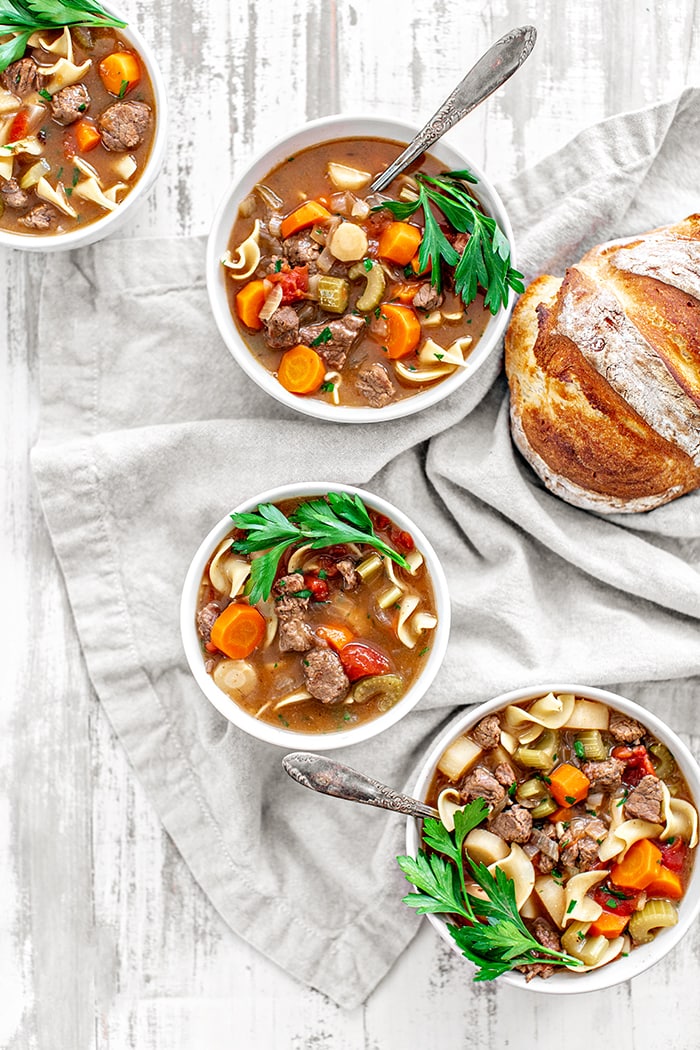 Click HERE to save this recipe for Vegetable Beef and Noodle Soup to Pinterest!
How do You Thicken Vegetable Beef Soup
To thicken this Vegetable Beef Soup, I create a mixture of water and flour that I add to the broth. As the soup cooks, this thickens the soup. This water and flour mixture is often referred to as a "slurry."
You can also use cornstarch to thicken this soup. Cornstarch is a good alternative thickening agent if you are avoiding wheat or gluten. Cornstarch is more powerful than flour, so you'll use half as much cornstarch for the same results as achieved using flour.
How Can I thicken Soup without Flour or Cornstarch
There are a few alternatives to thickening soup without flour or cornstarch:
Use arrowroot powder to make the slurry. Arrowroot powder is more powerful than cornstarch and even more powerful than flour, so you'll need much less. Start with using this rule of thumb: 1 teaspoon of arrowroot powder = 1 tablespoon of flour. Arrowroot powder is the ideal substitute for gluten-free, grain-free, and paleo diets.
Don't have arrowroot powder? You can add pureed beans to this soup to increase thickness and creaminess. In this recipe, white beans such as navy beans or cannellini beans would be the best fit.
I haven't tried it, but according to my research you can also add pureed beans, pureed potatoes or powdered potatoes to thicken soup. If you try one of these methods, let me know what you think in the comments section below!
Can I Make Vegetable Beef and Noodle Soup Gluten-Free?
YES! Use one of the alternative methods for thickening the soup as described above, or simply skip this step all together. Then, choose your preferred gluten-free noodles.
Another alternative is to substitute diced potatoes in place of the noodles, or just leave the noodles out all together. If you use potatoes, I recommend adding them early enough that they are tender when you eat them (around the time that you prepare for the 2 hour simmer).
Barley would not be a good substitute as it does contain gluten. If you prefer to use some type of grain, I would recommend rice or a wild rice blend or quinoa. I also recommend cooking these ingredients separately and stirring into your bowl upon serving (in the same way I recommend preparing the pasta).
How to Make Vegetarian Vegetable Noodle Soup
You can make this Vegetable Beef and Noodle soup vegetarian with a few simple substitutions. Use vegetable broth in place of the beef broth and substitute the beef for a variety of extra vegetables.
You can use the same vegetables in the recipe in extra quantities to account for the loss of the meat, or you can add additional vegetable varieties and/or some beans. Here are some suggestions:
mushrooms
celery root
green beans
peas
turnips
kale
spinach
cannellini beans
kidney beans
I recommend mushrooms as one of the choices. They will give some great flavor that you'll miss out on by eliminating the beef. Make sure you saute them early in the recipe (when you would normally cook the beef) for maximum flavor.
What Side Dishes Go with Vegetable Beef Soup
If you're looking for side suggestions to go with this recipe, I recommend a big green salad. It doesn't have to be fancy at all. We often use mixed greens, lettuce, cucumber, shredded carrot, and tomato for a basic side salad. Check out these 3 Simple Salad Dressing Recipes to go along with your salad.
My other favorite side dish to serve with Vegetable Beef Soup is homemade bread! Try this Rustic Rosemary Garlic Bread. It is a delicious free-form artisan bread that tastes fantastic with homemade soup!
For Homemade Baguette, try this recipe for Light Whole Wheat Baguette that uses the Artisan Bread in 5 Minutes a Day technique!
More Soup Recipes to Try
Looking for more soup recipes to try? The chilly evenings are coming around more frequently now, so it is time to pull out these 35 Soup Recipes for Fall and get them into the recipe rotation! These soup recipes are tried and true with many great reviews, so be sure to check them out!
Did you love this post?
Sign up for Good Life Eats email updates and never miss another update!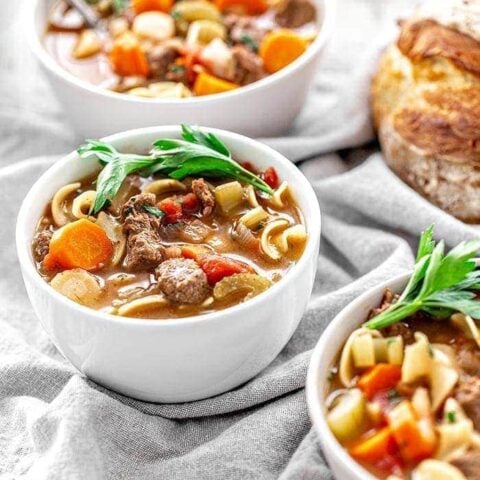 Vegetable Beef and Noodle Soup
Total Time:
3 hours
10 minutes
Vegetable Beef and Noodle Soup is a comforting soup recipe for cold winter evenings! This soup recipe is loaded with veggies, tender bites of beef, and egg noodles for a delicious winter soup!
Ingredients
2 Tbs olive oil
3 1/2 c bite sized pieces of chuck roast
1 c Diced Yellow Onion
3 shallots, finely chopped
4 cloves garlic, minced
4 carrots, sliced
3 stalks celery, chopped
2 Parsnips, sliced
1/4 cup Dry Red Wine
8 c beef broth or 6 c water + 6 Tbs beef soup base
1 – 14.5 oz can diced tomatoes
2-4 stems of fresh thyme
2 bay leaves
1/2 tsp pepper
1/2 tsp salt
3 tablespoons Flour
1/2 cup water
1/2 c fresh parsley, chopped
12 ounces Egg Noodles
Instructions
For the Soup
Heat oil in a large soup pot.
While the pan and oil heat, pat the beef dry on all sides. This helps it brown better. Add beef, salt and pepper, working in batches so the pan doesn't over crowd. Brown beef on all sides over medium high heat. Overcrowded pans will not allow the beef to get a good crust.
Remove beef using a slotted spoon and set aside on a plate, keeping drippings in the pot.
Repeat with remaining beef until all of the beef has been cooked.
Saute the onion and shallots for 4-5 minutes on medium heat.
Then, add the carrots, celery, and parsnips and saute for 4 minutes.
Add garlic and saute for one minute more.
Reduce the heat to low and add the 1/4 cup, scraping up all the browned bits from the pan – they have a lot of flavor.
Add beef broth and diced tomatoes.
Return stew meat and its juices to the pot.
Place the thyme sprigs and the bay leave in the pot. Season with the salt and pepper.
Turn heat to medium-low and allow to simmer for 10 minutes.
Combine the flour and the water in a small bowl or glass measuring cup. Whisk until completely smooth.
Then, add the flour mixture to the soup and stir or whisk until it is completely incorporated. After 5 - 10 minutes, check thickness and feel free to repeat this process if you would like the soup thicker.
Then, reduce heat the low and let slowly simmer for 2 - 3 hours, or until vegetables and beef are tender.
Stir in the parsley.
Season to taste with additional salt and pepper if desired.
Discard the thyme sprigs and the bay leaves.
For the Noodles
Bring a pot of water or beef stock to a boil in a pot that is large enough to accommodate the pasta, with extra room so it doesn't boil over. I prefer to use beef broth because it gives the pasta flavor so it doesn't end up tasting bland.
Add egg noodles and cook according to the lowest time on the package directions.
Drain and discard the water or broth.
To Serve
If you'll be eating the entire recipe in one night, you can combine the pasta into the pot with the soup and then serve it.
If you plan to have leftovers, it is best to keep the pasta and the soup separate and serve by ladling pasta and soup into each bowl as you eat it. This prevents the pasta from becoming overcooked and mushy.
Notes
Leftovers Tip
If you will not be eating the entire pot of Vegetable Beef and Noodle Soup in one night, keep the soup and pasta separate and combine only enough for each serving. Then, store them separately as well. When serving leftovers, spoon some pasta and some soup into the bowl and reheat. This will prevent mushy noodles.
To Freeze This Soup
I do not recommend freezing the pasta. Instead, cool the soup completely and freeze in your preferred freezer safe container. Prepare the pasta when you plan to eat the soup.
adapted from The New Best Recipe
Recommended Products
As an Amazon Associate and member of other affiliate programs, I earn from qualifying purchases.
Nutrition Information
Yield

8
Serving Size

1
Amount Per Serving
Calories

288
Total Fat

12g
Saturated Fat

4g
Trans Fat

0g
Unsaturated Fat

7g
Cholesterol

100mg
Sodium

989mg
Carbohydrates

11g
Fiber

3g
Sugar

5g
Protein

37g
GoodLifeEats.com offers recipe nutritional information as a courtesy and is an estimate only. This information comes from online calculators. Although GoodLifeEats.com makes every effort to provide accurate information, these figures are only estimates.