The chilly evenings are coming around more frequently now, so it is time to pull out these 35 Soup Recipes for Fall and get them into the recipe rotation! These soup recipes are tried and true with many great reviews, so be sure to check them out! What are your favorite fall soups?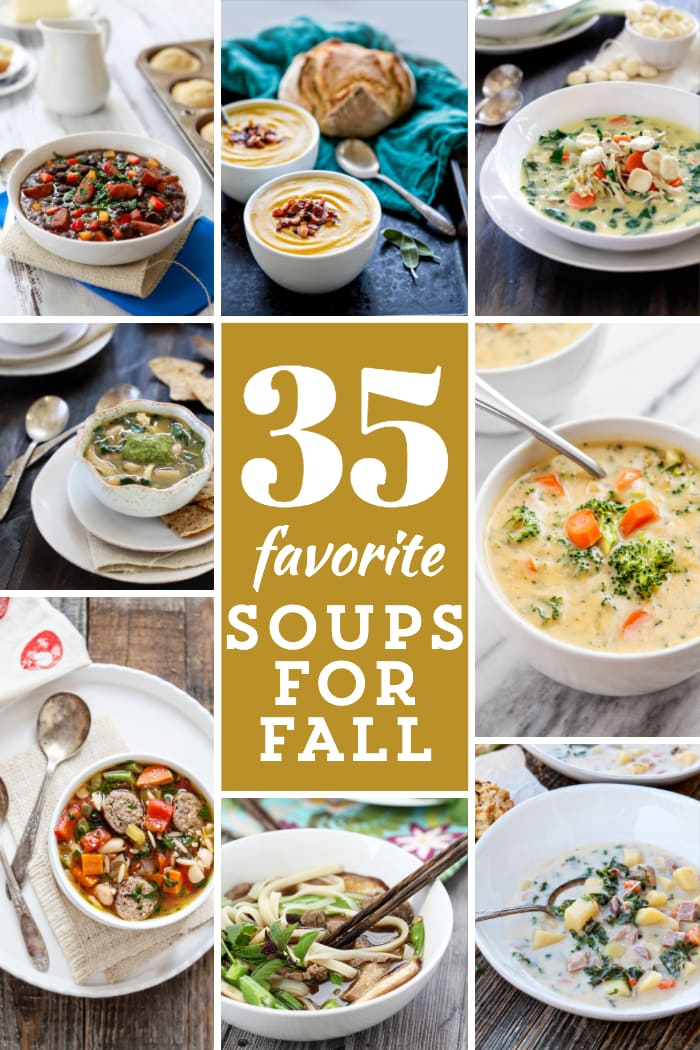 Favorite Fall Soup Recipes
We have had our first snow last week – I've even had to turn the heater on, so it has me brainstorming all of my favorite Fall Soup Recipes to start throwing into the meat plan rotation. Here are 35 of my favorite recipes along with some great tips for making homemade soups!
How to Make the Best Homemade Soups
1. Start Your Soups with Tasty Liquids
Rich, homemade broth is always ideal, but if you're short on time or without access I like to use high quality store bought broths. The broth is the base, so you want to start with something that tastes great!
For store bought, I prefer either Better than Bouillon Organic Bases or Pacific Natural Foods Organic Broths.
If you have the time to make homemade or you have some stashed away in the freezer, even better!
Check out this tutorial for How to Make Easy Homemade Turkey Stock. You can substitute a chicken carcass or beef bones to make chicken stock or beef stock. Want a veggie stock? Eliminate the meat bones and add in lots of extra veggies. The method is basically the same aside from that!
Always Start Soups by Browning the Meat
Recipe got meat? Make sure you brown it first.
The browned bits left in the bottom of the pan after browning the meat will build the flavor of the soup even more giving it a much richer taste. Then you can deglaze those browned bits left behind with a little cooking wine or broth.
Always Sauté the "Aromatics" in Soup Recipes
What are "aromatics?" I consider them the soup basics: onion, leeks, garlic, carrot, celery, and (depending on the soup) ginger.
When you build in the time to cook these ingredients for about 5 minutes over medium heat before adding the liquid will deepen the flavor of the soup.
When I was a young(er), inexperienced cook I made the mistake of thinking soup was all the ingredients dumped into a pot of broth. Unfortunately, the soup just doesn't develop as tasty flavor this way.
Add the Herbs to Soup at the Opportune Time
Fresh herbs should be added at the end of cooking, just prior to serving so you don't lose all of their flavor.
Dried herbs need to be added earlier on. They're better able to hold flavor for long cooking periods and they take longer to release all of that good flavor into the recipe.
Simmer Soups Low and Slow
I like to allow my soups so simmer for a longer period of time rather than quickly boiling them to get the vegetables tender. This is just another way to get great flavor development!
What soups do you love to make in the fall?
Did you love this post?
Sign up for Good Life Eats email updates and never miss another update!