How to Freeze Kale
With a little organization you can easily freeze kale for use in smoothies or other recipes that don't require kale to be fresh. It is way easier than you think. I've got four methods for you to choose from, plus a few recipe suggestions for you.
HOW TO FREEZE KALE
1. Make Freezer Smoothies
Making freezer smoothies is a great way to freeze your kale for a later use.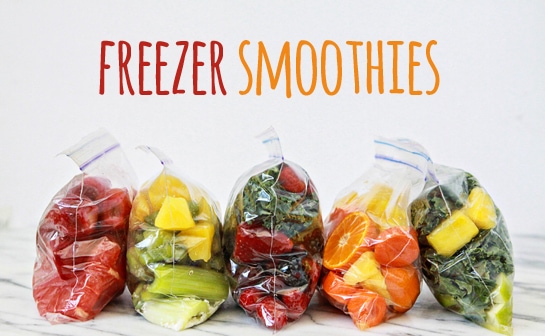 What is a freezer smoothie? It is basically a pre-assembled baggie that contains all of the necessary ingredients for your favorite smoothie recipe.
All you have to do is stuff a freezer bag full of your favorite fruits and/or vegetables, label, date, and freeze. When you're ready to make your smoothie, dump the contents in the blender, add your liquids and blend.
For more detailed freeze smoothie preparation instructions visit this post full of freezer smoothie how-to tips and smoothie recipe ideas.
2. Freeze Pureed Kale in Ice Cube Trays
My method for doing this is pureeing 3-4 cups of packed kale with 1 cup of water and using the "juice" cycle on my blender. Then, pour the juice into ice cube trays and freeze. Once frozen, transfer the cubes to a larger freezer bag. Date and label the bag and stash in your freezer
This method is perfect when you just want to add small amounts of kale puree to smooth, chunk-free recipes like smoothies, soups or sauces. Use frozen, pureed kale in recipes such as Sun Dried Tomato Pesto, or try adding some to this recipe for  Vegan Basil Pesto.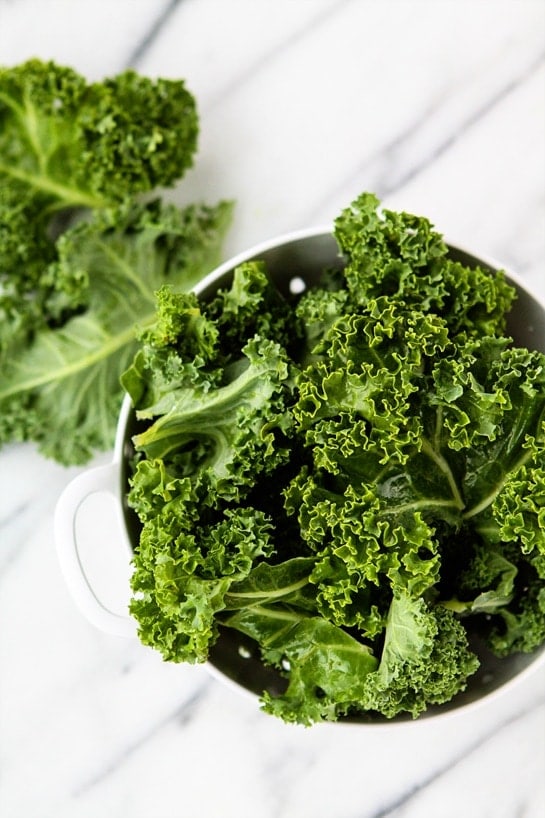 3. Freeze Chopped Kale in Baggies
Chop the kale – I like mine chopped pretty fine – and freeze in pre-portioned amounts in small freezer baggies. The pre-portioned size depends on what you want to use the spinach for, but usually amounts ranging from 1/2 cup to 1 cup are idea in our kitchen.
This method is perfect for anything you would want to add pre-chopped kale to. Recipes like  Fall Mexican Rice Bowls or this Potato Corn Chowder with Kale and Bacon are perfect for using pre-chopped frozen kale.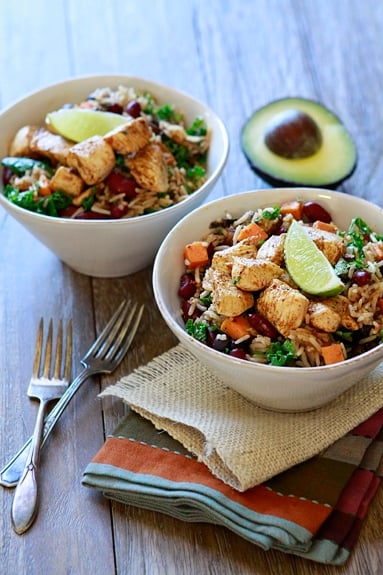 If the recipe you are preparing won't be affected by any extra water the frozen kale might contribute, just add the kale directly to the recipe according to the recipe's instructions.
However, if you're preparing something where extra moisture would not go unnoticed, be sure to thaw the kale and squeeze it dry.
I like to place the kale inside a paper towel and squeeze that over the sink. Additionally, you can sauté the kale pieces for a minute or two to dry them out a little more.
4. Freeze Chopped Kale in Baggies – minus the chopping
If you know you want to add kale to various smoothies, but don't want to fuss with making freezer smoothies or doing any other prep work, you can transfer the kale directly to a freeze bag. When you need a handful or two of kale to add to a smoothie – like this Pineapple Kale Smoothie or this Green Smoothie Bowl.