These "Cheesy" Kale Chips are a great, healthy way to satisfy your cravings for something salty and cheesy. Nutritional yeast gives this kale chips recipe a nutrient-rich cheesy flavor without any added dairy. You'll be surprised at how much you like this healthy snack!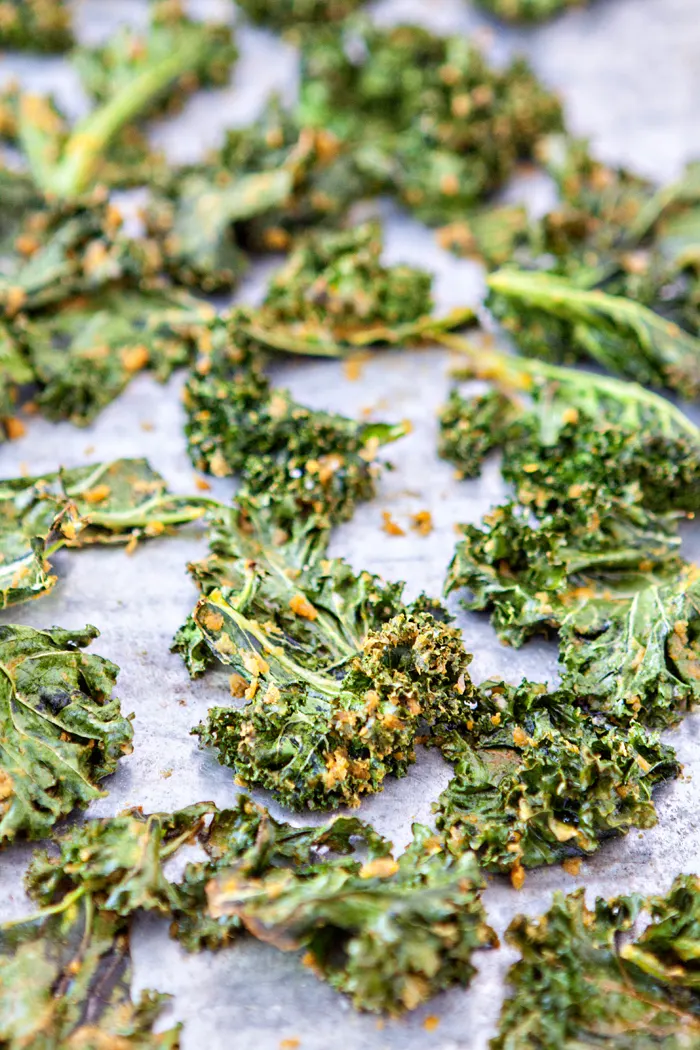 Click HERE to save this recipe for Cheesy Kale Chips!
Trying this Cheesy Kale Chips Recipe
I find it a little funny that I'm writing a post about homemade kale chips. Kale chips aren't a new thing by any means. I've successfully ignored and resisted them for a couple of years.
If I saw a post talking about how amazing they were or how baked kale chips are a great, healthy alternative when you're craving chips I couldn't help but roll my eyes. I thought, you've gotta be kidding me.
They're a vegetable! How could I possibly enjoy kale as a substitute for actual chips of the unhealthy, but totally tasty, variety?! There's no way that a homemade kale chip could satiate my monthly cravings for salty, nacho cheese chips.
Complete nonsense.
Why This Kale Chips Recipe is So Good!
Well, I'm here to tell you that I couldn't have been more wrong. My friend made some kale chips recently and I nearly ate an entire bunch of kale by myself because it was so good!
Begrudgingly, I told her I would try them, all the while having very little confidence that they would do anything to satisfy my monthly cravings for something salty and crunchy.
It turns out I wanted to lick the baking sheet clean. And I told her I would have, it I had been home alone with no one to witness that.
Not only would I eat these "cheesy" kale chips if someone else made them, but I would make them on purpose for myself. What really made these Kale Chips was the nutritional yeast she had sprinkled on them — it gave them a great cheesy flavor without actually having any cheese in the recipe.
A few months ago I hadn't even heard of nutritional yeast. Now that I've tasted it, and read about the nutrients that it contains, I want to put it on everything.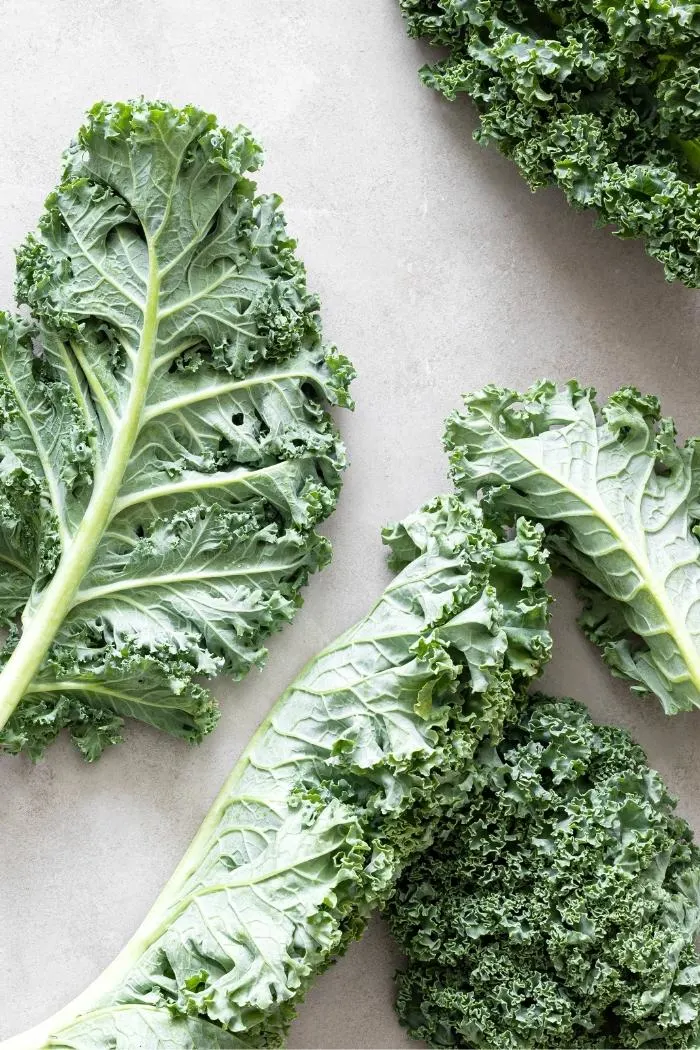 Click HERE to save this recipe for Cheesy Kale Chips!
Are Kale Chips Healthy?
If you're wondering if these cheesy kale chips are healthy, the answer is: Yes, definitely!
Crispy kale chips are a delicious snack (and a delicious way to get your greens!) with all sorts of nutritional benefits thanks to the healthy ingredients. Here's more about why this recipe for kale chips is such a healthy snack:
Health Benefits of Kale
Kale is a nutritional powerhouse and a great way to add extra dark, leafy greens to your diet. As a member of the Brassica family, it finds itself in good company with other nutritious cruciferous vegetables such as cabbage, collards, broccoli, and Brussels sprouts.
A single cup of raw kale contains 33 calories and 7 grams of carbs. These leafy greens are full of good-for-you vitamins and minerals like: Vitamin A, K, B6, and C. Kale also provides calcium, potassium, copper, and manganese.
That makes this Kale Chips Recipe a great snack!
Health Benefits of Nutritional Yeast
Nutritional Yeast adds a savory, nutty, cheesy flavor to foods, but it is more than just a flavor enhancement. It actually contains a lot of nutrients!
B Vitamins
Nutritional yeast contains Riboflavin (B12), Niacin (B3), Thiamin (B1), B12, Folic Acid (B9), and B6. Depending on the brand you purchase, one serving (about a tablespoon) offers 30% or more of your daily value of each of these vitamins. (source)
Low Sodium
Although nutritional yeast has a natural savory, and somewhat salty, cheesy flavor to it, it actually contains no sodium. That's great if you're watching your sodium intake but still looking for something to satisfy your salty cravings.
While some ladies out there have monthly cravings for chocolate, mine tend to be cravings of the salty/savory variety. Satisfying that in a healthy way with lots of greens and no actual sodium (minus the little bit of salt added to the kale chips for seasoning) will put a damper on annoying bloating.
Non-Animal Protein Source
A tablespoon of nutritional yeast only has a few grams of protein. But, nutritional yeast is a complete protein — meaning that it contains all of the essential amino acids, include the ones your body can't produce on its own.
Also, its always great to pair snacking with a little bit of protein to give the body fuel for an energy boost.
Minerals
Nutritional yeast also contains minerals like iron, selenium and zinc.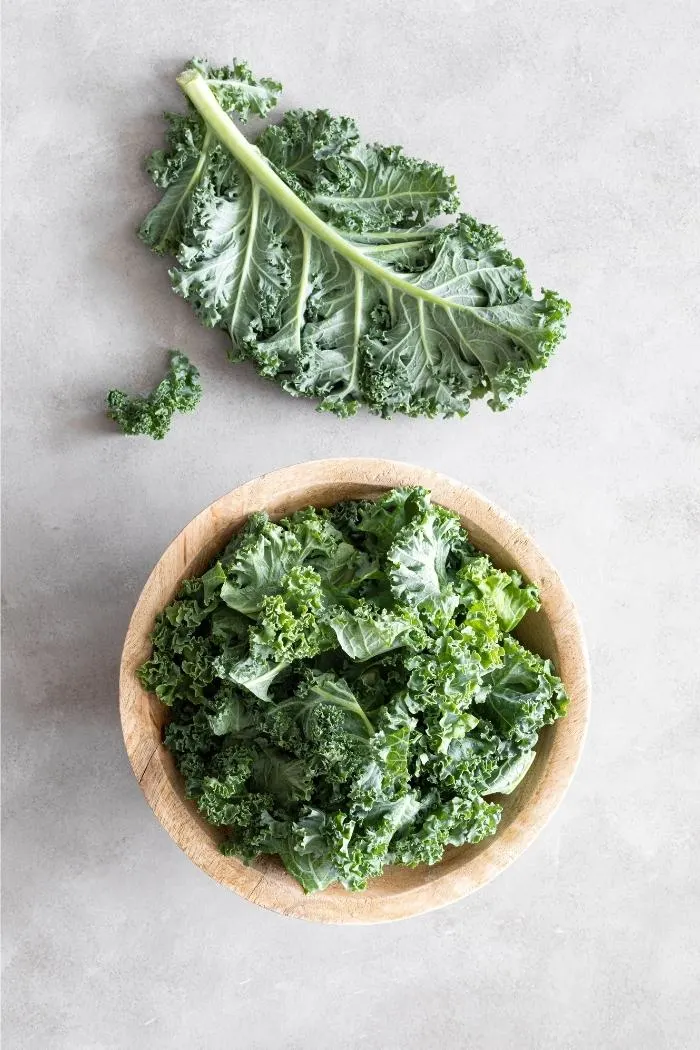 This post may include affiliate links. As an Amazon Associate and member of other affiliate programs, I earn a small commission from qualifying purchases.
Click HERE to save this recipe for Cheesy Kale Chips!
Ingredients to Make this Homemade Kale Chips Recipe
For these cheesy baked kale chips, you'll need:
Kale
Olive Oil
Nutritional Yeast
Sea Salt
Black Pepper
For the complete ingredient list and detailed instructions, scroll to the bottom of this post for the FREE printable recipe card.
What Type of Kale Should I Use to Make Kale Chips?
You can make nutritional yeast kale chips with any variety of kale you have on hand.
Popular Varieties of Kale
There are several varieties of kale, but any will work with this kale chips recipe. The most popular kale varieties include: curly, dinosaur, red Russian, and tuscan kale.
I'm sure there are other kale varieties, but these are the most common in my area. I typically only see curly kale at the grocery store, but sometimes I'll find dinosaur kale as well.
How to Pick the Best Kale for Kale Chips
For the best tasting kale chips, you should buy kale during the autumn through spring months for peak nutrition and quality. The kale leaves should appear dark in color and should be small to medium in size. You also don't want any brown or yellow leaves.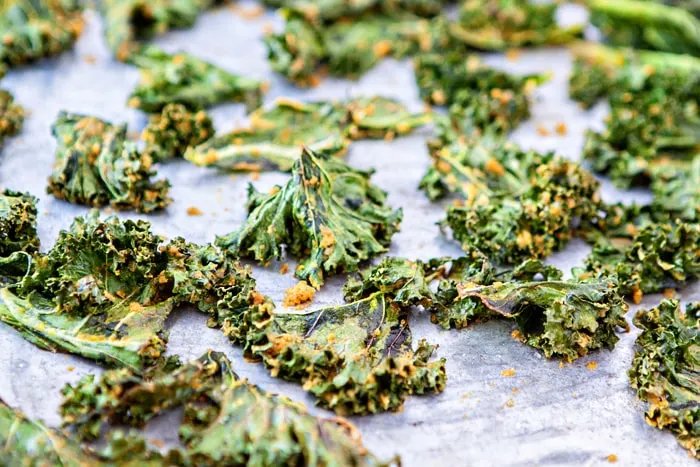 How to Make this Kale Chips Recipe
Here's a quick overview of how to make this easy recipe for crunchy kale chips:
Making kale chips couldn't be simpler! First, tear the kale into bite-size pieces. Then, wash and drain the kale.
After washing, spin in a salad spinner to make sure all the moisture is removed. Then, toss the kale with a little olive oil, and spread out onto a parchment paper-lined baking tray.
Sprinkle with salt, pepper, and nutritional yeast, then toss the kale chips with your hands to distribute the kale chips seasoning. After that, bake until the homemade kale chips are crisp.
The above is simply a quick summary of this cheesy kale chip recipe. Check out the full recipe in the free printable recipe card at the bottom of this post for all the detailed instructions.
Tips for Making the Best Homemade Kale Chips
Want to make the best kale chips? Here are some of my tips for preparing this recipe:
After running the washed kale through the salad spinner, air dry kale on paper towels until no moisture remains. Wet kale can result in soggy kale chips
Make sure to measure out the olive oil and not just eyeball it. If you add too much oil to the kale chips, they'll be far too oily and won't be the right texture once baked.
Arrange the kale pieces in a single layer. They'll crisp up better this way.
Kale chips can go from perfect to burnt in a matter of seconds, so don't walk away from the oven during the last few minutes they're baking.
Kale chips will continue to crisp up as they cool, so if your cheesy kale chips aren't fully crisp when they come out of the oven it should be fine.
Make your own kale chip recipes by using different seasonings along with the method of preparation in this recipe. Try garlic salt, spicy taco seasoning, chili powder, just salt and pepper, cayenne pepper, onion powder, or really any spices that sound good to you!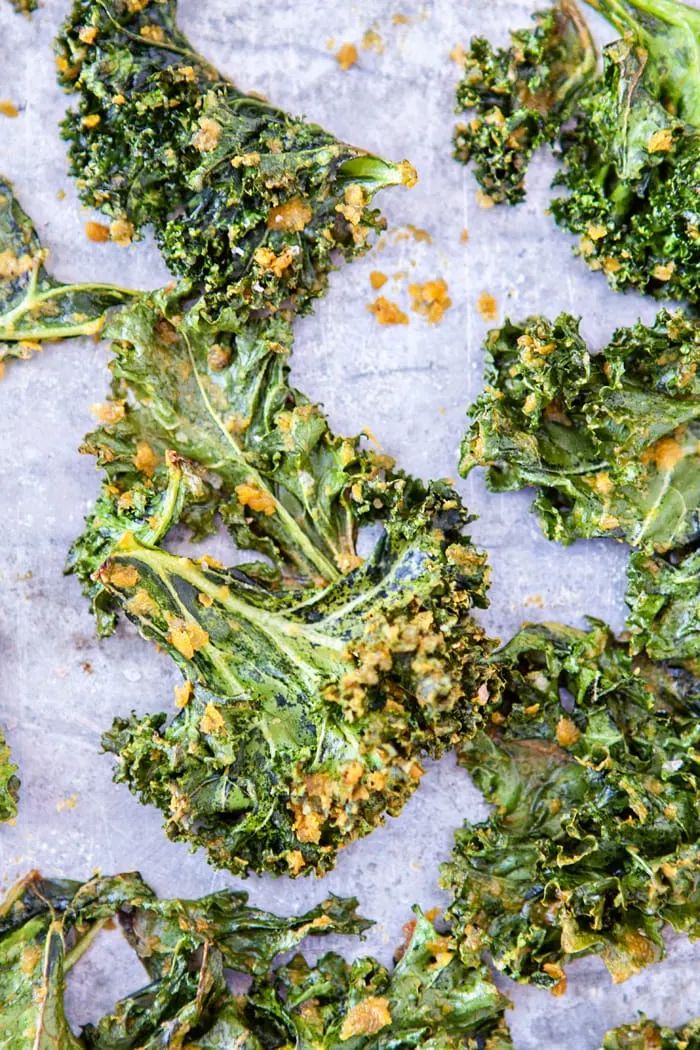 Click HERE to save this recipe for Cheesy Kale Chips!
Kale Chips Recipe FAQ
Should I Remove the Kale Stems Before Making Kale Chips?
Yes, definitely remove the stems. The thick stems are woody and practically inedible, which is why you only want to make kale chips using the leaves.
How Should I Store Leftover Kale Chips?
Leftover Kale Chips are best stored in an airtight container. Make sure you allow the kale to cool to room temperature completely before storing it. Otherwise, the heat will produce condensation in the storage container and the kale chips will become soggy.
Try Making Your Own Kale Chips!
Next time you're looking for a way to cook this leafy green vegetable, give this recipe for Cheesy Kale Chips a try! Did you think they were the perfect kale chips? Leave a comment below and give it a review for others to see what you thought of this great recipe.
On Instagram? Share your photo and tag me with @goodlifeeats and #goodlifeeatsrecipes. I'd love to see your photo of this kale chip recipe!
Other Ways to Use Nutritional Yeast (Besides in this Kale Chips Recipe)
Bought nutritional yeast so you could make this kale chip recipe, but now you don't know what to do with it? Don't fret, you can use nutritional yeast like you would any cheese topping.
Sprinkle it on top of popcorn, salads, roasted veggies, like Easy Roasted Cauliflower or Roasted Broccoli, and more.
It is great stirred into soups, stews and chilis — and great for adding an extra boost of cheesy flavor without adding any dairy. That's perfect if you're allergic to dairy, lactose intolerant, or maybe just taking a break from consuming excessive amounts of cheese.
I also plan to try adding some nutritional yeast into recipes like Baked Potato Soup, Creamy Butternut Squash Soup, Roasted Garlic and Cauliflower Soup, or Broccoli Cheese Loaded Twice Baked Potatoes.
More Healthy Snack Recipes:
Chips and guacamole are one of my favorite snack combos. Deconstructed Guacamole is a chunky version of a traditional guacamole, full of tomatoes, avocado, corn, cilantro, lime, and peppers.
I love the crunch of these Spicy Chili Lime Roasted Chickpeas, the spicy flavor, and of course the fact that they are another great healthy snack!
Sweet and Spicy Rosemary Bar Nuts are delicious when you're craving something nutty that's a little sweet and a little savory.
This Homemade Microwave Popcorn also hits the spot when I need a salty snack.
I love having this Black Bean Hummus on hand. I can enjoy it as a veggie dip, a sandwich spread, and more!
What do you like to snack on?
Get More Recipes via Email
Did you love this recipe for Cheesy Kale Chips? Sign up to receive Good Life Eats Email Updates and never miss another recipe!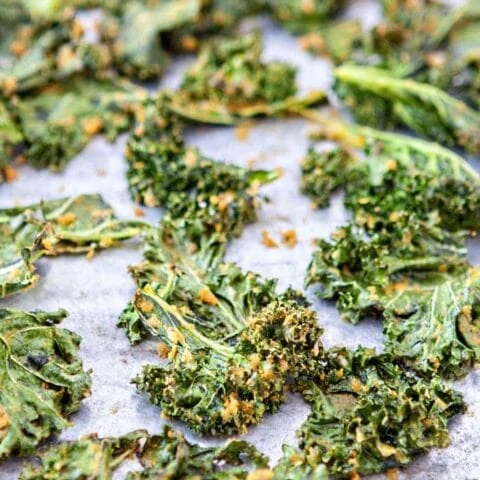 "Cheesy" Kale Chips
These "Cheesy" Kale Chips are a great, healthy way to satisfy your cravings for something salty and cheesy. Nutritional yeast gives them a nutrient-rich cheesy flavor without any added dairy.
Ingredients
6 ounces, Kale (stems removed)
1 tablespoon Olive Oil
1/3 cup Nutritional Yeast
Salt, to taste
Pepper, to taste
Instructions
Preheat oven to 350 degrees F.
Wash and drain the kale.
Spin the kale leaves in a salad spinner to remove excess water.
Transfer the kale to a large baking sheet and pat dry with a paper towel to remove any remaining moisture.
In a mixing bowl, add the kale and olive oil. Toss to coat.
Place the olive oil coated kale on a large, dry baking sheet.
Sprinkle with the nutritional yeast, salt and pepper and mix with your hands or a wooden spoon to evenly distribute, spreading evenly and making sure not to overcrowd or overlap the pieces.
Bake on the center rack of the oven at 325 degrees F for 15 - 20 minutes, rotating halfway through.
Notes
Any more than about 6 ounces of kale and you should use 2 baking sheets and rotate them on the oven racks halfway through baking. Overcrowded pans will result in kale that does not become crispy.
Recommended Products
As an Amazon Associate and member of other affiliate programs, I earn from qualifying purchases.
Nutrition Information
Yield

4
Serving Size

1
Amount Per Serving
Calories

80
Total Fat

4g
Saturated Fat

1g
Trans Fat

0g
Unsaturated Fat

3g
Cholesterol

0mg
Carbohydrates

7g
Fiber

4g
Sugar

1g
Protein

6g
Healthy Snacks
Looking for more healthy snacking ideas? Check out a few of these favorites.