This easy taco seasoning can be made in bulk and keeps for months if stored in an airtight container. Use it on tacos, in soups and stews, and more!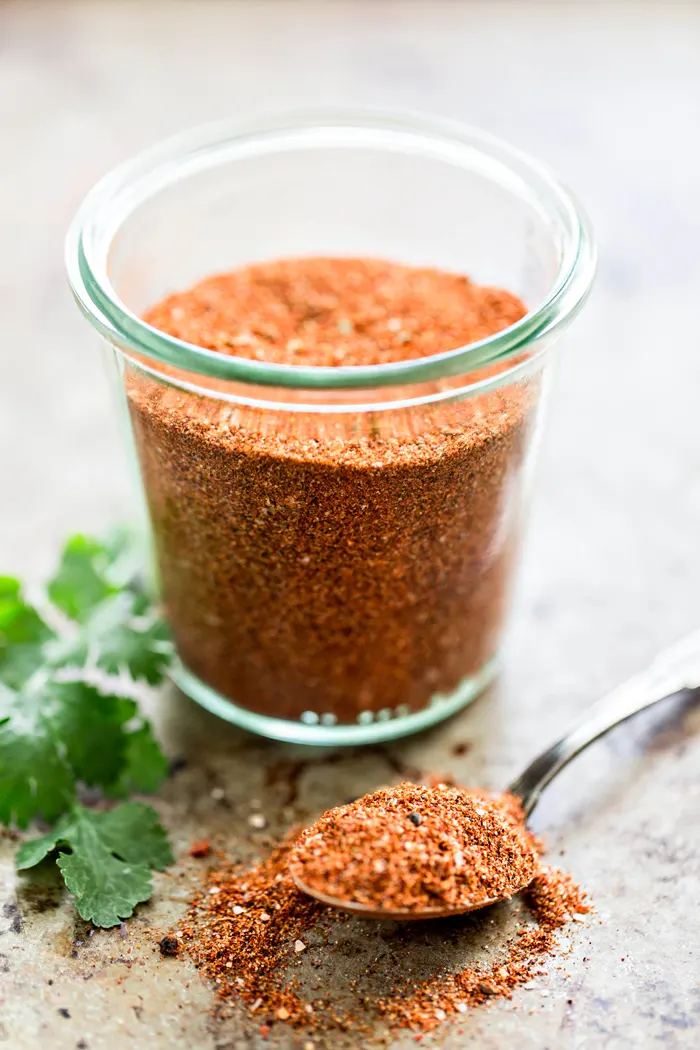 Click HERE to save this recipe for Easy Taco Seasoning!
Creating This Easy Taco Seasoning
Mexican food is constantly in rotation at our house, so I need to keep this easy taco seasoning on hand at all times! I make it in bulk. That way I am not constantly having to whip it up before the meal. I think you're going to be wanting it on hand too!
We literally eat Mexican food a minimum of once a week. Usually more. I can very easily say it is one of my favorite food groups. That and pizza. I like to choose the healthy foods, as you can see.
I used to buy the taco seasoning packets all the time, and would run out of them just as fast as I could stock the house. I started to really think about what was in those packets though.
I no longer wanted to put all those preservatives in my body. I was afraid I would end up sacrificing taste to have it be slightly healthier. Thank goodness I was wrong!
I will never go back to the store-bought packets again now that I have perfected this recipe for homemade taco seasoning. You can't go wrong with the homemade taste you get from making it yourself.
The best part is that you can adjust the flavors to your liking! If you love the flavor of cumin, then feel free to add a bunch of it! If you love spice, you'll love this one. If you like it even more than we do, add more Mexican hot chili powder or even more red pepper flakes.
You really can't make this homemade taco spice mix wrong!
What Spices Are in Taco Seasoning?
Homemade spice mixes, like this spicy taco seasoning, are simple to prepare and customize according to your personal preferences.
The taco seasoning spices in this particular recipe are:
Mexican hot chili powder
Regular chili powder
Garlic powder
Onion powder
Red pepper flakes
Dried oregano
Paprika
Cumin
Kosher salt
Ground black pepper
For the complete ingredient list and detailed instructions, scroll to the bottom of this post for the FREE printable recipe card.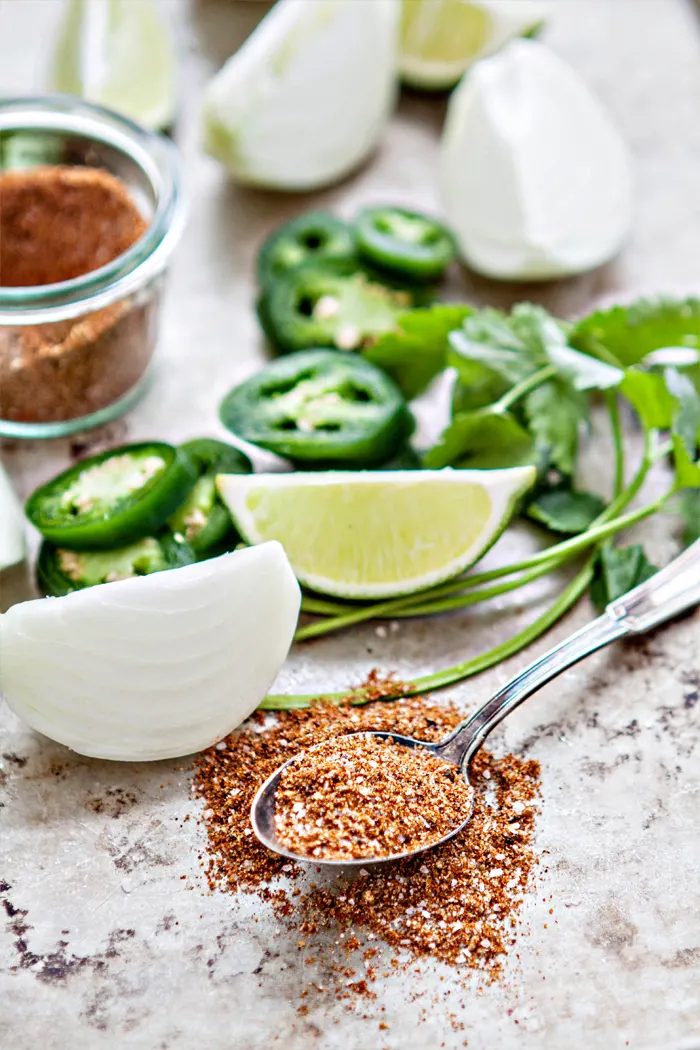 Click HERE to save this recipe for Easy Taco Seasoning!
How to Make Taco Seasoning
This easy taco seasoning comes together in mere minutes!
Just gather all the ingredients. Measure them out into a mixing bowl. Stir to combine. Transfer to a storage container.
The above is simply a quick summary of this recipe. Check out the full recipe in the free printable recipe card at the bottom of this post for all the detailed instructions.
How Long Will Taco Seasoning Last?
I love that this homemade taco spice mix stores well in a jar so that you can make a large batch ahead of time and use it throughout the year. It will keep for months, but I guarantee your stash of homemade taco seasoning won't last that long.
Unless you don't eat Mexican food as much as we do, which I realize could be true. I am special that way.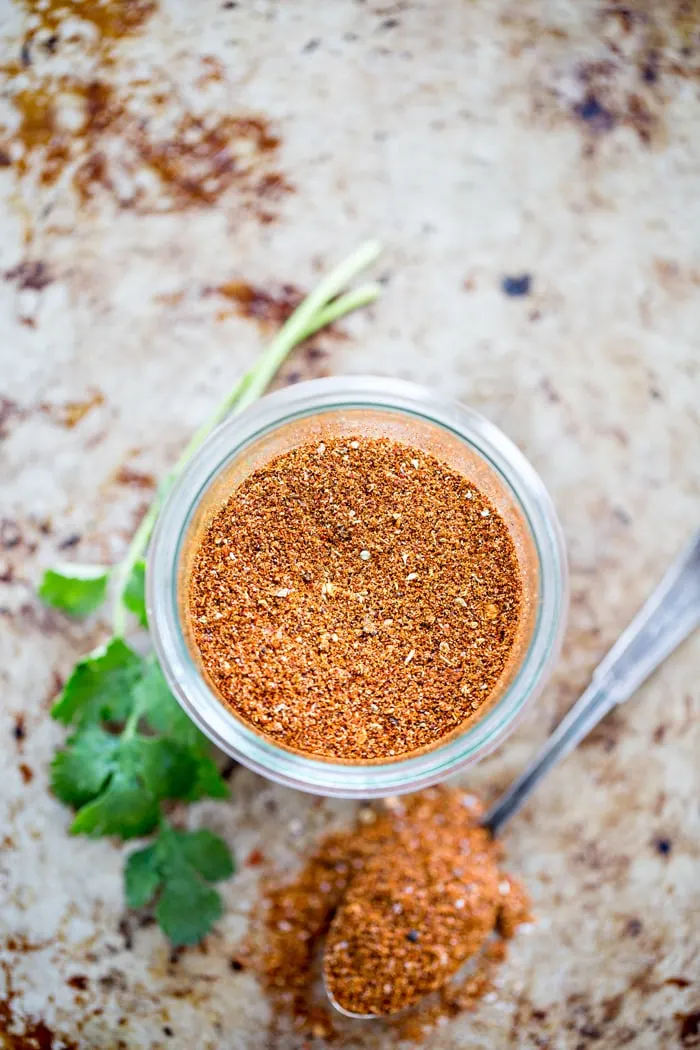 Click HERE to save this recipe for Easy Taco Seasoning!
Ways to Use Taco Seasoning
The most obvious way to use homemade taco seasoning is in — you guessed it — tacos. But this is actually a versatile spice blend. Here are a few more ways to use this easy taco seasoning in your cooking:
How Much Taco Seasoning Should I Use?
The best thing about making homemade mixes, is that you can use as little or as much taco seasoning as you want with your taco meat recipes!
For this spicy taco seasoning recipe, I like to start with 1 tablespoon of seasoning per pound of meat, and then taste from there. If you are sensitive to heat, you may like to start with half that amount (1 1/2 teaspoons) and taste before adding more.
It is always easier to add more seasoning than it is to make your taco meat less spicy!
More Homemade Seasoning Mixes:
Looking for more tasty homemade seasoning mix recipes? They're great homemade pantry staples and serve as fun homemade gifts.
If you want to try your hand at making a few more homemade spice mixes besides this Easy Taco Seasoning, here are a few recipes that you might want to check out:
Homemade BBQ Chicken Rub features a mix of brown sugar, salt, pepper, garlic powder, cumin, chili powder, and smoked paprika for a flavorful homemade spice rub. Try this delicious rub on your favorite cut of chicken. I recommend chicken drumsticks, a whole chicken, or skin on bone in chicken breasts.
Add this recipe for homemade garlic herb salt to your spice cabinet and you'll never need to purchase garlic herb salt from the grocery store again. Sprinkle your Oven Baked Seasoned Fries with some of this seasoning mix.
Homemade Southwestern Pork Rub is perfect to have on hand in your pantry. It quickly adds a ton of flavor to pork when you don't have the time to let meat soak in a liquid marinade. It features a mix of brown sugar, garlic powder, oregano, chili powder, cumin, pepper, smoked paprika, onion powder, salt and pepper for a flavorful spice rub.
I also think this Cajun Spice Mix would be really good on chicken!
Zesty Italian Seasoning Mix would go great on a variety of meats. I'm also thinking it would make some really delicious herbed dipping oil!
And I love the idea of this Homemade Ranch Seasoning! I would sprinkle it all over my Homemade Microwave Popcorn!
Don't see what you're looking for here? You can always head over to check out the recipe index to look for more recipes.
What is your favorite homemade seasoning?
Get More Recipes via Email
Love this recipe for Easy Taco Seasoning? Sign up for Good Life Eats email updates and never miss another recipe!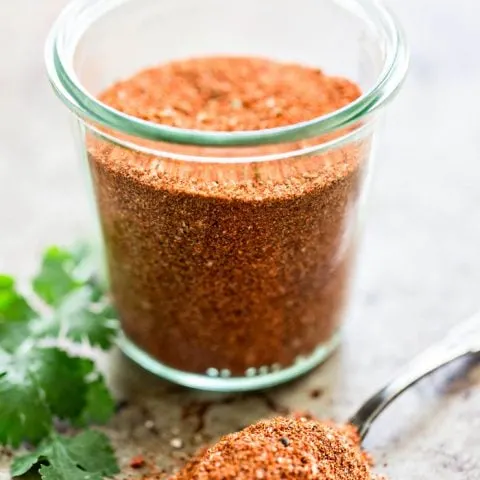 Spicy Taco Seasoning
A bulk recipe of Spicy Taco Seasoning so you can have it on hand for any needed Mexican food craving!
Ingredients
1/4 cup plus 2 Tbsp Mexican hot chili powder
1/4 cup regular chili powder
2 1/2 tsp garlic powder
2 1/2 tsp onion powder
2 tsp red pepper flakes (more or less to taste)
2 1/2 tsp dried oregano
6 tsp paprika
1/4 cup cumin (more or less to taste)
3/4 tsp kosher salt
3 Tbsp plus 1 tsp finely ground black pepper
Instructions
Gather all of the spices.
Measure each of the spices and add directly into a mason jar.
Place lid on the mason jar and tighten securely.
Shake the jar vigourously to combine all of the spices.
Store in mason jar with lid for at least a month. Store in a dry place.
Notes
Substitution Tips
If you don't like too spicy, lessen the amount of the red pepper flakes, or use less of the Mexican hot chili powder and more of the regular chili powder.
You can also adjust the flavors of the remaining spices as well to your taste. This is totally adjustable to your liking! That's what is so great about making your own seasoning mixes!
HOW LONG WILL TACO SEASONING LAST?
I love that this homemade taco spice mix stores well in a jar so that you can make a large batch ahead of time and use it throughout the year. It will keep for months, but I guarantee your stash of homemade taco seasoning won't last that long.
Recommended Products
As an Amazon Associate and member of other affiliate programs, I earn from qualifying purchases.
Nutrition Information
Yield

48
Serving Size

1
Amount Per Serving
Calories

7
Total Fat

0g
Saturated Fat

0g
Trans Fat

0g
Unsaturated Fat

0g
Cholesterol

0mg
Sodium

66mg
Carbohydrates

1g
Fiber

1g
Sugar

0g
Protein

0g
Tag @goodlifeeats and include the hashtag #goodlifeeatsrecipes so I can see what you're cooking up in YOUR kitchen!
Click HERE to save this recipe for Easy Taco Seasoning!
This recipe for Spicy Taco Seasoning is written by: Carla of Carla's Confections Blog