Ultimate Easy Nachos Recipe
Nachos are the perfect Super Bowl appetizer.
This Nachos recipe will whip up in a pinch and make Super Bowl appetizers super simple to prepare (and serve), leaving you with more time to socialize, eat, and enjoy the game!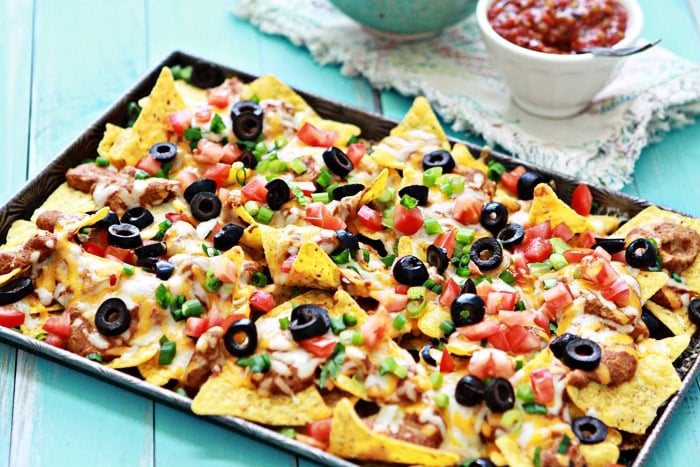 Click HERE to save this recipe for Ultimate Easy Nachos to Pinterest!
Logan is super excited about the big game this weekend.
We've only been hearing about 20 times a day for the last week how cool it is that the Broncos are going to the 2016 Super Bowl.
OH MY GOSH!
CAN.YOU.BELIEVE.IT.MOM???
BEST.THING.EVER!!
Madeline is like, Logan, we know!
Me?
I'm excited for Logan because he's excited.
But, I'm really all about the chance to make some of my favorite snacks and hang out with my friends.
I love snack foods and appetizers.
I'm really digging this recipe for Easy Nachos.
Honestly, sometimes I'm amazed that I don't way 500 pounds because this girl really loves to eat.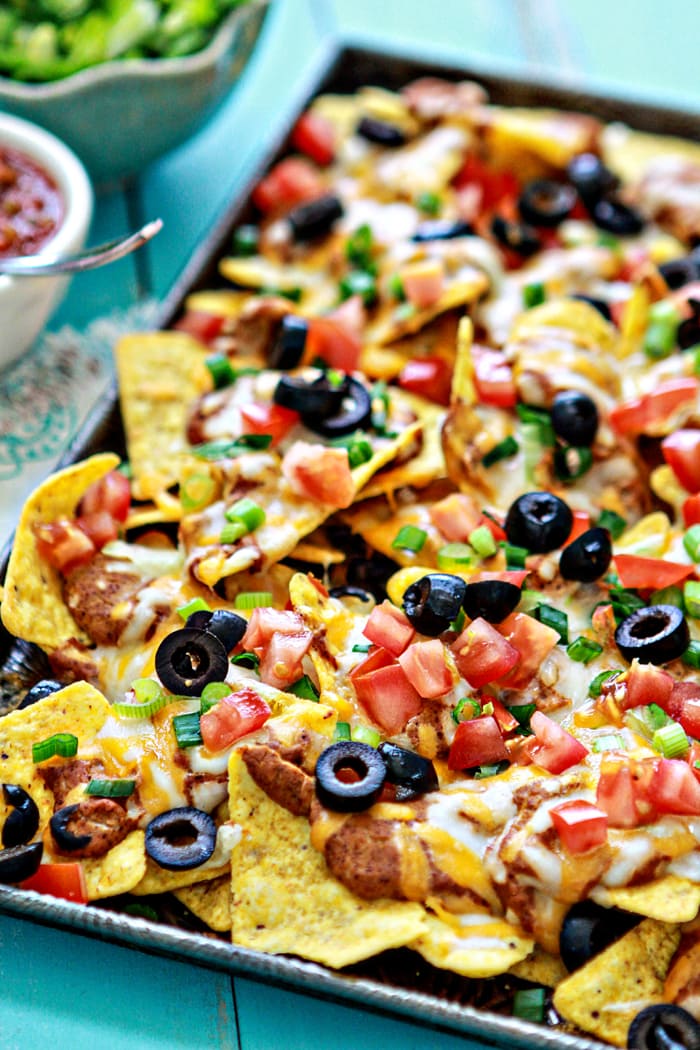 Click HERE to save this recipe for Ultimate Easy Nachos to Pinterest!
Dips and chips, pizza, nachos (like this nachos recipe that I like to call Ultimate Easy Nachos), fries, salsa and guacamole…they all call to me.
Foods like that along with some adult socialization are exactly why I love Super Bowl Parties.
No party is complete without one of the best Super Bowl foods of all time – NACHOS.
How to Make Ultimate Easy Nachos
What is easier than covering a baking tray with crunchy tortilla chips, topping it with spicy refried beans and cheese, and popping it in the oven for a few minutes?
After the beans are hot and the cheese is becomes that melty, gooey goodness, you sprinkle plenty of diced tomatoes, green onions, and black olives on top of the nachos.
Turn Ultimate Easy Nachos from an Appetizer into a Meal
If you'd like to add meat to this recipe for Ultimate Easy Nachos, this Crock Pot Mexican Chicken is both easy and delicious.
Just add the chicken at the same time as you do the beans and cheese, before you bake the chips and you'll have Easy Chicken Nachos.
If you prefer beef to chicken, brown a 1/2 pound of ground beef with this Homemade Spicy Taco Seasoning.
Then, add that to the nacho recipe – then you'll have a great beef nachos recipe.
For a pork option, try this Slow Cooker Southwestern Pulled Pork.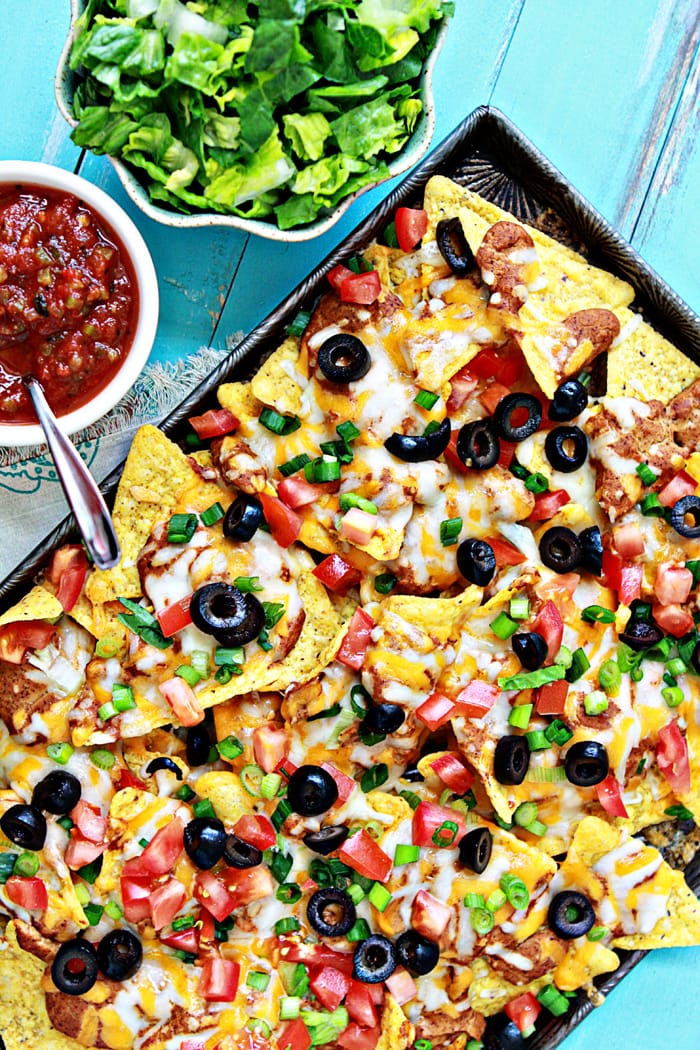 Click HERE to save this recipe for Ultimate Easy Nachos to Pinterest!
Serving Options for Ultimate Easy Nachos
I think guest-assembles, DIY, or serve your self style meals and snacks are perfect for when having a crowd over to watch the game.
People can eat when they're ready, and make it how they want it, all while allowing the host or hostess to sit down and enjoy the party.
Guests will love to pile on the customizations on their own plates.
Serve these Ultimate Easy Nachos along side a bowl of this Easy Restaurant Style Salsa, Sour Cream, and shredded lettuce.
Other topping add on ideas can include pickled or fresh jalapeños, diced onion, and diced avocado or homemade guacamole.
This Nachos recipe will be a guaranteed crowd pleaser!
More Tasty Appetizers for Game Day
I'll tell you how to make nachos below in the recipe.
But, just in case you are looking for some more game day recipe ideas to go along with this Nachos recipe, check out some of these tasty links:
You can't go wrong with the amazing flavor profile of this Caramelized Onion Bacon Blue Cheese Dip.
Strawberry Mango Salsa and Easy Cinnamon Sugar Chips is perfect for something fresh and healthy (but still tasty!). Try it!
It isn't game day without guacamole.  Roasted Salsa Verde and Tomatillo Guacamole or Deconstructed Guacamole will both be a hit.
Roasted Red Pepper Hummus goes great with a veggie tray.
If you're serving burgers or sliders, these Tex-Mex Oven Fries are a must-make.
Can't decide if you want Pizza or Easy Nachos? Have both with this Easy Black Bean Mexican Pizza.
Still need more game day appetizer ideas? Look no further than this list of 20 Tasty Super Bowl Snack Recipes.
What is your favorite way to eat nachos? What is your nachos recipe?
Love this recipe for Ultimate Easy Nachos?
Sign up for Good Life Eats email updates and never miss another recipe!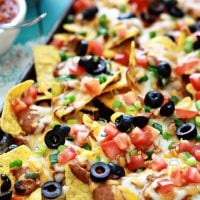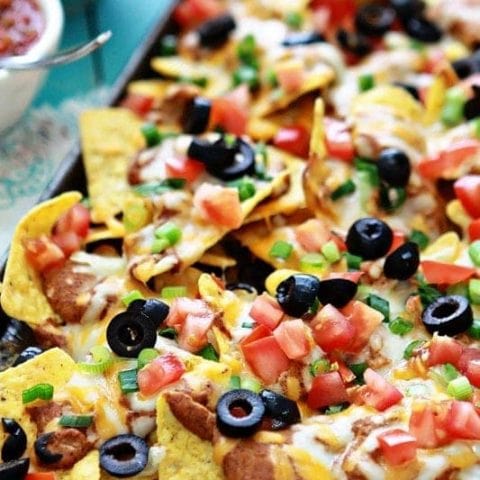 Ultimate Easy Nachos
These Ultimate Easy Nachos whip up in a pinch and make game day appetizers super simple to prepare (and serve). Topped with spicy refried beans, tomatoes, olives, green onions, and of course plenty of cheese, they're both tasty and colorful.
Be sure to follow Good Life Eats on Instagram. Tag @goodlifeeats and include the hashtag #goodlifeeatsrecipes so I can see what you're cooking up in YOUR kitchen!
Click HERE to save this recipe for Ultimate Easy Nachos to Pinterest!