This is the BEST Nachos Recipe! You can whip up these easy baked nachos in a pinch. This Super Bowl appetizer is simple to prepare (and serve), leaving you with more time to socialize, eat, and enjoy the game!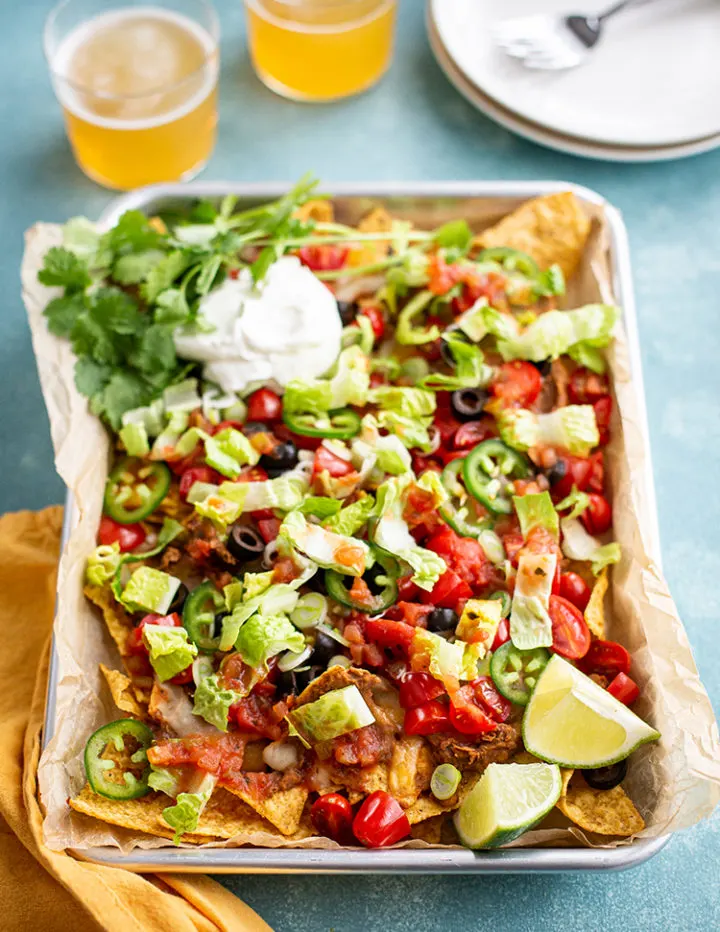 This recipe was originally published February 1, 2016. It's been updated with new photos and additional information for clarity.
Click HERE to save this recipe for Ultimate Easy Nachos to Pinterest!
The Best Nachos Recipe
Logan is super excited about the big game this weekend. We've only been hearing about 20 times a day for the last week how cool it is that the Broncos are going to the 2016 Super Bowl.
OH MY GOSH!
CAN.YOU.BELIEVE.IT.MOM???
BEST.THING.EVER!!
Madeline is like, Logan, we know!
Me? I'm excited for Logan because he's excited. But, I'm really all about the chance to make some of my favorite snacks and hang out with my friends.
I love snack foods and appetizers. And I'm really digging this easy nachos recipe. Honestly, sometimes I'm amazed that I don't weigh 500 pounds because this girl really loves to eat.
Dips and chips, pizza, baked nachos, fries, salsa and guacamole…they all call to me. Foods like that along with some adult socialization are exactly why I love Super Bowl Parties. And no party is complete without one of the best Super Bowl foods of all time — NACHOS.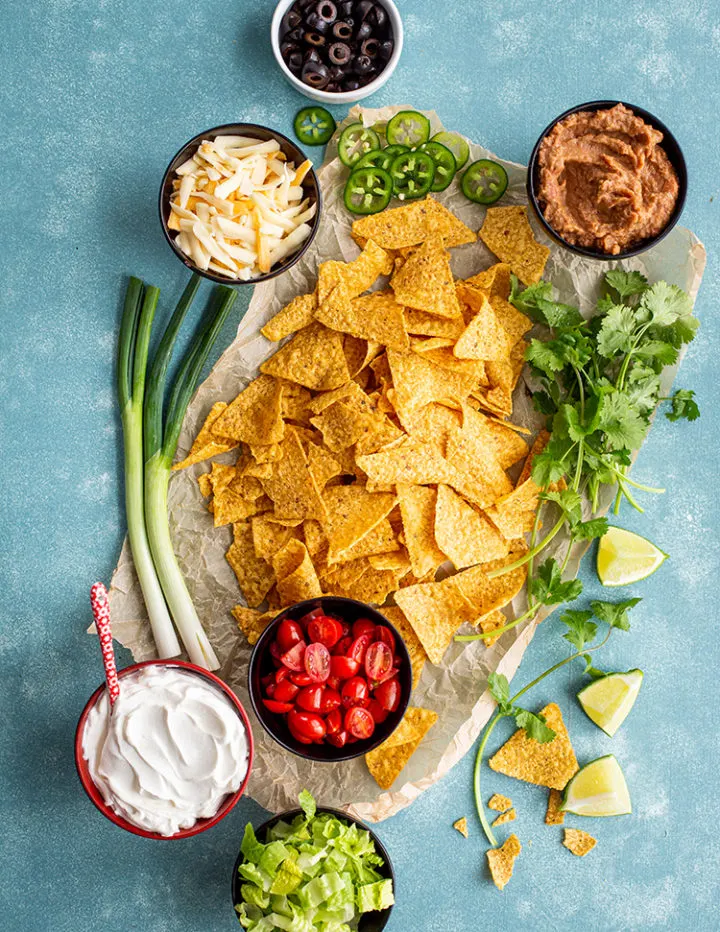 What's in this Loaded Nachos Recipe?
The great thing about these baked nachos is that you can doctor them up with almost any toppings you want. Here's what I used to make these loaded nachos:
Tortilla Chips
Refried Beans
Sour Cream
Chili Powder
Garlic Powder
Ground Cumin
Shredded Mexican Cheese Blend
Fresh Tomato
Green Onion
Sliced Black Olives
Salsa
Shredded Lettuce
Fresh Cilantro
For the complete ingredient list and detailed instructions, scroll to the bottom of this post for the FREE printable recipe card.
How to Make Nachos in the Oven
What is easier than covering a baking tray with crunchy tortilla chips, topping it with spicy refried beans and cheese, and popping it in the oven for a few minutes? Nothing, really!
After the beans are hot and the cheese transforms into melty, gooey goodness, sprinkle plenty of diced tomatoes, green onions, lettuce, and black olives on top of the baked nachos and serve.
The above is simply a quick summary of this recipe. Check out the full recipe in the free printable recipe card at the bottom of this post for all the detailed instructions.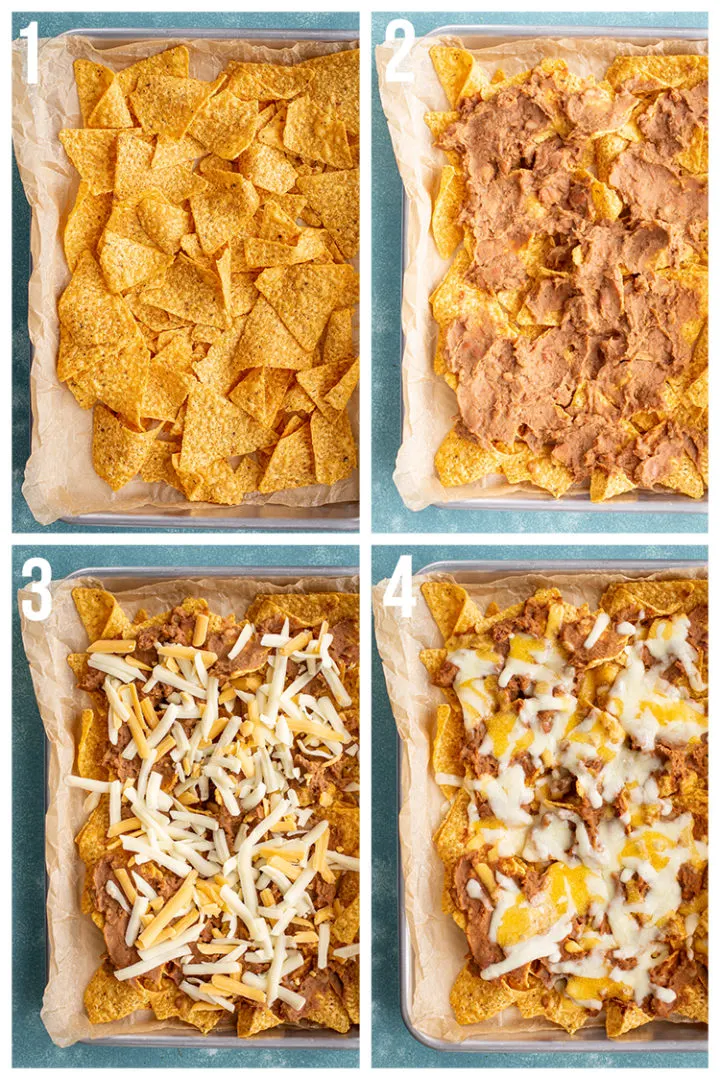 Click HERE to save this recipe for Ultimate Easy Nachos to Pinterest!
Tips for Making the Best Nachos Recipe
A large baking sheet of homemade nachos is a great way to feed a crowd at a party! Here are my tips for making this recipe:
Line the pan with parchment paper before baking the Nachos – it makes for easier cleanup!
For an extra kick, add a few dashes of hot sauce into the refried bean mixture before dolloping it over the tortilla chips. If you'll be serving these baked nachos to kids, be careful with the amount of spice you add!
You're welcome to use any shredded cheese you have on hand for these easy nachos. I prefer using a Mexican cheese blend, but sharp cheddar or Colby Jack would also work.
It goes without saying that you can doctor up your nachos however you see fit. Play around with the toppings and give your guests lots of options so they can really load up their nachos.
How to Serve Baked Nachos
I think guest-assembles, DIY, or serve your self style meals and snacks are perfect for when having a crowd over to watch the game. Try making a nacho bar with all of the ingredients available in bowls so everyone at your party can invent their own nacho recipes.
People can eat when they're ready, and make it how they want it, all while allowing the host or hostess to sit down and enjoy the party. Guests will love to pile on the customizations on their own plates.
Serve these Ultimate Easy Nachos along side of salsa. My favorite homemade salsa is this Easy Restaurant Style Salsa, Sour Cream, and shredded lettuce. This Nachos recipe will be a guaranteed crowd pleaser!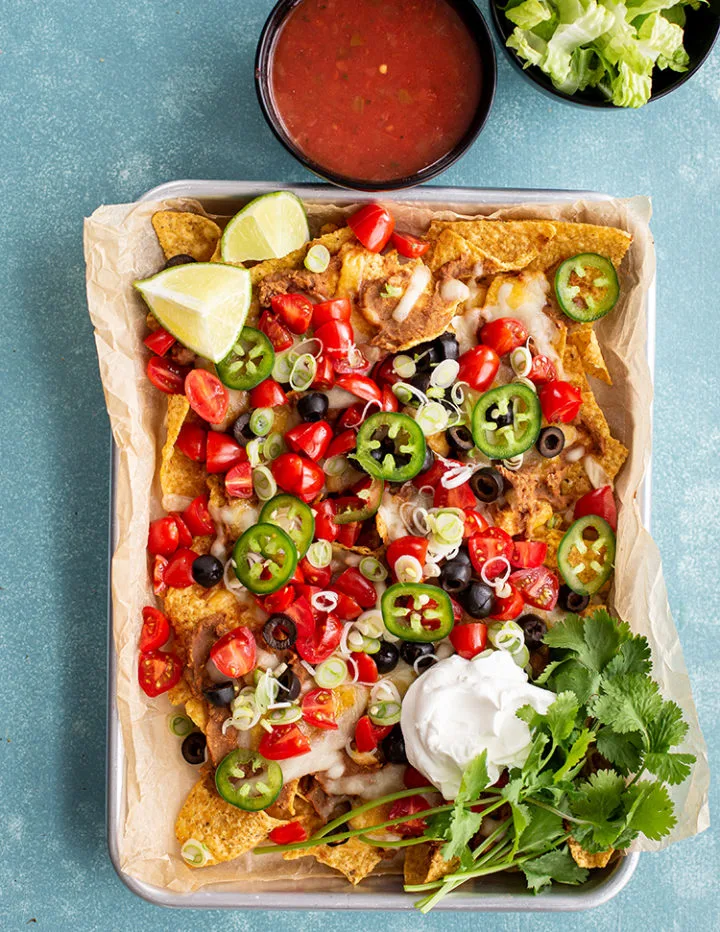 Click HERE to save this recipe for Ultimate Easy Nachos to Pinterest!
More Nacho Toppings to Try
There are so many different ways to make homemade nachos. Here are a few of my family's favorite nacho toppings to enjoy with these baked loaded nachos:
Pickled Jalapeño
Fresh Jalapeño Pepper
Diced Fresh Onion
Diced Avocado
Corn
Pico de Gallo
Green Chilies
Diced Red Onions
Hot Sauce
The sky's the limit when setting out nacho toppings. What do you think the best nacho toppings are?
Homemade Nachos Recipe FAQs
Got questions about how to make these sheet pan nachos? Here are the answers to a few commonly asked questions. Feel free to leave any other questions in the comments on this post and I'll respond with answers.
Can I Add Meat to this Easy Nachos Recipe?
Yes! If you'd like to add meat to this recipe for Ultimate Easy Nachos you definitely can! Here are my favorite options:
Just add your preferred choice of meat on top of the beans and then add the cheese on top of the meat before you bake the chips. Proceed with the rest of the recipe as instructed!
Can I Use a Different Type of Beans on my Nachos?
Sure! Instead of refried pinto beans, try refried black beans when making this nachos recipe.
Will a Different Type of Cheese Work?
Definitely! Other cheeses to try would be: pepper jack cheese, monterey jack cheese, nacho cheese sauce, sharp cheddar cheese, cotija cheese, or your own cheese blend based on your preferences.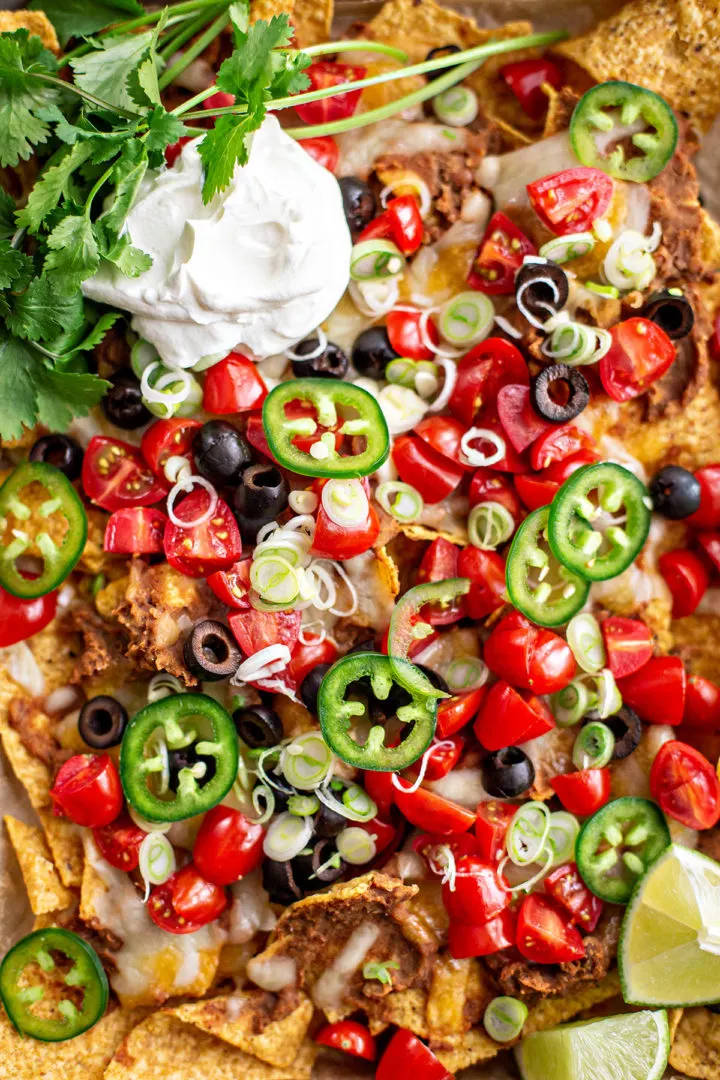 How Do You Store Leftover Nachos?
If the leftovers haven't sat out for more than 2 hours, you're safe to store them in an airtight container in the refrigerator or by wrapping the cookie sheet full of nachos in foil.
How Should You Reheat Leftover Nachos?
Unfortunately, you're bound to have a few soggy tortilla chips by the next day.
To help combat soggy nachos leftovers, reheat them on a baking sheet in the oven rather than in the microwave. Microwave nachos won't taste as good.
Try this Nachos Recipe at Home!
Next time you're looking for a great recipe for game day entertaining, give these Easy Nachos a try!
Did you love the melty beans and cheese with all your favorite nacho toppings? Leave a comment below and give it a review for others to see what you thought of this recipe.
On Instagram? Share your photo and tag me with @goodlifeeats and #goodlifeeatsrecipes. I'd love to see your photo of your game day nachos!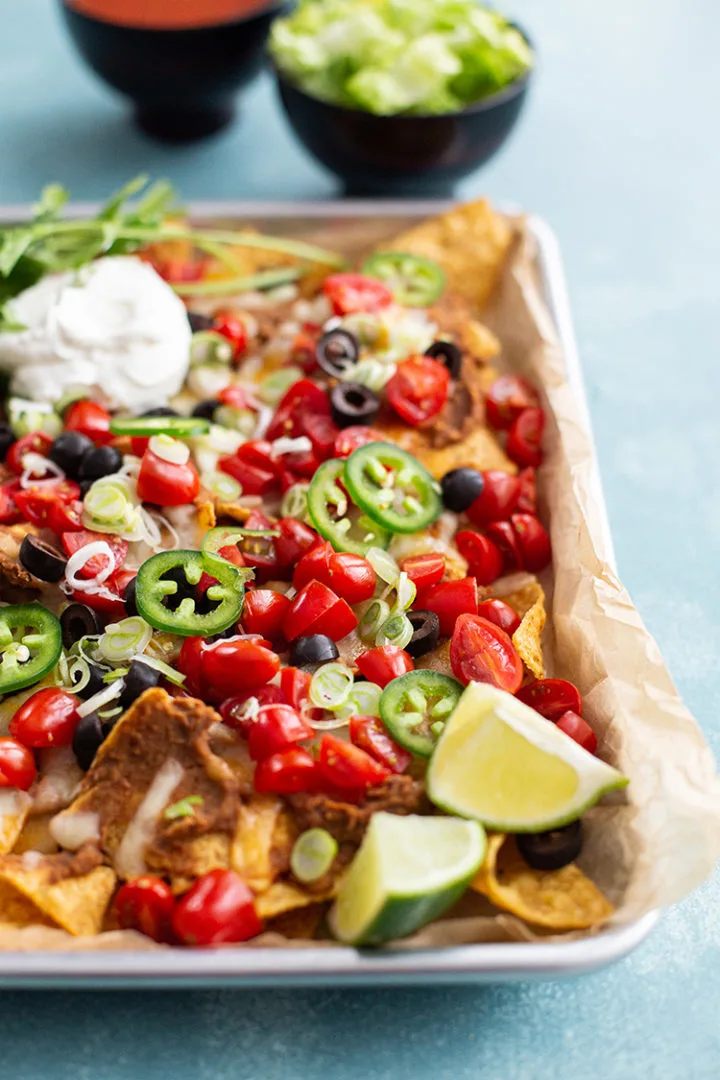 More Super Bowl Appetizers:
In case you're looking for some more Super Bowl recipe ideas to go along with the best nachos recipe, check out some of these tasty links:
You can't go wrong with the amazing flavor profile of this Caramelized Onion Bacon Blue Cheese Dip.
Strawberry Mango Salsa and Easy Cinnamon Sugar Chips is perfect for something fresh and healthy (but still tasty!). Try it!
It isn't game day without guacamole. Roasted Salsa Verde and Tomatillo Guacamole or Deconstructed Guacamole will both be a hit.
Roasted Red Pepper Hummus goes great with a veggie tray.
If you're serving burgers or sliders, these Tex-Mex Oven Fries are a must-make.
Can't decide if you want Pizza or Easy Nachos? Have both with this Easy Black Bean Mexican Pizza.
Still need more game day appetizer ideas? Look no further than this list of 25 Tasty Super Bowl Snack Recipes.
Don't see what you're looking for here? You can always head over to check out the recipe index to look for more recipes.
Get More Recipes via Email
Did you love this game day snack recipe? Sign up to receive Good Life Eats Email Updates and never miss another recipe!

What is your favorite way to eat nachos? What is your nachos recipe?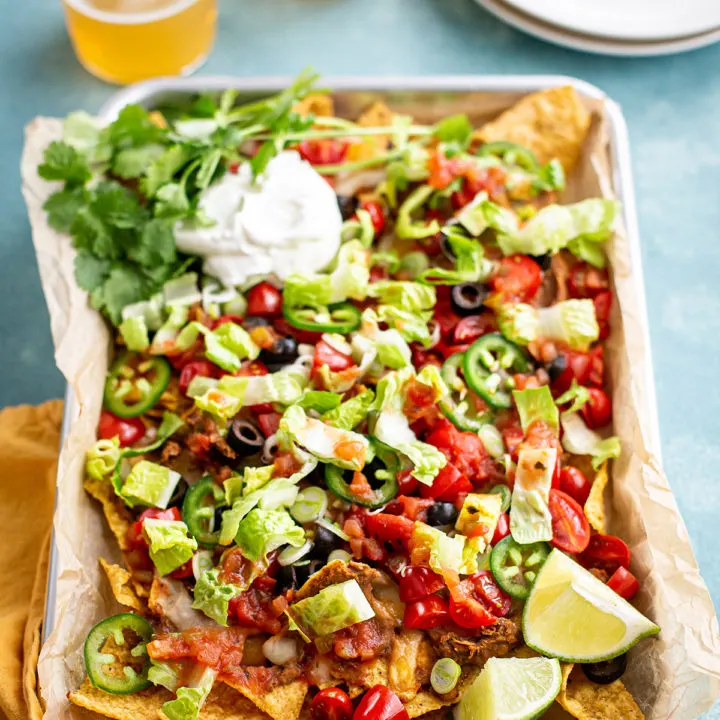 Ultimate Easy Nachos
These Ultimate Easy Nachos whip up in a pinch and make game day appetizers super simple to prepare (and serve). Topped with spicy refried beans, tomatoes, olives, green onions, and of course plenty of cheese, they're both tasty and colorful.
Ingredients
8 ounces Tortilla Chips (about 8 cups) I love these chips
1 can (16 ounces) Refried Beans
1/2 cup Sour Cream
2 tablespoons Chile Powder
1/2 teaspoon Garlic Powder
1/2 teaspoon Ground Cumin
8 ounces shredded Mexican Cheese Blend
1 cup diced Fresh Tomato
1/4 cup sliced Green Onion
2 ounces can Sliced Black Olives
1/2 cup Restaurant Style Salsa
1/2 cup Sour Cream
2 cups Shredded Romaine Lettuce
Optional Garnish: Cilantro, thinly Sliced Jalapenos (fresh or pickled)
Instructions
Preparing the Nachos
Preheat your oven to 375 degrees F and place the rack in the center position.
Line 2 large baking sheets with foil or parchment paper.
Place the chips in a single layer on the prepared pans.
In a medium saucepan, combine the refried beans, sour cream, chile powder, garlic powder, and ground cumin.
Stir until well mixed.
Warm the bean mixture over medium heat until heated through, stirring every couple of minutes.
Using a spatula, spread the bean mixture on the chips, dividing evenly between the two pans.
Sprinkle the pans with the cheese, using 4 ounces per pan.
Place the baking sheets in the oven and bake for 5-10 minutes, or until the cheese is melted and bubbly.
Garnishing the Nachos
Remove from the oven and top with diced tomatoes, green onion, and black olives. Garnish with cilantro, if desired.
Serve with sides of Easy Restaurant Style Salsa, Sour Cream, and Shredded Lettuce.
Notes
Adding Meat
If you'd like to add meat to the nachos, add about 1/2 pound of meat at the same time as you do the beans and cheese, before you bake the chips.
I recommend this Shredded Slow Cooker Mexican Chicken or ground beef browned with this Homemade Spicy Taco Seasoning. For pork, try this Slow Cooker Southwestern Pork.
Layered Nachos
If you prefer layered nachos you can make one tray of nachos instead. Place half of the chips down, then top with half of the bean mixture, half of the cheese, then the other half of the chips, the remaining bean mixture, and remaining cheese.
Recommended Products
As an Amazon Associate and member of other affiliate programs, I earn from qualifying purchases.
Nutrition Information
Yield

12
Serving Size

1
Amount Per Serving
Calories

180
Total Fat

9g
Saturated Fat

3g
Trans Fat

0g
Unsaturated Fat

5g
Cholesterol

14mg
Sodium

294mg
Carbohydrates

21g
Fiber

3g
Sugar

2g
Protein

5g
Photography: photos taken in this post are by Rachael from Set the Table.