Pomegranate Salsa is the perfect salsa recipe to make if you are craving fresh salsa in the winter.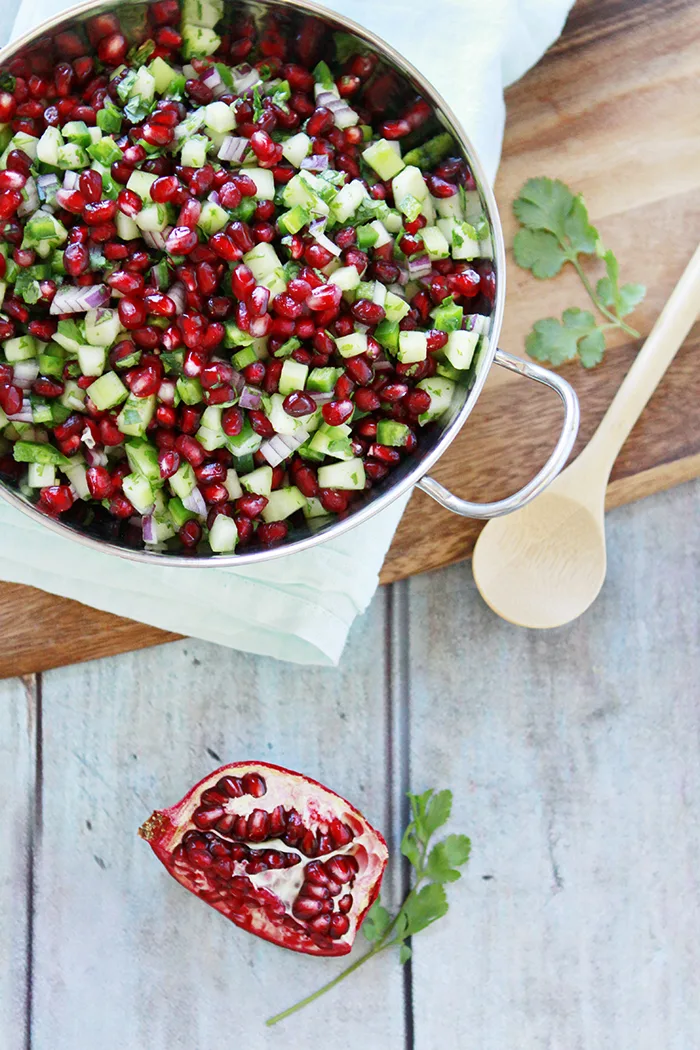 Save this recipe for Pomegranate Salsa to Pinterest!
Creating this Pomegranate Salsa Recipe
Homemade salsa is one of my favorite snacks. But how do you make tasty homemade salsa in the winter?
My mind was wandering the produce aisle looking for a wintery red substitute for tomatoes. And there was my aha! moment. Pomegranates.
Their rich red color seemed and excellent substitute for tomatoes.
I would create a pomegranate salsa recipe.
Have you ever though of using a pomegranate for salsa?
I usually just eat a pomegranate by removing all of the arils and placing them into a bowl.
Then I enjoy scooping them up with a spoon and eating bite after bite of juicy goodness.
Sometimes I add them to a bowl of yogurt and granola, to a salad, like this Butternut Squash and Pomegranate Salad, or I use the juice to make Spiced Pomegranate Apple Cider.
But I have definitely never tried pomegranates in salsa before. But, I love making different, unique homemade salsas.
I don't think salsa just has to be the traditional tomatoes, onion, jalapeño, cilantro, and lime that you might think of when chips and salsa come to mind.
Save this recipe for Pomegranate Salsa to Pinterest!
Pomegranates are a particularly attractive winter produce to me.
And I thought their sweet, juicy flavor would taste so good contrasted with the hot and spicy jalapeño taste.
Not only because the pomegranate fruit makes me forget we are in the midst of winter with it's bright juicy arils, but also for their amazing health benefits.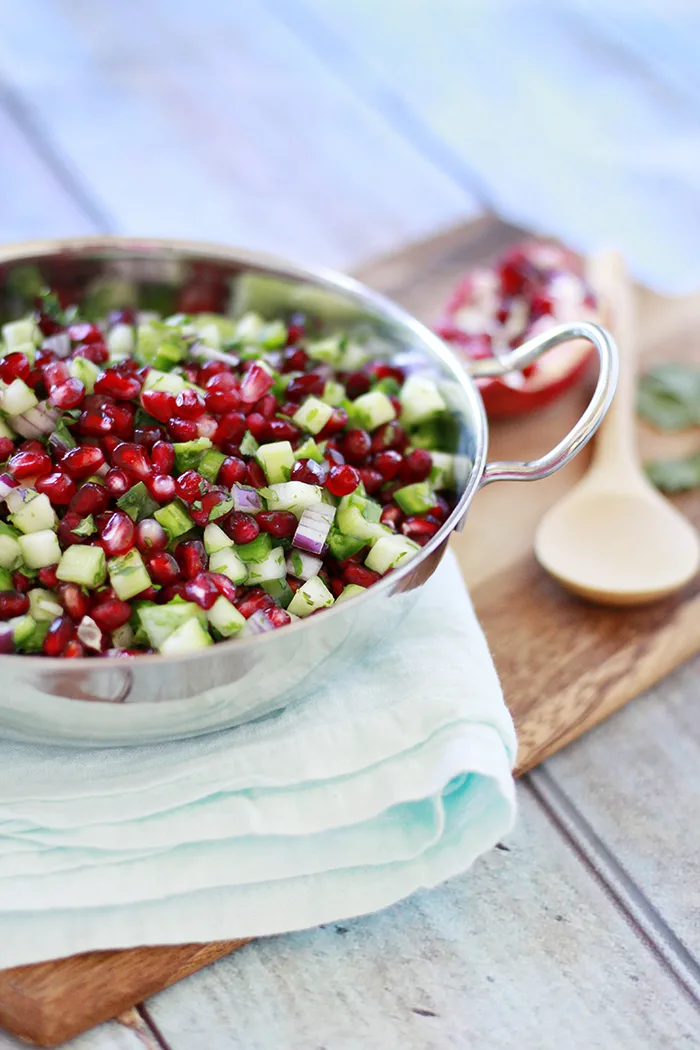 Save this recipe for Pomegranate Salsa to Pinterest!
Pomegranate Salsa – a Healthy Snack!
Juicy pomegranates are the source of many essential nutrients, such as: Vitamins C and K, fiber, folate, copper, phosphorous, and potassium.
Powerful antioxidants; pomegranates offer anti-cancer , alzheimer prevention, and cardiovascular health benefits.
Pomegranates in salsa may improve healthy cell survival, induce cancer cell death, and prevent tumor growth
The pomegranate in this salsa contain Anthocyanins which have anti-inflammatory, antiviral, and antimicrobial properties.
Pomegranates have Anti-inflammatory properties encourage radiant, youthful skin when incorporate into skin care products.
source: The American Journal of Clinical Nutrition, January 2005
Pomegranates are obviously the star of the show in this salsa recipe.
This winter pomegranate salsa recipe also boasts cilantro, jalapeño for a little heat (adjust it to your liking), red onion, a hint of lime, and diced cucumber.
It kind of looks a little bit like Christmas salsa with all the red and green. And it tastes even better than it looks.
Now, I know cucumbers aren't in season, but they are a vegetable that doesn't seem to have as degraded quality during the off season and their flavor is a great match for that of pomegranates.
If, however, you want to keep things even more true to winter, you can omit the cucumber completely or try substituting diced celery or fennel for some color contrast.
This Pomegranate Salsa is especially if you're in the mood to change up your salsa for something more unique (or Up Your Taco Tuesday Game).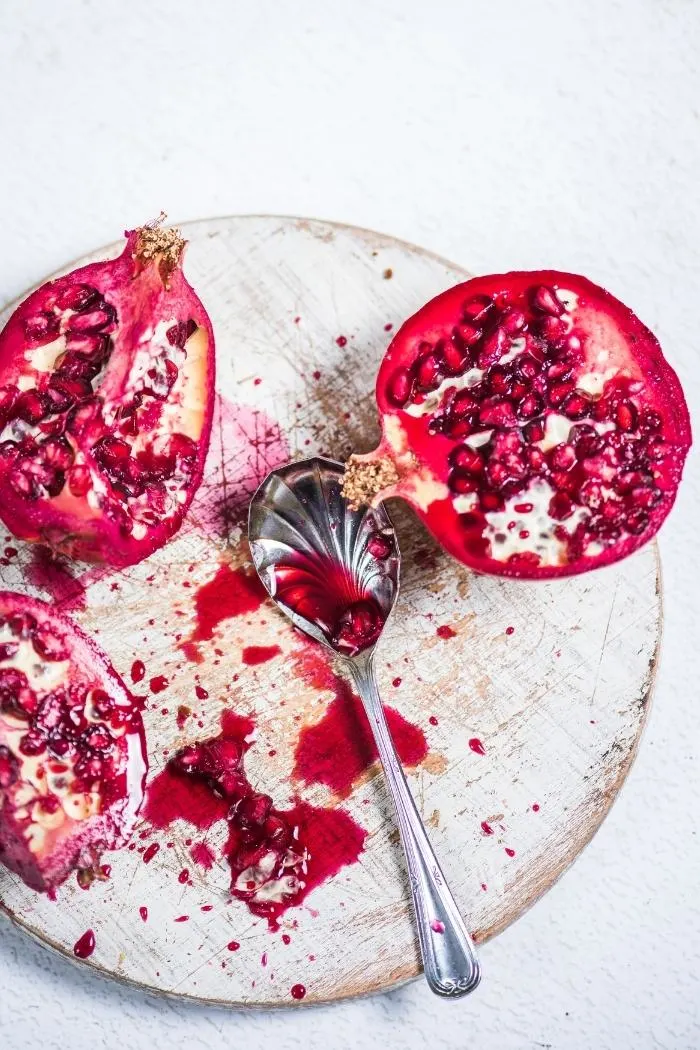 Pomegranate Salsa Ingredients
You will need the following ingredients to make this Pomegranate Salsa:
Pomegranate Arils
Cucumber
Red Onion
Jalapeno
Cilantro
For the complete ingredient list and detailed instructions, scroll to the bottom of this post for the FREE printable recipe card.
Tips for Making Pomegranate Salsa
For super quick preparation, try POM Wonderful's ready to serve POM POM Fresh Arils.
Serve scooped and eaten with chips, on top of a plate of greens for a tasty salad, over grilled meat or fish as a relish, or tossed your favorite grain, such as quinoa, for a side dish.
The above is simply a quick summary of this recipe. Check out the full recipe in the free printable recipe card at the bottom of this post for all the detailed instructions.
How to Eat Pomegranate Salsa
This Pomegranate Salsa is the perfect, creative salsa to add lots of color and flavor in a variety of uses. Here are a few ideas to get you started below:
Pomegranate Salsa and Chips
Hello one of my absolute favorite healthy snack ideas! Second or third only to Easy Kale Chips or 5 Minute Guacamole.
Salsas with tortilla chips make a great snack when you need to satisfy a salty, crunchy craving. Especially when you make fresh homemade salsas using a variety of produce.
I'm sure I'm not the only one who has practically filled up on chips and salsa at a restaurant before the dinner has arrived!
Pomegranate Salsa on Tacos
Make your favorite tacos and use this salsa in place of jarred grocery store salsa.
If you're craving something lighter, substitute lettuce leaves (butter lettuce or iceberg work best) for the tortillas to create a Mexican lettuce wrap like I did in these Lettuce Wrap Carnitas.
Pomegranate Salsa on Grilled Meat
Marinade some skirt or flank steak (I love this flank steak fajita marinade recipe), slice it against the grain, and spoon salsa over top.
For chicken, I like to make this Cilantro Lime Marinade recipe for a Mexican inspired grilled chicken.
Pomegranate Salsa Salad
Add one of the grilled meat ideas from above, pepitas (green pumpkin seeds) and crunchy tortilla strips for a delicious entrée salad.
Just add greens and now you have a super interesting salad with lots of fresh flavor.
Pomegranate Side Dish
Stir a generous amount of salsa into steamed white rice or quinoa to create a colorful, easy side dish.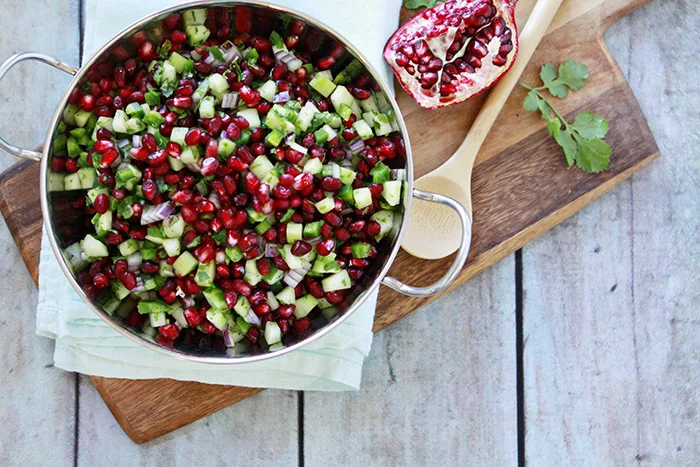 MORE HOMEMADE SALSA RECIPES
Looking for some other tasty salsa recipes to try in addition to this Pomegranate Salsa? Here are a few favorites:
Roasted Cranberry Salsa combines roasted fresh cranberries pair perfectly with the traditional elements of salsa – jalapeño, cilantro, onion, and lime for a spicy, fruity salsa. This is another perfect salsa to bookmark for fall and winter.
Juicy mango pairs well with grilled corn and blistered red bell peppers for a sweet and savory summertime salsa in this recipe for Mango Salsa with Grilled Corn.
For a different variation of a Mango Salsa, try this Strawberry Mango Salsa recipe. Serve it with cinnamon chips!
For a classic chips and salsa snack, try this Easy Restaurant Style Salsa; it is super quick to prepare.
This Easy Roasted Salsa Verde is a mix of roasted tomatillos, roasted poblano pepper, roasted jalapeño pepper, fresh garlic, cilantro, and shallot. Bonus: It add it to the slow cooker with chicken breasts for an easy chicken recipe OR use it as a green enchilada sauce.
Creamy Cucumber Salsa is great when you're craving something light, creamy and cool.
I need to remember to make this Fresh Zucchini Corn Salsa this summer when zucchini and corn are abundant and inexpensive.
Have you ever made pomegranate salsa?
Get More Recipes via Email
Did you love this recipe? Sign up to receive Good Life Eats Email Updates and never miss another recipe!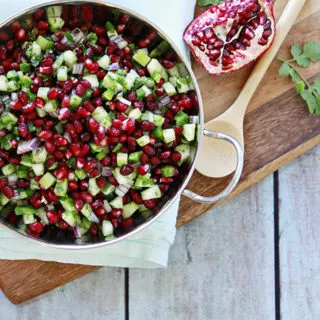 Pomegranate Winter Salsa
Pomegranate Salsa is the perfect salsa recipe to make if you are craving fresh salsa in the winter.
Ingredients
2 1/2 cups pomegranate arils
1 1/3 cup diced cucumber - seeds removed
1 - 3 jalapeños, seeds removed and minced
1/4 - 1/3 cup finely chopped cilantro
1/3 cup diced red onion
squeeze of half a lime
Instructions
Combine all of the prepared ingredients in a bowl, starting with using only 1 jalapeño.
Stir to combine.
Test for heat preference and add additional jalapeño if desired.
Serve immediately, or chill until ready to serve.
Notes
Choose your Heat Preference:
1 jalapeño = mild salsa
2 jalapeños = medium salsa
3 jalapeños = hot salsa
Tip for Dicing Cucumbers:
Cut cucumbers down the middle lengthwise. Scrape out all of the seeds and discard. Then, dice the remaining cucumber.
Recommended Products
As an Amazon Associate and member of other affiliate programs, I earn from qualifying purchases.
Nutrition Information
Yield

8
Serving Size

1
Amount Per Serving
Calories

55
Total Fat

1g
Saturated Fat

0g
Trans Fat

0g
Unsaturated Fat

0g
Cholesterol

0mg
Sodium

3mg
Carbohydrates

12g
Fiber

3g
Sugar

8g
Protein

1g
GoodLifeEats.com offers recipe nutritional information as a courtesy and is an estimate only. This information comes from online calculators. Although GoodLifeEats.com makes every effort to provide accurate information, these figures are only estimates.
Disclosure: POM Wonderful has compensated for my time and provided coupons for POM POM Fresh Arils to create my recipe for Pomegranate Salsa. However, all experiences contained in this post are my honest opinion.
Be sure to follow Good Life Eats on Instagram. Tag @goodlifeeats and include the hashtag #goodlifeeatsrecipes so I can see what you're cooking up in YOUR kitchen!
Let me know if you try this recipe and what you think of it by leaving a comment below.
Save this recipe for Pomegranate Salsa to Pinterest!