It never fails. Every year around this time of the year I start to get bored with winter foods. I have exhausted most of our favorite recipes by this point and a trip to the produce section of the grocery store no longer feels very inspiring.
I've had enough of cold weather food (I'm actually not really minding the cold weather at all) and am so ready to enjoy the delicious spring foods that are still out of reach – things like berries, rhubarb, and asparagus.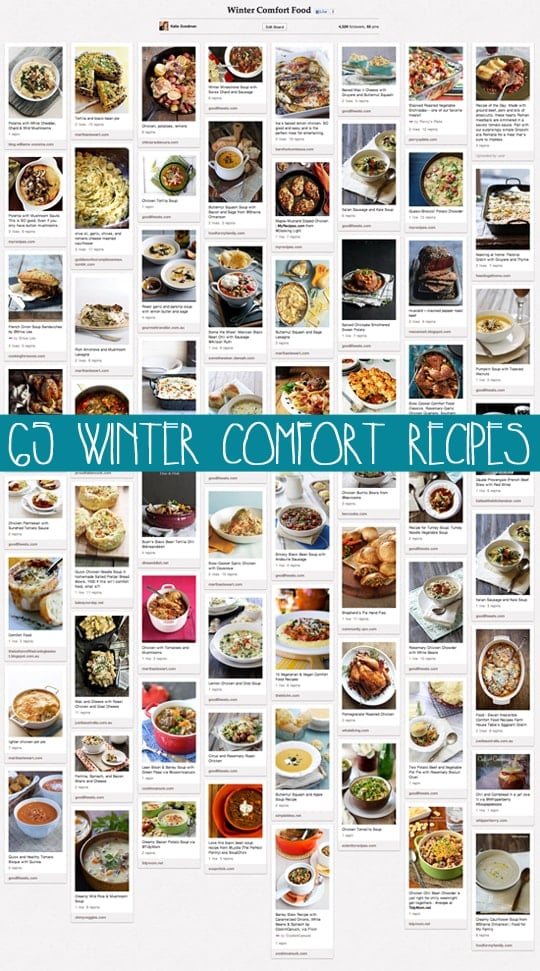 Well, we're not quite there yet.
So instead of wishing we were in a season that we have certainly not arrived at yet, I spent the better part of Friday afternoon searching Pinterest for new soups, chilis, casseroles, and other winter comfort foods to try.
You can see my finds here: Winter Comfort Food – so far, the pin board features 65.
A few of my own favorites thrown in for good measure, but mostly recipes that I've never tried before that look delicious and make winter food feel exciting again.
How do you press forward through the winter food blues? Do you have a favorite comfort food recipe?
Looking for more great winter comfort food recipes? Join Aggie's Kitchen and Real Mom Kitchen to share a family favorite Winter Comfort Food recipe for the Bush's Beans Recipe Exchange!