Welcome spring with the Ultimate Spring Produce Guide – it will tell you everything you need to know about what is in season this during the spring, cooking with spring ingredients, and plenty of spring recipes to try.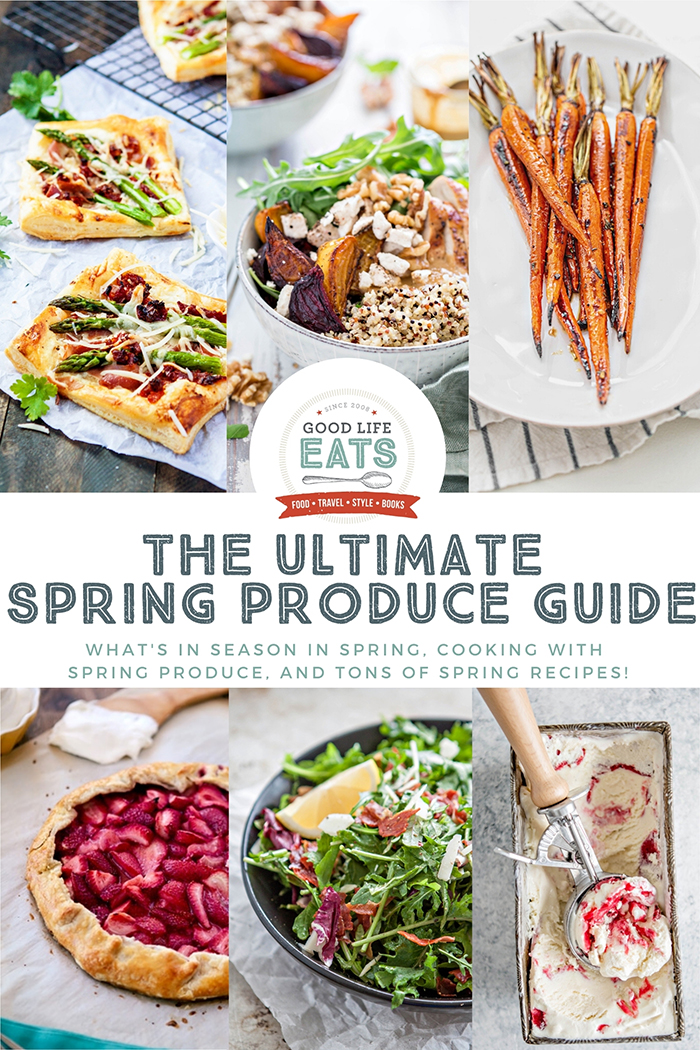 Click HERE to save The Ultimate Spring Produce Guide – The Best Seasonal Recipes to Make this Spring to Pinterest!
Spring is almost here! Officially, the first day of spring is March 20th. However, in typical Colorado fashion we have already had several spring like days, followed by a massive snowstorm with blizzard conditions last weekend.
Like every year, we'll continue to enjoy the beautiful spring days as they come and look forward to them returning during our spring snows, usually until around Mother's Day.
I have very much been enjoying the changes in the food served on our table these last few weeks and that I've started my spring gardening. And who could say no to the light lasting longer in the evening?
Is anyone else ready to bid farewell to root vegetables and hearty meals in favor of lighter, fresher-tasting fruits and vegetables? Me! Me! I always love and truly appreciate spring produce and eating my favorite recipes after month of winter vegetables.
Spring Crops
While these spring crops are a general list of the produce that's in season during the spring months, many crop's harvest dates depend on your state or region's weather. So, be sure to check your state's specific seasonality if you plan to shop local.
What Vegetables are in Season in Spring?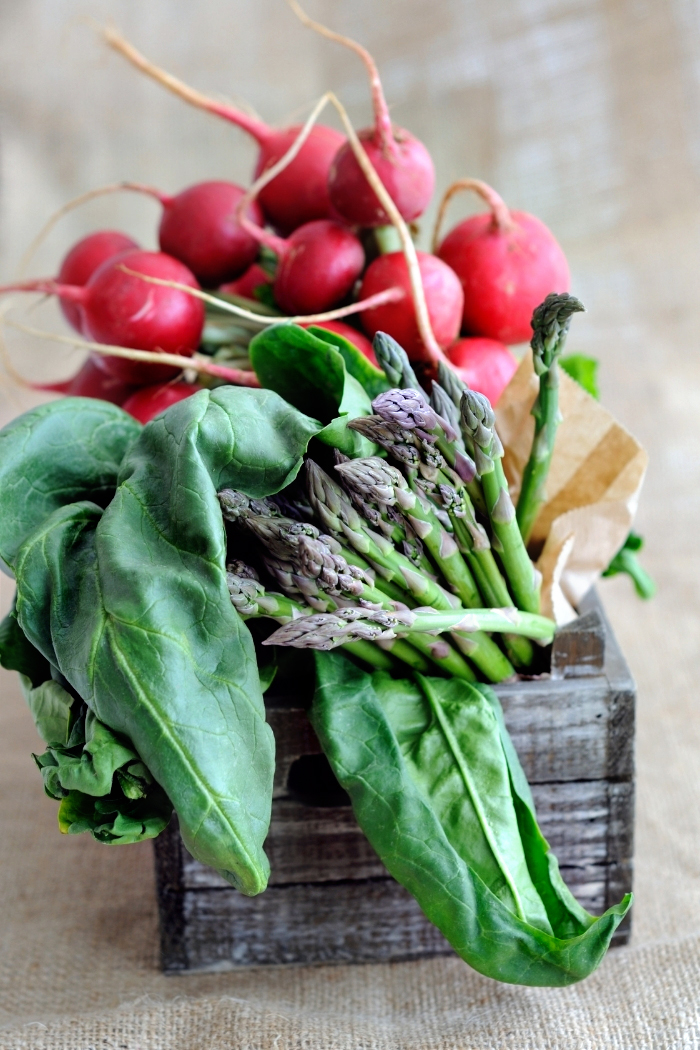 Artichokes
Arugula
Asparagus
Beets
Carrots
Garlic
Leeks
Lettuces
Mushrooms
Peas
Radishes
Rhubarb
Spinach
In spring, you'll find the early vegetables that can tolerate a colder climate when growing like asparagus, rhubarb, peas, onions, and a variety of greens.
What Fruits are in Season in Spring?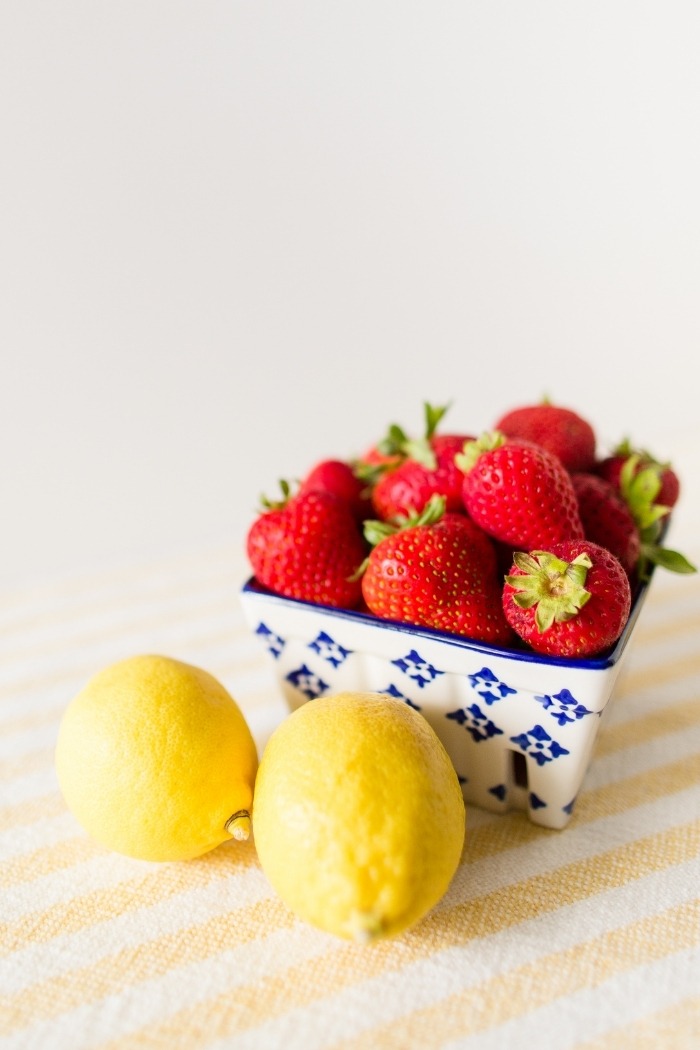 Grapefruit
Lemons
Strawberries
Apricots
Cherries
Spring can be a tricky time for fruits as many of them don't start to come in season until the end of the season. But, you'll find that many of the winter fruits, like citrus, are still in season in the earlier parts of spring when the weather is cold.
Later in spring, you'll see strawberries popping up in season and plenty of deals at the grocery store. Late spring/early summer will start bringing fruits like apricots and cherries.
Cooking with Spring Ingredients
Years ago when my children were really young, I was among the crowd that thought if it's in the grocery store, then I can buy it, eat it, and cook with it.
Seasonal ingredients weren't really something I concerned myself with. I figured that seeing the produce I wanted mostly available year round was just one of our wonderful modern conveniences.
But then I started to pay more attention to the food I was eating and the price the stores were charging. I found that not only do the season's finest fruits and vegetables offer the best taste, they also cost less.
Taking care to add fresh, in-season produce to my diet maximized my nutrients and added diversity to my meals. It doesn't take much to make fresh seasonal produce taste great.
As I paid more attention to the variety of produce available each season I realized that spring was not just peas and spinach, but a whole host of other items and many of which I had given nary a though to in the past.
It was really eye opening, especially once I started growing my first garden!
Favorite Spring Recipes
No matter where you get your produce from – the local farmer's market, your backyard garden, or the grocery store – take advantage of spring's delicious offerings and fresh flavors.
This is obviously not a a full listing of produce that is available in season during spring, but rather a selection of some of my favorite fruits and vegetables to provide you with a starting point.
Keep reading for TONS of our favorite spring recipes featuring delicious, in season spring produce.
What are your favorite spring fruits and vegetables?
The Ultimate Spring Produce Guide - The Best Seasonal Recipes to Make this Spring
Come check out what's in season during Spring with this Spring Produce Guide, plus learn what to make with all that great seasonal produce!
Did you love this post?
Sign up for Good Life Eats email updates and never miss another update!