This easy Quiche Lorraine features leeks, bacon, and shredded gruyere cheese. It is the best quiche recipe and a showstopper for any breakfast or brunch!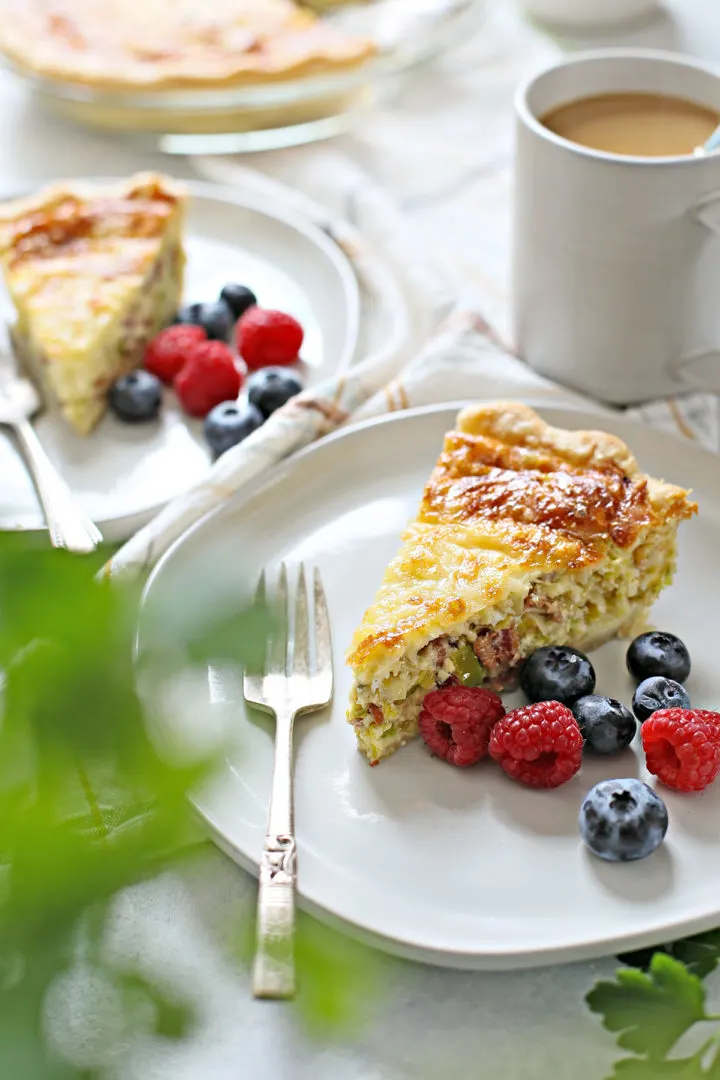 Click HERE to save this recipe for Quiche Lorraine!
Quiche Lorraine Recipe
Quiche Lorraine is perfect for Easter, Mother's Day, and…BABY SHOWERS! Today we're celebrating our friend Aimee from Simple Bites. For months Aimee has been waiting for her sweet baby girl to arrive.
What do you get when you have a group of food bloggers plan a baby shower? A show-stopping menu of course! My contribution to this virtual baby shower is this easy quiche Lorraine recipe.
Oh how I would have loved to spend the afternoon with these talented ladies noshing on delicious bites as we celebrated Aimee's sweet arrival.
It's times like this that I'm sad my friends are spread out all over the world.
Congratulations, Aimee, on the sweet little girl that you're family will soon get to enjoy! Little girls are so much fun.
What is Quiche?
If you've never tried quiche before, you're missing out!
Quiche typically features a pastry crust that's been filled with a mixture of eggs, milk or cream, cheese, and various fillings (bacon, ham, veggies, etc).
Quiche recipes must be baked and can be enjoyed hot or cold.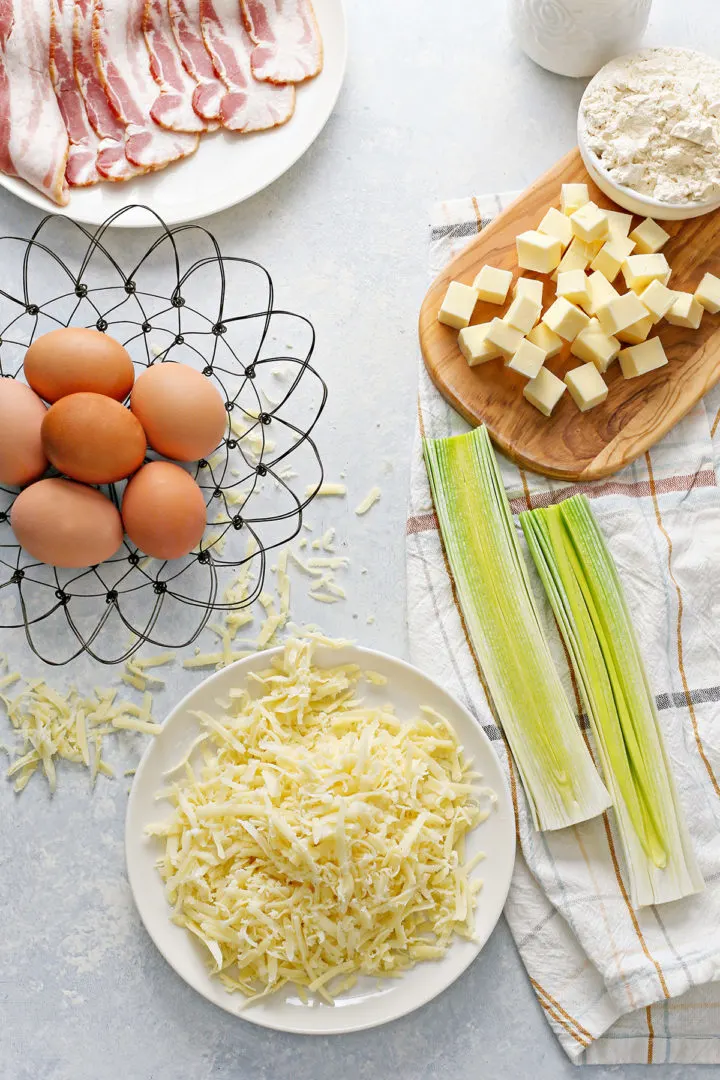 What is Quiche Lorraine?
It is a French tart with a custardy egg filling that contains bacon or ham. In an authentic French recipe, a traditional Quiche Lorraine doesn't actually contain cheese.
Quiche Lorraine didn't become popular outside the Lorraine region of France until the the mid-20th century. However, as popularity of Quiche Lorraine rose, the addition of cheese became relatively common.
Recipes that use cheese have been known to use Swiss, Gruyere, Parmesan, or even Cheddar. The quiche filling in my recipe contains leeks, smoky bacon, an gruyere
Quiche Lorraine is one of the most popular quiche recipes, so it is no surprise that it was the first quiche I learned how to make.
Chances are, if you've ever had quiche, you've likely had Quiche Lorraine in some form.
Tools Needed to Make this Quiche Recipe
You'll need a few different kitchen tools to prepare this quiche Lorraine. Here's what I recommend having on hand before beginning this recipe:
Measuring Cups and Spoons – to measure ingredients.
Food Processor – for preparing the pie crust dough in.
Rolling Pin – to rough the dough out with.
Pie Dish or Tart Pan with Removable Bottom – for baking the quiche Lorraine in.
Medium Bowl – for preparing the quiche filling in.
Large Skillet – for cooking the bacon and leeks.
Rimmed Baking Sheet – to place under the quiche as it bakes. This catches any spills and makes it easier to transfer the quiche to and from the oven.
Wire Rack – to cool the baked quiche on.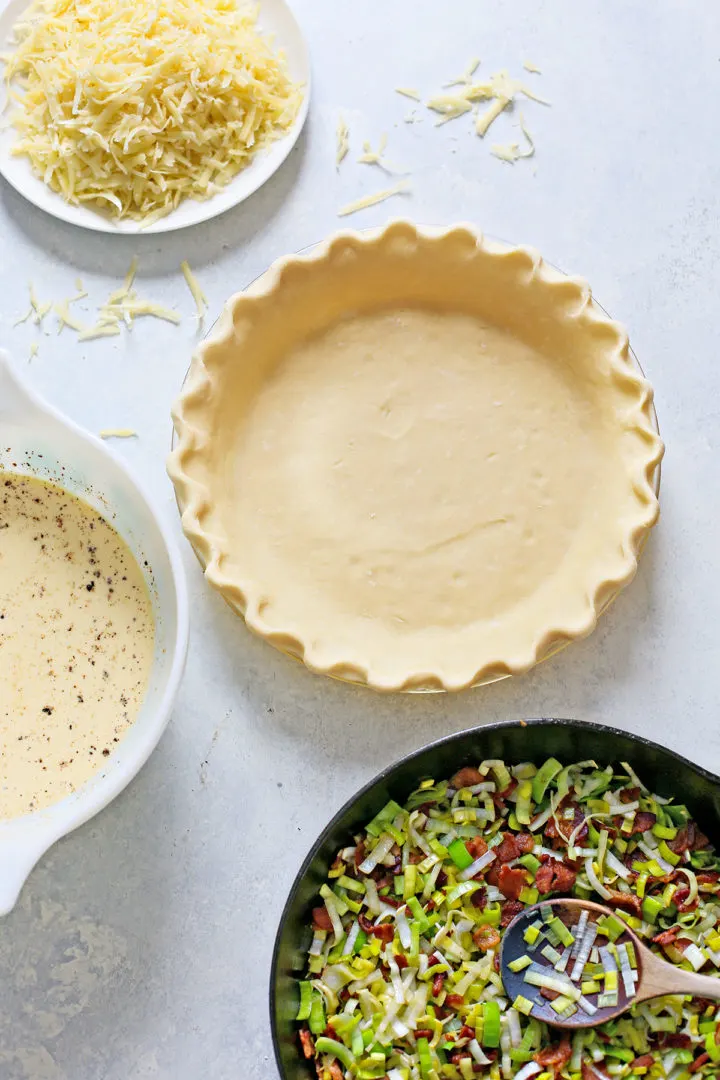 Quiche Lorraine Ingredients
Although you can make homemade quiche with any fillings you'd like, this quiche Lorraine recipe is essentially a bacon and leek quiche. Here's what you'll need to make it:
Leeks
Bacon
Gruyere Cheese
Large Eggs
Half and Half
Salt and Pepper
Nutmeg
Cayenne
For the complete ingredient list and detailed instructions to make the best Quiche Lorraine, scroll to the bottom of this post for the FREE printable recipe card.

How to Make Quiche Lorraine
This leek and bacon quiche is actually quite simple to throw together. Here's how I like to make homemade quiche Lorraine:
Press the pie crust into an 8- or 9-inch pie plate, then bake for 5 minutes.
Remove crust from oven and prick all over with a fork. Return to oven for 5 more minutes.
Chop and wash the leek, then dice the bacon into tiny pieces.
In a skillet, cook the bacon crumbles until crisp, then add the leeks.
In a bowl, whisk together the eggs, half and half, salt, pepper, nutmeg, and cayenne.
Add the leek and bacon mixture to the pie plate. Top with half the grated Gruyere.
Pour the egg mixture into the pie plate, then top with remaining cheese.
Bake until the center is set and the top is golden.
The above is simply a quick summary of this recipe. Check out the full recipe in the free printable recipe card at the bottom of this post for all the detailed instructions.
How Long to Cook Quiche Lorraine
If using an 8- or 9-inch pie plate, your quiche Lorraine will need to bake at 350 degrees F for roughly 35 to 50 minutes. You'll know it's done when the center is set.
Tips for Making the Best Quiche Lorraine Recipe
For a flaky crust, make sure you start with cold butter when making the pie dough.
If you're unused to cooking with leeks, you may find it helpful to read my guide on How to Clean Leeks. Leeks are one of my favorite vegetables.
If you know you'll be making this quiche Lorraine recipe later this week, consider making a batch of Homemade Bacon Bits beforehand so you can minimize the prep work when making this easy quiche recipe.

This is an especially useful tip to keep in mind if you'll be making this quiche Lorraine for guests and you're worried you'll be short on time day-of!

Leftover quiche Lorraine can be enjoyed cold or warm. Avoid using the microwave to reheat quiche, as that often makes the egg filling rubbery.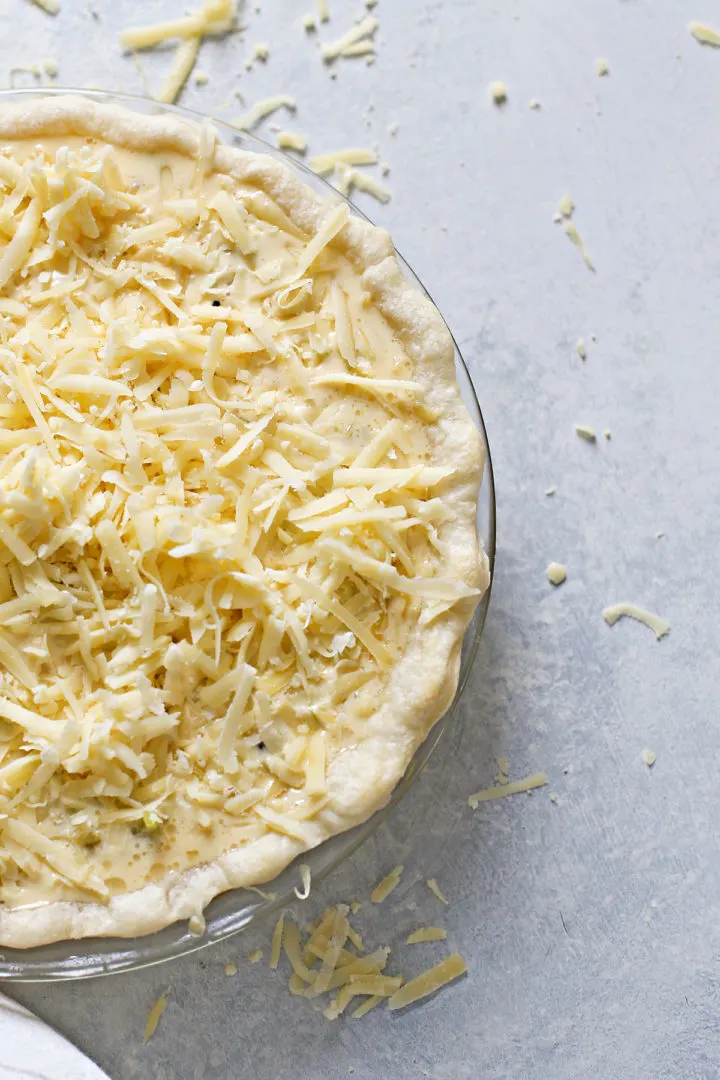 Quiche Lorraine FAQ
Got questions about how to make this butter pie crust recipe? Here are the answers to a few commonly asked questions. Feel free to leave any other questions in the comments on this post and I'll respond with answers.
Do I Have to Make my Own Pie Crust?
No, you definitely don't! I love homemade pie crust, but you can use store-bought pie crust if you prefer. Just make sure that it is unbaked.
What Can I Substitute for Gruyere Cheese?
If you can't find gruyere at your grocery store, Swiss cheese has a similar taste and is a great substitute that is readily available.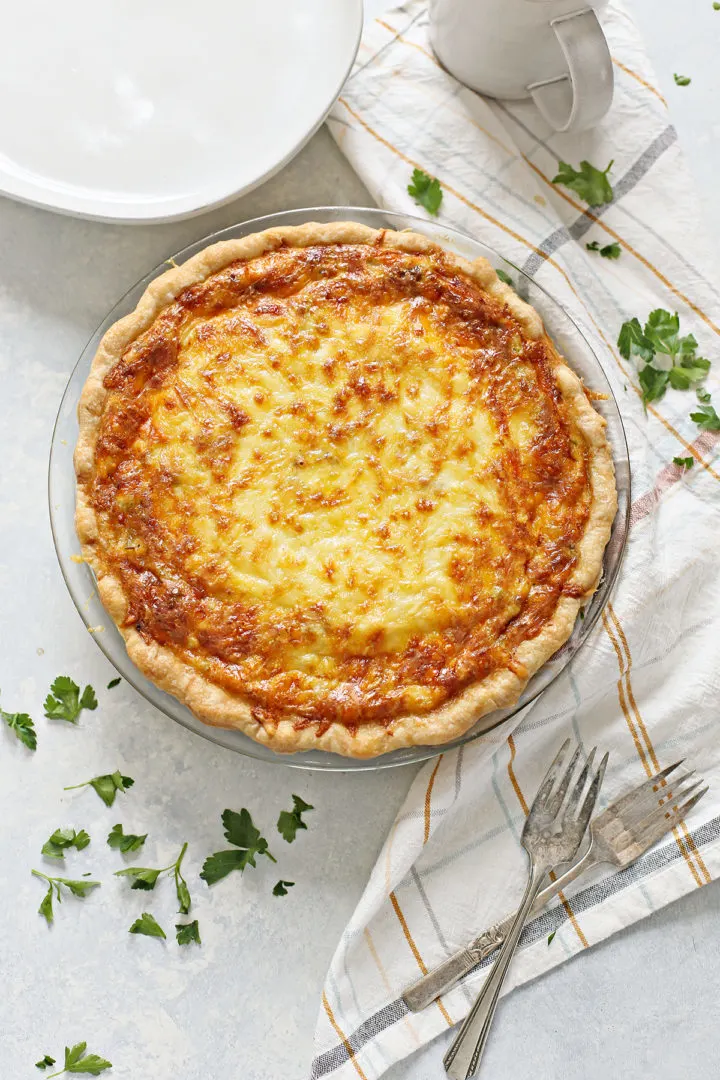 Can You Freeze Quiche?
Quite easily, yes! Once you've baked the quiche Lorraine, let it cool completely before wrapping it in plastic wrap and storing in the freezer.
When you're ready to eat the frozen quiche, reheat it from frozen in a 350 degree F oven.
Alternately, you can slice and freeze individual slices of bacon and leek quiche and reheat them when you need a quick lunch or breakfast.
How to Store Leftover Quiche
Leftovers should be cooled completely, then stored in an airtight container in the refrigerator.
If you don't have a container large enough for the pie plate, then you can cut the quiche into individual slices before storing.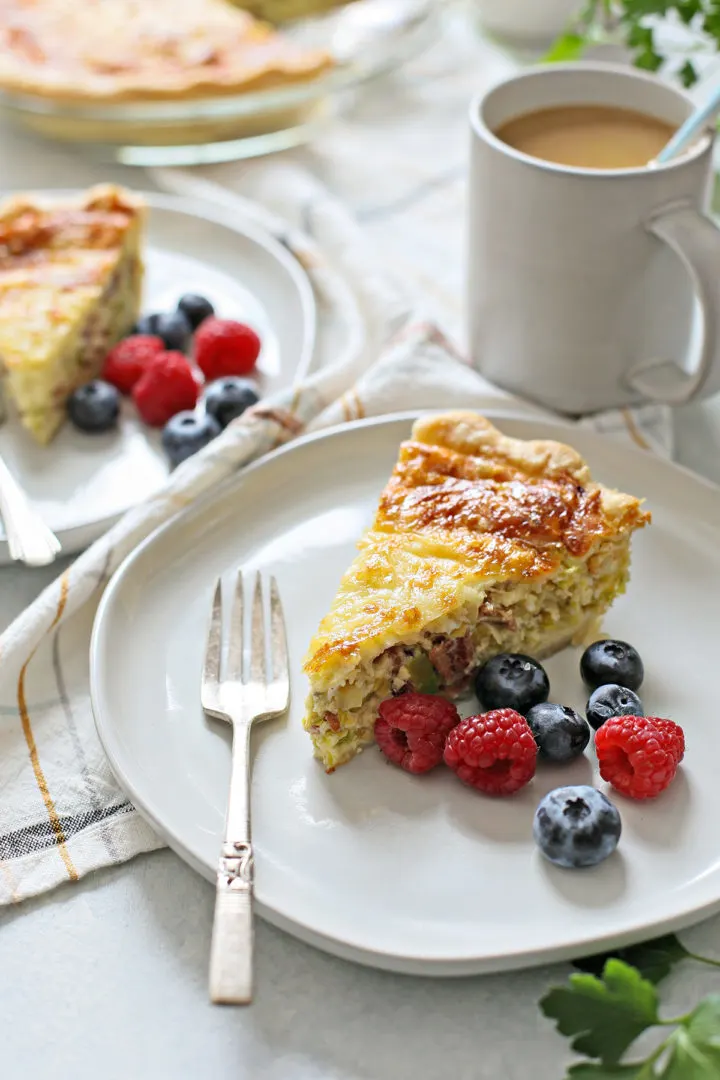 Try this Quiche Lorraine at Home!
Next time you're looking for a savory brunch recipe, give this Classic Quiche Lorraine recipe a try!
Did you think this classic recipe was the perfect savory tart? Leave a comment below and give it a review for others to see what you thought of this easy recipe.
On Instagram? Share your photo and tag me with @goodlifeeats and #goodlifeeatsrecipes. I'd love to see your photo of this bacon and cheese quiche!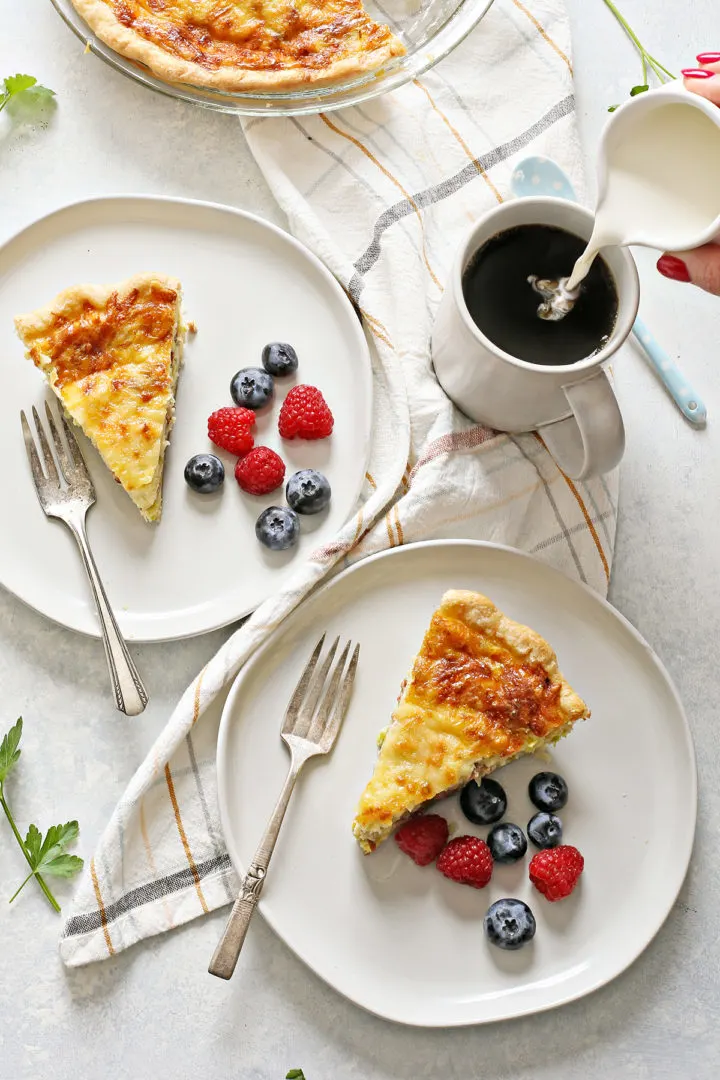 More Easy Brunch Recipes:
Who can say no to a pile of fluffy Homemade Waffles? This waffle recipe is for classic waffles, no special ingredients required.
Gooey Caramel Pecan Rolls are perfect for a special occasion brunch. They feature a soft brioche dough, cinnamon filling, and tons of caramel pecan topping. They're seriously the best sticky buns!
This Cardamom Citrus Coffee Cake is a wonderful make-ahead brunch item that pairs perfectly with a warm cup of coffee or tea.
This recipe for Blueberry Lemon Scones is a simple scone recipe that features hints of lemon juice and fresh blueberries to a traditional flakey scone.
These mini Crustless Broccoli Quiche are made in muffin tins and are perfect for on-the-go breakfasts! This delicious recipe is great for meal prepping and can be frozen for later.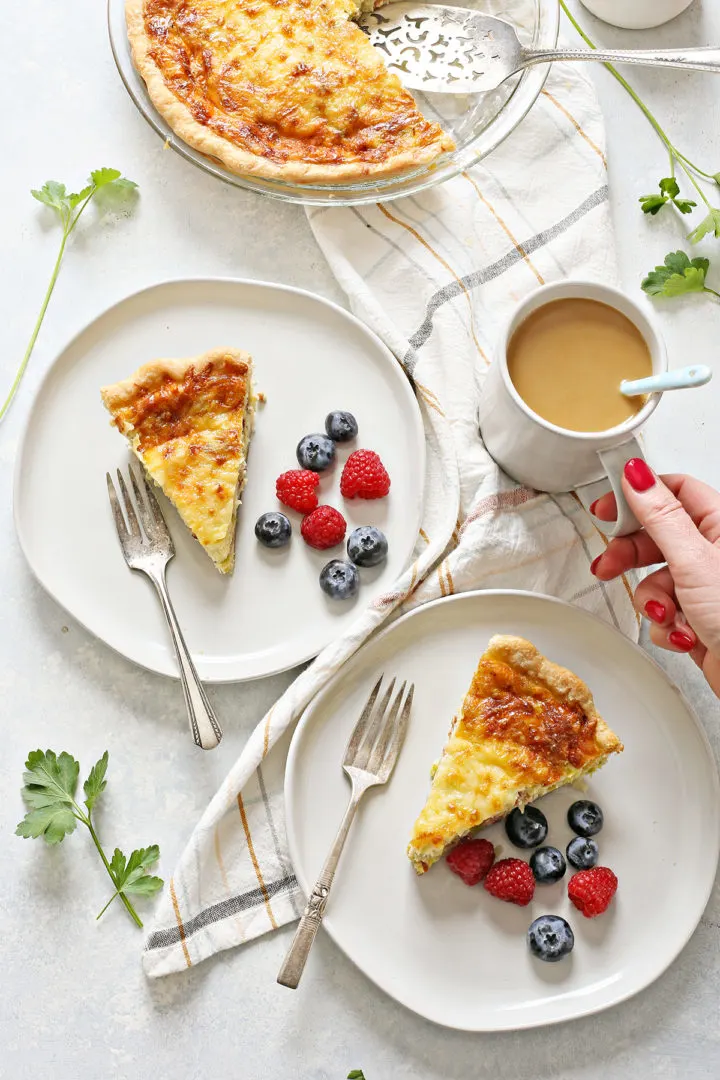 Get More Great Recipe Ideas via Email
Did you love this recipe for Quiche Lorraine? Sign up for Good Life Eats Email Updates and never miss another recipe!
What recipes do you think make a great addition to a brunch spread?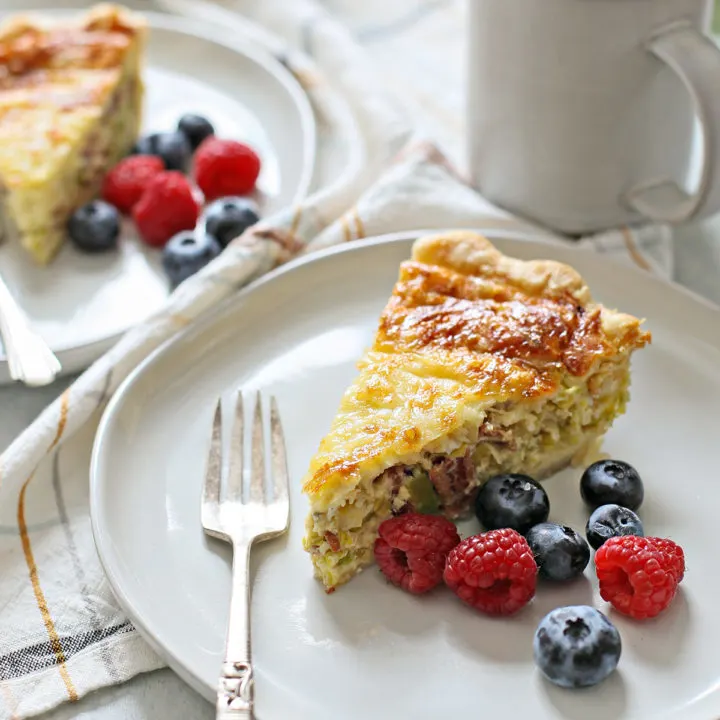 Quiche Lorraine
Total Time:
1 hour
20 minutes
This easy Quiche Lorraine features leeks, bacon, and shredded gruyere cheese. It is the best quiche recipe and a showstopper for any breakfast or brunch!
Ingredients
For the Quiche Crust
1 1/4 cups (15-160 grams) All-Purpose Flour, plus extra for rolling
1/2 cup (1 stick or 4 ounces) very cold Unsalted Butter
1/2 teaspoon Salt
3 to 4 tablespoons ice water
For the Quiche Filling
2 medium Leeks, white and light green only
10 slices Center-Cut Bacon
6 ounces Gruyere Cheese
6 Large Eggs
1 cup Half and Half
1/2 tsp Sea Salt
1/8 tsp Black Pepper
2 dashes Ground Nutmeg
1 dash Ground Cayenne Pepper
Instructions
Preparing the Quiche Crust
Cube the butter into 1/2 inch pieces.
Place them on a freezer-safe plate or cutting board and freeze until very firm, approximately 30 minutes.
Sift together the flour, salt, and sugar.
Add the flour mixture to a food processor along with the butter. Pulse the ingredients until the butter is cut into coarse crumbs.
Add the ice cold water 2 tablespoons at a time while pulsing the food processor until the mixture becomes a crumbly dough and forms together.
On an un-floured surface, turn the dough out and shape it into a circle approximately 6" in diameter, kneading as little as possible (pockets of butter are what keep the crust flaky and tender).
Dust both sides of each circle with a bit of flour and wrap in plastic wrap.
Freeze for 30 minutes or refrigerate for an hour. Remove the dough from the refrigerator or freezer.
Set it aside while you dust the work surface and rolling pin with flour.
Unwrap one dough circle and roll with a rolling pin until the dough has formed a circle about 12" in diameter and slightly thicker than 1/8 inch.
When the dough is the proper size, wrap it gently around the rolling pin to transfer to the pie plate.
Press the dough into the 9" pie plate and shape the edges according to your desired design.
Baking the Quiche Crust
Preheat the oven to 375 degrees F. Then, bake the crust for 5 minutes.
Remove the crust from the oven and prick the bottom and sides with the tips of a fork. Return to the oven and bake 5 more minutes. Remove and set aside.
Preparing the Quiche Filling
Cut the dark green portion and roots off the leeks and discard. Cut the remaining portion in half lengthwise, then each portion in half again lengthwise.
Chop and wash the leek. Set aside.
Dice the uncooked bacon into small, bite-sized pieces. In a medium-sized cast iron skillet, add the bacon and cook over medium heat until crispy.
Add the chopped leeks and cook for 3 minutes, until tender.
Grate 6 ounces of Gruyere cheese. Set aside. Add the eggs, half and half, salt, pepper, nutmeg, and cayenne to a bowl. Lightly beat until combined.
Add the leek and bacon mixture to the pie plate. Top with half of the cheese. Pour the egg mixture on top.
Top the egg mixture with the remaining grated Gruyere.
Baking the Quiche Lorraine
Bake at 350˚ for 35-50 minutes, or until the center is set and the top is golden brown.
Allow to rest for 10-5 minutes before cutting and serving.
Recommended Products
As an Amazon Associate and member of other affiliate programs, I earn from qualifying purchases.
Nutrition Information
Yield

8
Serving Size

1
Amount Per Serving
Calories

389
Total Fat

26g
Saturated Fat

12g
Trans Fat

0g
Unsaturated Fat

13g
Cholesterol

189mg
Sodium

740mg
Carbohydrates

19g
Fiber

1g
Sugar

2g
Protein

18g