This easy Quiche Lorraine recipe features leeks, bacon, and shredded gruyere cheese. A showstopper for any breakfast or brunch!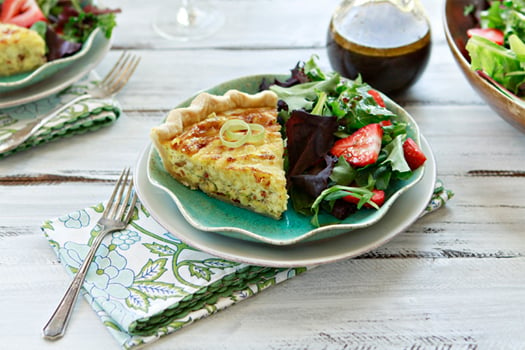 Click HERE to save this recipe for Quiche Lorraine!
Quiche Lorraine Recipe
Quiche Lorraine is perfect for Easter, Mother's Day, and…BABY SHOWERS! Today we're celebrating our friend Aimee from Simple Bites. For months Aimee has been waiting for her sweet baby girl to arrive.
What do you get when you have a group of food bloggers plan a baby shower? A show-stopping menu of course! My contribution to this virtual baby shower is this easy quiche Lorraine recipe.
Oh how I would have loved to spend the afternoon with these talented ladies noshing on delicious bites as we celebrated Aimee's sweet arrival. It's times like this that I'm sad my friends are spread out all over the world.
Congratulations, Aimee, on the sweet little girl that you're family will soon get to enjoy! Little girls are so much fun.
What is Quiche?
If you've never tried quiche before, you're missing out! Quiche typically features a pastry crust that's been filled with a mixture of eggs, milk or cream, cheese, and various fillings (bacon, ham, veggies, etc). Quiche recipes must be baked and can be enjoyed hot or cold.
Quiche Lorraine Ingredients
Although you can make homemade quiche with any fillings you'd like, this quiche Lorraine recipe is essentially a bacon and leek quiche. Here's what you'll need to make it:
Leeks
Bacon
Gruyere cheese
Eggs
Half and half
Salt and pepper
Nutmeg
Cayenne
How to Make Quiche Lorraine
This leek and bacon quiche is actually quite simple to throw together. Here's how I like to make homemade quiche Lorraine:
Press the pie crust into an 8- or 9-inch pie plate, then bake for 5 minutes.
Remove crust from oven and prick all over with a fork. Return to oven for 5 more minutes.
Chop and wash the leek, then dice the bacon into tiny pieces.
In a skillet, cook the bacon crumbles until crisp, then add the leeks.
In a bowl, whisk together the eggs, half and half, salt, pepper, nutmeg, and cayenne.
Add the leek and bacon mixture to the pie plate. Top with half the grated Gruyere.
Pour the egg mixture into the pie plate, then top with remaining cheese.
Bake until the center is set and the top is golden.
How Long to Cook Quiche Lorraine
If using an 8- or 9-inch pie plate, your quiche Lorraine will need to bake at 350 degrees F for roughly 35 to 50 minutes. You'll know it's done when the center is set.
Can You Freeze Quiche?
Quite easily, yes! Once you've baked the quiche Lorraine, let it cool completely before wrapping it in plastic wrap and storing in the freezer. When you're ready to eat the frozen quiche, reheat it from frozen in a 350 degree F oven.
Alternately, you can slice and freeze individual slices of bacon and leek quiche and reheat them when you need a quick lunch or breakfast.
Tips for Making Quiche Lorraine
If you're unused to cooking with leeks, you may find it helpful to read my guide on How to Clean Leeks. Leeks are one of my favorite vegetables, so I highly recommend familiarizing yourself with them.
If you know you'll be making this quiche Lorraine recipe later this week, consider making a batch of Homemade Bacon Bits beforehand so you can minimize the prep work when making this easy quiche recipe. This is an especially useful tip to keep in mind if you'll be making this quiche Lorraine for guests and you're worried you'll be short on time day-of!
Leftover quiche Lorraine can be enjoyed cold or warm. Avoid using the microwave to reheat quiche, as that often makes the egg filling rubbery.
More Easy Brunch Recipes:
Who can say no to a pile of fluffy Homemade Waffles? This waffle recipe is for classic waffles, no special ingredients required.
If you prefer savory brunch dishes, you'll love this Chorizo Spinach Egg Scramble. It comes together quickly and feeds quite a few people.
This Cardamom Citrus Coffee Cake is a wonderful make-ahead brunch item that pairs perfectly with a warm cup of coffee or tea.
Southwest Protein Breakfast Bowls are easily customized to suit your personal preferences.
When I have extra time on my hands, I love making these Chorizo Spinach Breakfast Enchiladas. It's a winner every time!
What are your favorite baby shower eats?
Love this recipe for Quiche Lorraine? Sign up for Good Life Eats email updates and never miss another recipe!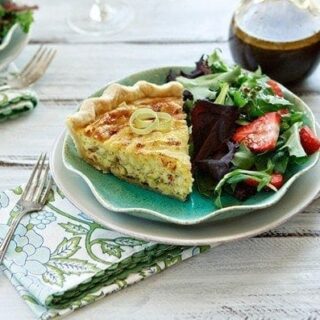 Quiche Lorraine
Total Time:
1 hour
15 minutes
Quiche Lorraine is a perfect springtime egg dish.
Ingredients
2 medium leeks, white and light green only
10 slices center-cut bacon
1 1/2 cups Gruyere cheese (6 oz)
6 eggs
1 cup half and half
1/2 tsp salt
1/8 tsp pepper
2 dashes nutmeg
1 dash cayenne
Instructions
Prepare pie crust dough according to recipe instructions, leaving out the sugar since this is a savory recipe.
Press it into a 8-9 inch pie plate, shaping the edges according to your desire.
Bake the crust 5 minutes at 375˚ F.
Remove the crust from the oven and prick the bottom and sides with the tips of a fork. Return to the oven and bake 5 more minutes. Remove and set aside.
Cut the dark green portion and roots off the leeks and discard. Cut the remaining portion in half lengthwise, then each portion in half again lengthwise. Chop and wash the leek. (See: How to wash leeks.) Set aside.
Dice the uncooked bacon into small, bite-sized pieces. In a medium-sized cast iron skillet, add the bacon and cook over medium heat until crispy.
Add the chopped leeks and cook for 3 minutes, until tender.
Grate 6 ounces of Gruyere cheese. Set aside.Add the eggs, half and half, salt, pepper, nutmeg, and cayenne to a bowl. Lightly beat until combined. Add the leek and bacon mixture to the pie plate. Top with half of the cheese. Pour the egg mixture on top.
Top the egg mixture with the remaining grated Gruyere. Bake at 350˚ for 35-50 minutes, or until the center is set and the top is golden brown.
Allow to rest for 10 minutes before serving.
Recommended Products
As an Amazon Associate and member of other affiliate programs, I earn from qualifying purchases.
Nutrition Information
Yield

8
Serving Size

1
Amount Per Serving
Calories

389
Total Fat

26g
Saturated Fat

12g
Trans Fat

0g
Unsaturated Fat

13g
Cholesterol

189mg
Sodium

740mg
Carbohydrates

19g
Fiber

1g
Sugar

2g
Protein

18g
Tag @goodlifeeats and include the hashtag #goodlifeeatsrecipes so I can see what you're cooking up in YOUR kitchen!
Click HERE to save this recipe for Quiche Lorraine!